Your FREE Fat-Loss Meal Plans! (with grocery list)
Are you ready for the body you deserve?
Are you ready to clear the confusion around what to eat?
We are here to help!
Join our next Online Nutrition Coaching Program starting February 11th!
---
One of our favorite quotes when it comes to improving your nutrition and losing fat is:
"By failing to prepare, you are preparing to fail." - Benjamin Franklin
This couldn't be more true when it comes to working towards your health and fitness goals.
One simple area that has the biggest impact on our Nutrition Coaching Members is getting them to have a plan of action prepared ahead of time.
We've all been there.
You're running around like crazy.
Work, carting the kids around, errands, meetings, parties, etc. -- it doesn't end.
You want to eat well but now you're starving and stressed.
Instead of preparing and eating food that will have a positive impact on your fat-loss, energy, and overall health, you grab what is most convenient and will satisfy your hunger quickly.
Because you're so hungry, you also eat too fast and end up overeating.
With better planning, we can avoid these situations!
Also, by simply preparing your own meals you're bound to take in less calories.
Most food companies and restaurants are more interested in how their food tastes rather than the nutritional content.
By prepping and eating your own meals you are in control of preparation and will know exactly what you're eating, avoiding the excessive portion sizes, and calorie additives like salt, fat, and sugar.
Today we have prepared a sample fat-loss meal plan and grocery list so you can better plan your meals and snacks for the week, drastically improve your consistency, and crush your goals!
These meals are geared to help you increase your energy and fuel your body to burn fat!
Enjoy :)
Fat-Loss Grocery List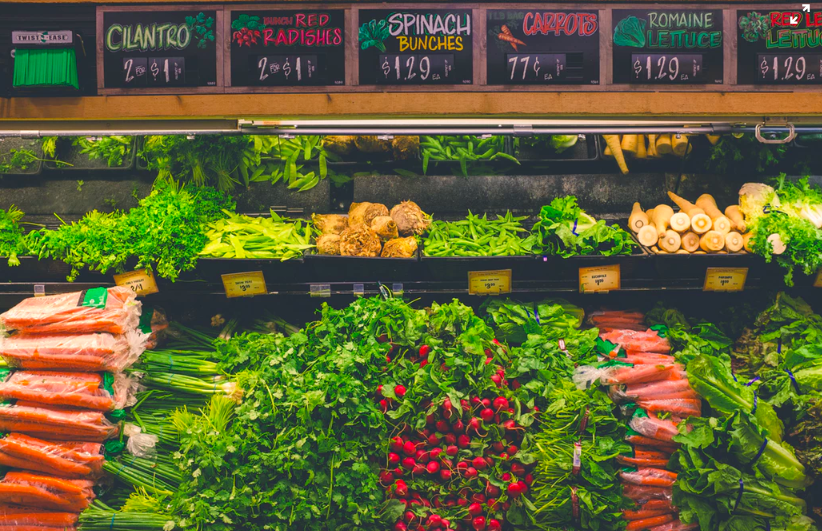 Grocery shopping quick tips:
Shop the perimeter of the store (think mainly foods you can pick and hunt)
Don't shop hungry!
Know that if you buy it (sweets, chips, dessert, etc.), you or someone in your home will eat it
Buy online and pick up! By ordering online you're not going to be tempted to grab items impulsively that can derail your progress.
Proteins:
Eggs
Ground Turkey or Bison
Rotisserie Chicken
Greek Yogurt (low sugar)
Low Carb Protein Powder
Salmon or Haddock
Cottage Cheese
Turkey Deli Meat
Tuna
Chicken Sausage
Low Sugar Protein Bars
Carbohydrates:
Mixed Greens
Lettuce
Low-Carb Tortilla
Spinach or Kale
Fresh Strawberries and Blueberries
Spaghetti Squash
Frozen fruit (Berries, Dark Cherries)
Apples
Sweet Potatoes
Celery
Cucumbers
Green and Red Peppers
Healthy Fats:
Avocado
Cheese
Almond Milk
Nuts and Seeds
Chia Seeds
Hummus
Natural Peanut or Almond Butter
Olive Oil
Grass Fed Butter
Breakfast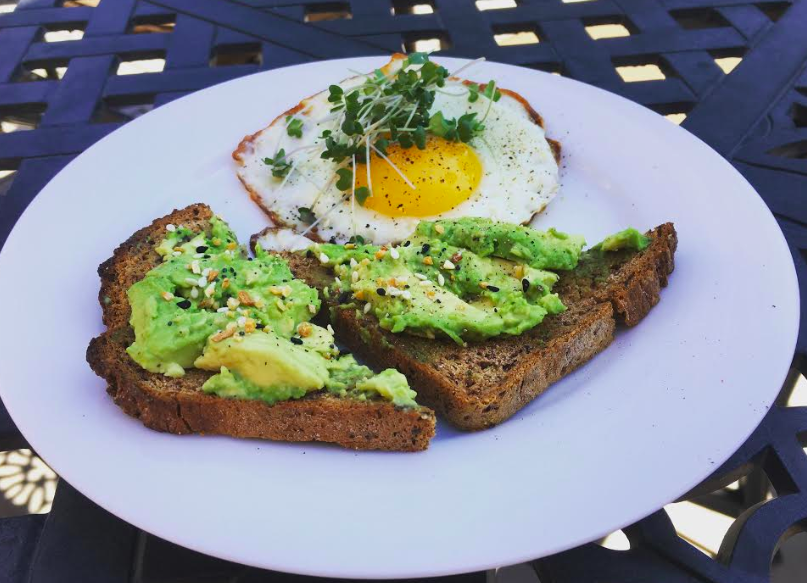 Here are some great breakfast options:
1| Avocado Toast
Almond flour toast or Ezekiel Bread
1/2 an avocado
2 pasture-raised eggs scrambled with greens (spinach, kale, chard, etc).
Sprinkle of Trader Joe's Everything But the Bagel Seasoning
Side of fresh organic mixed berries
2| Egg Burrito:
2-3 eggs scrambled or over-easy
1/4 cup avocado or 2 TBS shredded cheese
2 TBS salsa.
Side of fresh organic berries
1 low-carb wrap
4| Make Your Own Breakfast Smoothie
Choose 1 of each and add to the blender:
Protein Powder (1 scoop of whey, pea, rice, or collagen)
Fruit (.5-1 cup of frozen strawberries, blueberries, or dark cherries)
Vegetable (.5-1 cup of spinach or kale)
Healthy Fat (1-2 TBS of peanut butter, almond butter, walnuts, chia, or flax-meal)
Liquid (1 cup of almond milk or coconut milk)
5| Overnight Oats
1/2 cup old fashioned rolled oats
1 Tbsp chia seeds
1/2 cup almond or coconut milk
1/2 cup fresh organic blueberries or strawberries
1/2 scoop vanilla or coconut protein powder
Mix ingredients and leave in fridge overnight
Eat cold in the morning
Lunch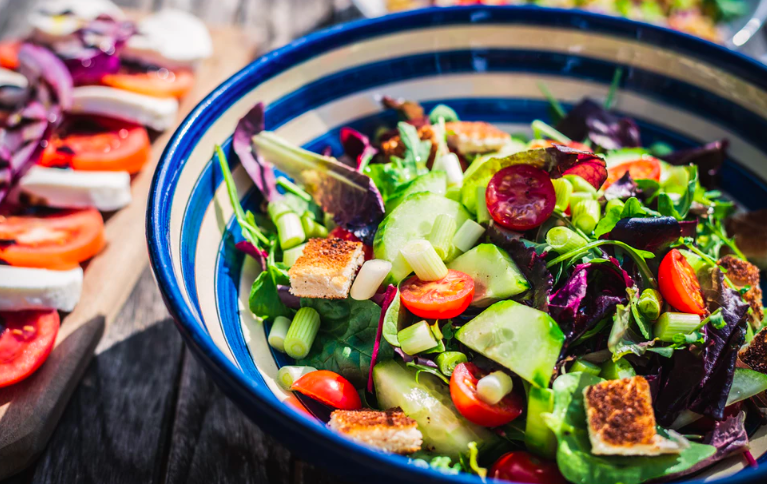 Here are some great lunch options!
1| Chicken and Potato
1 palm sized grilled natural chicken breast
1/2 of a medium sized sweet potato with 1/2 TBS grass-fed butter
Add a side of 1/2 cup green beans or broccoli
2| Lettuce Wraps
1-3 lettuce leaves
4-6oz of rotisserie chicken
1/2 cup green and red peppers
1/4 cup avocado
Add ingredients onto lettuce wrap
3| Tuna Salad
1-2 cups of organic mixed greens
2oz of tuna
1/4 cup avocado
1 TBS low-sugar dressing
1 cup of mixed berries to the side
4| Turkey Roll-Ups
3oz of Turkey meat rolled up
1oz of cheese
1-2 TBS of hummus
1 cup of spinach
1 cup of apple or mixed berries as a side
5| Power Bowl
2 cups organic baby spinach or Spring mix
3-4oz sliced rotisserie chicken breast
1/2 medium avocado
Sliced organic cucumbers
1/2-1 cup roasted sweet potatos
2 tbsp Reb cabbage/beet kraut
Sprinkle of organic toasted pumpkin seeds
Dinner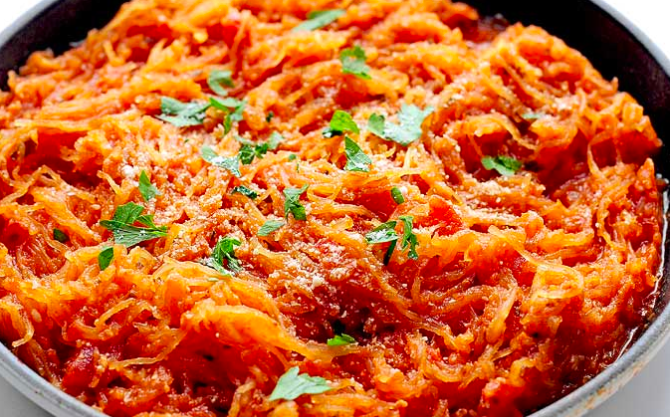 1| Spaghetti Squash Bolognese
Roasted Spaghetti Squash Strands: (Split and scoop out seeds and pulp, sprinkle extra virgin olive oil, salt and pepper and roast at 425 deg for 45-50 min, use a fork to scoop out the cooked squash)
Bolognese Sauce: (Cook 1 lb ground bison or turkey with 1 diced shallot and 2-3 minced garlic cloves, add 1 jar of Rao's Marinara Sauce and salt/pepper to taste.)
Sautee greens (kale, spinach, chard) and asparagus
Pile on the goodness and add 1-2 tbsp sheep's milk pecorino romano
2| Chicken Sausage Fajitas
4-6oz chicken sausage
1/2-1 cup chopped onions and peppers
1/2 avocado
1-2 low carb wraps
Sautee sausage, onions and peppers until cooked
Add to wrap with avocado
Snacks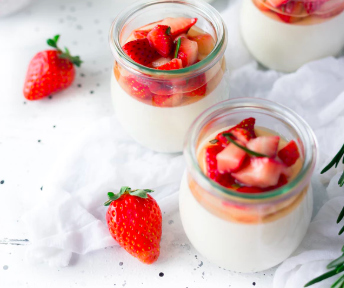 1| Cottage Cheese or Yogurt Parfait
1 cup of cottage cheese or plain Greek Yogurt
1/2 cup fresh blueberries or strawberries
2| Celery boats
1-2 stalks of celery
1-2 Tbsp natural peanut butter or almond butter
Spread peanut butter over celery
3| Deviled Eggs
2 hardboiled eggs
1-2 Tbsp hummus
Boil eggs, remove shell and cut eggs in half
Remove yolks and mix with hummus
Add back into the eggs and enjoy