Why DSC's Group-Based Personal Training Is The Fitness Solution You've Been Waiting For
It's time for a fitness solution you can stick to.
Here at Dynamic Strength and Conditioning, we've been voted the #1 gym in N.H for the past four years, not because of our state of the art facility and equipment, but because of our ability to help our members make getting into the best shape of their life, easier.
What we know is that starting an exercise and staying consistent is hard.
It's even harder doing it alone. In fact, it doesn't work. Research shows, 80+% of people who start a fitness routine on their own, quit during their first month.
The reason they quit is due to a lack of support and guidance. This creates a halt in progress, an increase in frustration and confusion leading most people to quit.
This is why DSC is the anti-do-it-yourself gym.
Instead, we've created a fitness experience unlike anything else. One that provides the support and guidance you need to get started, stay consistent, and see incredible results.
We believe:
...You shouldn't have to figure it out on your own
...You shouldn't have to try to motivate yourself
...You shouldn't be intimidated to get your fitness routine started
...You shouldn't be held back because you're new to exercise or have current or previous injuries
Instead, we remove fitness frustration by:
1. Structuring your workouts for you
2. Providing you with the world's friendliest and most knowledgable fitness coaches to guide you through every step of your workouts
3. Removing the intimidation around getting started
4. Helping you make exercise a normal part of your life
5. Helping you make consistent progress towards your goals
As soon as you enter DSC for your class, there's no more thinking on your end. All you need to do is show up and we take care of the rest.
How do we do this?
Welcome to DSC's group-based personal training.
What we know is that people THRIVE with 3 very key elements of DSC. These elements are our group workout atmosphere, workout structure, and personal training approach.
We combined these three to create our DSC group-based personal training. Let's get into each element.
1. Structure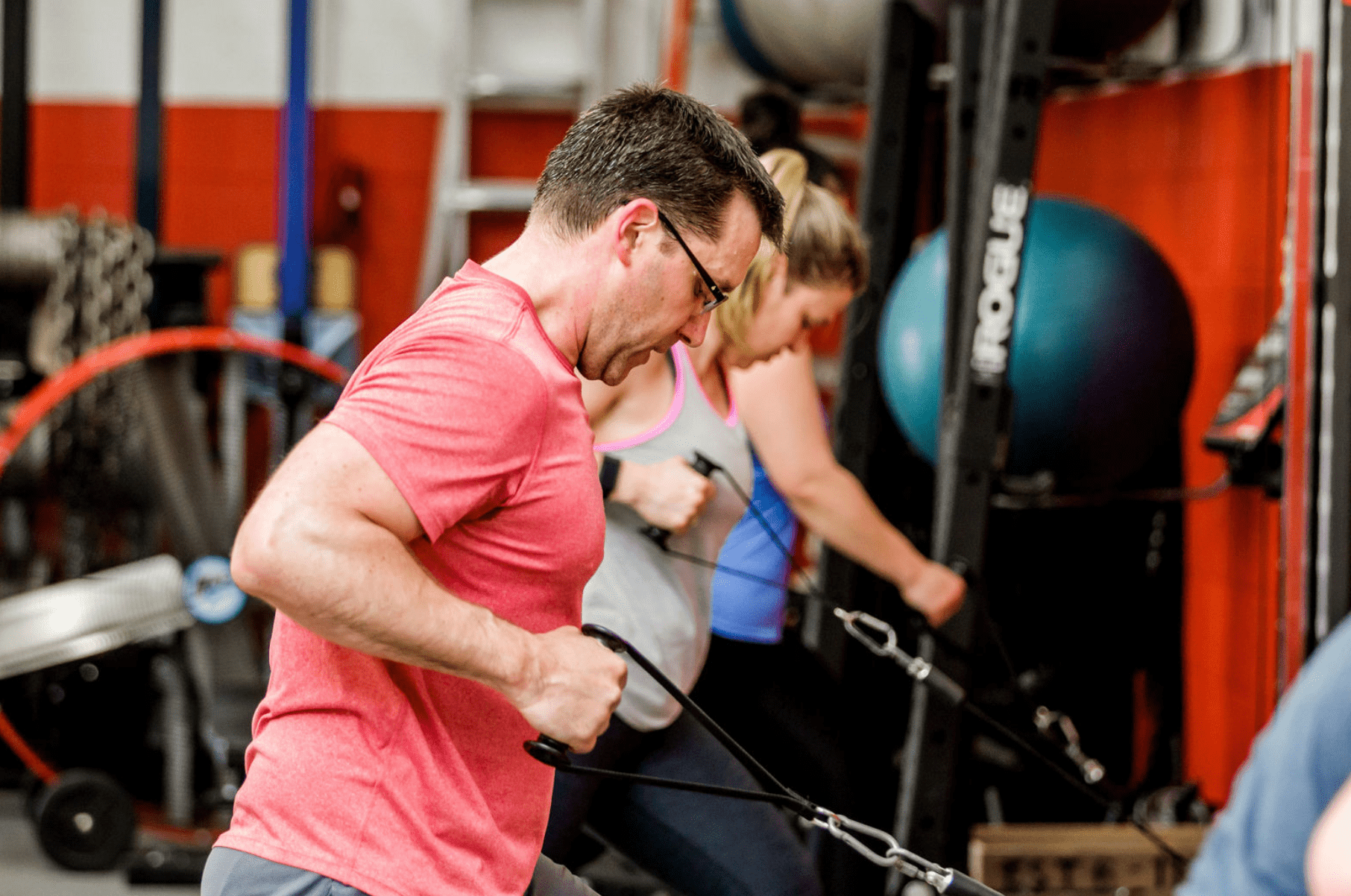 Here's an example of the typical gym experience:
You sign up at the gym ready and eager to get started. The front desk attendant gives you a quick tour of the gym and then you're left to figure out the rest. Questions run through your mind like, "How should I structure my workouts?", "Should I do strength or cardio?", "What exercises should I do?", "Am I doing this right?". All of these questions cause intimidation, frustration, and boredom. Your progress and excitement wears off.
Not only that but your workouts seem harder and harder to fit into your busy life. You only go when your schedule is open and that is rare. These are the reasons why most people quit.
We believe there is a better way. Instead of a do-it-yourself gym experience, we do it for you.
First: Prior to coming to your DSC classes, you will schedule it on our super easy to use class scheduling app. Research shows when you schedule exactly when (day and time) and where your workout is going to take place each week, your workout consistency increases by 80%! It becomes a part of your day our routine, just like an appointment or meeting. Did you know DSC members workout on average 3x/week compared to the less than 1x/week for those who try do it on their own?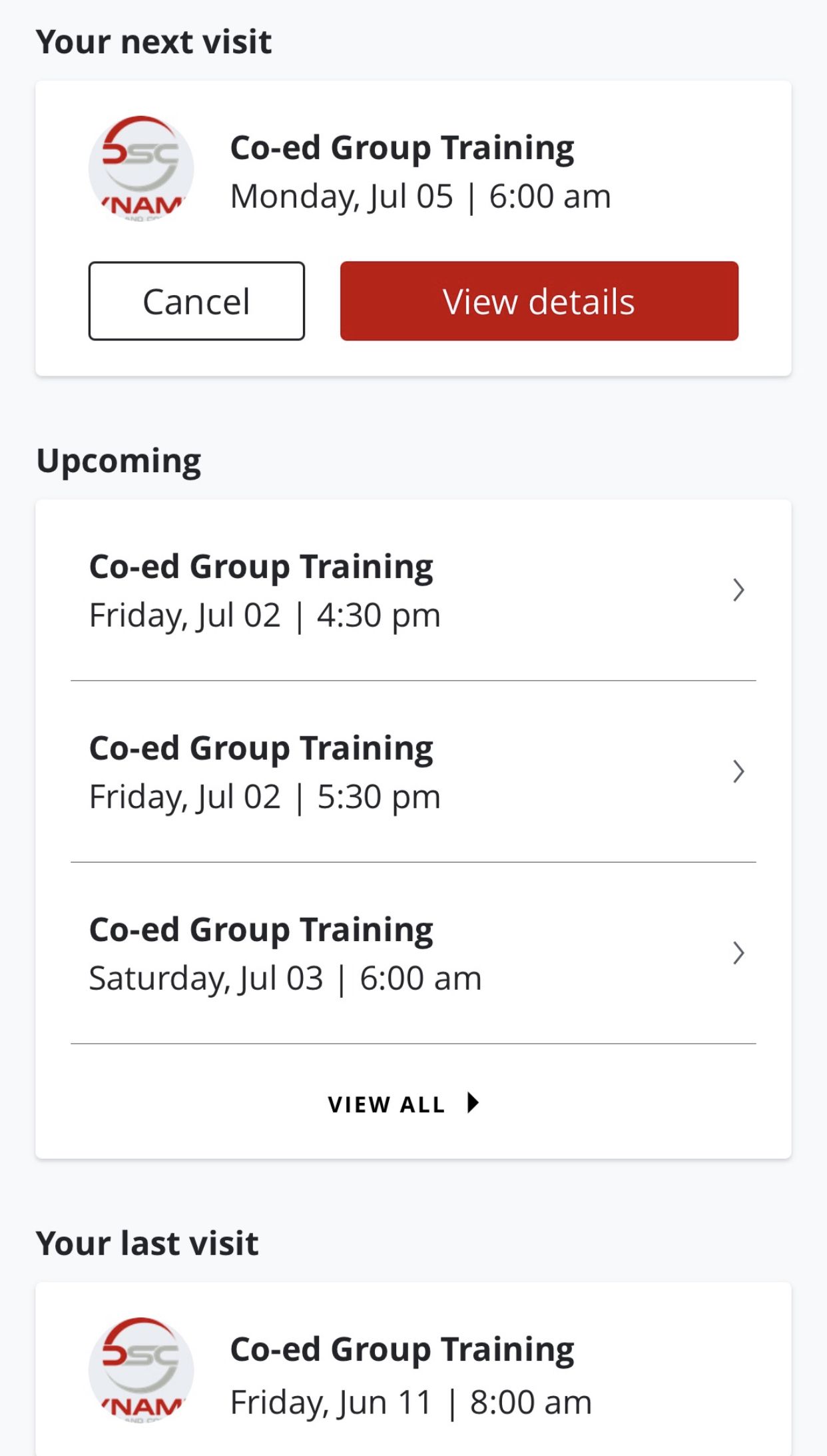 Second: When you arrive for your DSC class, everything is prepped, cleaned, and ready for you. Our mission is to remove every ounce of guesswork on your end and provide you with the cleanest and most comfortable workout environment imaginable. We do this each day by having your workouts structured and your equipment fully cleaned and ready to go. We design each session from start to finish - including every single exercise and rep you will complete to improve your flexibility, core and total body strength, and cardio. Here at DSC you never have to think about your workouts again.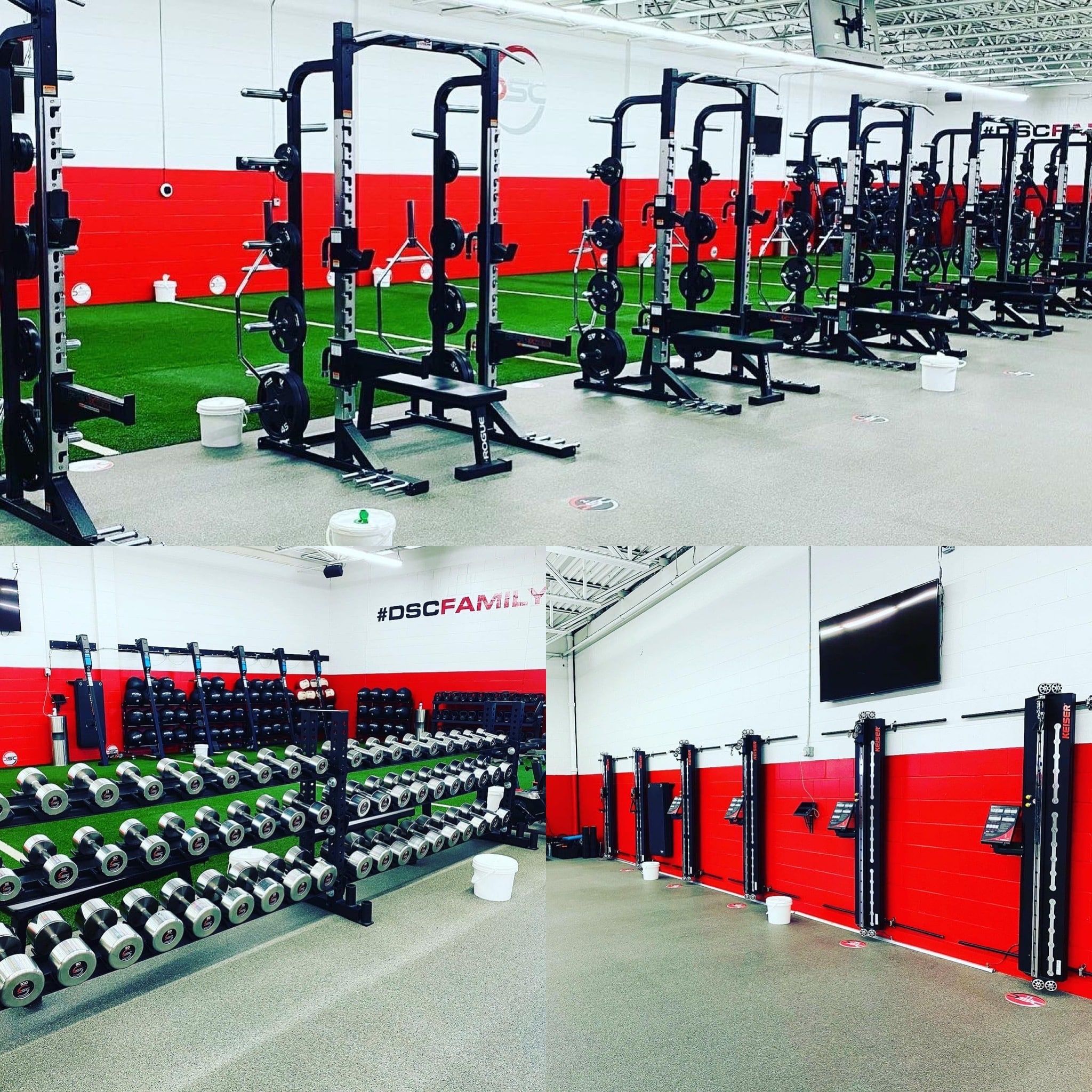 We remove any and all guesswork. All you need to do is show up and your DSC team takes care of the rest!
2. Group Atmosphere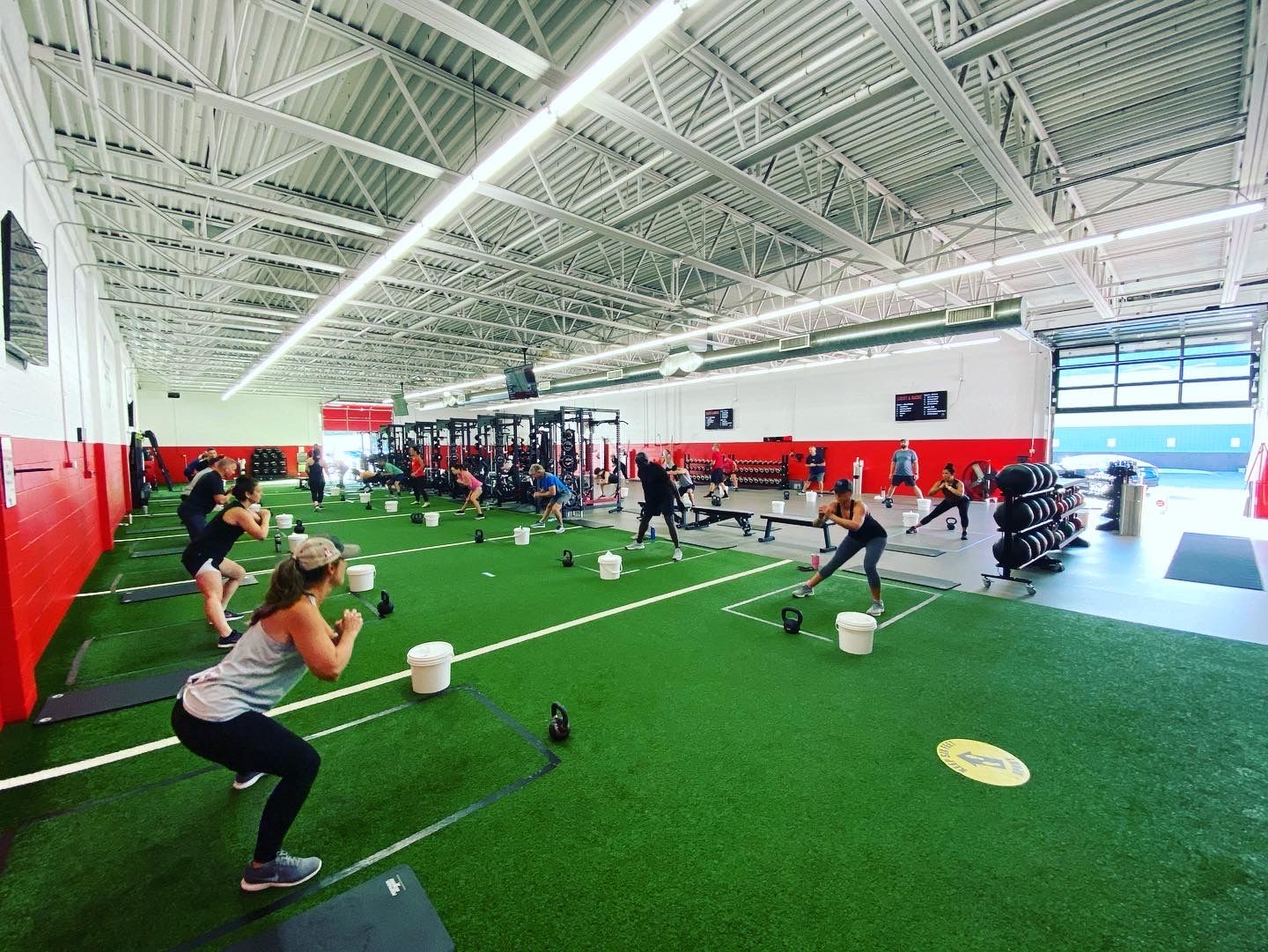 The research surrounding group fitness vs solo workouts is very clear.
Group fitness outperforms solo workouts in just about every fitness category including:
1. Workout consistency
2. Workout effort
3. Workout motivation
4. Workout intensity
5. Workout duration
6. Mood and happiness (group workouts boost feel good brain chemicals through exercise and social connection -- researches call this "collective joy")
In other words, group workouts help you attend your workouts more frequently. They do this in multiple ways like increasing the fun of your workouts so you actually look forward to them and accountability of showing up not only for you but for your coaches and other members of the class.
Group workouts simply help you put in more effort, getting way more out of each and every workout. They increase motivation and the intensity at which you exercise compared to working out alone. Seeing people of all abilities working hard is one of the key drivers of workout motivation. Imagine, doing a plank alone in your basement vs along side a group of people just like you, all working hard to stay up. Which environment would you hold that plank longer in? That's an easy answer. Group classes help you do things you never thought were possible.
Group workouts increase the duration of your workout vs. solo workouts when it's easy to quit early.
Finally, group workouts give you a double shot of mood and happiness increasing brain chemicals.
As humans, we are designed to move and exercise. We are also designed for social connection. Both are key components to living a longer, healthier, happier life.
Research and countless DSC transformations show that group fitness is the ultimate form of exercise for consistency, fun, effort, and results.
3. Personalized Coaching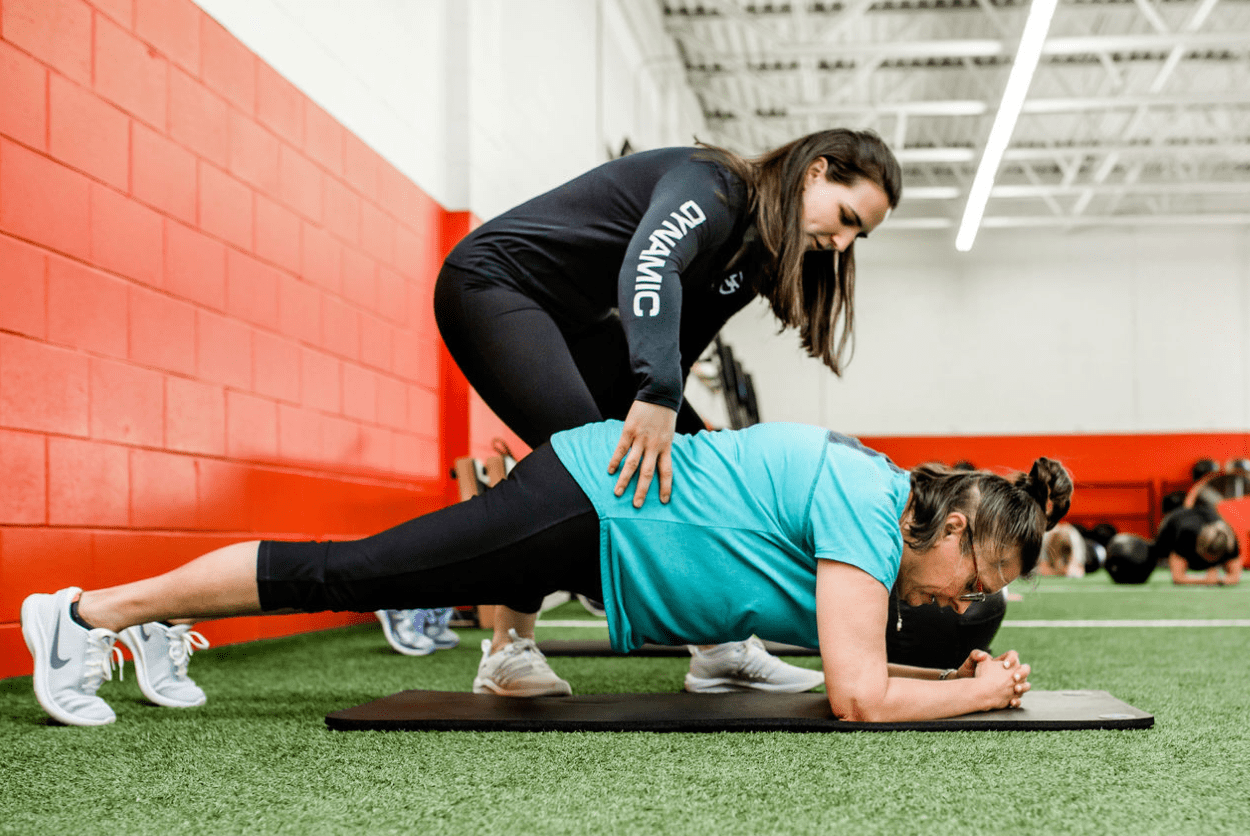 New to working out?
Nervous to get started?
Have old or current injuries that have been holding you back?
Have specific goals you want to achieve?
Our coaches (we call ourselves your fitness tour guides) meet you where you're at and obsess about providing you with the most personalized workout imaginable.
The beauty of our group classes is how we have a member who is on their first day ever at DSC and has a history of knee pain working out next to a member who's been at DSC for 3 years next to each other. Both are working hard and having fun, but doing some variation of the exercise that works for them and doing so at their own pace.
DSC is for all fitness levels and abilities.
Our workouts and coaching are 100% customizable to you, your fitness level, injury history, and goals. Our coaches do this by:
Getting you started with one on on coaching: During your first 2 weeks of workouts we will have a coach with you, helping you every single step of the way. We help with things like what weights to choose, how to perform each movement, how to go at your own pace, how to modify the workout if needed. Our first mission is to get you comfortable and ease you into the routine.

Modifying the exercises to work best for you: Our coaches meet you where you're at and scale the exercises to you, your fitness level and injury history. Bad knees? We will provide you with low-impact alternative exercises to avoid knee pain. Not able to get down on the floor? We have a substitute for that. Need a little more push? We got you!

Fixing form: You will never wonder if you're doing an exercise correctly or if you're doing it safely again. Our coaches provide immediate feedback to you during your workouts to correct form and posture and help you get the most out of every single exercise.

Helping you choose weights: You no longer have to worry about what weights to use or start with your exercises. Our coaches provide the weights for you and then coach you on how to increase your weights to ensure you're making incredible progress.

Giving you the motivation to push a little more: Say goodbye to trying to motivate yourself. Our coaches provide the positive feedback and encouragement you need each class to hold that plank a little longer, complete a few more reps, and get better every single class.
When you mix workout structure, a group atmosphere and personalized coaching, you have the ultimate fitness experience.
We call it our Group-Based Personal Training and it:
1. Makes it incredibly easy to get started (this is what holds so many back)
2. Removes the guesswork surrounding your workouts (we do the thinking for you)
3. Removes intimidation surrounding working out (we are the real judgement free zone)
4. Allows you to workout at your own pace and see incredible progress (we meet you where you're at)
5. Provides you with the cleanest and most comfortable workout environment imaginable
6. Keeps you consistent, motivated, and having fun (leading to incredible results!)
Are you ready to give our DSC group-based personal training a try?
Right now, you can try DSC FREE for 14-days!
Our 14-day FREE trial includes:
1. Unlimited coach-led classes (PERFECT for all levels)
2. Nutrition starter kit (meal plans, recipes, tips, and more!)
Click below to get started NOW! ⬇️