What DSC Members Are Saying About Our Reopening (Part 2)
Welcome to Part 2 of our "What DSC Members are Saying About Our Reopening"
You can find Part 1 below.
As soon as DSC temporarily closed over 3 months ago, the reopening process began.
We called it operation DSC Safe and Strong and our mission was simple: make DSC the cleanest and safest gym on the planet.
We immediately started our planning that continued all the way to our reopening which included areas like consulting with doctors, nurses, police, disease prevention specialists, the CEO of our cleaning company, and the top fitness business consultant in the country. We began organizing DSC in a way that allowed our members to socially distance throughout their entire time at DSC. We rehearsed our classes and systems over and over, including how we'd have members safely enter DSC, workout, and exit. We made a decision very early on that we were going to leave no stone left unturned.
You can read our DSC Strong and Safe Guide HERE which takes you step-by-step through every update, system, and safety procedure we've put in place so you can see exactly how we are keeping our members safe during their workouts!
To give you more insight into the updates we've made to DSC to keep our members safe and comfortable, we recently asked our members about their experience with our reopening.
We asked them how they felt before coming into their first class back, the safety updates and policies we put into place, and about their workouts.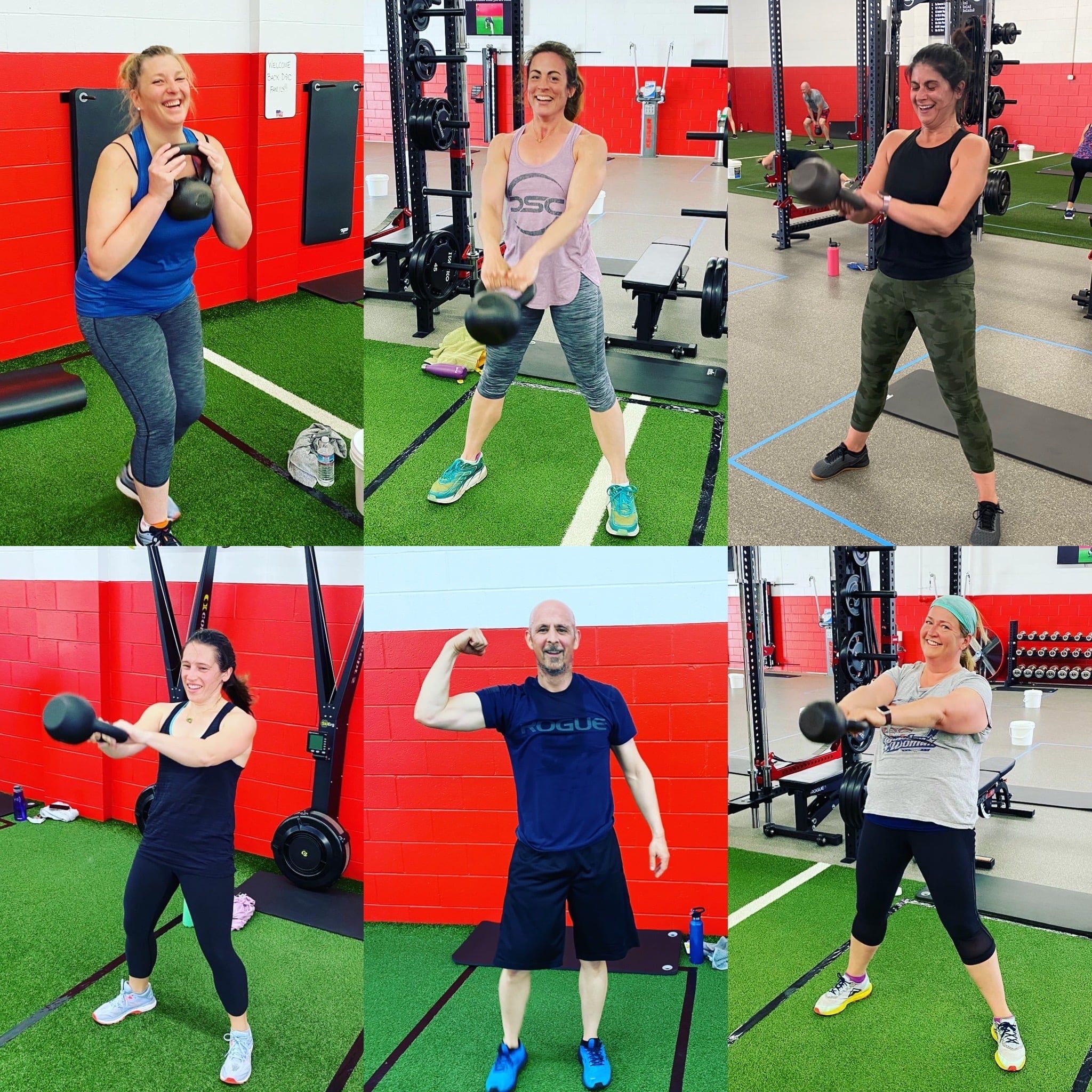 Welcome to part 2 of what DSC members are saying about our reopening.
Enjoy!
Meet Sandy: "I was apprehensive about returning. Since returning, I love it! I feel completely safe and love working in the pods. It makes me focus just on what I'm doing to get my best workout. You guys have done an incredible job of keeping us moving, informed and safe! Thank you for all your hard work!"
Meet Carla: "I absolutely love the improvements! When you enter the gym, you can just tell that it is clean and safe. The pod idea is fantastic, and I love having my own space to just focus on what I'm doing. I don't have to worry about getting too close to someone by mistake and making them feel uncomfortable or vice versa.
I had my first workout on Tuesday, and when I was done and heading home, I realized how much I had missed going, and how much I needed it. Seeing the coaches was like re-connecting with friends you haven't seen in awhile; and for 35 minutes, I completely forgot about COVID and the challenges it has brought. And the best part...I wasn't as out of shape as I thought I would be! I certainly was challenged; but I made it through and was proud of myself for accomplishing it. Thank you for truly caring about us, your members. I am proud to be a member of DSC!
Meet Laura: "DSC is cleaner and more frequently sanitized than my work and my house! The improvements made to DSC go beyond what I had seen with other gyms and what I thought was even possible!"
Meet Michele: "I think the safety updates DSC has made are fantastic! DSC and the team have created a safe and welcoming environment. The welcome back videos that acknowledged our fears and encouraged us to come back at our own pace were awesome. They reminded me that I would be welcomed and encouraged to do what I could do and not feel bad if I had to modify. The workouts have been fantastic! Thank you and your team for working so hard to bring the DSC Family back to the gym. You have created an incredible thing and I love being a part of it!"
Meet Donna: "I think the improvements are phenomenal! I feel extremely safe with all the policies in place. DSC has gone above and beyond!"
Meet Dot: "You guys are the best and you all are working so hard to make it possible for us to workout at DSC with all our peeps! I was so excited to come back as I knew it would be as safe and organized as possible"
Meet Michelle: "Seemingly every day, DSC posted a new video or written update to members offering a glimpse of what to expect and how the gym would operate. And I personally applaud the decision to not open at the first opportunity, but to instead ensure that all safety measures were in place and all kinks worked out of the system before reopening the doors.
I'm certainly impressed by the physical improvements – from the dedicated workout areas to the hands-free sinks and bathroom doors, but more importantly, I believe these changes signal a level of caring for members that most gyms don't and never will have. The DSC team thought through every detail, every aspect of "gym" life that could create risk or cause concern – from the sharing of weights to proximity to others – and made it easy for me and my daughter to return.
This has been an incredibly challenging few months for everyone. It is not hyperbole to say that the pandemic has affected every person on this planet in some material way, irrevocably changing our lives. Through all of this, DSC has remained a 'constant.'"
Meet Maggie: "DSC has made an incredible number of changes to assure members are not put in harm's way. It is so organized- and the procedure is so clear - that I never worry I will be too close to someone or that I will touch equipment that isn't sanitized. I was really impressed- right down to the no hands sink in the restroom! It has been great coming back to the in-person workouts. It's very orderly so we are separated from others but still with friends, going through the workouts. I feel like I'm getting back into shape!"
Meet Mark: "DSC and team has hit it out of the park! Understanding the potential for the spread of the virus, I wanted to make sure the appropriate measures were taken for social distancing and sanitization. The messaging from the DSC Team was amazing...steps taken to deep clean the facility, remodeling to accommodate social distancing, procedural changes when coming into the facility - all were outlined in a number of ongoing communications with the members. I had no reservations about coming back as all of my concerns had been addressed before re-opening. The improvements to the facility and updated access have been just what I think many of us were hoping for."
Meet Jessica: "I was excited to come back. I wanted to be at the facility, to hear the coaches encouraging, the music bumping and to be near others putting in work. Never thought in my life I would be saying how excited I was about going back to a gym. The truth is I was!"
Meet Brenda: "The DSC improvements are great! All the safety protocols are working smoothly. And you were still able to keep it fun!"
Meet Mike: "I am VERY happy to be back! The classes have been reinvigorating. It's nice to be back with the coaches and the rest of the DSC community. I was a little apprehensive at first, not knowing how the classes would be structured and if 35 minutes would be a good enough workout, but I have not been disappointed! The classes are efficient and I get in a very good workout in that time. I can't say I am surprised by the level of safety measures you have put in. You have always expressed how the importance of the safety of your staff and the DSC community. You have gone above and beyond with the check-in process, individual pods, frequency of cleaning (equipment and facility), dismissal of the class, improvements to the bathrooms, new water stations...it's been great!!"
Meet Mary: "I was nervous about coming back but I feel that you kept us so informed on all the work that was being done in the gym to keep us safe which made my anxiety go away. The improvements are top notch in my opinion! You really thought of everything. Your policies and systems are right in place. My workouts have been great!"
Meet Brenda: "The facility is very clean! I felt very comfortable coming back. DSC is well prepared and made sure the facility was going above and beyond guidelines."
Meet Michelle: "I LOVED being back this week and am feeling safe and re-energized! Initially I was nervous to come back. I couldn't picture how we would be able to workout using/sharing the equipment and keeping distance from each other. As the staff began the behind the scene changes, they were very transparent and shared on social media and through email each step they were doing, be it updates to touch-free sinks, water refill stations, bathrooms, equipment set up, turf sanitation, and more. Besides a very thorough video detailing the whole process of how we would return from registering online, to lining up, how we and the staff would manage equipment, and then how the post workout sanitation would work in between classes. I really appreciate all the efforts, it is a lot of extra work on the staff but they are following the protocols and still keeping us engaged, sweaty, healthy, and energized! It felt so good to walk back into the DSC building; there is something very special about the energy it holds! I loved being back this week and am feeling safe and re-energized."
Meet Cathy: "The painting, the steam cleaning, the touch-less bathroom entry, etc... all of these processes enabled me to come back without hesitation. And don't get me started on the coaches! They are phenomenal! The support they give with the in-person workouts is beyond anything I could have hoped for. I'm not sure what I expected given their history with modifications and encouragement. I should have known they would be the most amazing coaches ever. I'm embarrassed that I even considered not coming back!"
Meet Gwen: "DSC is doing a wonderful job helping their members, staff and prospective members feel safe and welcome! A business runs well when everyone is on board, everyone knows the procedure and it is seamless. This is evident at DSC!"
Meet Cassie: "Coming back as a whole has been super positive! The design of each class has been outstanding, the coaches couldn't be more helpful, I feel that my safety and the safety of all class participants has been at the forefront! The gym updates are incredible, which makes it easy to stay safe!! Have no fear, DSC is here!"
Meet Kathleen: "Wow is all I can say!!! I can tell that you guys have worked extremely hard to make it a very safe environment! The classes have been amazing!"
Meet Brian: "The entire staff at DSC kept us very informed as to the safety measures and protocols that were being put in place. Each and every step that was taken to sanitize and clean the gym was at the forefront of our DSC family page & emails. I did not feel at all like there was anything missed in regards to the cleanliness and sanitation of the gym. Along with the cleaning, Matt & the rest of the staff at DSC made the entire facility a touch free zone (restroom faucets, bottle filling stations, multiple sanitizer stations, the list goes on and on). DSC Family there is none better!!
Meet Donna: "I was nervous but mostly because I have an infant grandson and need to be careful so I can continue to be around him. I was so grateful to try a class because it took my worries away. The improvements are amazing. You went above and beyond. I think the systems for checking in/out and cleaning systems as well as all touch free zones are fantastic!"
Meet Lisa: "Once at my first class back, I felt totally at ease. DSC is spotless, clean, and safe. Social distancing is 100% maintained. Matt and the staff seemed to think of everything to keep any cross contamination at an absolute minimum- touch free water stations, faucet, bathroom doors, etc. The equipment is totally sanitized. I am so impressed and reassured by the effort (and assumed considerable expense) that DSC put into all of this."
Meet Valerie: "I was only worried about my first class back since I didn't workout with you guys for 3 months! Totally feel safe knowing that you guys took all precautions to keep the gym clean! I think everything is perfectly done for the members safety! I love the classes, so well organized. Thank you for everything you guys do!"
Meet Tara: "I can't even describe the obvious attention DSC gave to every single detail in the gym. No corners were cut! First was the physical changes. From extensive cleaning of every inch of the gym to repainting to installing contactless fixtures in the bathrooms, the gym looks completely brand new. But that wasn't where DSC stopped. A lot of the larger exercise equipment was moved out of the gym to make room for the creation of "pods" which are individualized spaces in the gym blocked off 6ft apart which provide a safe, clean space for each member to workout.

It's clear that DSC invested an immense amount of time and resources to make the gym a safe place for all of its members to workout. I'm confident DSC did everything necessary in order to open while putting the health and safety of their staff and customers first. However, the one thing that hasn't changed is I still get an intense workout each class and leave the gym sweaty and smiling!"
Meet Karla: "One thing I have observed while being a member of DSC is Matt does not do anything half assed. No matter what it is. He takes the project at hand, researches, talks to industry professionals and anyone else who may shed knowledge on his task and then puts into action a solid plan. Always going that extra mile even when not necessary and no matter the cost. He ensures all employees are trained, all members are informed and anything else needed for the best outcome. So in answer to your question, no I was not in the least bit worried or nervous. As I expected, the improvements and updates we exactly what I would expect of the way Matt handles every situation: with complete thoroughness. The workouts have flowed flawlessly. It was apparent the staff had practiced until it was perfect. I'm so excited to be back! DSC is like no other gym because all members are important to the staff."
Meet Tom: "With all the improvements and safety plans you guys had I really had no worries at all about coming back!! I didn't second guess it."

Ready to get started at DSC?
Join during the month of July and your first month is FREE!
Click below to get started!