What DSC Members Are Saying About Our Reopening (Part 1)
As soon as DSC temporarily closed over 3 months ago, the reopening process began.
We called it operation DSC Safe and Strong and our mission was simple: make DSC the cleanest and safest gym on the planet.
We immediately started our planning that continued all the way to our reopening that included areas like consulting with doctors, nurses, police, disease prevention specialists, the CEO of our cleaning company, and the top fitness business consultant in the country. We began organizing DSC in a way that allowed our members to socially distance throughout their entire time at DSC. We rehearsed our classes and systems over and over, including how we'd have members safely enter DSC, workout, and exit. We made a decision very early on that we were going to leave no stone left unturned.
You can read our DSC Strong and Safe Guide, HERE which takes you step-by-step through every update, system, and safety procedure we've put in place so you can see exactly how we are keeping our members safe during their workouts!
To give you more insight into the updates we've made to DSC to keep our members safe and comfortable, we recently asked our members about their experience with our reopening.
We asked them how they felt before coming into their first class back, the safety updates and policies we've put into place, and about their workouts.
Welcome to part 1 of what DSC members are saying about our reopening.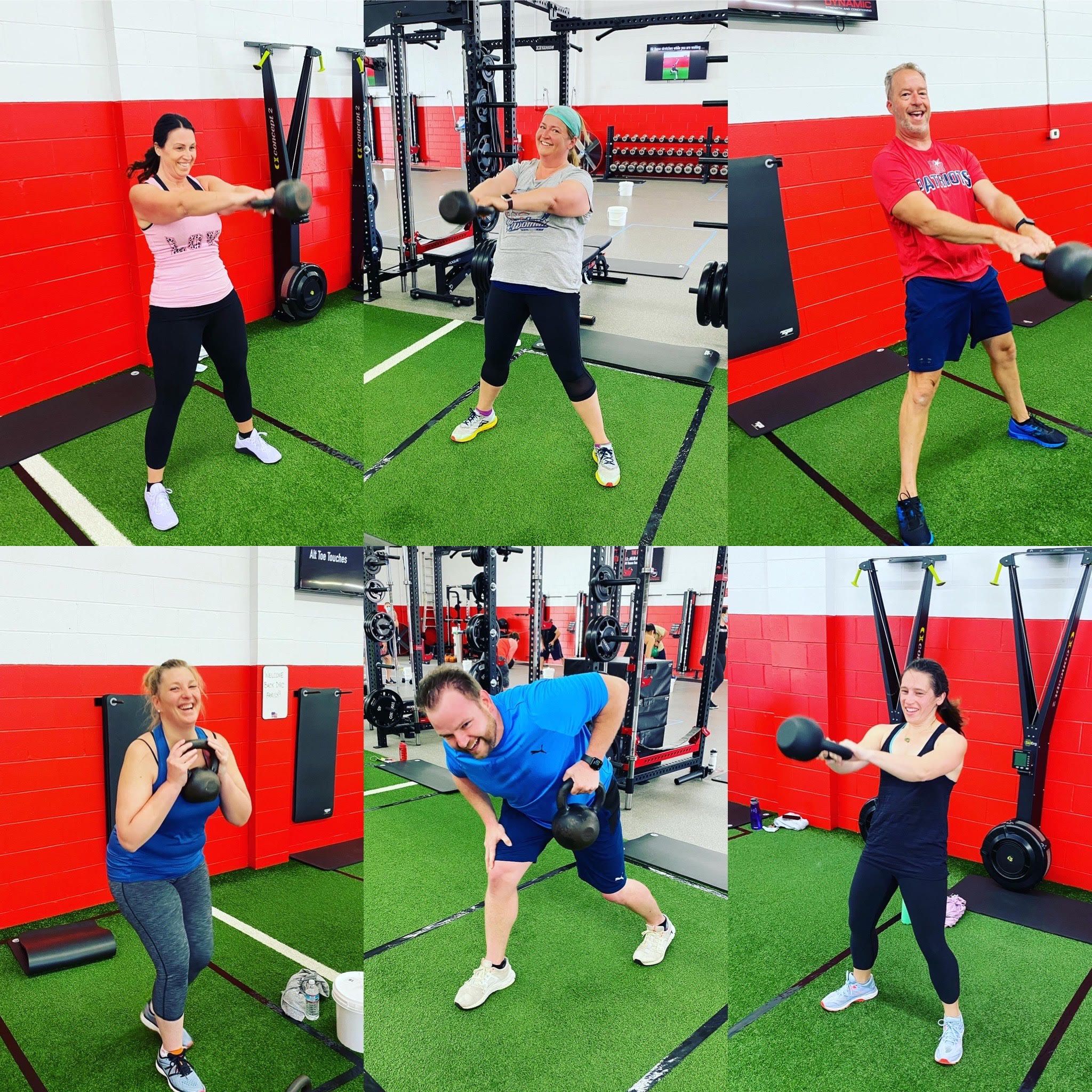 Enjoy!
Meet Jean: "I can't think of anything DSC could have done better to ensure everyone's safety. They always go above and beyond and continued to do so while closed and of course now that they've opened."
Meet Jen: "I was not nervous about going back to the gym knowing all the safety measures DSC was putting into place to follow the guidelines. I feel that DSC has gone above and beyond what has been asked of them to do to open their doors again. I know that certain guidelines had to be in place for them to open, but DSC didn't have to change their water stations, or the bathrooms so that everything was touch-less. There are so many other changes that Matt made that shows that he really cares about our safety. I have to say after attending the first two days at DSC since the doors opened, I have loved the workouts. The coaches still push you and help you with form as much as before. Being able to workout with other people pushes you so much more. It had been a positive experience with such good energy. I love being back!"
Meet Mollie: "The coaches have outdone themselves with the effort put in to make sure we are all safe and also to make sure we are still able to workout. The process from start to finish at the gym is very smooth and effortless, and most importantly safe and sanitary. I love the pre-warmup videos, it feels like the seatbelt demonstration in an airplane! I was a little skeptical about the pods, and was worried we would be restricted, but turns out the pod is the perfect size for a workout!"
Meet Karen: "From the check-ins, to the frequent double cleaning of equipment, to the hospital grade cleanings to the ability to have both sets of garage doors open, members can be confident they are safe at DSC!"
Meet Brooke: "I really enjoy the idea of the individual pods, I like that it allows us to have our own space. A lot of time and thought went into our safety being a top priority returning to the gym. I appreciate all of the extra work put in to make sure everyone is staying safe and healthy before, during, and after the workouts with the sanitizing of everything in the gym."
Meet Gail: "I was impressed with the way everything went so smoothly. And the improvements that have been made are much appreciated! Thank you Matt and your team for all you guys have done. You have gone above and beyond what was expected!"
Meet Andrew: "Returning to the gym was seamless! It's organized, well thought out and as always very welcoming. They have really put a lot of thought into making it a safe environment for everyone. The new workouts have been awesome, challenging and fun!"
Meet Jen: "All of my concerns went away after the first day! The pods are spread out perfectly. It's been great. I think the improvements have been incredibly well organized to meet the requirements put on gyms because of this pandemic. Between the coaches, the music and the other members you can't have a bad day when you start at DSC!"
Meet Stacy: "When it came to what Matt and staff put in place for our return, I was absolutely blown away! DSC always goes above and beyond in what they give members. I was so thankful knowing that this would be the safest environment I would ever be in, hell DSC is now cleaner than most people's homes haha and I love them for that!"
Meet Karen: "I like all the new polices they made to keep everyone including DSC staff safe. I did both Monday and Wednesday 4:30 and they rocked! I am sore! It's funny, I worked out everyday at home but the atmosphere and the coaches are where it's at! You and your staff are truly special people. Thank you so much for making it easy to come back safe and workout so effectively!"
Meet Kara: "The workouts have been AWESOME and so much fun! I just finished day 4 today and I'm so sore and absolutely loving it. The intensity of the workouts have far exceeded my expectations. Not to mention the energy you guys still bring with all this going on is incredible! I'm so happy to be back!"
Meet Karen: "I'm incredibly impressed but not surprised that every possible precaution to make the gym safe has been taken. The systems/procedures for each class run smoothly, all members participate and the gym is impeccably clean. My workouts have been great. I returned for 3 classes this week and I'm sore in the best way possible. I feel both physically challenged and safe!"
Meet Rachel: "I was excited to be back; a little worried about how the process would go getting inside but it was quick and simple! The changes and improvements are great. Definitely a safe environment and I am confident the risk for anyone to get sick is very low by following the processes you have in place. I actually responded to your survey and said I would likely wait a little while before going back - I'm glad I chose to check it out!"
Meet Nicole: "DSC and the team have done an amazing job responding to this pandemic at each turn. I am grateful to have you and this very special gym community in my life!"
Meet Brad: "As a public school administrator, I am very familiar on the CDC guidelines for keeping people safe. In my opinion, the improvements and structure not only met but they exceeded these guidelines. I feel very safe and really enjoy the improvements to the facility!"
Meet Nicole: "I had not been as motivated at home due to space restrictions and was worries about coming back, however, being back has been invigorating! I got right back on the wagon and won't be turning back! So happy to be part of the DSC family!"
Meet Julie: "I have not stopped raving about the hard work and dedication the DSC staff has done in order to open the gym and continue on our fitness journey!! The step by step process of checking in and getting to our pod allowed for there to be no question of whether we were safe in our new gym setting! It was flawless and just like that we are back at it!"
Meet Linda: "DSC has done so much to insure everyone's health and safety. Having touch-less faucets and door openers is great. The personal pod space makes for a safe work out. On Wednesday every muscle was sore letting me know how much I missed working out. All the coaches at DSC make me feel like I am part of a family. I am truly happy to be a member. Thank You!"
Meet Cathy: "DSC has set the bar very high for other gyms. The level of dedication to making sure we are well taken care of is like no other!"
Meet Joe: "The updates and improvements to DSC have been tremendously thought out to keep everyone safe. To the touch free water fountains, touch free door opener into the bathrooms and our own workout area, who wouldn't feel comfortable coming back? And the workouts have been great!"
Meet Leslie: "Your passion and vision to create a gym experience like none other is exemplified through the improvements you've made and through the detailed communication to your members, preparing us for our safe return. The processes you have developed to get members in/out of the gym for each class has been seamless and very efficient. The workouts, as usual, continue to kick my butt! It's great to be back with the DSC Family!"
Meet Lynne: "Being a cancer survivor, asthmatic and a microbiologist I did everything in my power to keep myself and my family safe during the pandemic. I did not go out of my house for weeks. When the governor gave the green light to open up gyms, I was very apprehensive about going back to DSC. I read the DSC Safe and Strong Guide provided by email and watched all of the video updates on Facebook. All the cleaning, the socially distancing pods and the coaches learning as much as they could from health professionals, made me feel less apprehensive. I knew for my own sanity I needed to get back into the gym. Since DSC opened on June 8 I have attended classes every day. From the moment I walked into the door I felt safe. I love the workouts."
Meet Elly: "I have been back 3x's this week and I can honestly say not once did I feel overwhelmed for my safety. When speaking to anyone of the coaches they have maintained their social distancing, even though I want to hug everyone! Cleaning and sanitizing stations are set up just like you said they would be."
Meet Karen: "I had many concerns returning to the gym. My anxiety about going back into the gym melted away with all the communication you put out leading to the opening day. You really did a great job preparing the team to open safely and I felt what the team knew we knew so we could expect certain things. I returned on opening day happy to see all precautions in place and smiling eyes behind the masks that greeted me in line and at the door!"
Meet Elaine: I am so impressed with what DSC has done, from removing some of the equipment (temporarily), the spacing of the "pods", the hand sanitizers, hands free installments, the set up of the gym with space, gym doors wide open. I feel that you really have done everything you can do to keep the coaches and members safe!"
Meet Karen: "The improvements and updates are a fantastic addition to the gym. With the current policies and systems in place, I feel 100% safe and protected while I am at the gym! I have no hesitation or reservation to attend a class. The workouts have been great!"
Meet Barbara: " I was nervous. And worried. But I knew I needed to get back. So, I put my fear aside, and trusted Matt and the entire DSC staff. They've always had my best interest at heart, so why would anything change now? So I went back. I knew within minutes I had made the right choice. I felt safe right away and was impressed with how clean the gym is and how organized their procedures are. I have been very impressed with DSC's updated policies regarding safety and protocol. The member safety is of the upmost importance and it shows. The procedures regarding check in and walking to your pod are well thought out and organized. I feel comfortable and safe and know that my health and safety are of the upmost importance to the staff. Knowing that, I can concentrate on my workouts and use all of my energy towards working as hard as I can."
Meet Anita: "I was nervous but somewhat prepared because you prepared us with all your communication. After my first workout I felt the gym prep was amazingly safe and a lot of hard work was invested. The updates, policies, etc. have only made DSC that much more valuable. I feel great to be back, the workouts are helping me continue to make progress on a healthy lifestyle."
Meet Tina: "The improvements made and updates to the facility are nothing short of amazing. DSC and staff have it all under control and your expectations of members are clear, concise, and consistent to ensure that everyone feels safe and well taken care of. Both workouts this week were great, tough, and fun. I felt safe throughout."
Meet Maureen: "I was not concerned because I knew the professionalism of the staff would have the gym prepared and ready for workouts. I can tell DSC put careful consideration into all the new policies and procedures which are working well. The workouts have been good and challenging as I have missed this feeling of being a part of the morning workout family of DSC.....Thank You to all of our team of trainers."
Meet Kim: "I will tell you I loved every minute of my first class back. I love every improvement that DSC has made!"
Meet Danielle: "Coming back to DSC almost felt like a moment of "I made it, I'm really going to be ok." The coaches and other members have been a life line to me during this pandemic. They've been my motivation, strength, and an always needed laugh! I was blown away by the steps that DSC has taken to keep us safe! I was so impressed to see other coaches cleaning while we were working out! Cleaning everything including trash barrels!! I felt so incredibly safe during my work out!"
Meet Kathleen: "The system put in place is amazing! Very organized. Anyone who is apprehensive should know that you've really thought of everything! It's so awesome to be back! I'm already starting to feel like myself again. I'm so sore but we can all go at our own pace and have so much support at DSC! It hurts so good!"
Meet Mark: "DSC and team hit it out of the park! Understanding the potential for the spread of the virus, I wanted to make sure the appropriate measures were taken for social distancing and sanitization. The messaging from the DSC Team was amazing...steps taken to deep clean the facility; remodeling to accommodate social distancing, procedural changes when coming into the facility - were all outlined in a number of ongoing communications with the members. I had no reservations about coming back as all of my concerns had been addressed before re-opening. The improvements to the facility and updated access have been just what I think many of us were hoping for."
Meet Mike: "I was thoroughly impressed! Improvements and updates are pretty cool. I love the new water stations. After just one day back in the gym and the euphoric feeling I get after I get my butt kicked is indescribable. I need DSC in my life to complete me, it's that simple!"
Meet Stephanie: "I saw on social media and through emails all the precautions and policies you put into place and knew it would be as clean and disinfected as possible. I thought DSC's reaction to this pandemic was superb: they made adjustments to allow workouts from home, added additional programs for nutrition, etc and kept members informed every step of the way. Happy to be back!"
Ready to feel your best?
Our 30-Day Summer Jumpstart Program starts July 6th!
30-days of unlimited workouts (at DSC or our online home workouts), easy to follow diet diet, fat-loss meal plans, and RESULTS!
Click below to register! Space is LIMITED!