Patty Lost 22lbs with DSC STRONG Online!
I started at DSC a few years ago to get in better shape and of course to lose some weight (after turning 50 it seemed impossible to lose any weight).
I had some friends who convinced me to join and I found a great group at the 5AM - the energy that early in the morning was always super supportive.
From day one the coaches were welcoming and provided great guidance while still pushing you to do your best. But somehow I still allowed myself to be on-and-off with my workouts. It was easy for me to have an excuse to not go; too busy, too tired, early work meetings, I'll go tomorrow, etc.
In January of 2020 I told myself this is my year to get in shape! I re-committed to working out at DSC 4 days/week and running a few other days. In February I started a nutrition plan with friends – simple changes to eating better. By the end of February, I started to see some results.
Then, COVID hit and my life turned upside down. I transitioned to working from home and my house filled up with everyone moving back home and working/schooling remotely. On top of all the worry about jobs, health of loved ones, and remote learning for the kids, I didn't want to lose the momentum. I had finally started focusing on me!
Although I was worried when DSC closed (with everything else) I was pleased that they had a plan in place to continue with the workouts and knew I could use it to help keep me on track. I decided to treat it like a meeting and blocked my work schedule every weekday at 5:30PM to attend the LIVE workout session.
Since going to DSC online forced me to switch my workout time from 5AM to 5:30PM, I gained some sleep and gave myself a hard stop at work to make the online class.
I was pretty committed to attend the Live workout sessions and eventually recruited the kids (17, 19, 20) to join me. I always preferred having a workout buddy but even when I didn't, I kept in touch with fellow DSC members to text commitments to the workouts and share our complaints about how tough they were. It really helped being 'in it' with others!
The program has drastically improved my sleep, diet, and fitness. It forced me to get back on track with my healthy eating since March brought on stress eating and less discipline! I was very motivated to get my daily checkmarks on my DSC STRONG calendar – especially for fitness and nutrition. As a result, April turned out to be a good weight loss month for me.
The DSC online workouts are so fun!
Even when I was solo and had to force myself to take a break from work to get it done, the coaches bring high energy and support for those of us on the other side of the screen. They've done a really great job transitioning to online coaching and connecting with us members!
Seeing the coaches do the workout and realizing that it's tough for them too was also somehow very rewarding.
Every workout is different and even though I am limited with equipment at home, I always feel accomplished once it's completed.
The workouts have really helped me manage my stress too– I needed the break from work and wanted to do something for one hour that was just for me. DSC online provided that outlet for me.
I look forward to seeing the friendly faces of the DSC coaches and welcomed the push to work harder with every circuit.
Mentally I was loving that checkmark every day – it's the one thing I had some control over during this crazy time.
DSC's online workouts keep me on track. I no longer skip workouts. If I couldn't make the Live session, I would do the recorded version later.
The benefit: I'm down 22lbs and feeling fit!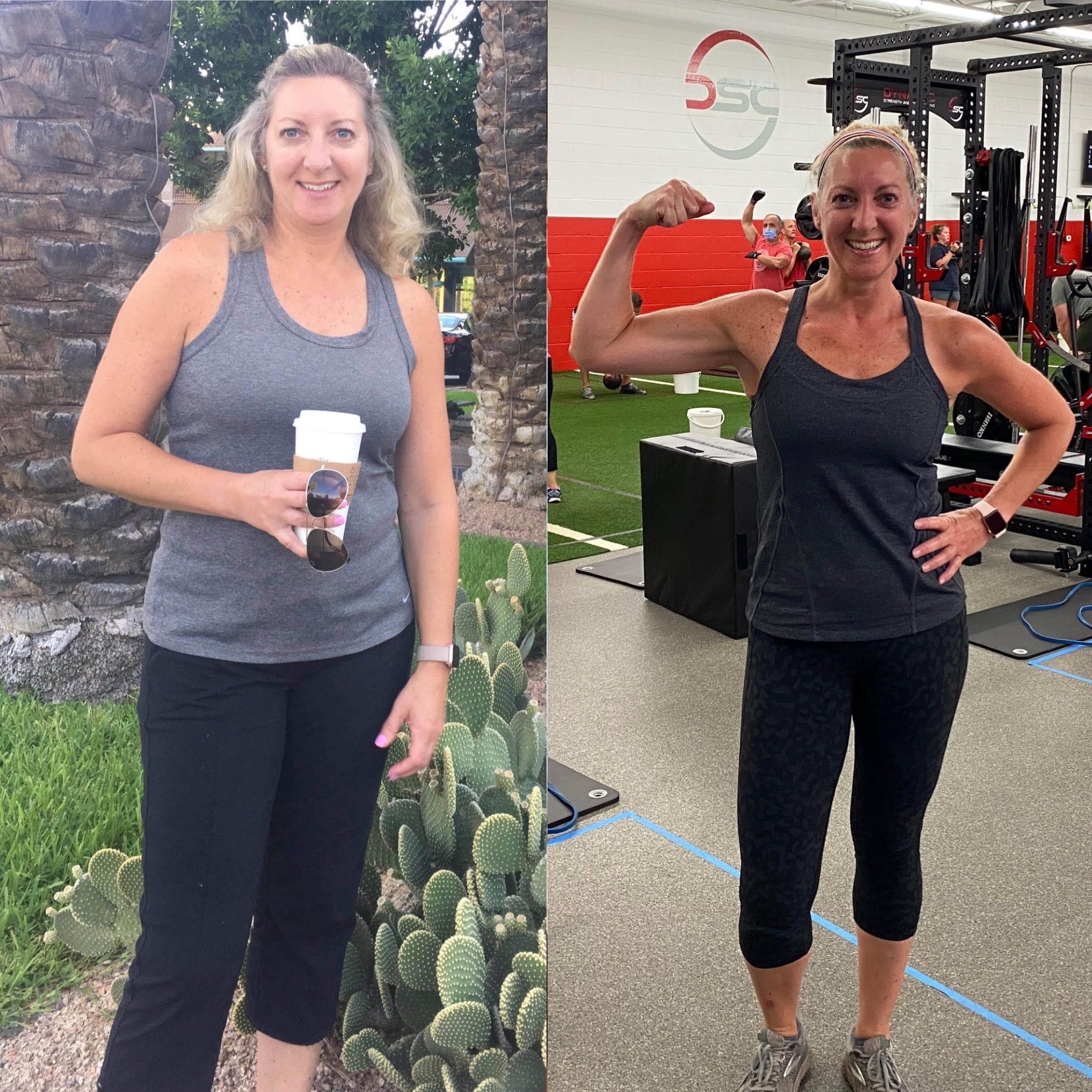 DSC is not your average gym.
It's hard to find the right words to describe, but it truly is a special place – the knowledge and expertise of the coaches, the positive energy, and the supportive nature of the members.
You don't have to join with a friend, you will be welcomed by all from the start. It feels like we're in it together!
Join DSC STRONG today!
- Patty
Join our DSC STRONG Online Fitness and Nutrition Coaching Program today!
Get into the best shape of your life right from home!
✔️Coach-led home workouts (perfect for all levels)
✔️Easy to follow diet and meal plans
✔️Personalized nutrition coaching and support
✔️An awesome online community
Click below to join today! ⬇️