Our Top Transformations at DSC!
Here at DSC, we are so proud of all our members who come from all fitness backgrounds, push out of their comfort zones, and complete things in our gym they never thought possible.
We are so proud of the support and friendships that have been built through our programs.
We are so proud of our members who have made their fitness and health a priority.
These are the exact reasons why we exist.
We know many people want to look and feel better.
We know they want to get into a consistent workout routine, lose weight, and improve their energy.
We also know that many emotions go into starting something new like joining a gym.
Nervousness.
Intimidation.
Confusion.
Even embarrassment.
We also know trying to get started on your own can be incredibly difficult and frustrating.
That's why we created our 8-Week New Year Fitness and Nutrition Challenge.
Our mission is to remove all the roadblocks between you and your goals. We are here to make getting started, staying consistent, and seeing incredible results easier in 2021.
No more guesswork surrounding how to improve your health, eat better and get into a consistent workout routine.
No more fat-loss frustration.
No more doing it alone.
Click HERE for more information on our New Year Challenge!
As you will see in the transformation stories below, the members that join DSC and our biggest transformations felt the exact same way as you before starting.
Most were brand new to working out or were ready to jumpstart their health and fitness again.
Just like these transformations have stepped out of their comfort zones and made the decision to join DSC to better themselves, so can you! 💪
Check out our incredible DSC transformations and their inspiring stories below!
Meet Dawn - Down 100lbs!


"Since joining DSC, I have lost 100lbs pounds and 6 pant sizes!
I love everyone at DSC, they are all so smart and supportive, and never judgmental.
I've met some great people there in the other members and have made several great new friends along the way.
The other members are all so supportive too, and I've NEVER felt like I don't belong there, even when I was brand new to working out.
DSC has not only helped me physically, but I have more confidence in myself than I've had in years because I just feel so much better about myself.
The biggest impact DSC has had on me is the overall lifestyle change. I do things now I NEVER thought I'd do, like 5K's and obstacle challenges."
Meet Tim - Down 50lbs!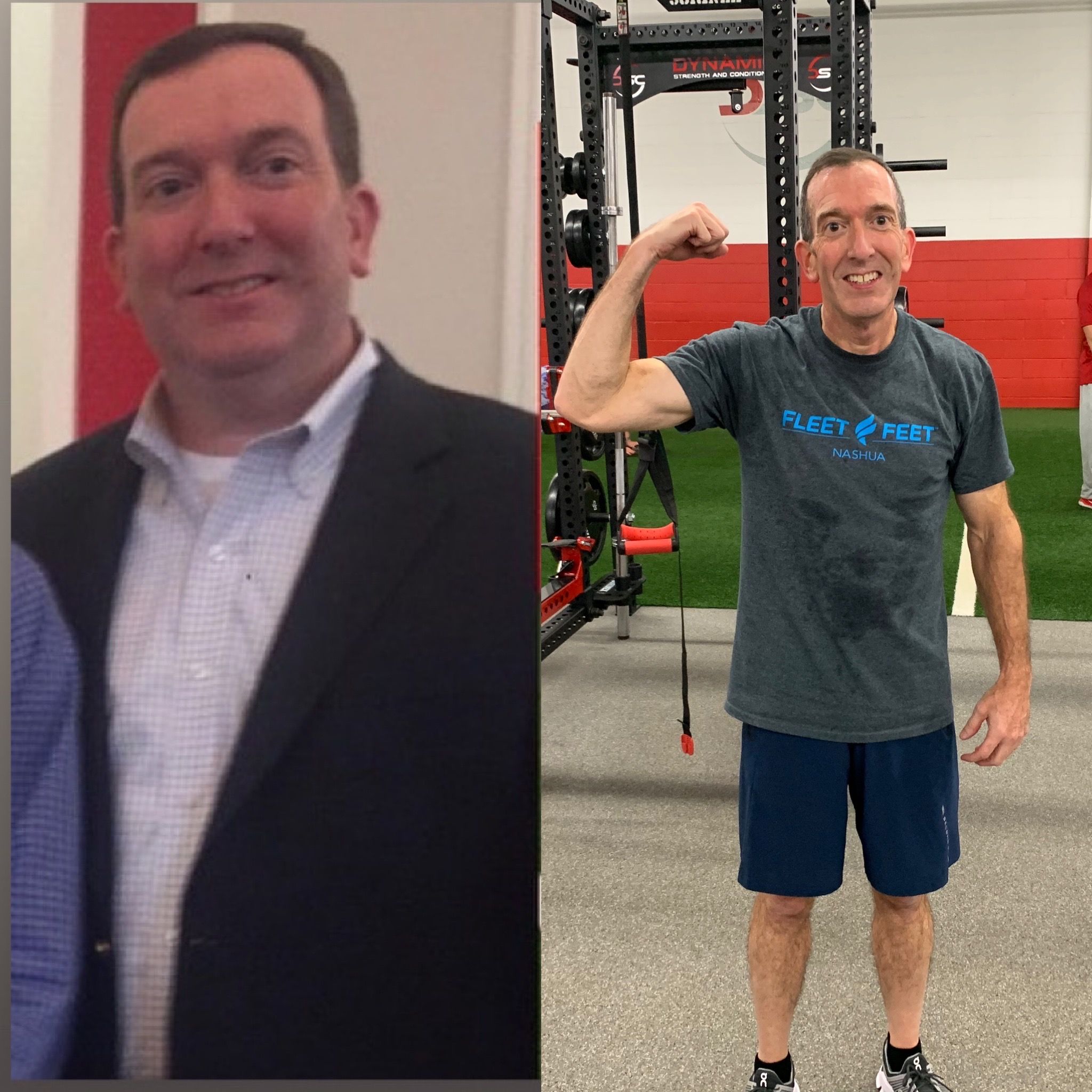 "I never really had a regular workout routine. I would join a gym but my workouts were never very consistent.
I typically would only last a month or two and then lose interest and stop going.
My wife joined DSC in February 2018 and fell in love with the people and the workouts.
After her pushing me for 5 months, borderline harassing me (ha-ha!), I decided to give DSC a chance. I have to admit I was nervous, but sort of knew what to expect with my wife already being a member.
I feel that the training DSC offers is exceptional!
Each class is geared to work different muscle groups, whether it's strength or metabolic conditioning.
Since joining, I have lost 50lbs! My energy level is better than ever and overall I feel great!"
Meet Stacey - Down 70lbs!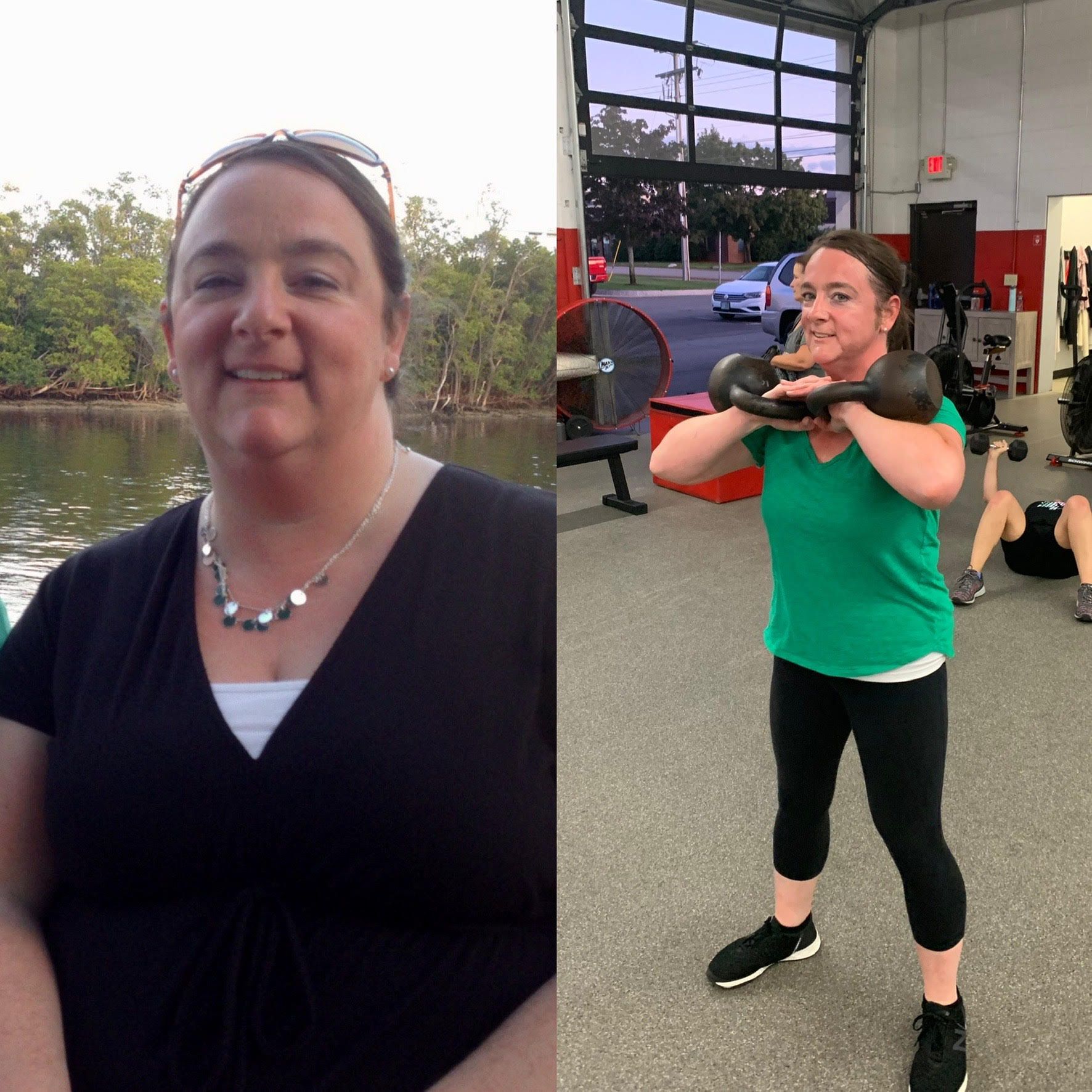 "At first I experienced the usual "will I be able to do it" fear, but within the first few classes, I knew I could do it.
The trainers give you a lot of support and motivation.
No one ever makes you feel silly for not being able to do an exercise or for not doing it correctly.
My clothes that I had before do NOT fit - everything is too big.
Even some of the newer clothes that I have bought during the past few months are too big now.
It is strange buying clothes in smaller sizes, as I have worn a larger size for so long.
The confidence that it gives you is immeasurable!"
Meet Tony - Down 35lbs!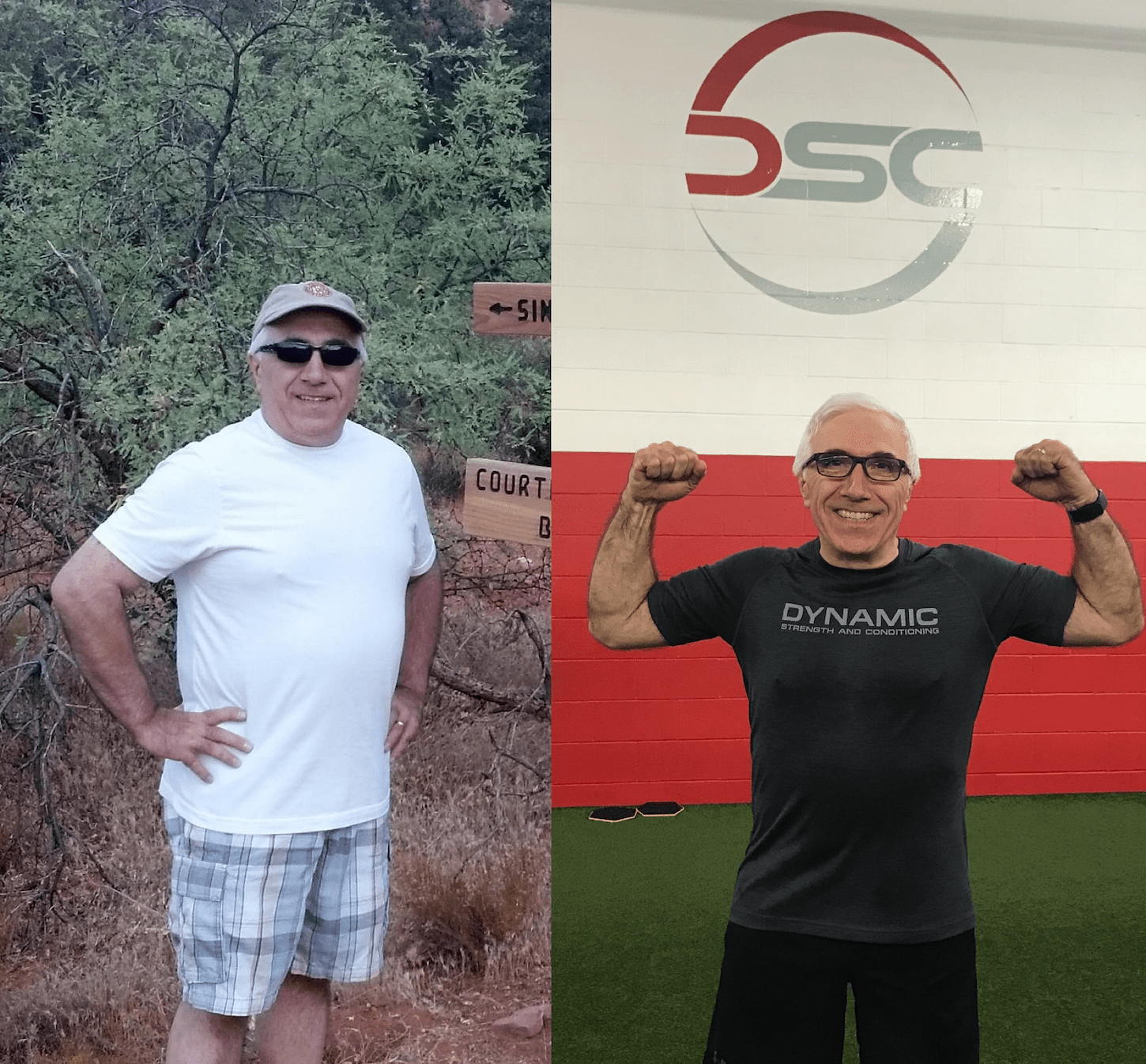 "Although the walk/run routine I was doing was the most exercise that I'd had in decades, it was monotonous.
I decided to give the one-month Men's Jumpstart Program a try.
I was getting older and I wanted to get stronger and build stamina so I needed something that wasn't just cardio focused. I also wanted an environment where I enjoyed working out so I could commit to making it an integral part of my daily health and wellness.
I can't say enough about my experience at DSC. I am now in the best shape of my life!
I've lost 35lbs of bad weight and put on a considerable amount of muscle.
I've never felt better both physically and mentally in my life."
Meet Shelley - Down 65lbs!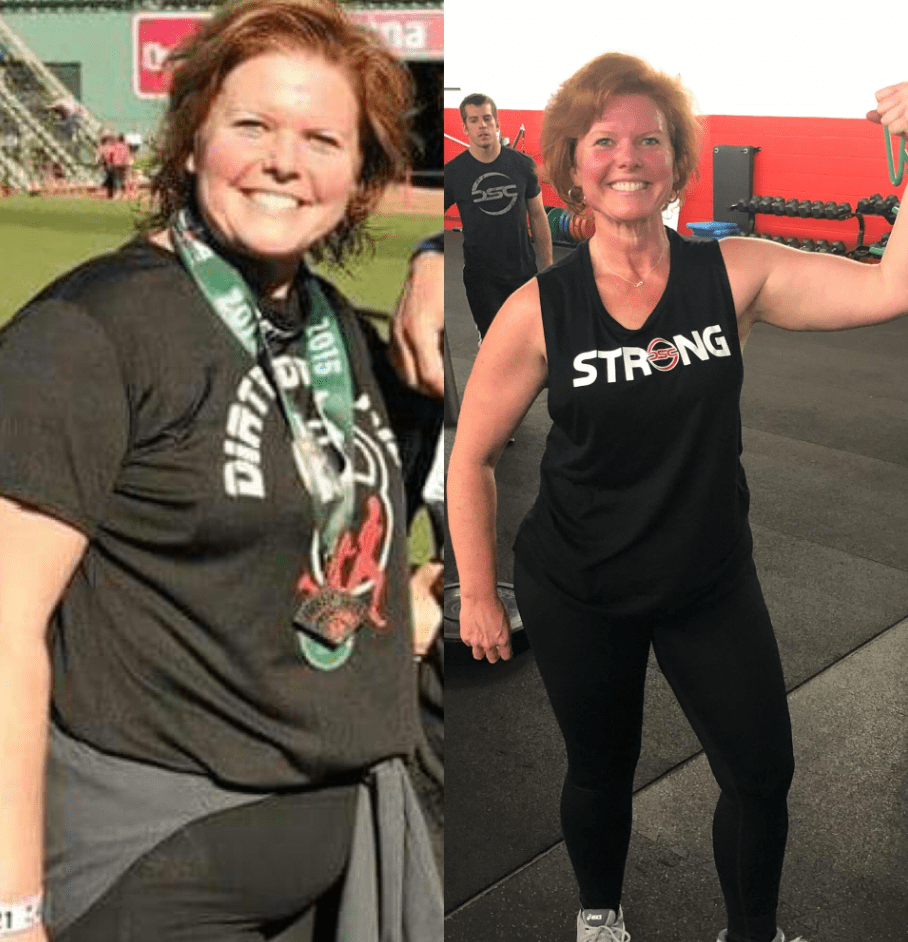 "I remember walking in a bit early the first night with my heart racing, wondering what I had done, but that uncertainty was gone very quickly.
Coach Matt and Renee were amazing! They made me feel comfortable and by the end of the class confident that they would help me conquer my fears and work toward my goals of weight loss and better health.
The women in the group are fabulous with so much positivity and support for one another.
We entered class as strangers and have become friends and a support system for one another.
Any bad day can be turned around by heading to DSC; it's impossible to stay in a funk once you are there!
Since starting at DSC I have lost 65 pounds and become a much stronger person!"
Meet Kevin - Down 55lbs!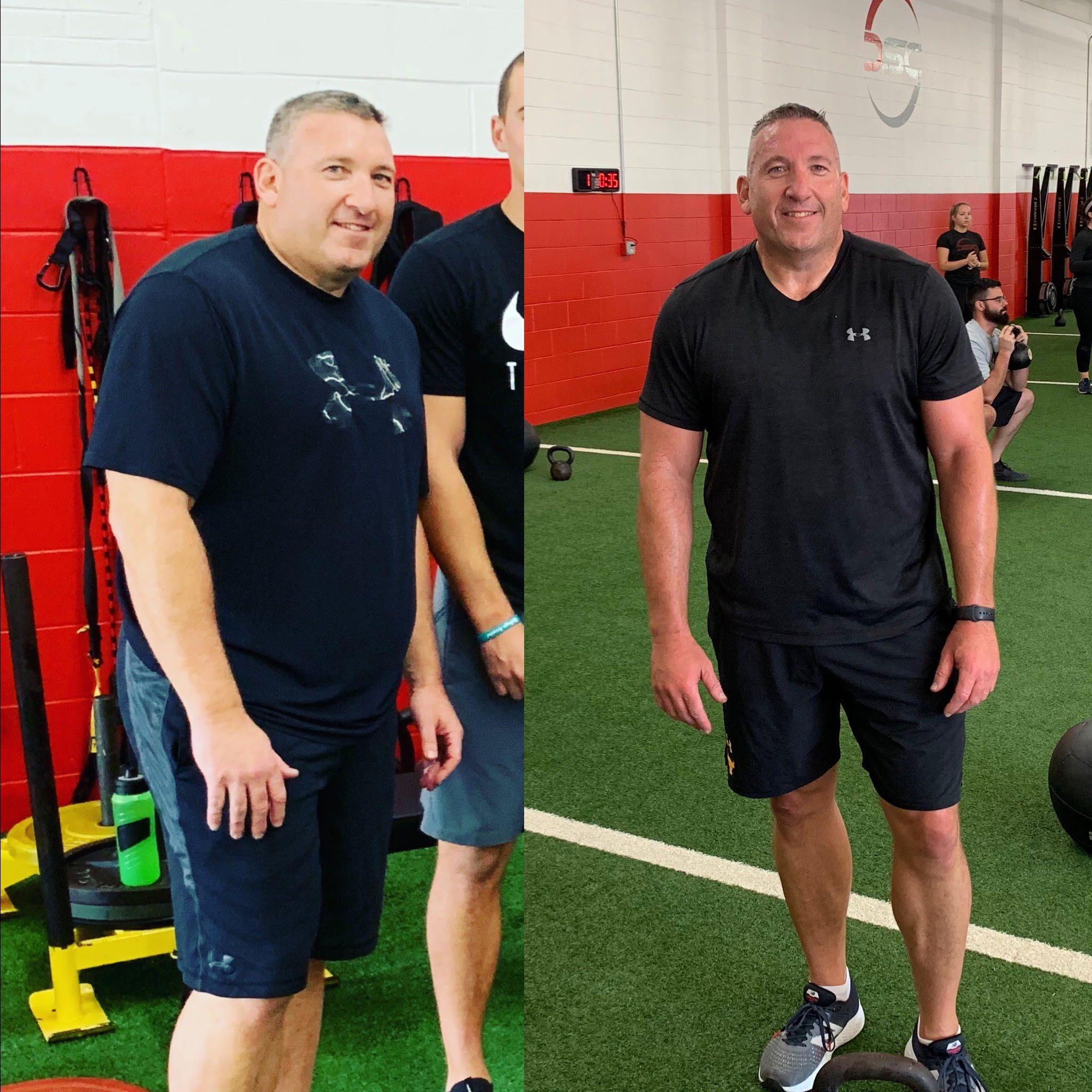 "I tried working out once or twice every couple weeks but on my own and with no structure.
I quickly realized that wasn't going to get me far. I was not motivated alone at the gym and I needed to lose weight.
I then found out about DSC and what they had to offer after hearing about it from friends and co-workers. I knew I needed structure to my workouts and a motivating atmosphere. I needed something that would help me lose weight and gain strength.
My experience at DSC has been life changing.
The staff at DSC is incredibly energetic, supportive, and knowledgeable. They bring it every single day and provide an atmosphere that is second to nobody.
During the past 11 months, I have lost 55 pounds! My strength has improved tremendously along with my cardio endurance.
I have never felt better and haven't had this much energy in a very long time."
Meet Hope - Down 53lbs!

"I had joined a few popular gyms in Manchester and Londonderry.
I did not last long at the places I tried and I saw no results from attending them though.
I think part of that is because I had no training, support, or real guidance on what I needed to do in order to see results.
I then saw a post on Facebook about a Women's Group Program at DSC so decided to message them.
The minute I stepped into DSC all my fears were forgotten.
The staff is AWESOME!
They are there for you and make you feel comfortable from the first moment you walk in.
I am so excited to announce that I am now down 53lbs and have dropped 4 pant sizes! My cholesterol was 365, it is now 190! I now have muscles in my arms and can lift a lot more than I used to."
Meet Jeremy - Down 100lbs!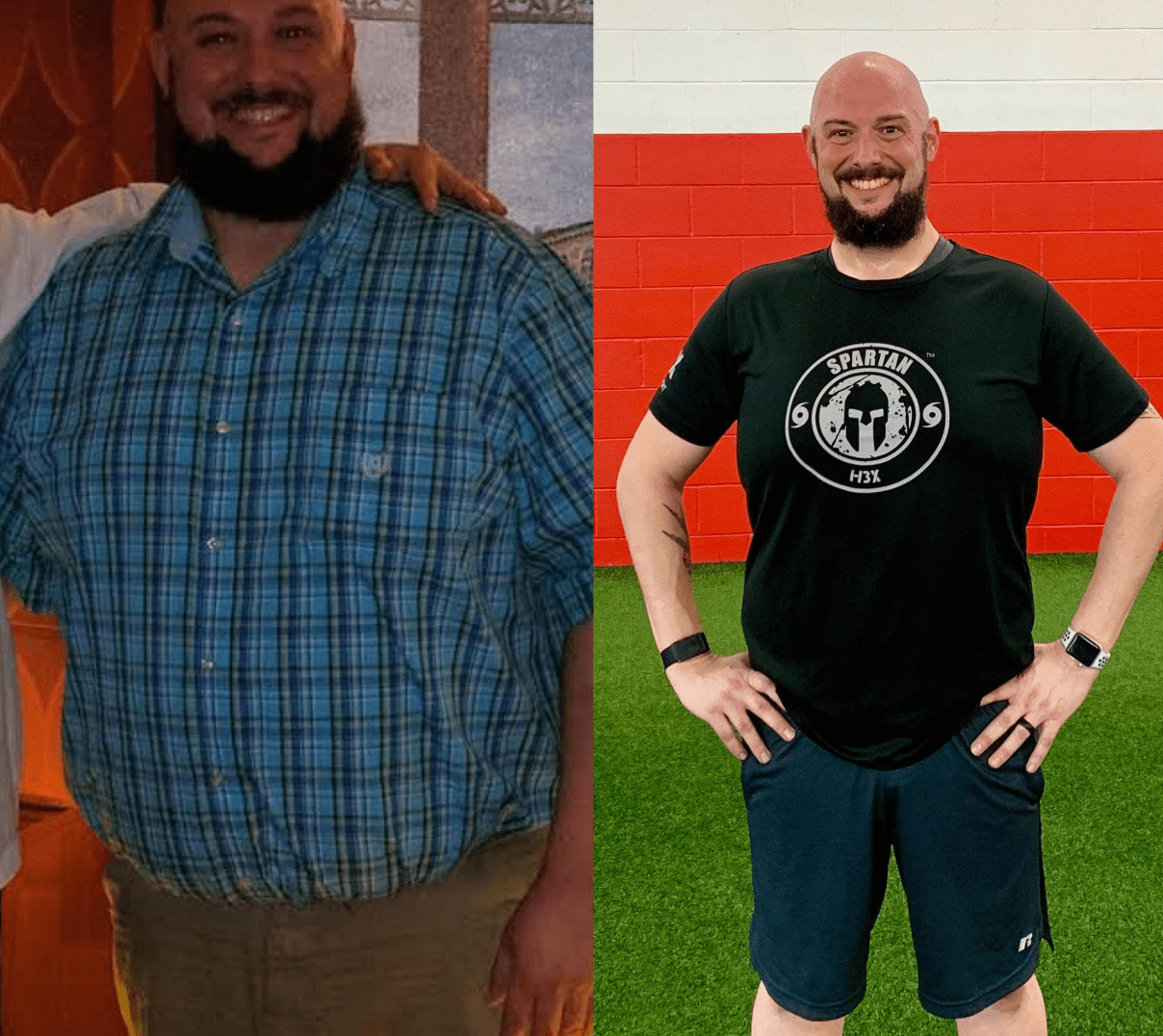 "I was about to turn 39. I weighed 316 pounds. I was on medication for high blood pressure and high cholesterol. My knees hurt constantly, my back was always sore, and my ankles were a mess. Walking up a flight of stairs had me winded.
This led me to Dynamic Strength and Conditioning in Nashua where there is a very different approach to whole body health.
The immediate goal that I was aiming to achieve was simply to make exercise a normal part of my everyday life.
My first class was amazing. What I perceived as a physical limitation that would keep me from doing things, the trainers had a modification for that would allow me to keep moving, get stronger and do more.
Measurable Changes:
I've lost 100 pounds!

I am no longer on blood pressure medication!

I am no longer on cholesterol medication!

I no longer have to wear ankle and knee braces to support my joints!

I couldn't run for 1 mile straight at the beginning of 2017, since then I've run hundreds and hundreds of miles including 4 half marathons and countless other races & endurance events in 2018!

My pants size used to be a 44 & now I wear a 34!

I used to wear 3XL shirts and now I wear either an XL or sometimes even a Large!"
Meet Sara - Down 50lbs!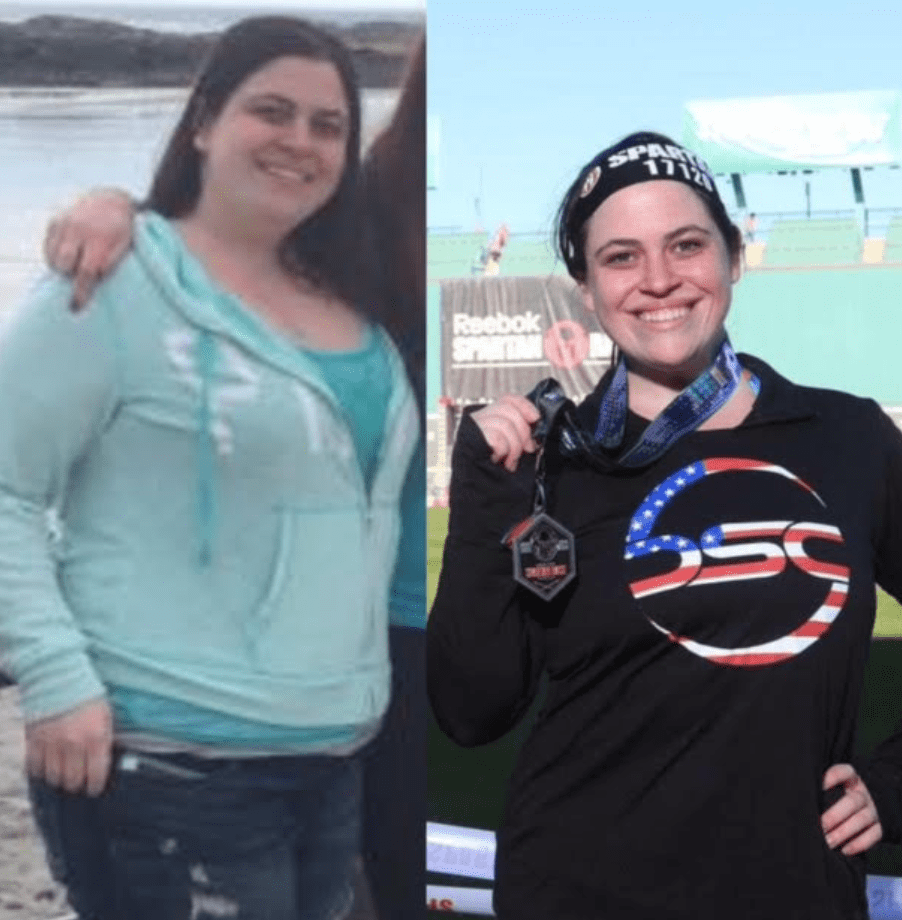 "Before DSC, I was at a loss for what to do and how or where to even start when it came to creating a healthier lifestyle, but I also knew something had to change.
I was sedentary and felt stuck.
Fast forwarding to now, I go to DSC four times a week, have lost 50lbs, gone down pant sizes, and gained muscle!
I am the happiest I've ever been!"
Meet Brian - Down 40lbs!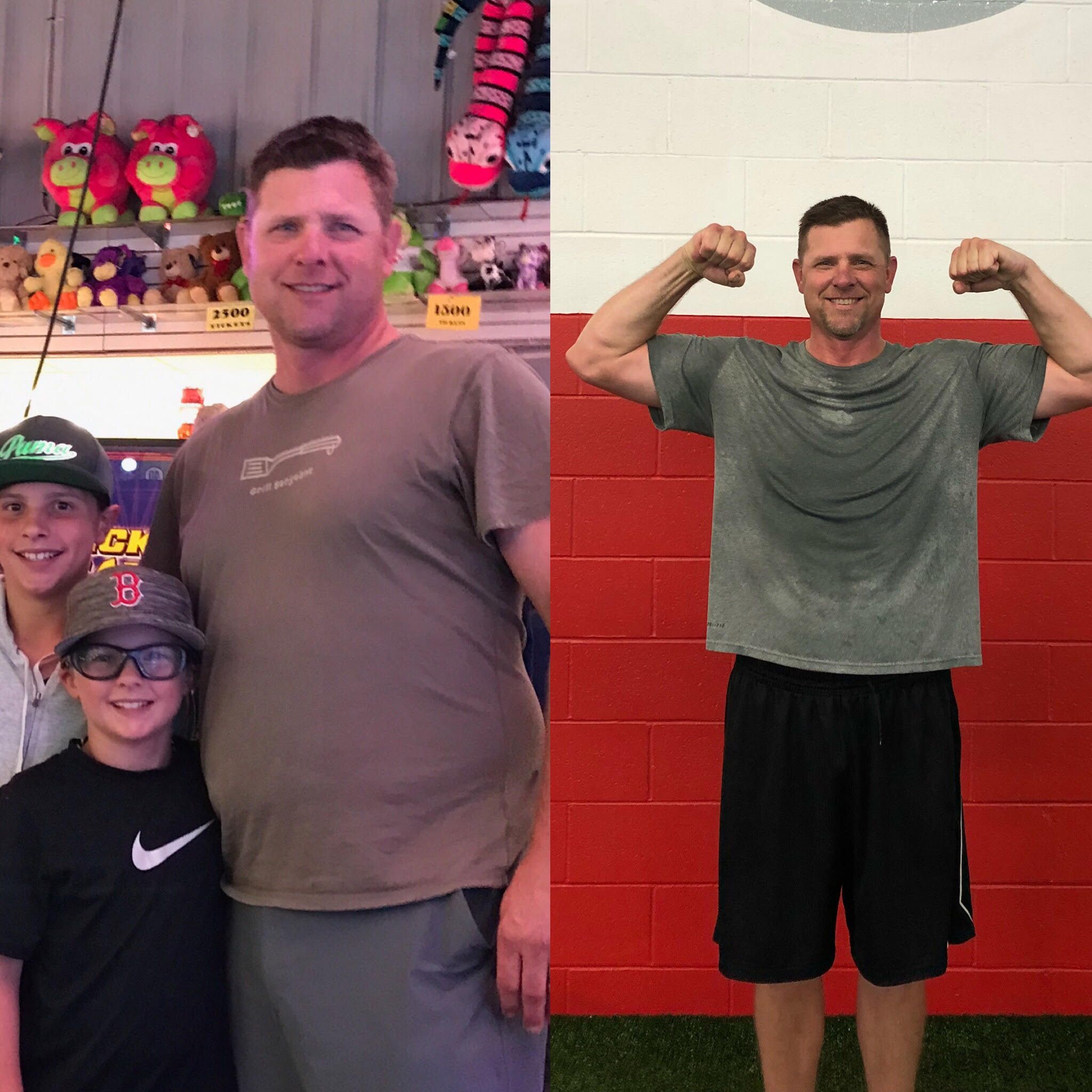 I felt so welcomed from the first day I set foot in DSC.
Every trainer was encouraging and enthusiastic and I felt like I was the only person in the class.
I love the fact that all the movements are dynamic and working on my entire body.
I had never been a big fan of working on my lower body but this type of training works on every body part, especially your lower body.
I have not felt this good in a long time!
I have psoriatic arthritis and have always suffered from minor aches and pains -- lower back, neck, elbows, shoulders etc. I would go to the gym then have the typical muscle soreness after a workout but these days I am rarely sore after a strenuous DSC workout. Almost all of my aches and pains are gone. It feels GREAT!
Meet Lisa - Down 75lbs!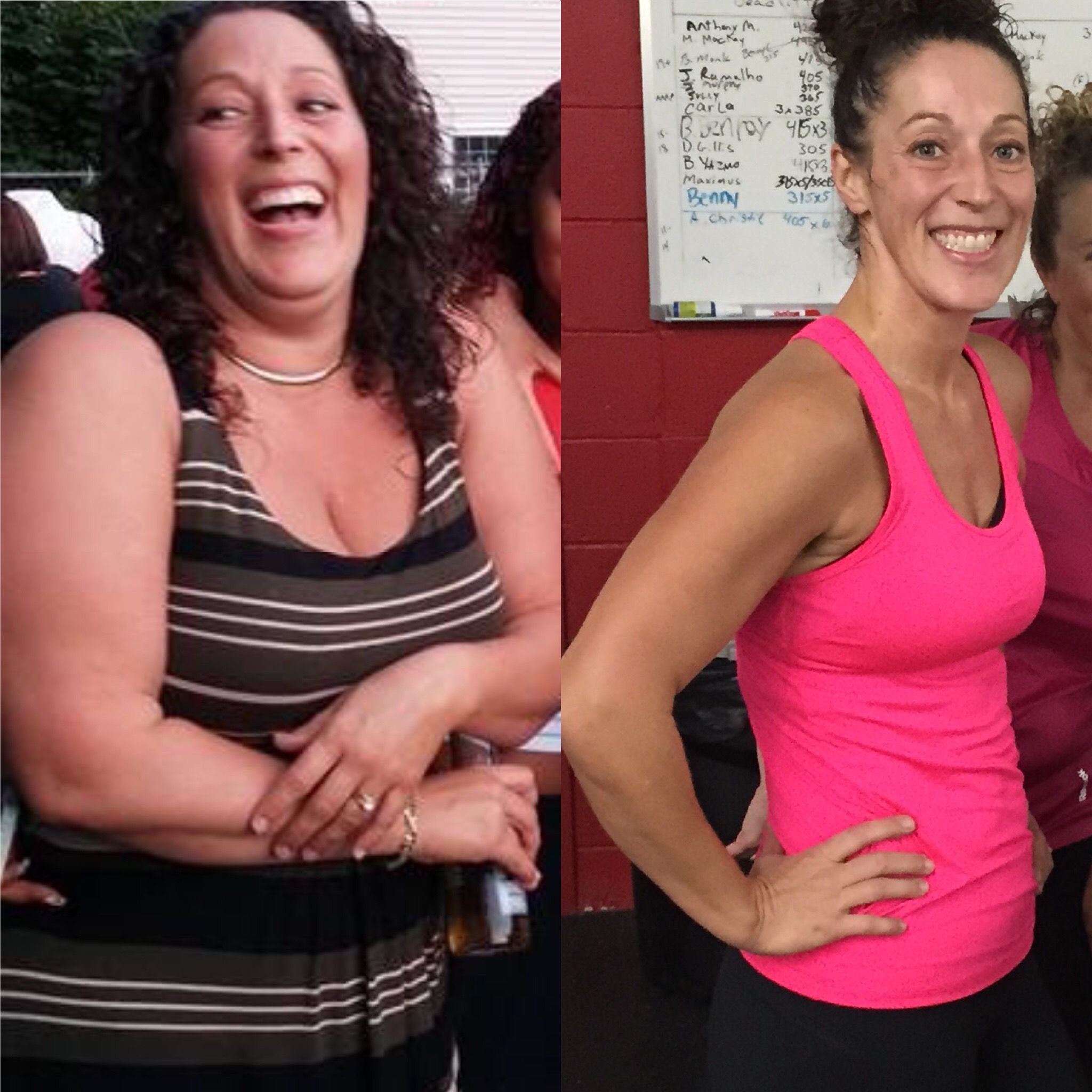 "As of today I have lost a total of 75 pounds!
I feel stronger than I ever have and my energy is at an all time high.
I am so happy with the results from working out at DSC!"
Meet Tim - Down 25lbs!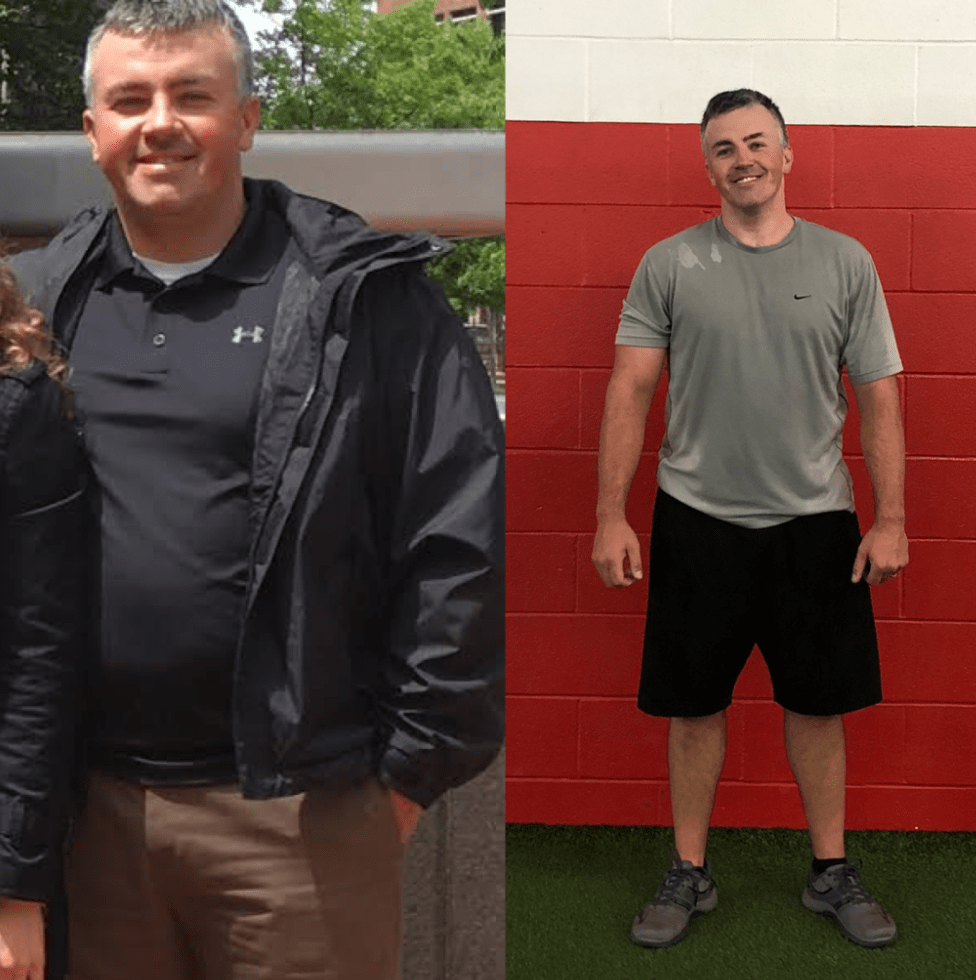 "My workouts had been non-existent for several years.
I felt like I had fallen into a rut of making excuses as to why I didn't have time to workout.
The biggest issue I had was that I often felt guilty about taking time out of my already busy schedule for myself to spend time at the gym. I realized at some point though, I was instilling a lack of priority on fitness with my kids. As a father, I was doing a disservice to them by not setting a foundation of fitness in their lives by my poor example.
Since joining DSC I have lost 25lbs!
I've noticed that my clothes feel baggy and my overall strength has significantly improved.
My sleep has drastically improved since joining as well, which has been of poor quality the majority of my adult life."
Meet Kim - Down 80lbs!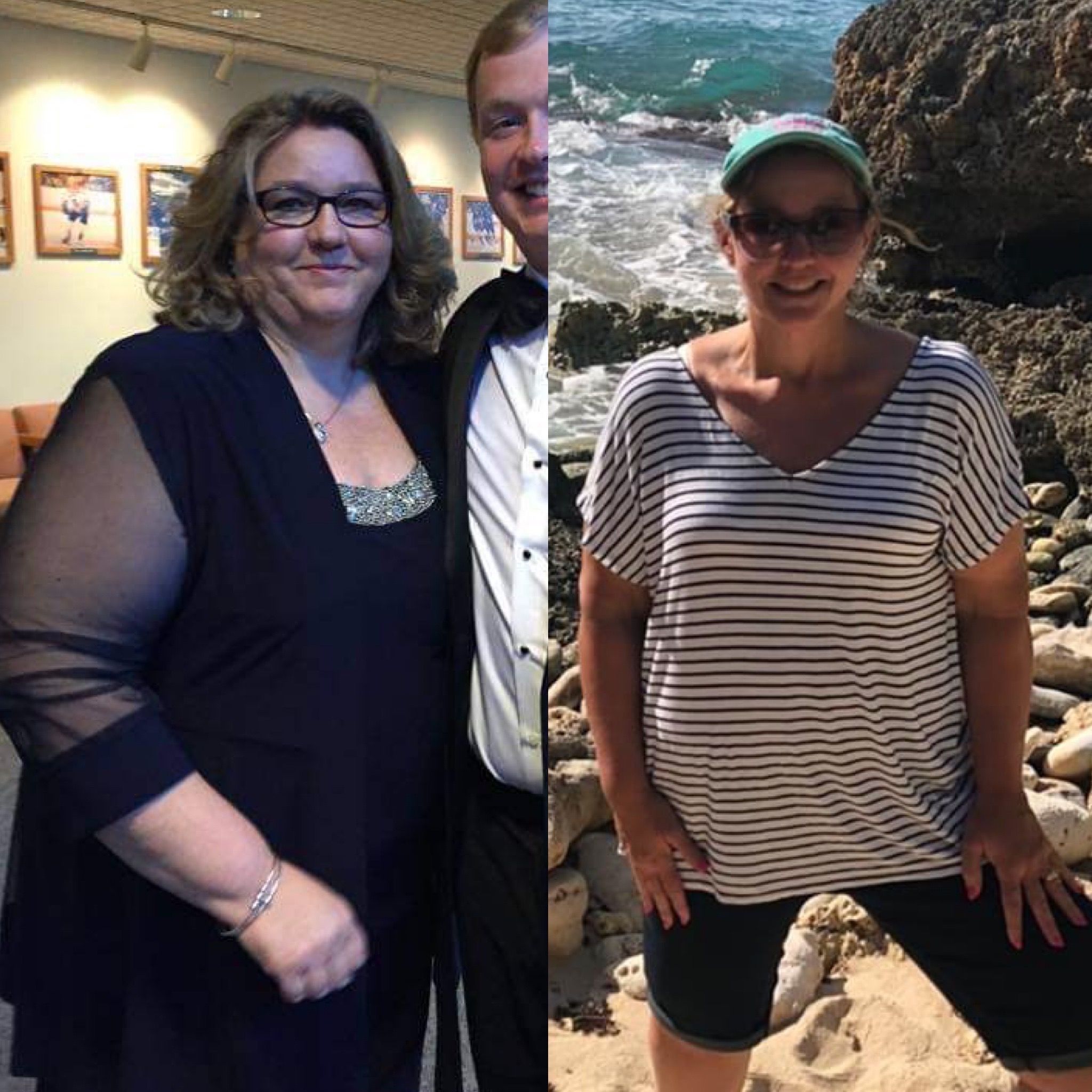 "DSC has given me so much self-confidence and it has made me believe in myself!
I am willing to try any of the workouts now and know that it is ok if you can't do something like someone else.
The trainers are right there with you to show you an alternate way that works for you and still allows you to have an awesome workout."
Meet Steve - Down 38lbs!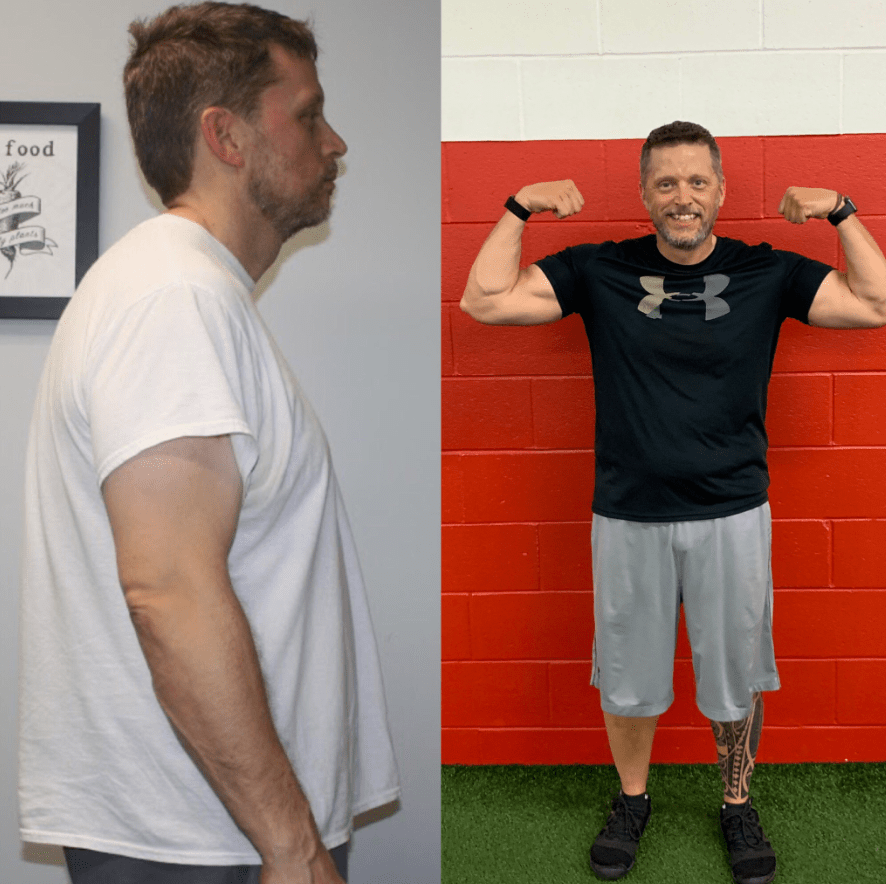 "I am now coming up on 6 years at DSC and the training is always challenging and fun. Training provides you with many accountability partners-from the kick-ass 5 a.m. crew to the coaches; we all support and push one another which makes for a great environment.
I've lost 38 pounds, 4 inches off my waist, 2 inches off my hips and reduced my body fat by over 10%! I feel great and my energy in the gym is much better!"
I feel great and my energy in the gym is much better!
I feel like I am stronger now than when I started and have increased training weights in many of the movements."
Meet Deb - Down 90lbs!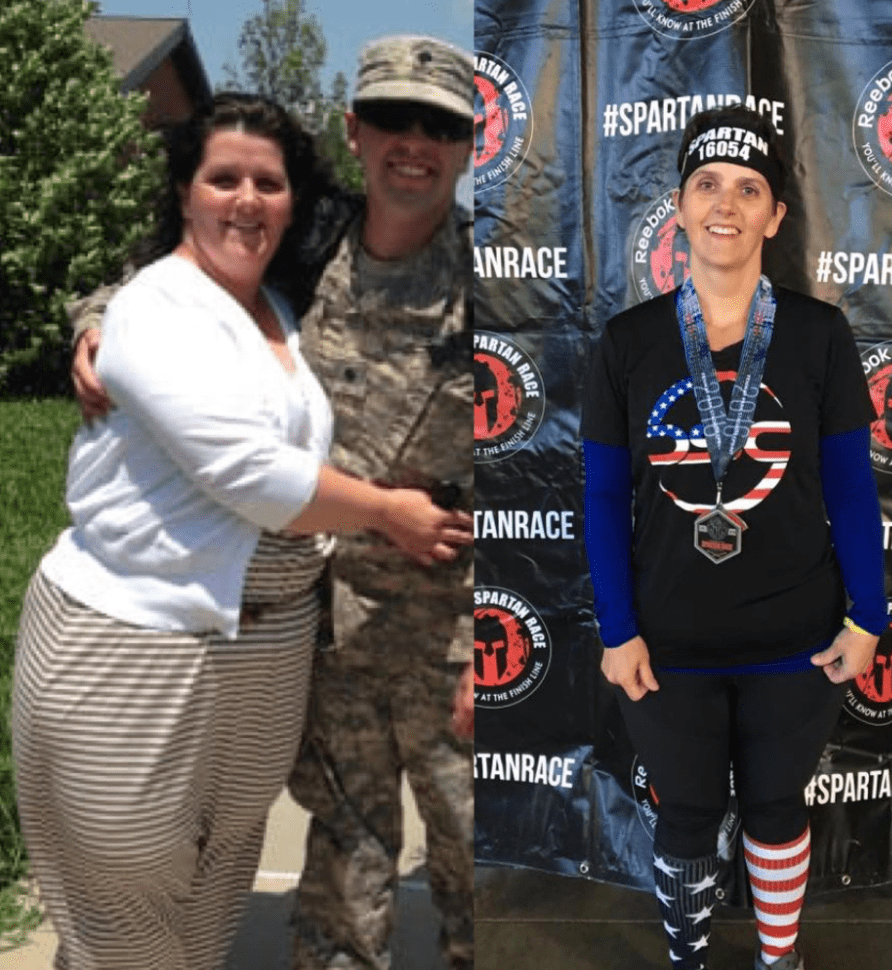 "My routine always consisted of the same old boring treadmill, stair-climber and maybe some weight machines.
I would quickly lose interest and motivation so I would switch to another gym thinking maybe that gym had what I was looking for.
This vicious cycle lasted 23 years with the fear that I'll never accomplish what I need to or loose the weight, gain self-confidence and have a sense of pride in myself again.
During my first class I had all sorts of emotions.
At first, I was scared, embarrassed and afraid of failure, but I was also excited.
I was hooked after that first class.
I have lost over 90lbs and over 30 inches and have gained more strength, stamina and confidence.
This is what I have been looking for all these years!"
Meet Pat - Down 40lbs!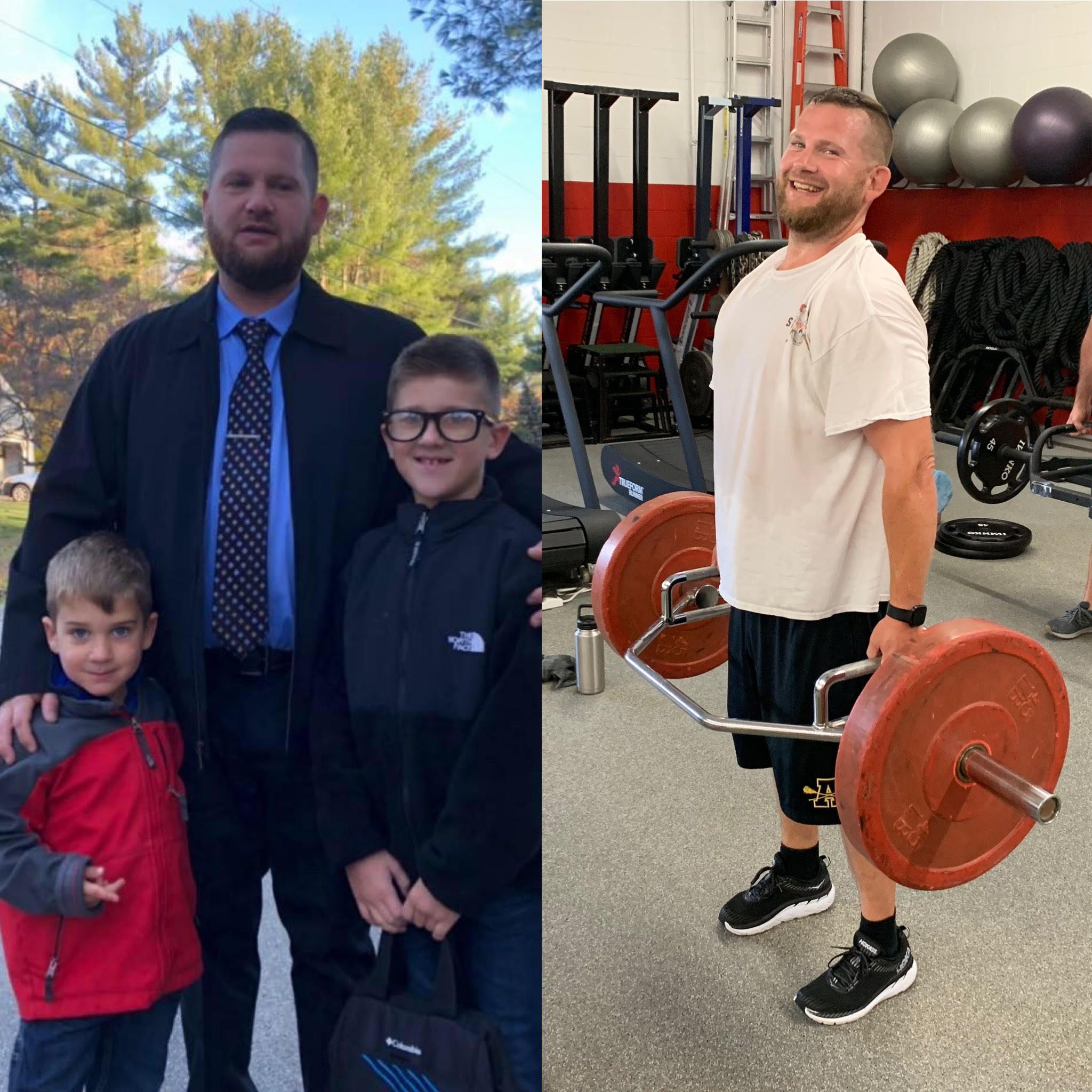 "Before DSC I just didn't workout.
After playing lacrosse in college and being very active, I kind of took a break from exercise.
I felt like my body needed a break and I no longer had a goal I was working towards so my motivation disappeared. ...I didn't expect to take a twenty year break though.
After some injuries and a lot of weight gain I was ready to change. My goal for joining DSC was honestly to lose weight. I wanted to get back into an active, more healthy lifestyle and was unhappy with how long I had been out of a routine.
If there was an exercise I couldn't do, the staff would give me an alternate exercise. They slowed things down and made my first class/week a great success.
I took breaks when I needed them and was encouraged to work at my own pace.
They are great at working with people through injuries, getting them motivated, and making you feel welcome every single day!
My overall experience has been great and I LOVE going to DSC!
Overall results for me have been in six months, I have lost 40 pounds!"
Meet Donna - Down 31lbs!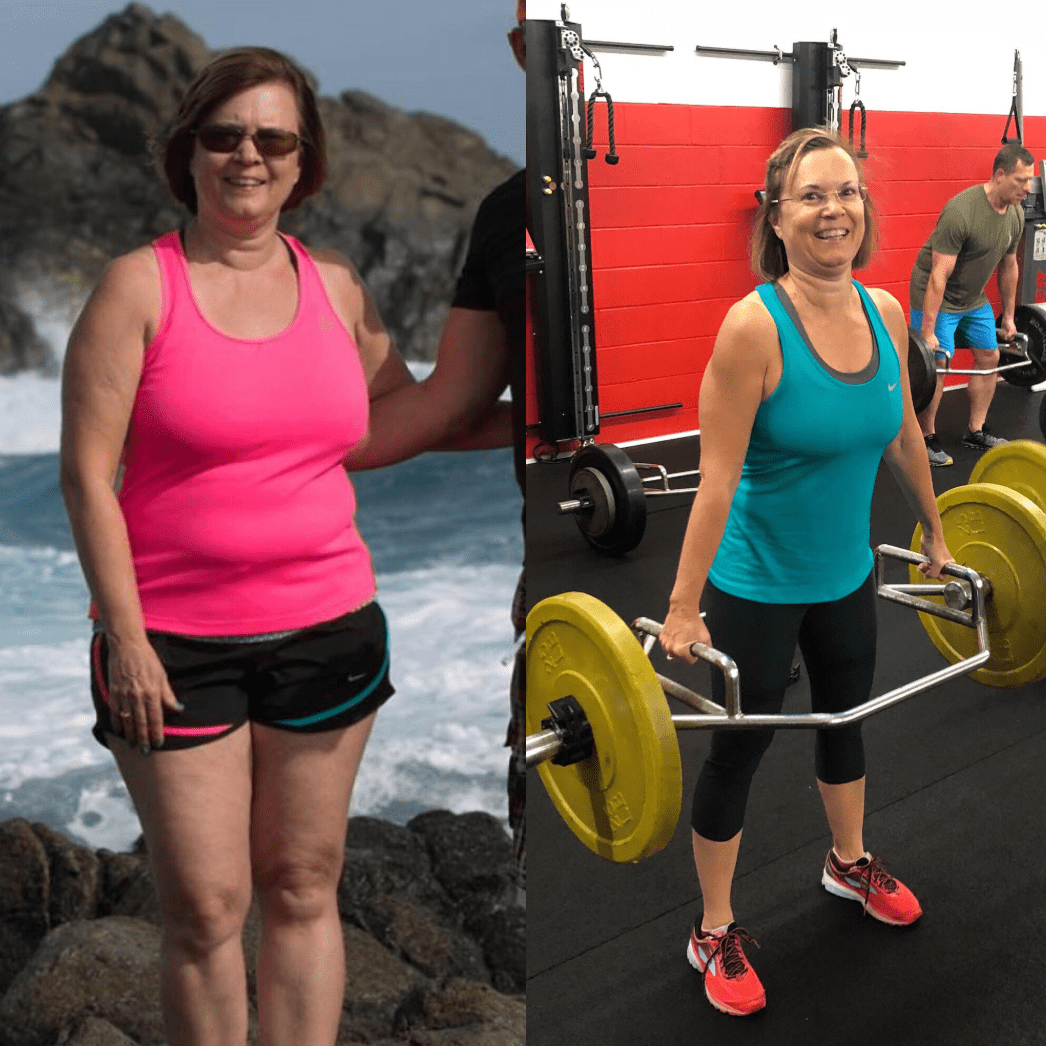 "Once I gained so much weight, I found it more and more difficult to get back on track and did not have much energy.
When I joined DSC I was hoping it would help me to get in a consistent exercise routine.
I initially went two days a week, then upped it to 3, then 4 and then May 1st joined the 6:00 AM Adult Group for unlimited days. I started the Nutrition Program in May as well as the next step towards reaching my goals.
I consistently now go to the gym 5 days most weeks.
Between exercising regularly and doing the nutrition program I am down 31 pounds!"
Meet Jeff - Down 40lbs!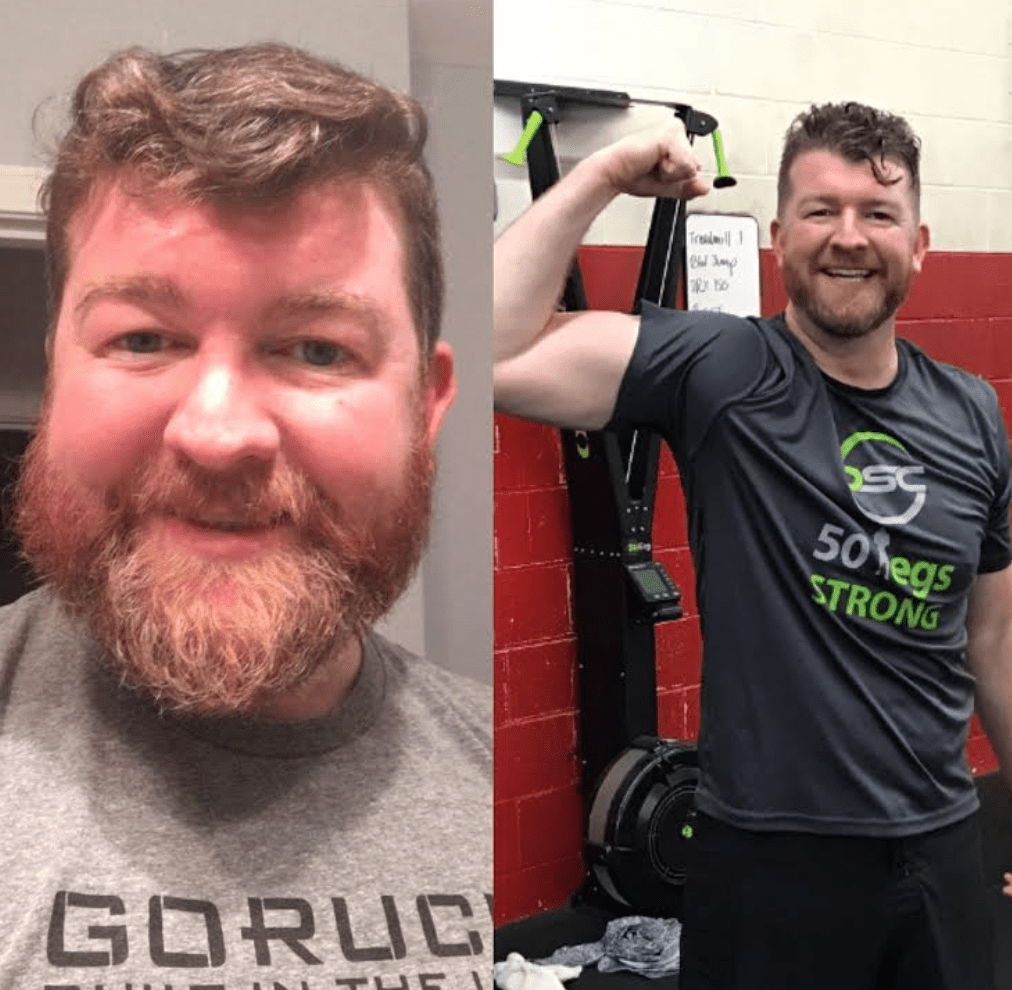 "My typical workout before DSC was around a 60 minute, boring workout.
I would do a cardio warm-up, stretch for about 10 minutes, and hit the weights for about 40 minutes.
I found it hard to motivate myself to be consistent at the gym.
When I initially started at DSC my goals were basic (and not well-defined); get in better shape and lose weight.
Back in December I weighed nearly 250lbs.
Before joining DSC I found myself putting off giving it a try for over a year.I'd tell myself things like, "I don't have the time" or "my shoulder is sore" or "my hamstring isn't 100%." I had plenty of excuses but when I was ready to hold myself 100% accountable I made trying out DSC a priority and joined the following day.
The combination of awesome workouts and DSC's Nutrition Coaching Program I have crushed my 20lb weight-loss goal and have lost over 40lbs!"
Meet Mary - Down 60lbs!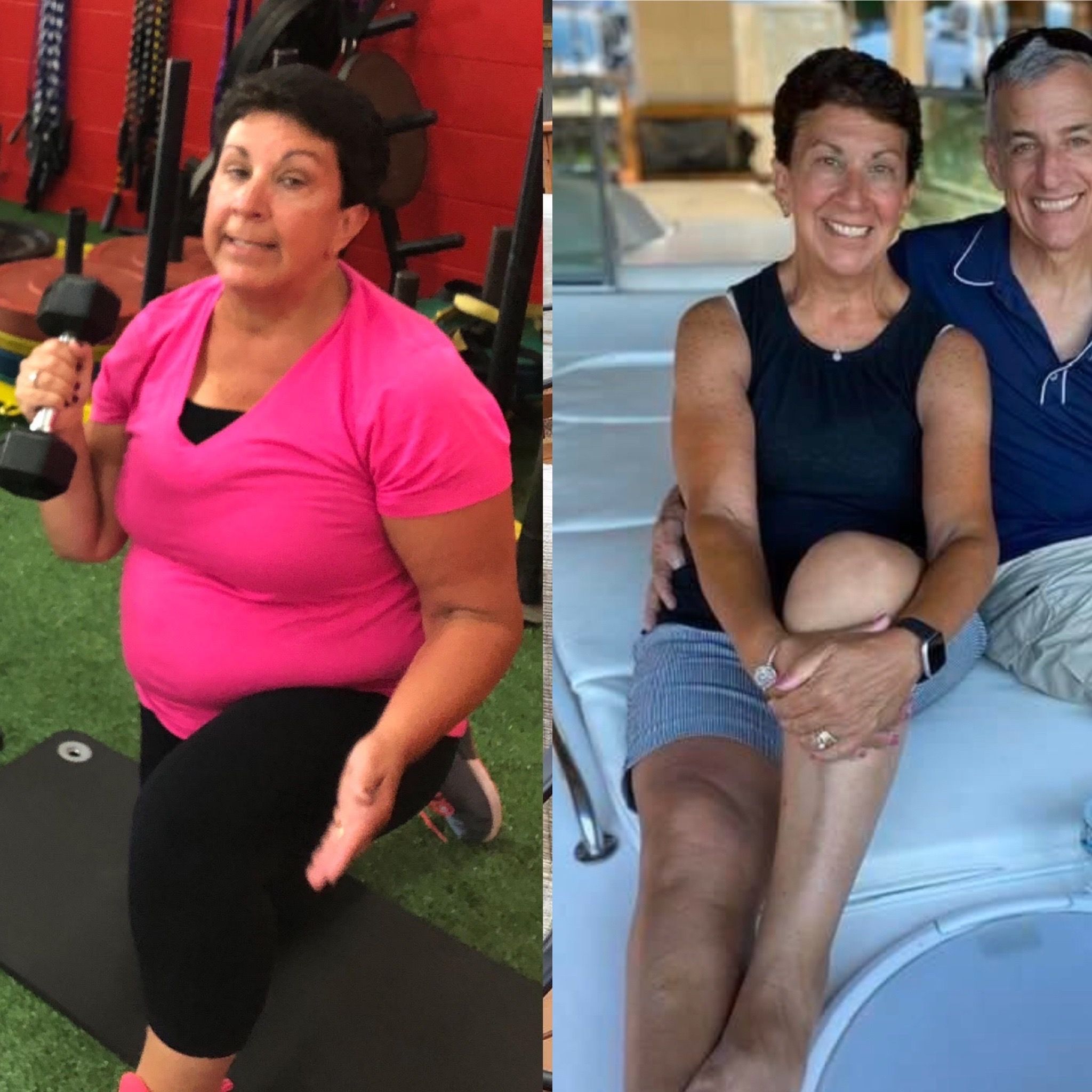 "Heading into my first night at DSC, I was having second thoughts about coming.
I was afraid and kept thinking things like, "Am I too old for this?", "Am I going to make a fool of myself?" or "Am I going to get hurt?"
But then, despite all my fears, I was hooked my very first night!
The coaches work right alongside of you, explaining and demonstrating everything throughout the workout.
They make you feel comfortable so you get the techniques down and move at your own pace.
My overall experience here at DSC has been that joining DSC is the best decision I've ever made! I'm healthier and happier than ever!"
Meet Mike - Down 20lbs! (and added 10lbs of muscle)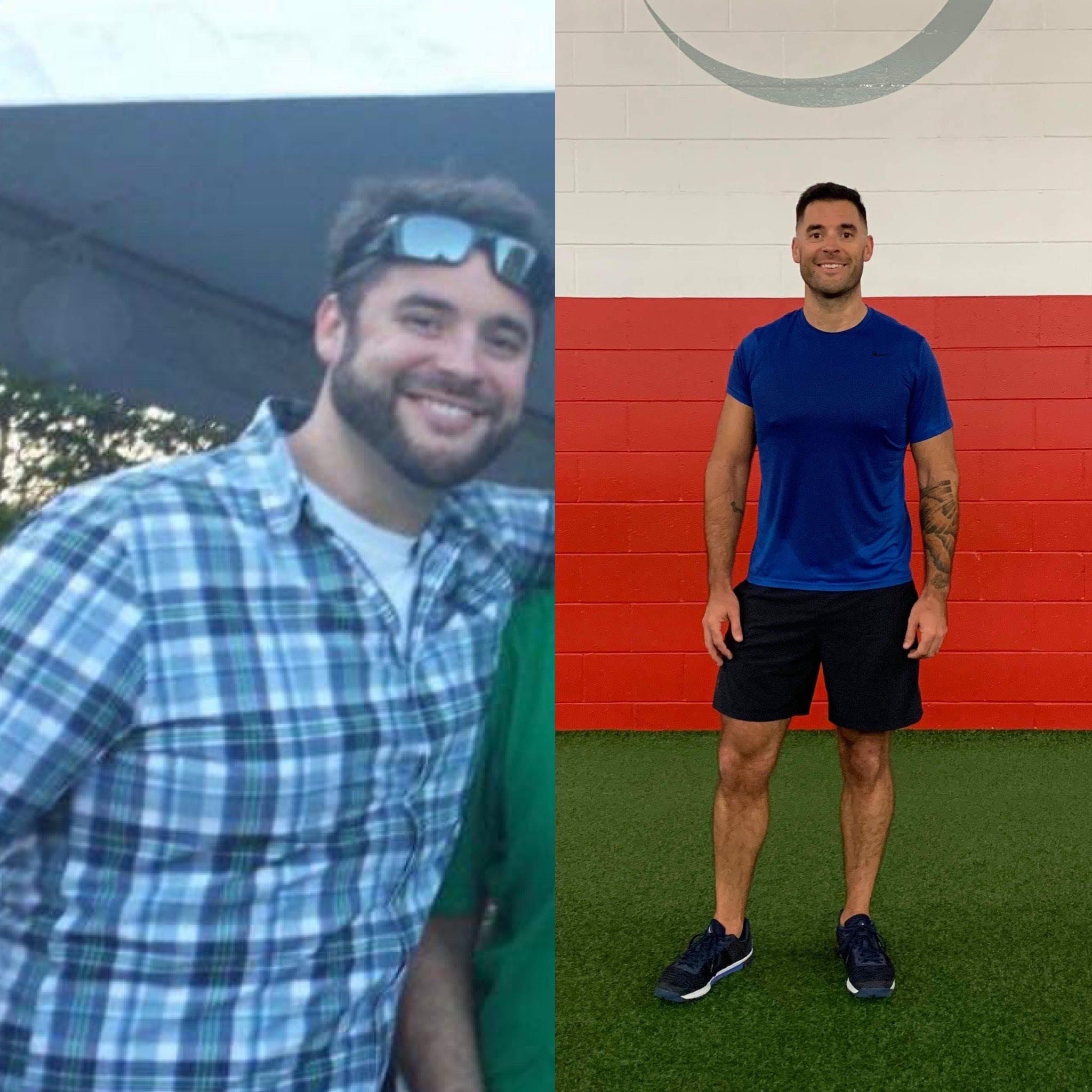 "Before joining DSC, my workouts were few and far between.
With the busyness of life, family, and work, I would end up just trying to squeeze a workout in here and there. I would sometimes utilize the gym where I work but it had limited equipment, machines, and space.
I felt inconsistent and unmotivated and often disappointed with the outcome. I never felt like I was getting anywhere.
Then I tried my first class at DSC. In that one class, I saw the physical, social, and mental support the coaches and members provided.
My goals when I joined were to lose fat, gain muscle, and learn how to properly and safely maintain a workout regiment suitable for me.
It was also important to me that I be able to have a consistent schedule that allowed flexibility for work and family time.
Since joining DSC I've lost 20lbs of unwanted weight and put on close to 10lbs of muscle!
My advice: Please don't feel ashamed, don't feel embarrassed, don't be shy! Just show up.
It's not about who's bigger, stronger, skinnier, etc. Everyone has a different story and a different starting point. It's about becoming the best you. Let the Coaches and the DSC Family show you how, you won't be disappointed!"
Meet Christie - Down 22lbs!

"I feel better, stronger & have more energy than I have in a long time.
I recommend DSC to everyone who is looking to get healthier. The gym is clean, there is a large variety of class times and the other members at the gym are so friendly and encouraging. The coaches are AMAZING! They are so knowledgeable, personable and they make the classes fun. They are always looking for ways to challenge and motivate you.
I have never enjoyed working out as much as I do at DSC! It is truly like a second family!"
Meet RJ - Down 40lbs!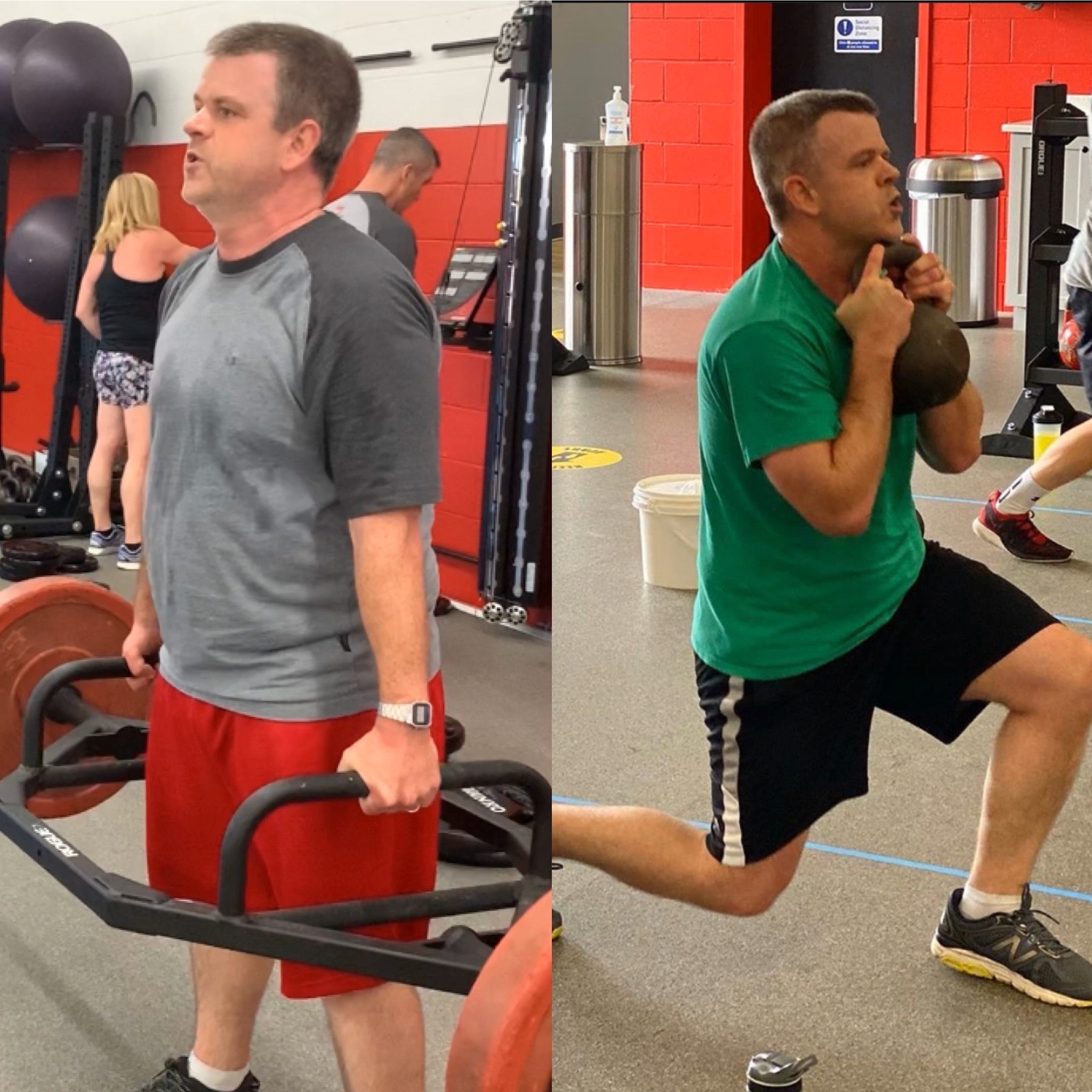 "The best part of DSC is the environment for sure. DSC has created a fun place to be able to go and get in a high-quality workout. Knowing that the workout starts and ends at a specific time is also motivating to get there and get the workout in every day. Something about those go-when-you-want gyms that make it so I never go.
I also highly recommend the nutrition program as well since that alone accounts for at least 30 of the 40lbs I lost."
Meet Shelby - Down 67lbs!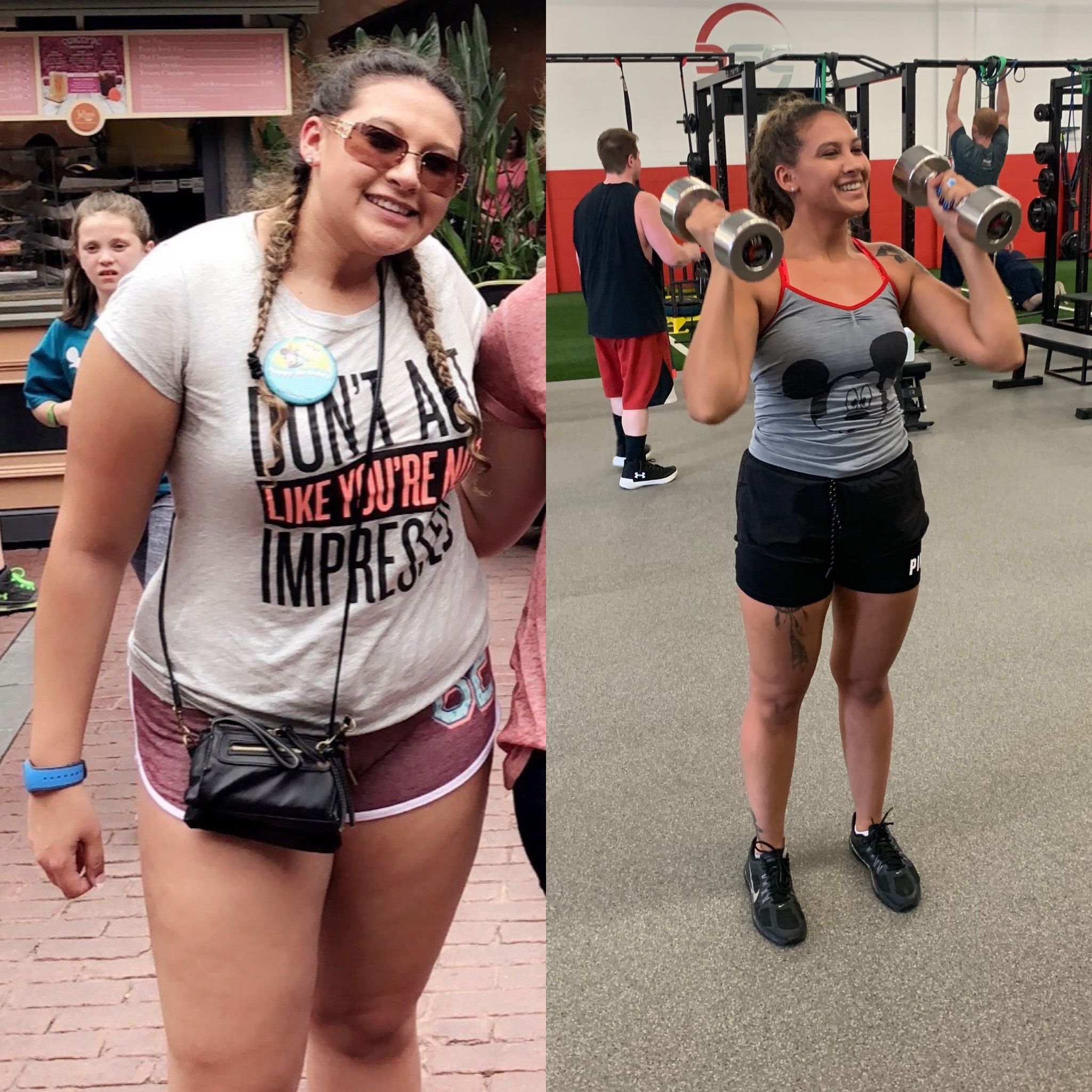 "Before DSC, a typical workout for me was generally heading to a box gym, walking on the treadmill for half an hour, getting bored and heading home.
I didn't really know what I was doing and didn't know how to use most of the equipment or machines they had.
I was hoping in joining DSC that I would lose weight, feel better about myself, gain more of an insight as to how to work out, and also maybe to make some friends along the way.
I had a lot of fears about joining though. I was afraid this was just going to be another gym where I started and stopped going after a few weeks. Before my first class, walking to the door, I was absolutely terrified. It seems silly now but I almost didn't go in... I almost got back in my car and went back home! I met with all of the coaches and immediately my worries seemed to subside; they were all so willing to help and so friendly.
My overall experience has truly been amazing!"
Meet Ben - Down 55lbs!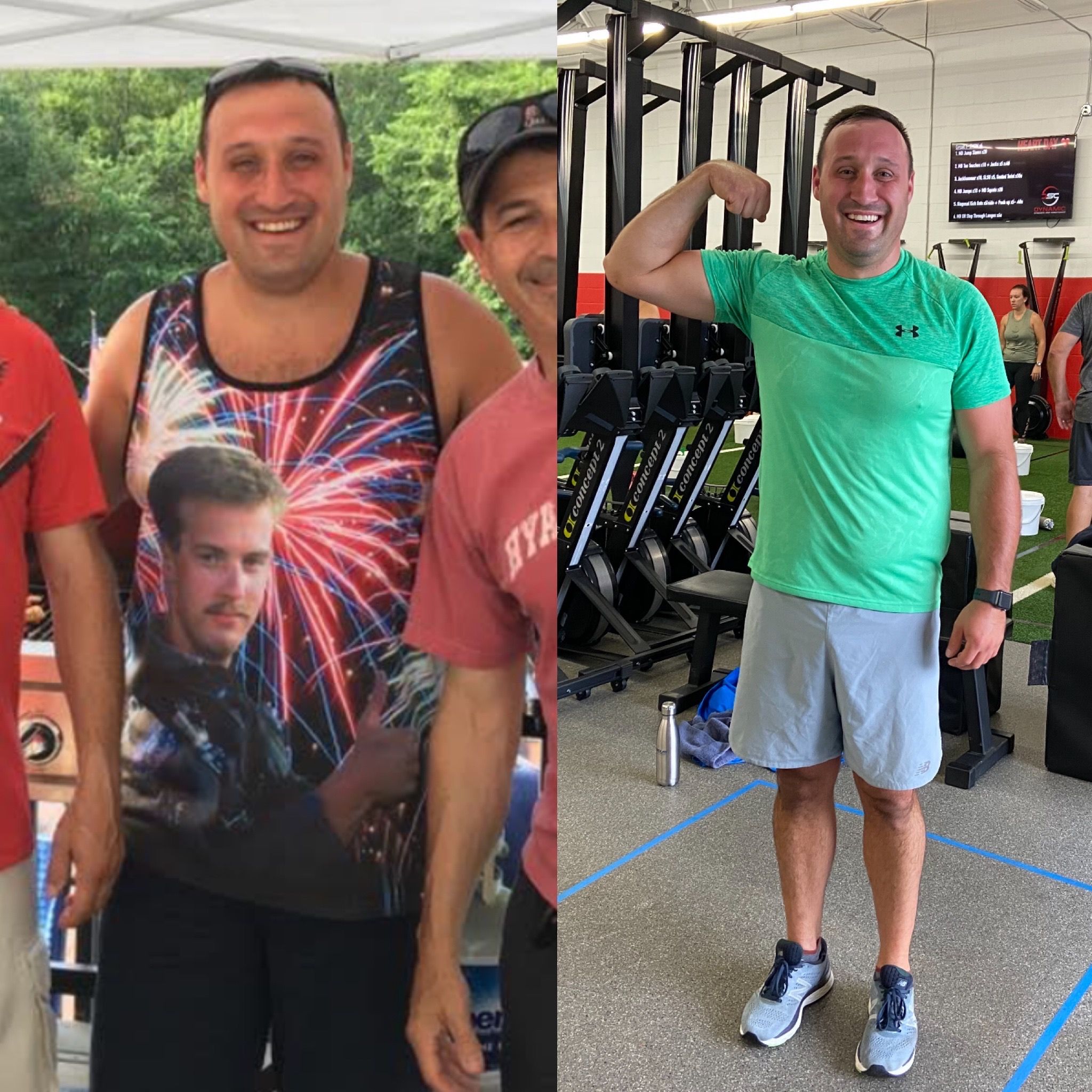 "I'm glad I found a gym like DSC because I saw results quickly, the coaches are great, and it makes me want to go back and workout. It's easy for me or someone like me to get sucked in and it's to the point where if I go away on vacation or for work, I want to workout just to stay in shape to be able to do the classes when I get back.
For my overall results, I am down 55 pounds!
I have had to spend a lot of money on new clothes as I went from a 36-38 waist back down to a 32-34 waist and a large or an XL to Mediums for shirts.
I have run a 15k, 10k, multiple 5k's, and am training for a half marathon this October.
The weight I've lost has helped build my confidence tremendously."
Meet Jen - Down 85lbs!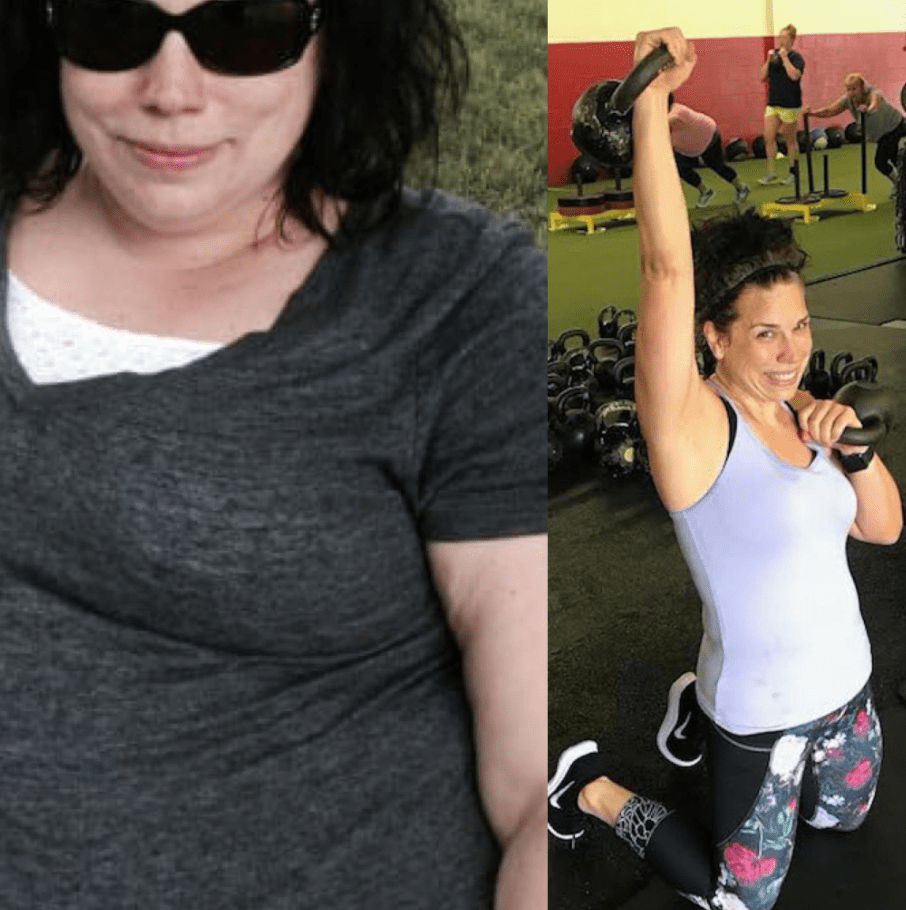 "Before I walked in the door I was really scared, but after just a few minutes, while I was waiting, I texted my husband something like "I love the atmosphere here!"
When we got started Renee put me completely at ease. The workout was a challenge but it was so fun that I couldn't wait to come back.
Over the course of my personal fitness journey and the DSC Women's Group Training, I have lost a total of 85lbs!
The results are evident throughout my every day life. I am sometimes shocked at how strong I am and the things I'm able to do!"
Meet Diane - Down 30lbs!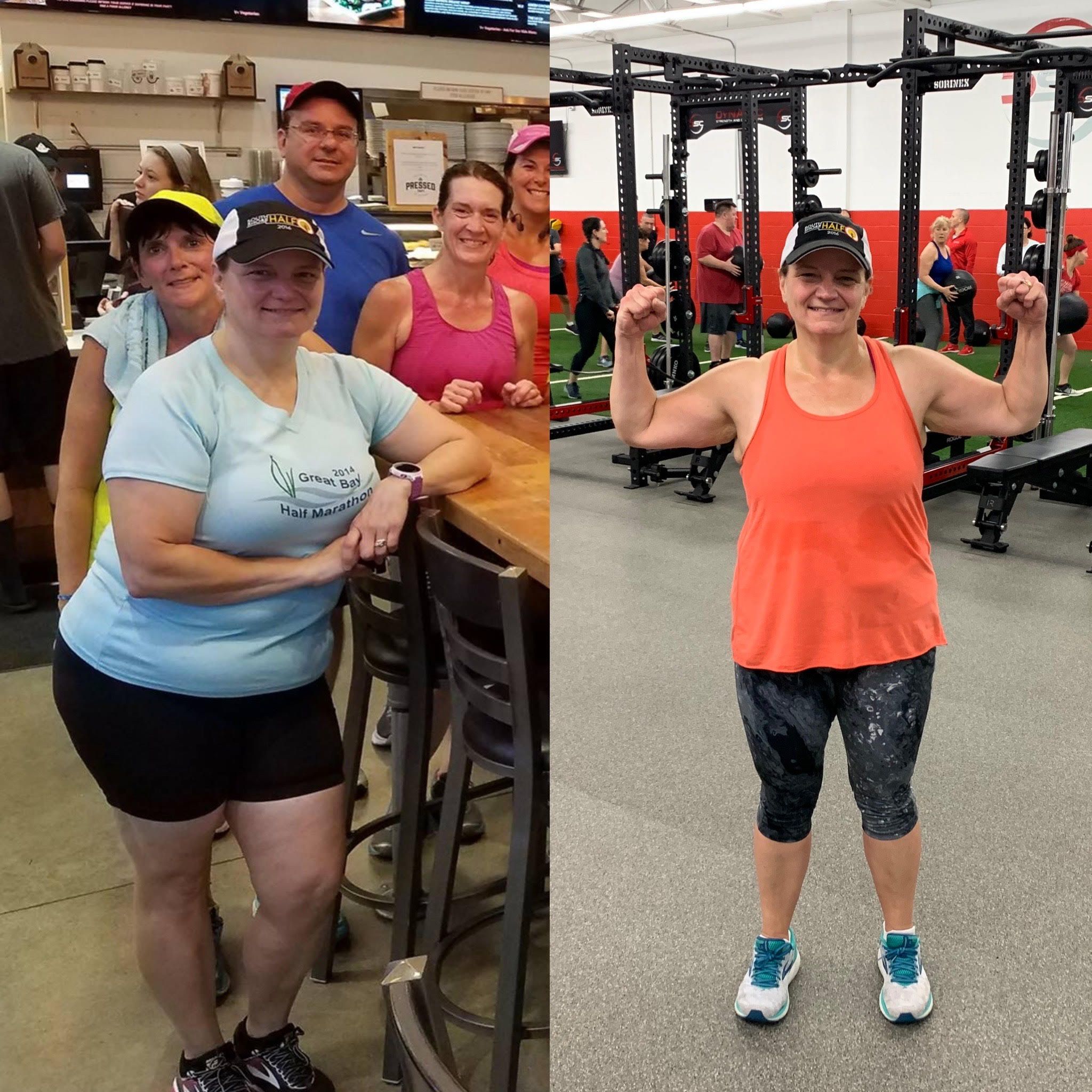 "I'm wearing clothes I haven't been able to wear in a couple years.
I can see great improvement in my energy, endurance and attitude.
I LOVE the group workout format, where I feel so much more motivated to turn up and to push myself alongside everyone else who is doing the same.
I really like that the coaches keep an eye on us and offer tips for proper form and execution of the exercises.
They encourage us to push ourselves but I also feel encouraged to listen to my body and back things down a little if that's what I need to do that day."
Meet Amber - Down 70lbs!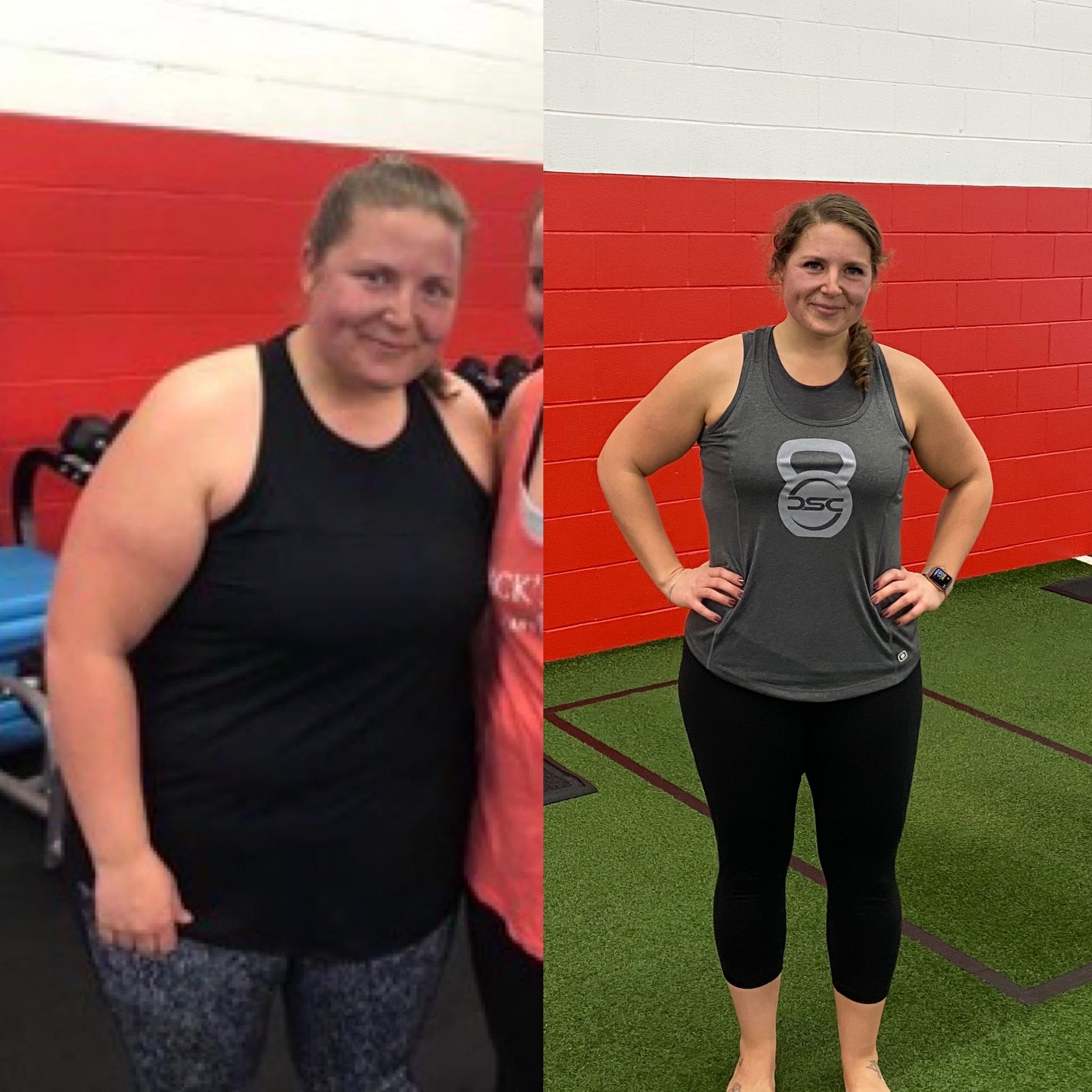 "I made a New Years Resolution for 2018 to start focusing on myself and gain confidence while getting my life back together. Which is what lead me to joining DSC... the BEST decision ever!
One of my biggest fears when I first joined was if I'd be able to keep up.
I knew I was out of shape and it had been a year since I had even stepped foot inside a gym.
Thankfully after joining those worries quickly went away!
It comforted me that both coaches kept checking in on me throughout the workout! They really made sure I was working at my own pace and took me through every step of the exercises.
Since joining DSC, I'm officially down 50 pounds!
I love all the positive energy you find when you walk into DSC! It's really a community and family here. Never would I have thought I'd actually enjoy coming to workout daily."
Meet Kathleen - Down 51lbs!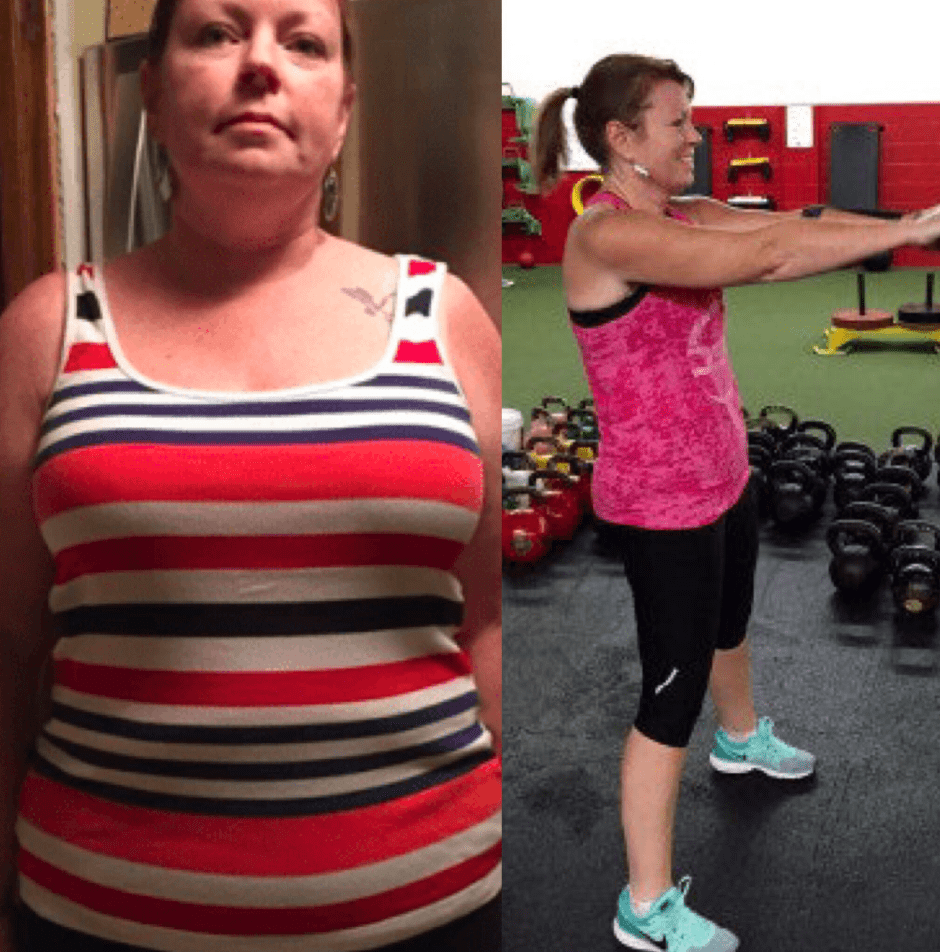 "I had many fears about joining Dynamic.
I was afraid of not being able to (fill in the blank), not being able to keep up with a class and being the slow, fat kid.
Mostly, I was afraid my weight would get in the way of my workout.
Also, I had just suffered a severe ankle sprain 3 months prior to joining and was concerned with how it would hold up and/or hold me back.
Starting in the Women's Group was the perfect fit and Renee was incredibly understanding.
I am down 51lbs and 4 pant sizes!
I have more energy than I can ever remember having. I have come off of my high blood pressure medication and was told at my physical in June, I was in the best shape I have been in, in the past 20 years!"
Meet Stacey - Down 34lbs!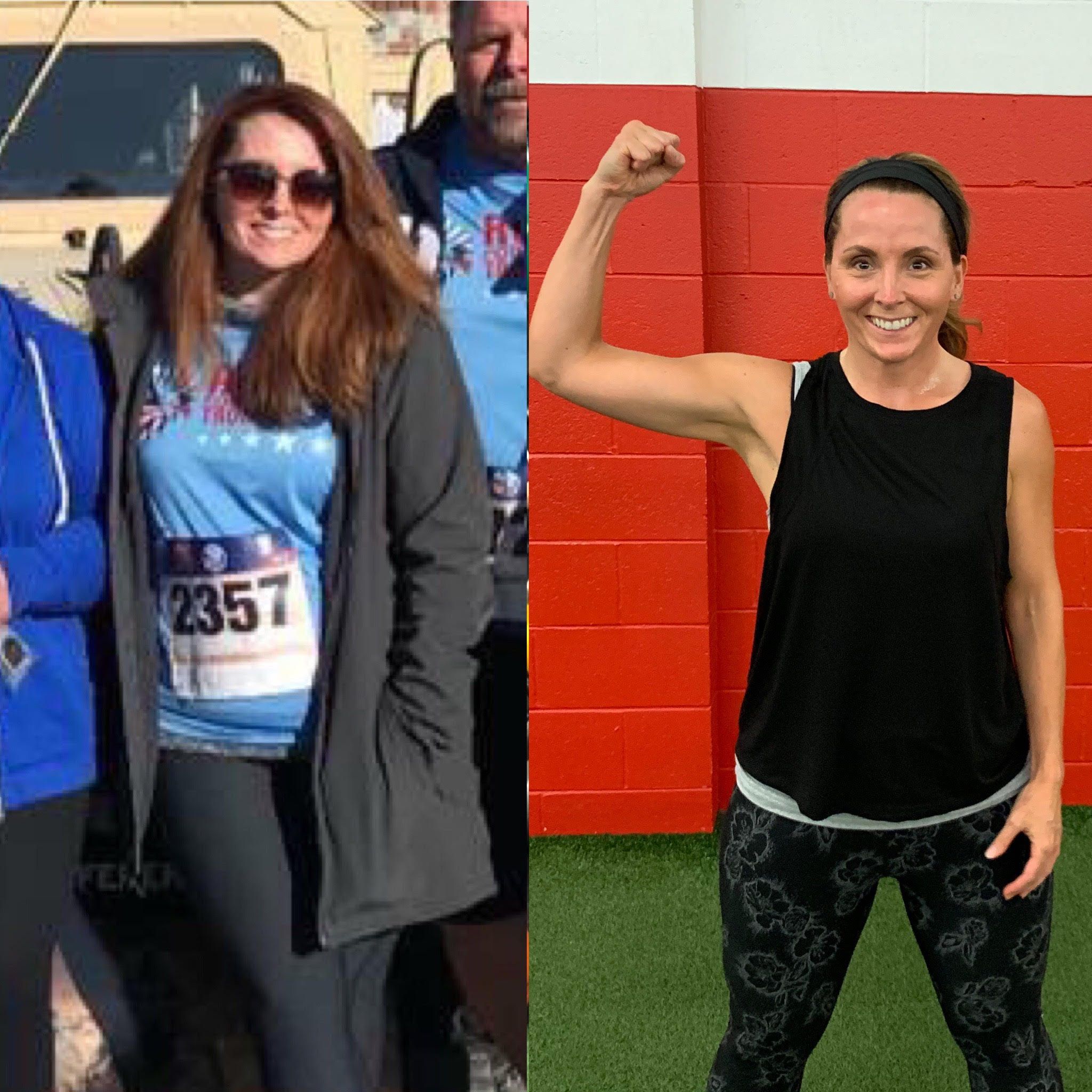 "I joined DSC's Nutrition Coaching Program to of course, lose weight but more importantly though, I was hoping to learn lasting, sustainable habits and develop a healthier lifestyle, altogether. I was ready for a change!
Overall my experience with the DSC approach to nutrition has been phenomenal!! I have learned so much from the coaches and the nutrition group family! I can't say enough good things about how great the coaches are and don't believe I would have had as much success without their guidance!"
Meet Cathy - Down 40lbs!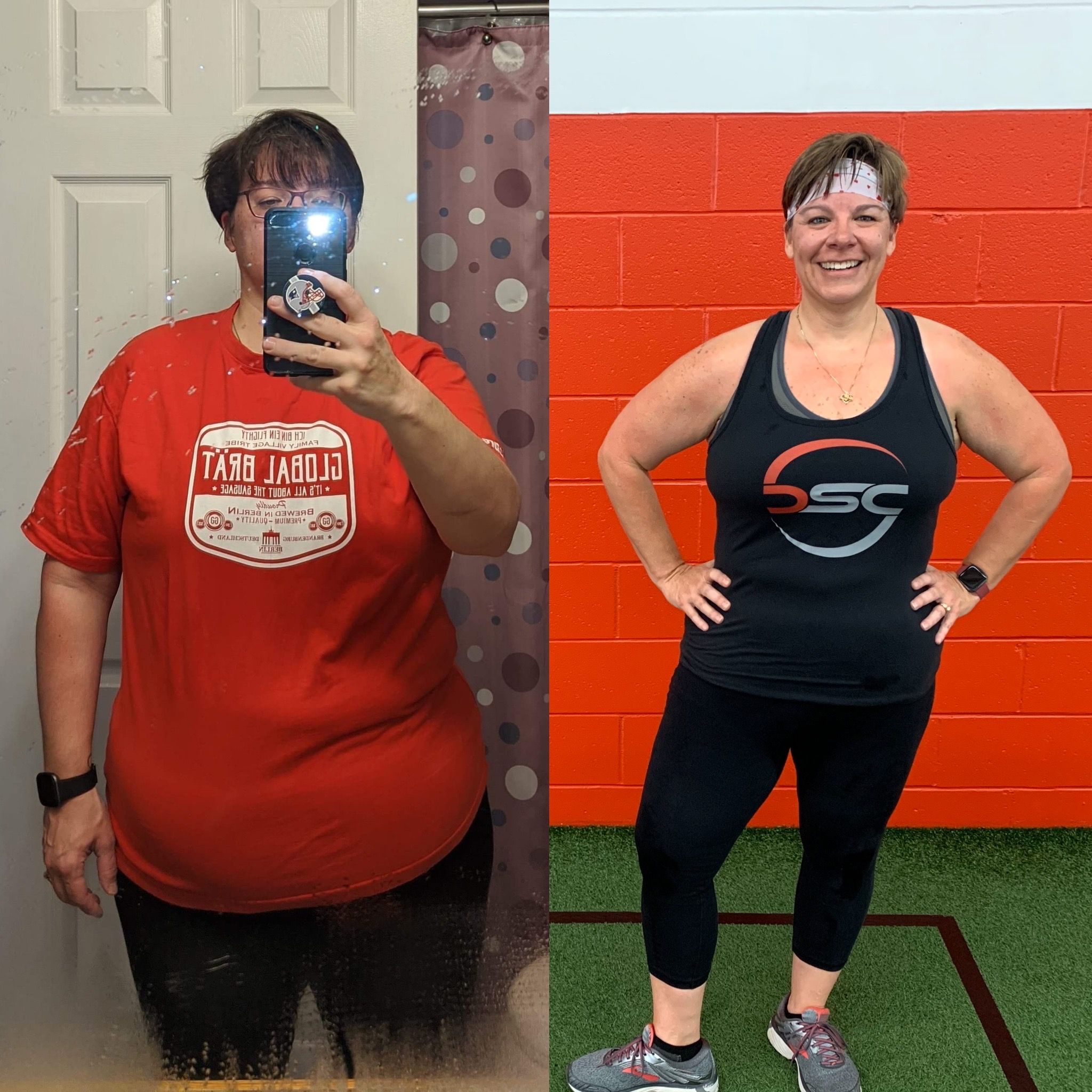 I have consistently worked out 5 to 6 days a week and I really feel amazing!
I finally feel happy!
I have a long way to go, but I now know that I can do it. I also realized it's not that hard. I'm not starving. I'm eating good, healthy, balanced food. I have the tools and information to make better choices.
DSC is not a typical gym. It's a family. We sweat together, we laugh, we cry, we support each other, and we swear at the coaches a few times (HAHA!)
If you want a gym that gives you everything, then DSC is the place for you. If you're ready to crush it from home, join DSC STRONG today!
Meet Cheryl - Down 45lbs!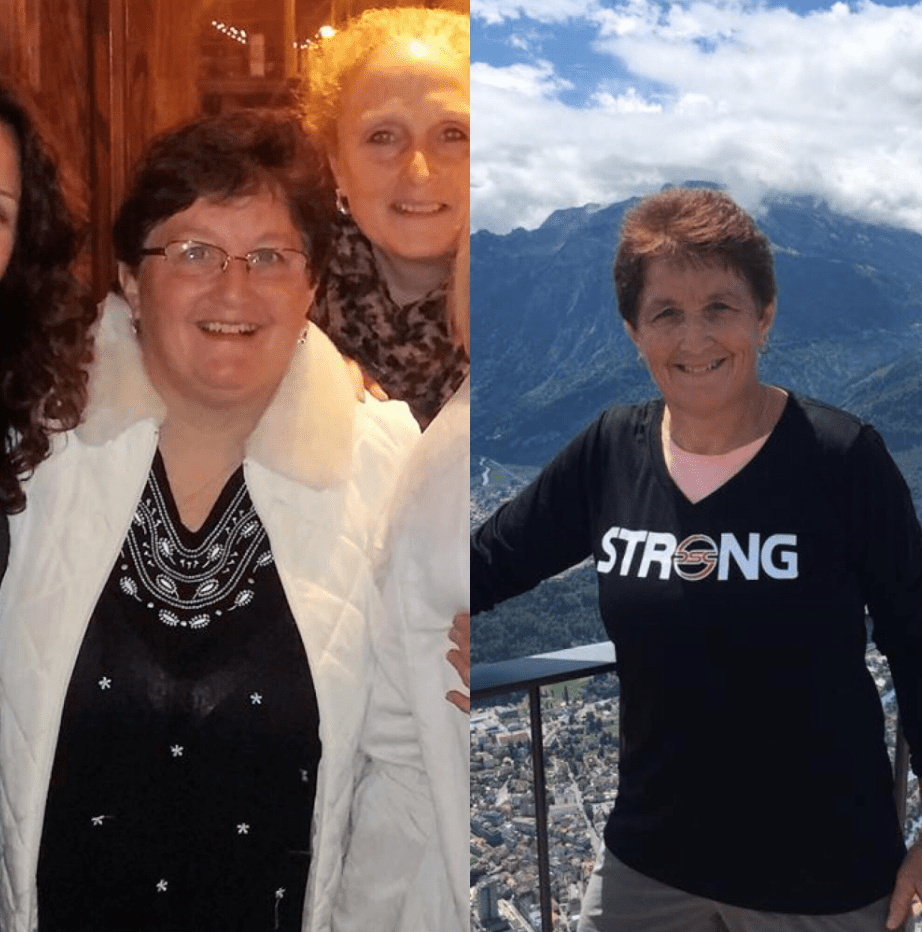 "My first night I was really nervous.
I thought "What if I can't do it?
What if I fail again?"
Boy was I wrong!
The moment I met Renee and Matt as well as the many women who were in my Tuesday evening group that night, I knew I made the right choice!!
Since joining I've lost 45lbs!"
Meet Karen - Down 50lbs!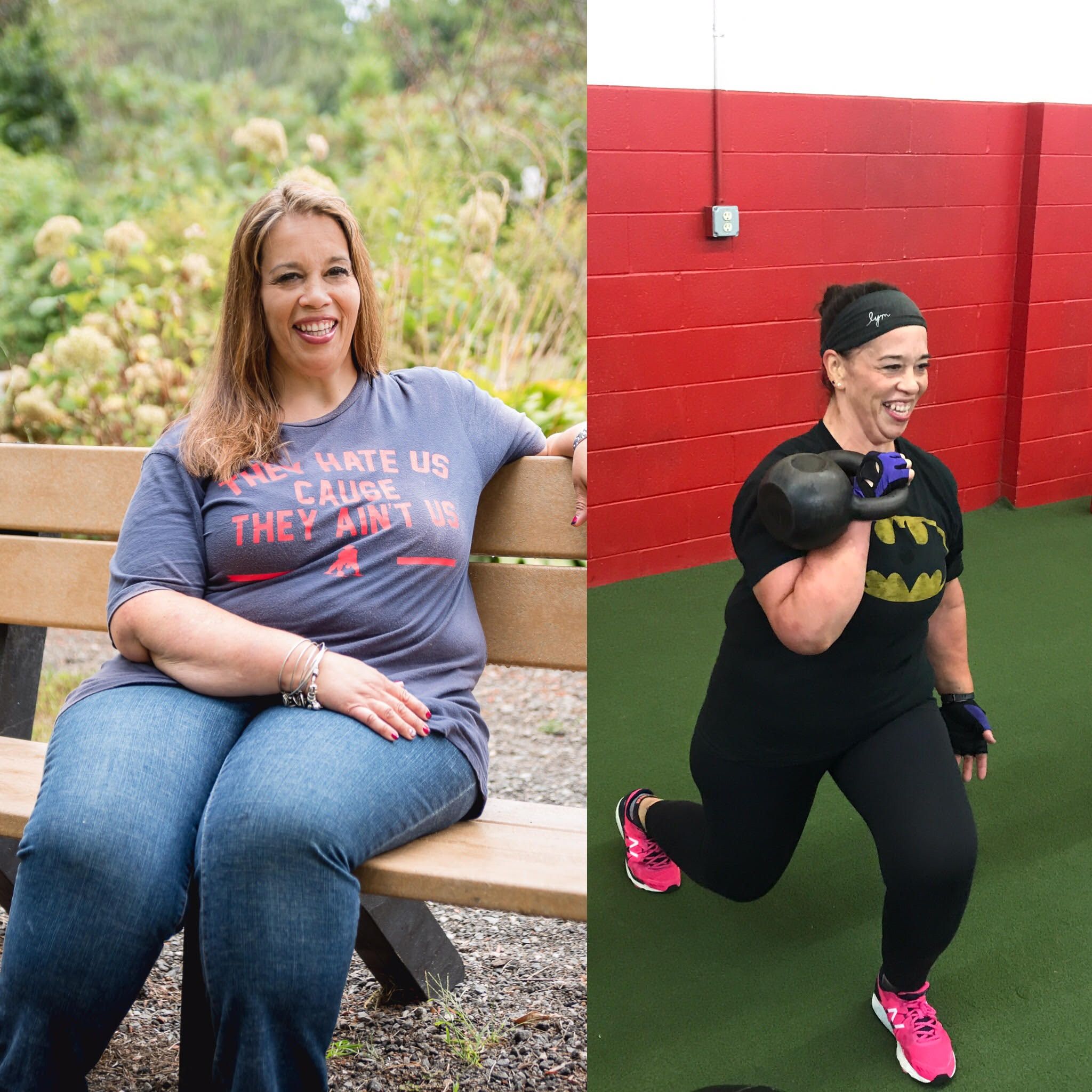 "If you are someone who has been thinking about trying DSC out, what are you waiting for?
DO IT!
My only regret is not trying it sooner.
Trust me; I understand the fear of walking in the door.
Once you do, you will understand that this is not just any gym; it's a way of life!"
Meet Janice - Down 38lbs!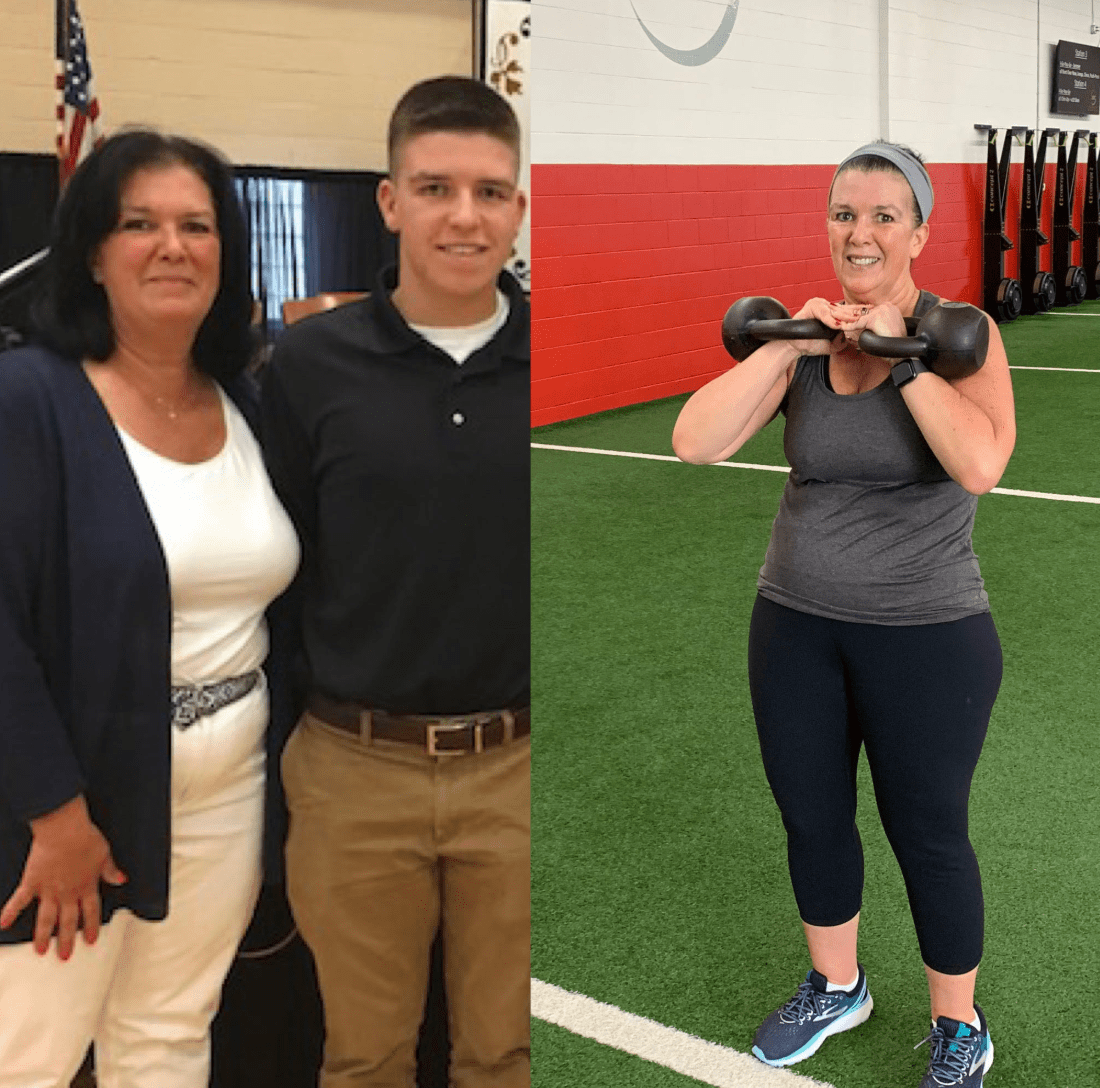 "My first Women's Group class was AMAZING!!
I was a nervous wreck coming in and honestly thought that I was going to be sick to my stomach.
Before the class, everyone was so welcoming. Renee, DSC's Women's Group Director was so encouraging and the women in the group were very supportive.
I honestly couldn't wipe the smile off of my face after the first class and couldn't wait to come back.
I recently had my yearly physical and lost 38 pounds since my last physical! I have also dropped 4 pant sizes!"
Meet Cheryle - Down 43lbs!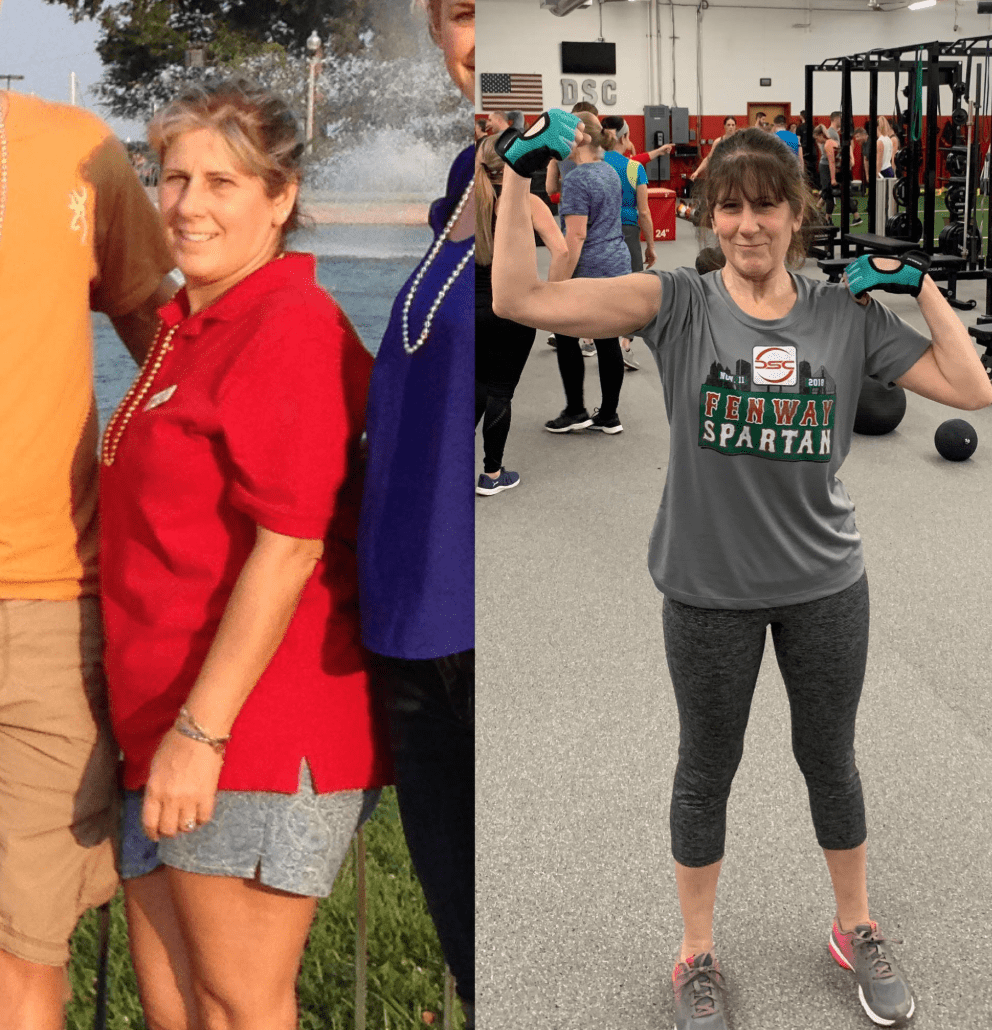 "My doctor said I needed to lose weight and make changes to my lifestyle if I wanted to feel better.
I knew that I was ready and definitely didn't want to continue going down a path that would continue to cause me more and more pain as things worsened.
My first class was so much fun!! I was for sure out of shape and several times thought to myself, "What am I getting myself into??"
I made it through the entire class though and was even excited to go back the next day!
The coaching staff is incredible and sets Dynamic apart!
They are always there, teaching, coaching, helping and cheering you on all the way.
Today, with the help of the coaches, I have lost 43lbs!"
Meet Beth - Down 30lbs!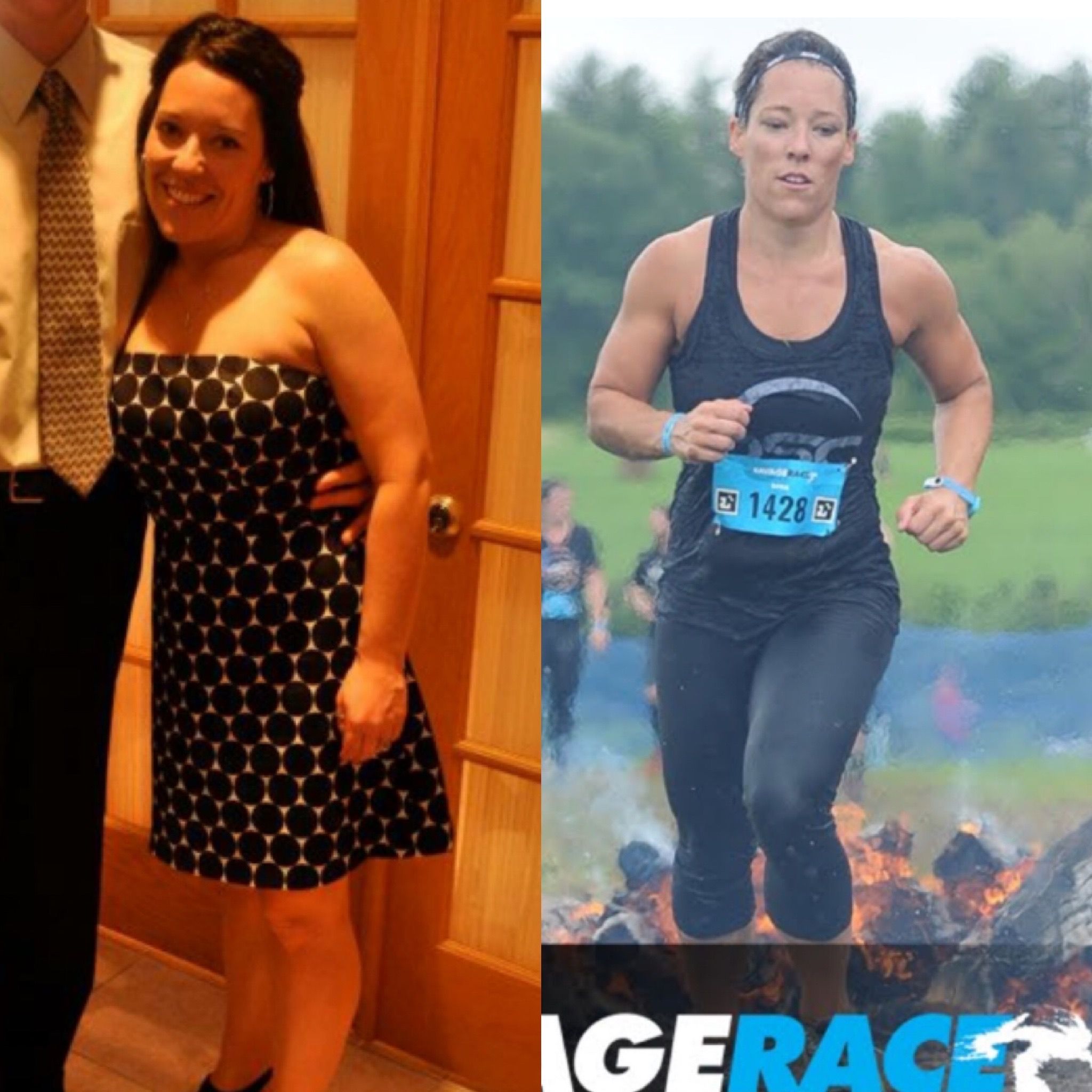 "I have been at DSC for little over a year now, and have never felt better. I have lost over 30lbs and have gotten so much stronger. I am doing things I never thought I would be able to do.
The trainers are always right there to help push you to that next level that you may or may not have thought you could get to.
My strength, power, agility and stamina have all improved and it has carried over to activities outside the gym as well. I am in the best shape that I have ever been in thanks to DSC!"
Meet Jen - Down 20lbs!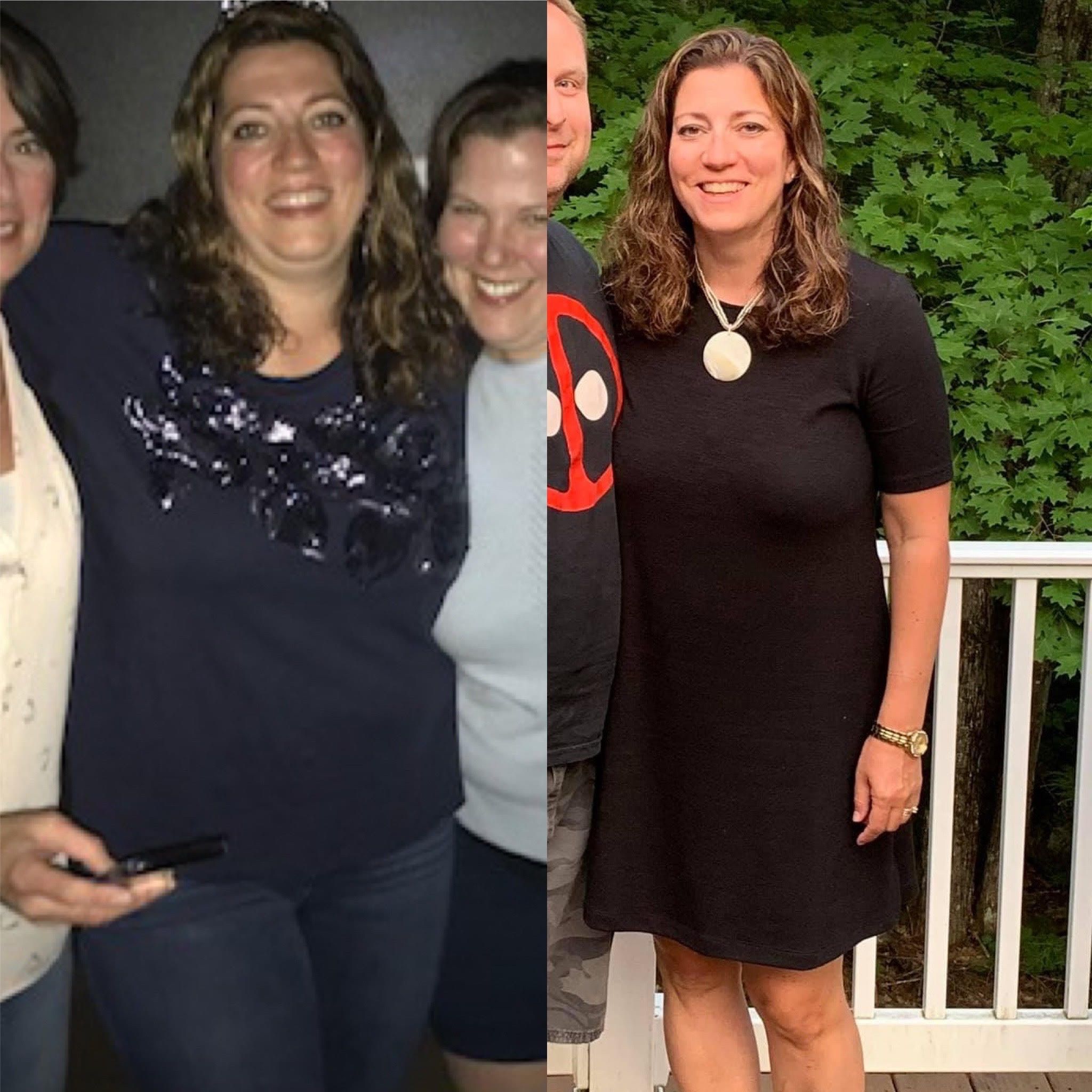 "I have to say, I have avoided exercise classes like the plague my whole life. I've always preferred to run by myself on the treadmill.
I was intimidated by the hard core fitness people I would see through the glass in the classes at the Y.
But it's not like that at all at DSC.
There are people of all shapes, sizes, and ages.
I have lost 20lbs and I am so much stronger!
During my first few weeks at DSC I could barely do one push-up but now I can do at least 10 and I get excited when I see them on on the workout board.
I am wearing clothes that haven't fit me in five years! And the true test is that my kids even think I look better!"
Meet Colleen - Down 30lbs!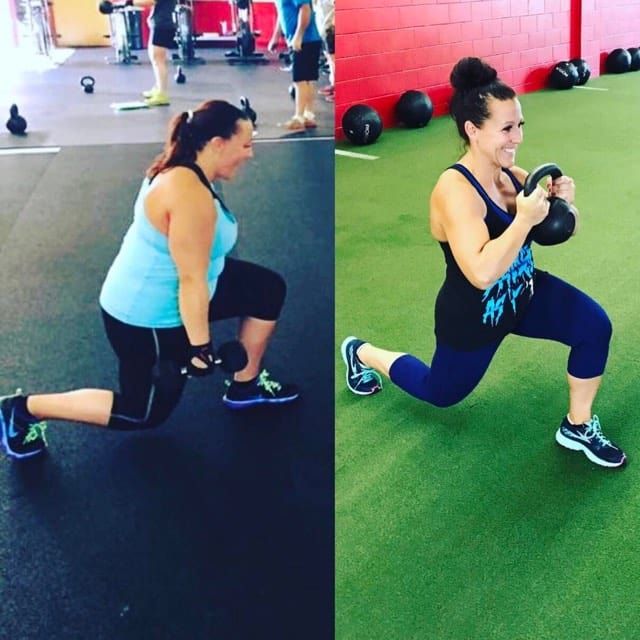 "I gained the knowledge I needed about food, macro nutrients, pre and post workout meals. And how they will all make a difference with my performance, strength and stamina in the gym.
This was NOT a diet!
I was so intrigued to learn about what I was eating and how my choices could affect my progress or potential lack of. I felt fulfilled and completely satisfied with each and every meal now because I was finally getting it right! I had the correct knowledge I needed. I finally GOT IT and surprisingly it wasn't difficult!
My bad habits were slowly starting to go away and new healthy habits were easily and seamlessly replacing them one by one.
I felt in control. I started seeing the results I had hoped for!"
Meet Beth - Down 31lbs!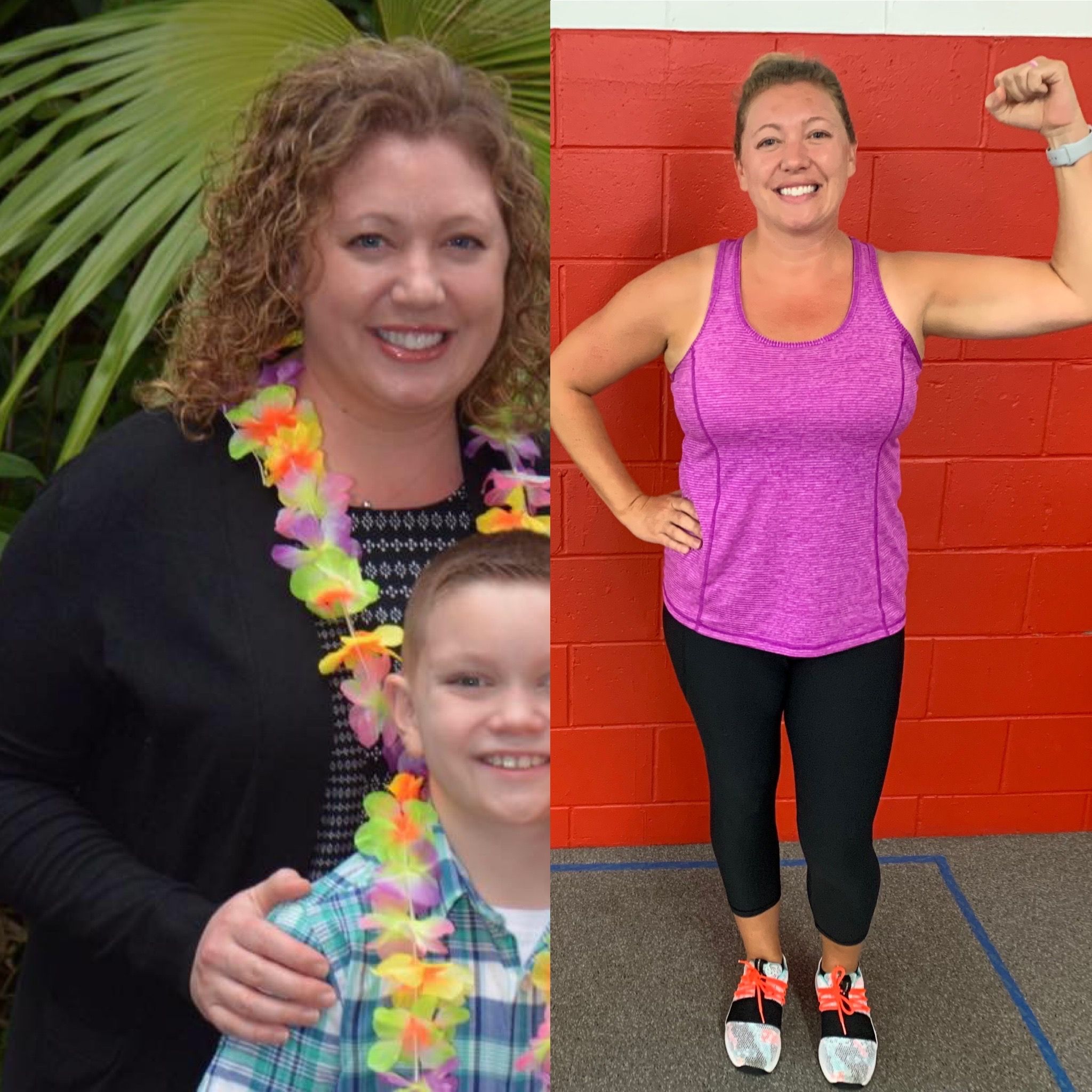 "I am down 31lbs and feel AMAZING!
I love the positive energy, loud and fun music, and variety of the workouts. I always feel challenged. I especially like that the staff is always looking to help you with your form and pushing you!
I feel so strong and confident and in a place where I can be 110% available to take care of myself and my family.
DSC has changed my mind on fitness! I now love coming to the gym to workout and I NEVER thought I would say that! The support and positivity from the staff is like none other!
If you're on the fence about joining, just do it! It doesn't matter what your fitness ability is, YOU CAN with DSC!"
Meet Vanessa - Down 35lbs!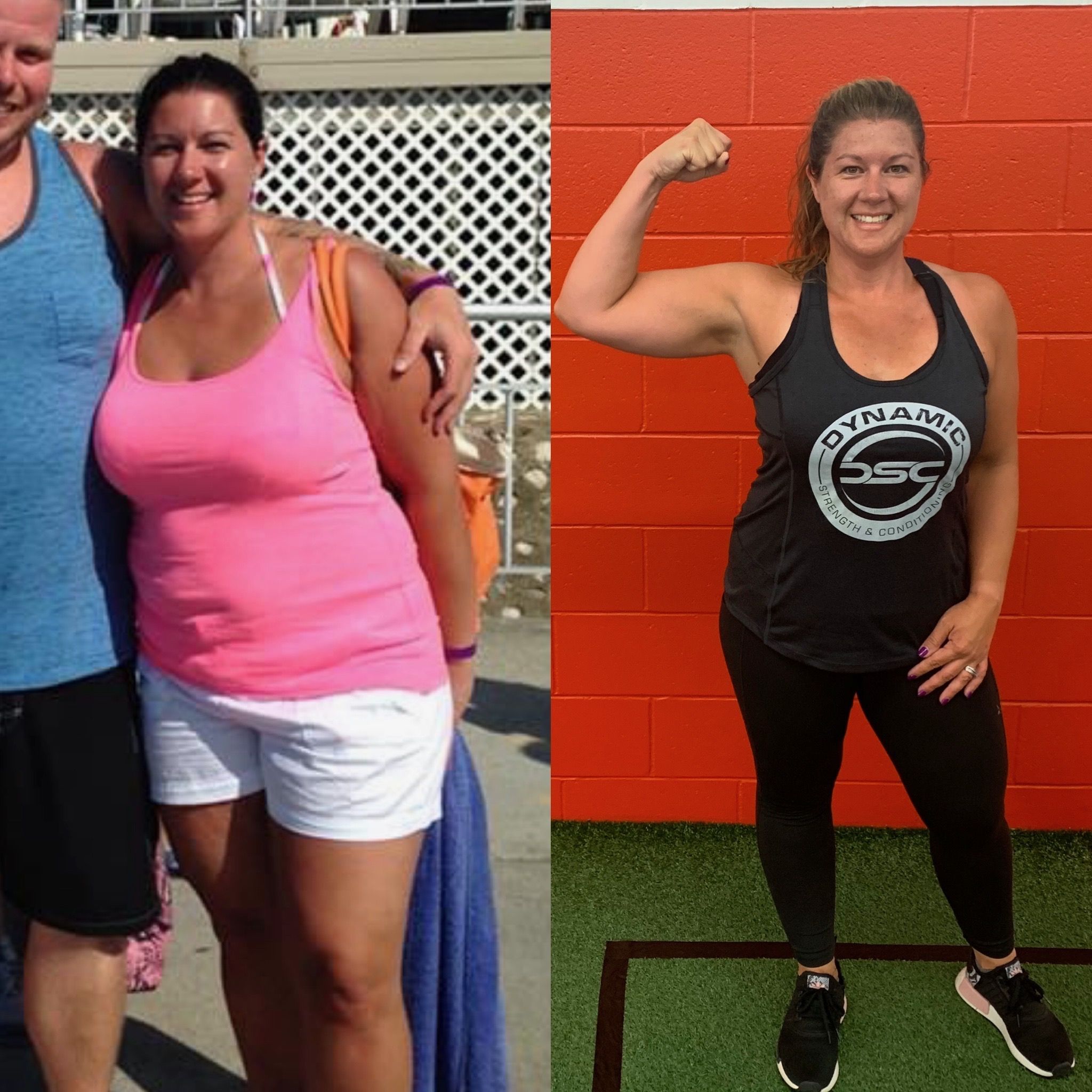 "Before I joined DSC, I was never consistent.
My goal when I joined DSC was to lose weight, feel stronger and healthier! Also, I wanted to commit and to stick to a program to see change!
My overall experience at DSC has been incredible!
I have never experienced a gym where the coaches are so engaged with the workouts and help you reach your goals. The coaches checked in with me to just see how I was doing, how my weekend was, or how my week is going!
Since joining DSC, I have lost 35lbs!"
Meet Patty - Down 22lbs! (DSC STRONG Online Program)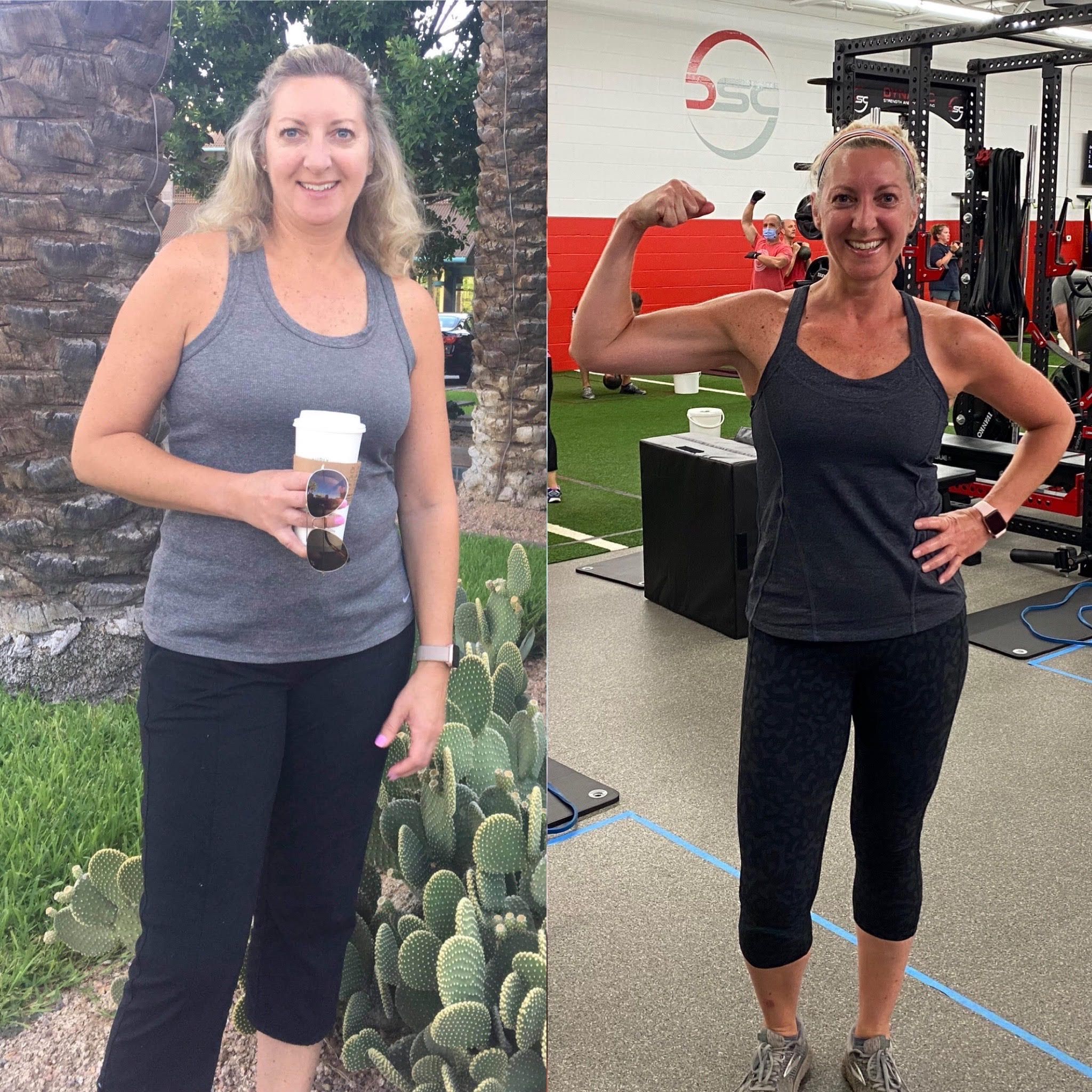 "DSC's online workouts keep me on track. I no longer skip workouts.
The program has drastically improved my sleep, diet, and fitness. It forced me to get back on track with my healthy eating since March brought on stress eating and less discipline!
DSC is not your average gym.
It's hard to find the right words to describe, but it truly is a special place – the knowledge and expertise of the coaches, the positive energy, and the supportive nature of the members.
You don't have to join with a friend, you will be welcomed by all from the start. It feels like we're in it together!"
Meet Filomena - Down 29lbs!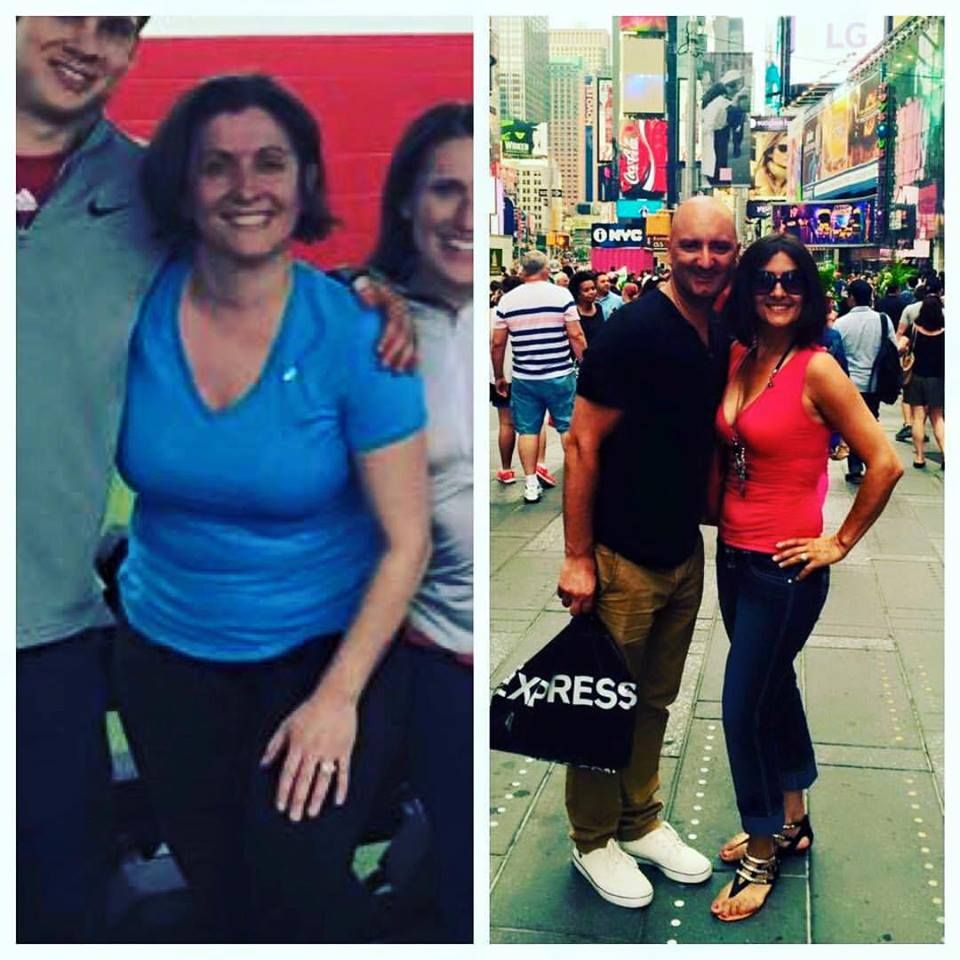 "My results have been amazing!
I've lost 28 pounds but more important I feel I can do anything! I now know that any goal I set my mind to can be accomplished. I'm very confident physically and my energy levels are amazing. I feel better now than I did at 30! If you are thinking of joining DSC I will tell you that it will change your life!"
Meet April - Down 49lbs!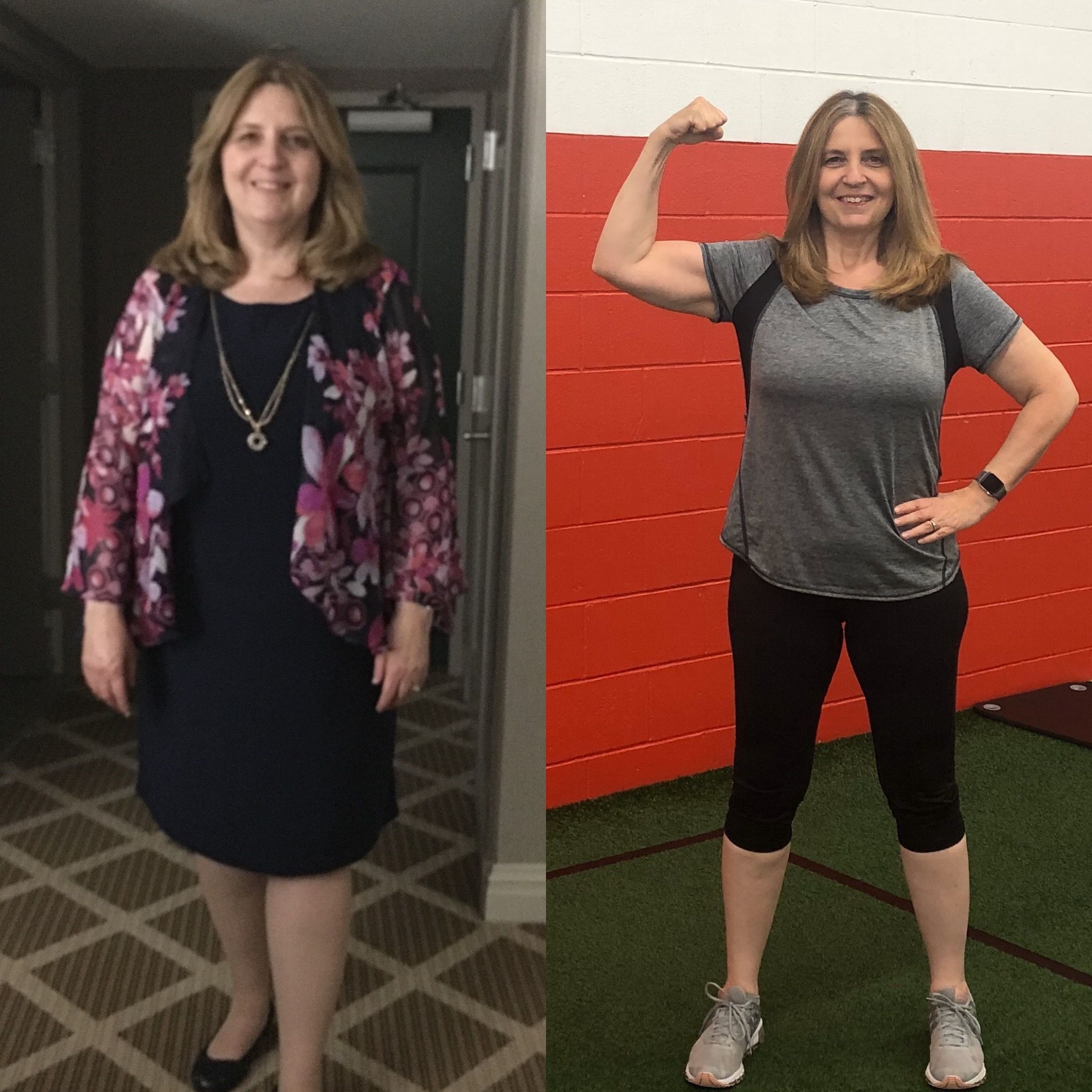 "I wanted to lose weight and get in better physical shape before I retired. Sure, I had a few years to go, but I figured it was going to take some time for me to get where I wanted to be, so I'd better get started. But how? I'd tried a lot of things in the past but none of the box gyms, workout DVDs, or weight loss programs had done the trick for me.
I was just so worried that I wouldn't be able to do it, or worse, that I'd injure myself.
My injury history had forced me to focus on my form when I first started out, and because I had that foundation, my confidence quickly grew. My endurance increased as well and in May 2019, I added a third class to the rotation - a metabolic conditioning class to supplement my twice-a-week strength workouts.
Soon I stopped falling asleep every afternoon. I started to feel stronger, which in turn made me more motivated. With the support and encouragement of my Women's Group workout buddies, I started increasing my weights.
I have now lost a total of 49lbs!"
Meet Ana - Down 30lbs!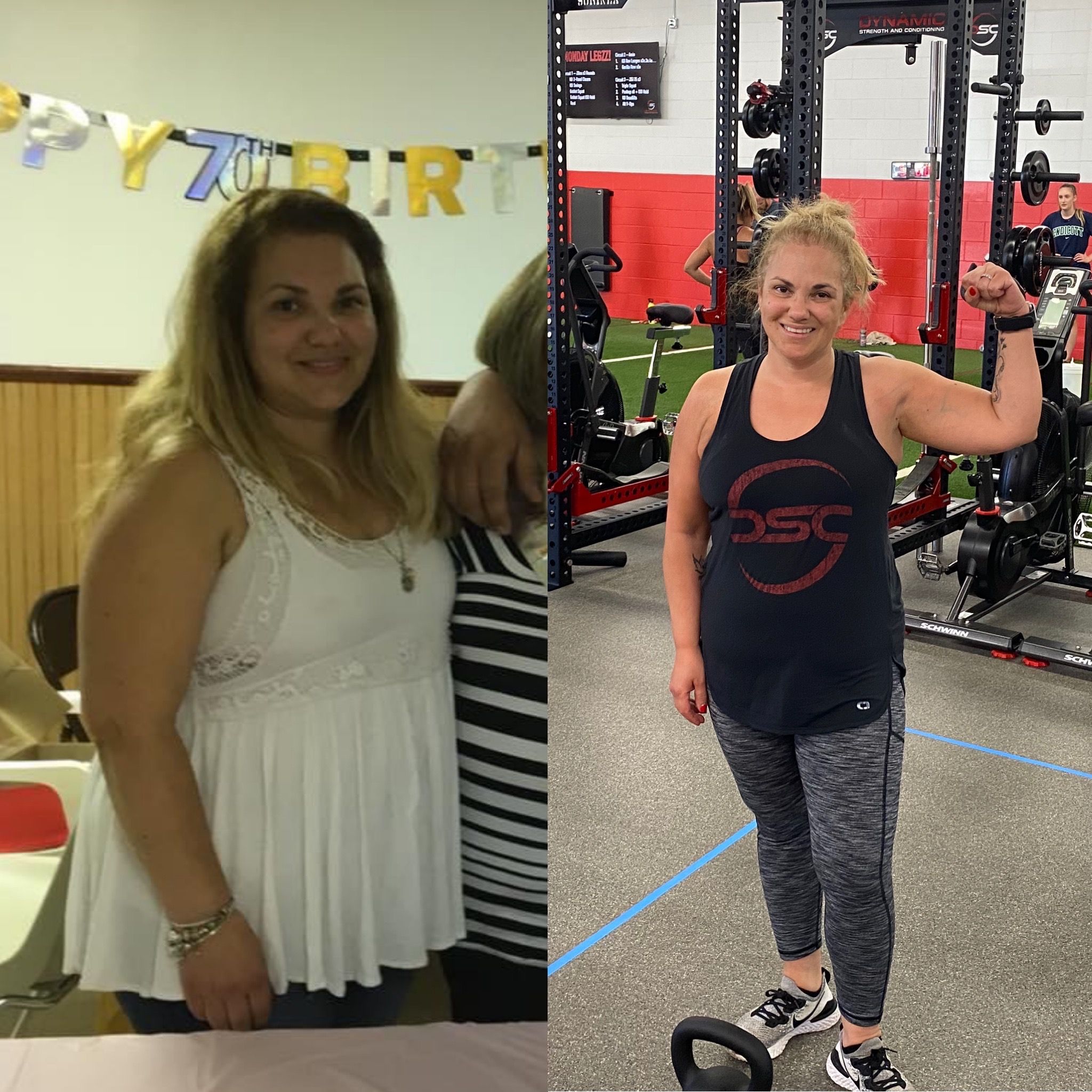 "I was ready to change my life. I didn't like the way I felt, nor the way I looked. I had gained so much weight that my knees hurt. I was depressed.
I heard so many good things from my friend about DSC. I was ready to change my life.
I was very nervous before my first class. I feared that I couldn't keep up with the class and that I would be too big, too out of breath, and too achy. I feared I would get embarrassed and quit once again.
I felt welcomed, comfortable, and not out of place,
The coaches modified exercises for me, and helped me work at my own pace! I loved it and and came back!
So far I have lost 30lbs since joining DSC! DSC gave me my life back!"
Meet Karen - Down 16lbs and 10% body-fat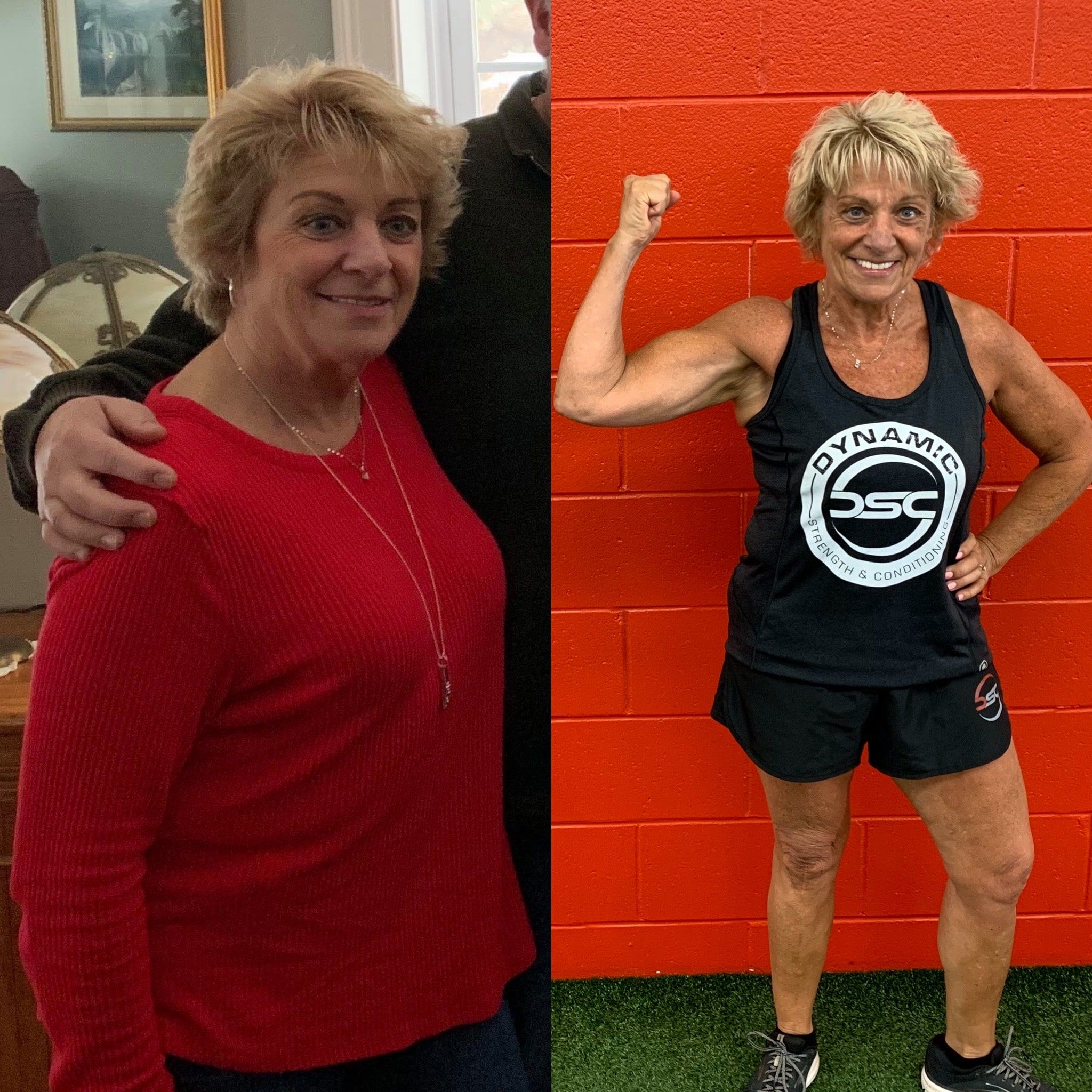 "DSC is amazingly different than any other gym I've belonged to and the energy was so inviting. The staff and members welcomed you with smiles, the coaches were very helpful, and the facility was accommodating to everyone.
I was hooked from the first day I joined!
I've lost 16lbs and almost 10% body-fat. And I've gained muscle mass!
I feel the best I've felt in a long time!
Not only did I lose the weight, but the muscle gain and energy I have is incredible. I have surpassed all of my expectations. When they say the older you get, the harder it is...well I proved you can do it at any age!"
Meet Elaine - Down 50lbs!
"Before joining DSC my typical workout routine was...well, I didn't have one. I had tried other gyms but with no luck. I would workout on the machines, and sometimes it would be good for a period of time but it never stuck for longer than a few months.
I really wanted to feel better about myself. Like many, I always put myself last after my kids, family, work, etc. Now I had a goal to be fit for 50!
I was so nervous to get started; I was afraid I wouldn't be able to do the workouts, that I couldn't keep up with the group, that I wouldn't be able to follow along, that I would embarrass myself... you name it, I had that fear. I was also so excited that I was finally giving this a try though.....The first class was great!
DSC is like no other gym I have ever tried. I look forward to the workouts and I actually love coming to the gym! The trainers are wonderful, their energy, humor, encouragement is unmatched and they push you when they know you can do more. It is so empowering to see your own progress, to add more weight, and feel the difference over time.
Since joining DSC, I have lost a total of 50lbs!"
Meet Jen - Down 33lbs!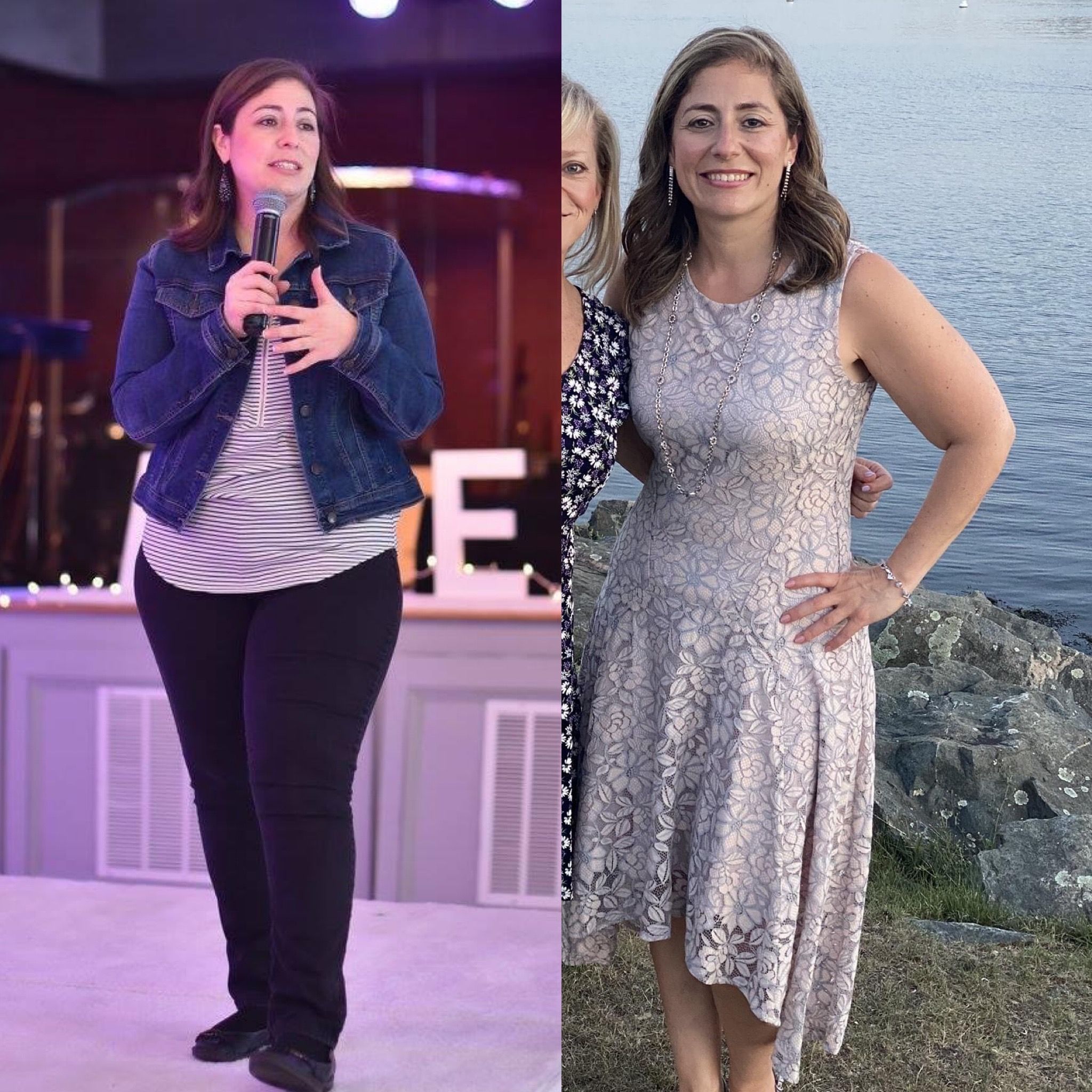 I've gone from a size 14 to a size 6!
I am doing things I haven't done since high school. The last few weekends, I have hiked between 4-6 miles working my way up to an 8-mile hike next week. I have done 2 Fenway Spartan races, tried kickboxing, and I shock friends and co-workers with how strong I've become when it's time to move something or lift/carry something.
I'm beyond grateful for this place, and can't imagine being at any other gym.
My favorite part of DSC is the FUN you have while working out!
DSC has changed my life!
Meet Kelly - Down 45lbs!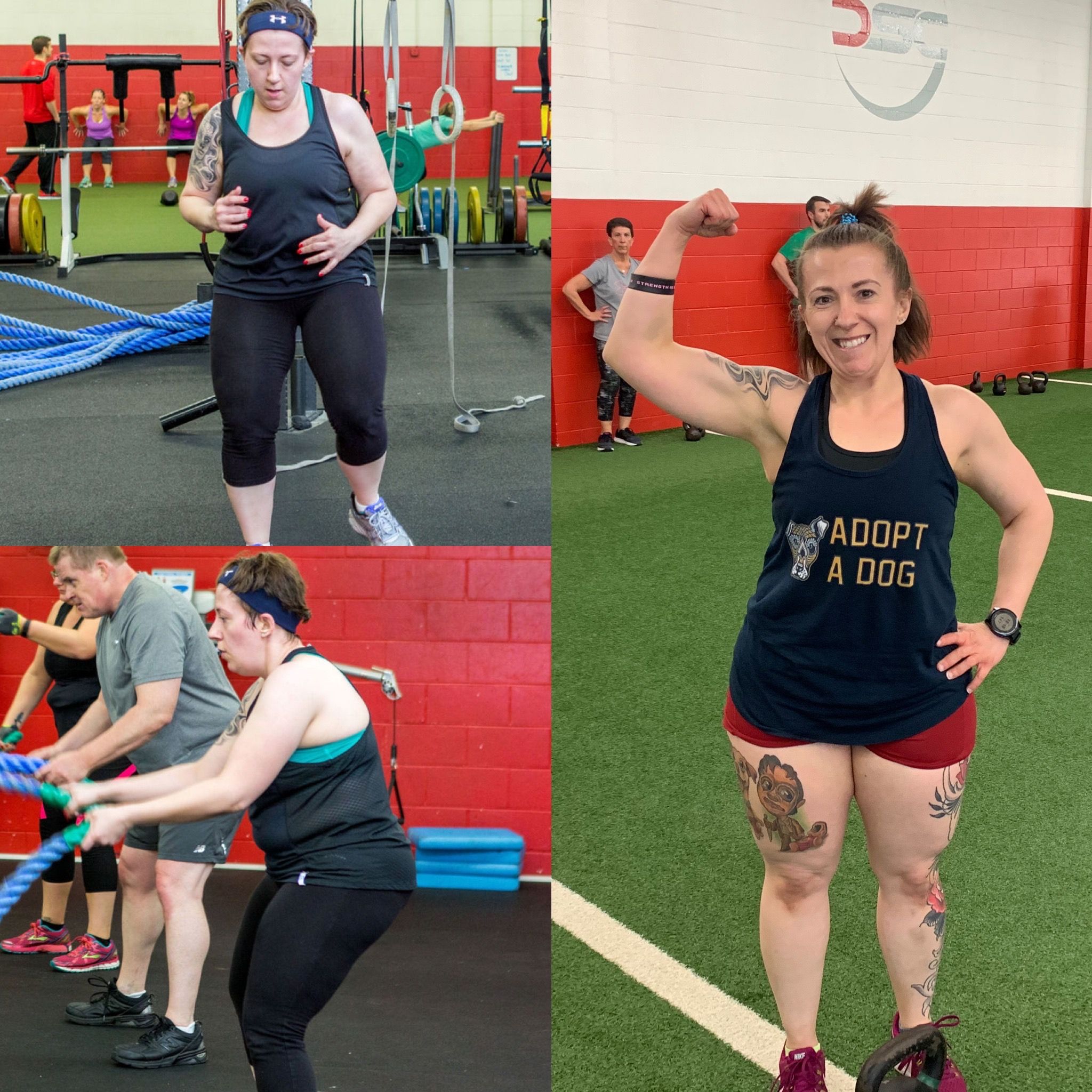 "Before DSC I did what so many of us do: I'd join a box gym excited to start a new routine. I'd go a couple times a week with no real direction, spend a half hour or so on a piece of cardio equipment and then I would leave.
I didn't know anyone there and I felt intimidated asking for help with anything.
I was overweight and out of shape, and the idea of working out with peers that would be aware of how out of shape I was terrified me. All of these were the reasons why I said no.
A few months later I had noticed I was winded going up the stairs in my condo and I was feeling older getting out of bed in the morning. I was only 37 and worried about what things would be like once I was over 40.
I decided I would join DSC in the hopes of feeling stronger, but really having no idea how I'd measure that or what that would look like.
I have now been a member at DSC for 4.5 years and I have lost 45 pounds (and counting) and 4 dress sizes."
Meet Julie - Down 40lbs!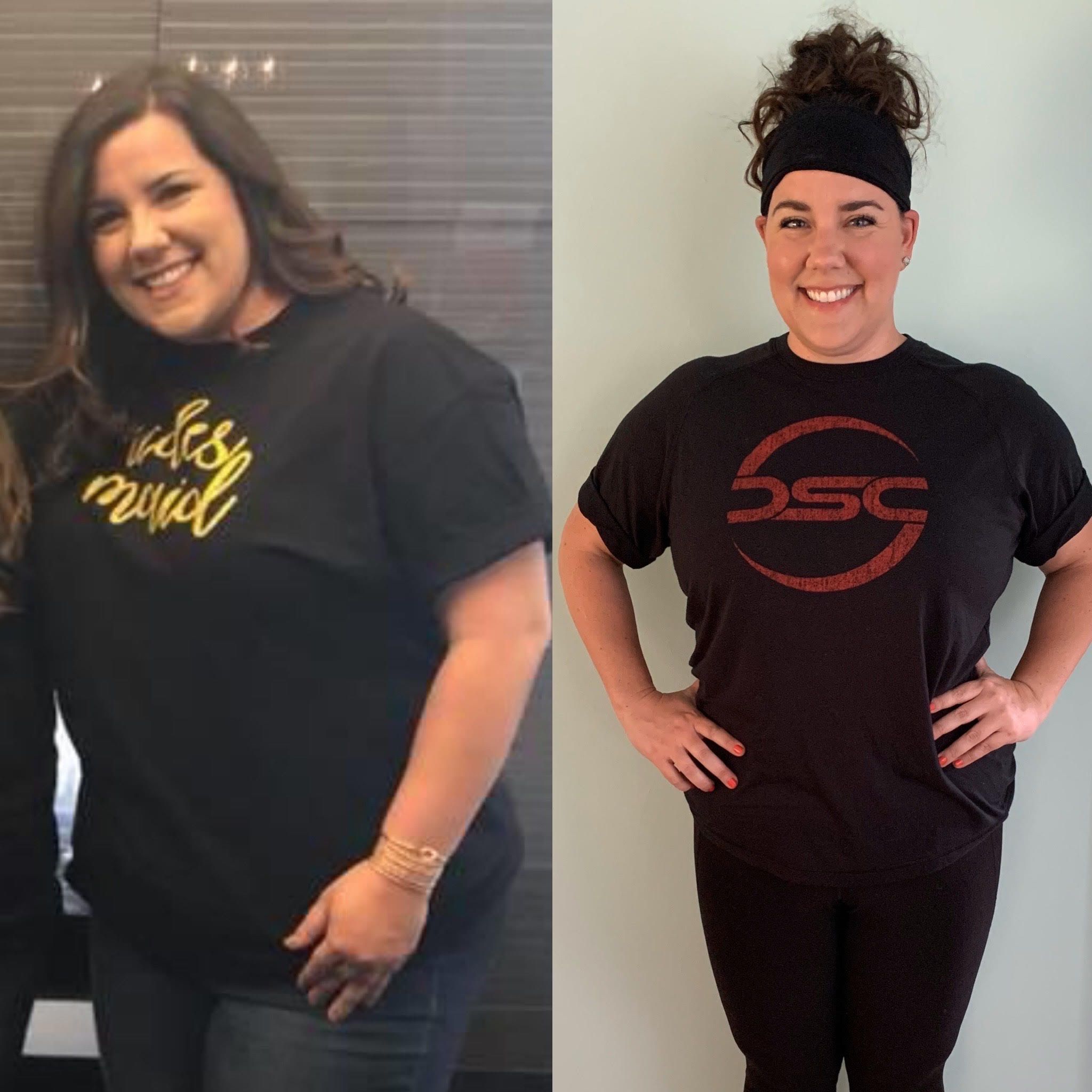 "Prior to this visit I had toured the gym four times. I laugh now because sweet Sara dropped everything each time to show me around and reassure me of any of my concerns of joining a new gym. I wanted to be sure this was a gym that had a strong and positive community that built one another up and pushed each other to reach their goals.
When touring, I was seeing coaches rotating around continuously helping, focusing on all members and making sure everyone's technique was safe as well as pushing them to strive to be their very best. I looked around at friends working together, laughing and being silly, supporting each other and having a fun time all the while completing their best work out!
Since joining DSC, I have lost over 40lbs and gained a ton of strength and confidence!"
Meet Tara - Down 40lbs!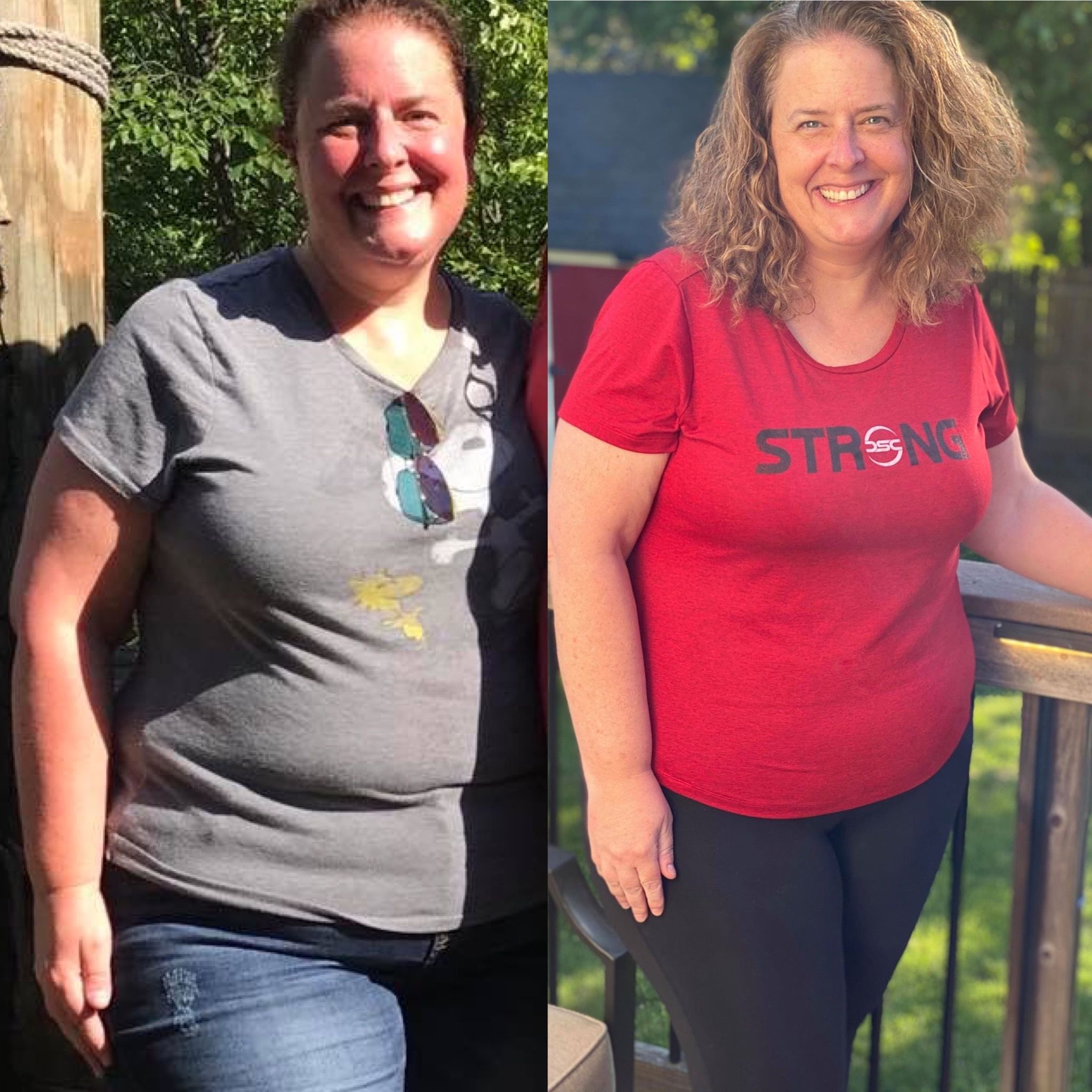 "I started at DSC in September of 2019. I had heard of DSC before and had inquired a few times but never pulled the trigger. So when I walked into the gym in September 2019, I knew I was going to go all in. I actually have a note on my calendar on the day I started: "today is the first day of a healthier rest of my life".
I am the youngest in my family and both my older sisters have Lupus and have both battled cancer. I didn't want to just sit around and wait to be next. If either was part of my future, I wanted to be the healthiest and strongest I could be. It's important I say all that because I could have continued to make excuses for myself. But I knew it was time to put myself first and do this for ME and only ME.
I joined DSC without knowing anyone in my classes. I didn't want someone else's schedule or motivation to go to the gym to determine my success. From the moment I began, I knew DSC was going to be a perfect fit for me.
I've lost 40lbs since joining!
My advice to those thinking of joining DSC is to drop the excuses and try it. Trust me, I have a lot of reasons why I should have stuck my head in a gallon of ice cream and never came up for air. But I told myself to try it for 30 days and I set a small goal for myself – feel good and motivated enough to stay committed."
Meet Stephanie - Down 21lbs!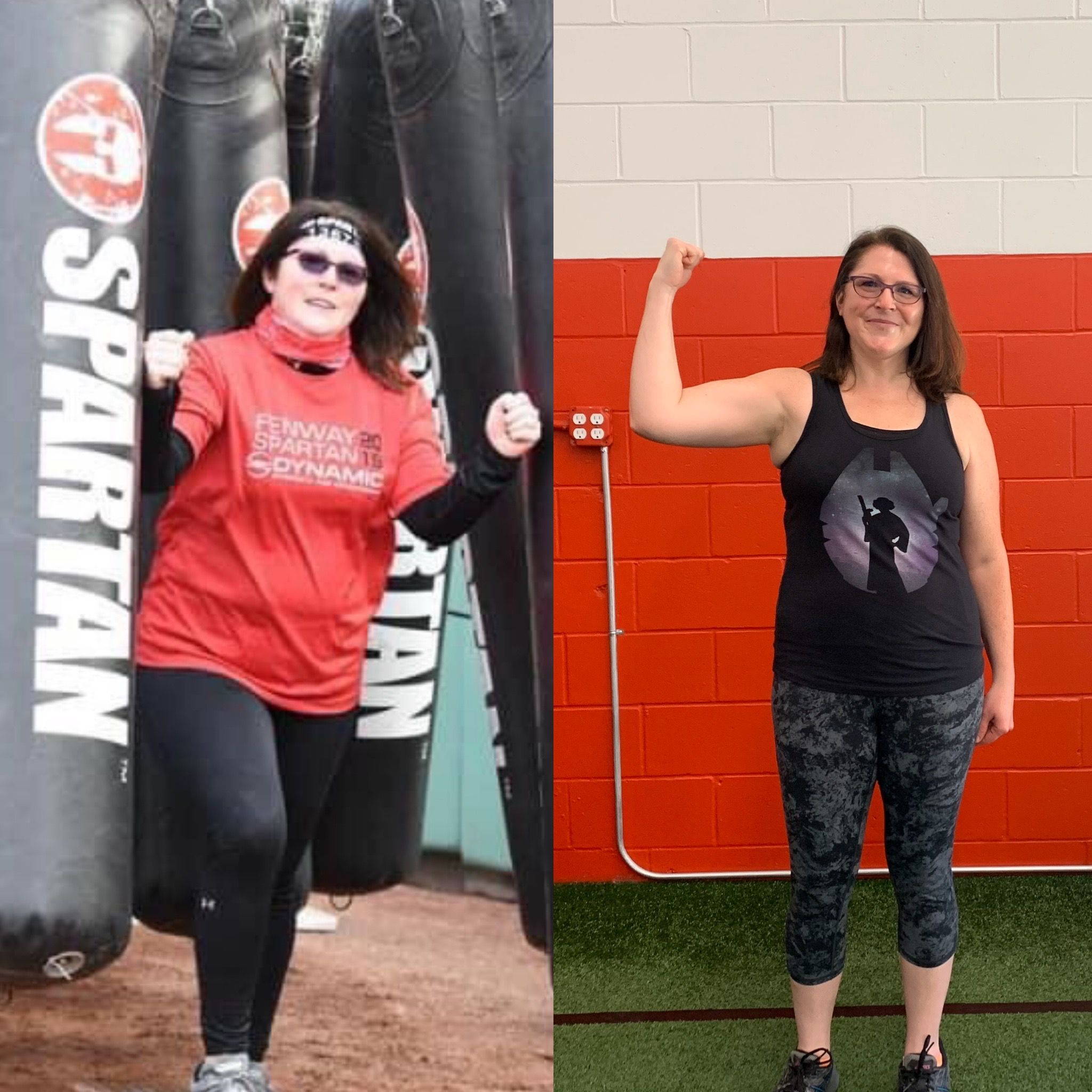 "I am incredibly proud to say that I have lost a total of 21 pounds since the shutdown started and I am down 2 pant sizes and 3 shirt sizes. After 7 years of trying to lose my "baby weight" that is a pretty big deal.
It feels really good to say that at 46 years old I'm the healthiest and strongest I've ever been! I am so thankful to the coaches at DSC for helping me get there.
Anyone out there who is on the fence about joining, don't be! I promise you that you will not regret your decision to join DSC.
Whatever your goals may be, the DSC coaches will help you get there and the other members will be cheering you on the whole way!"
Meet Sissy - Down 40lbs!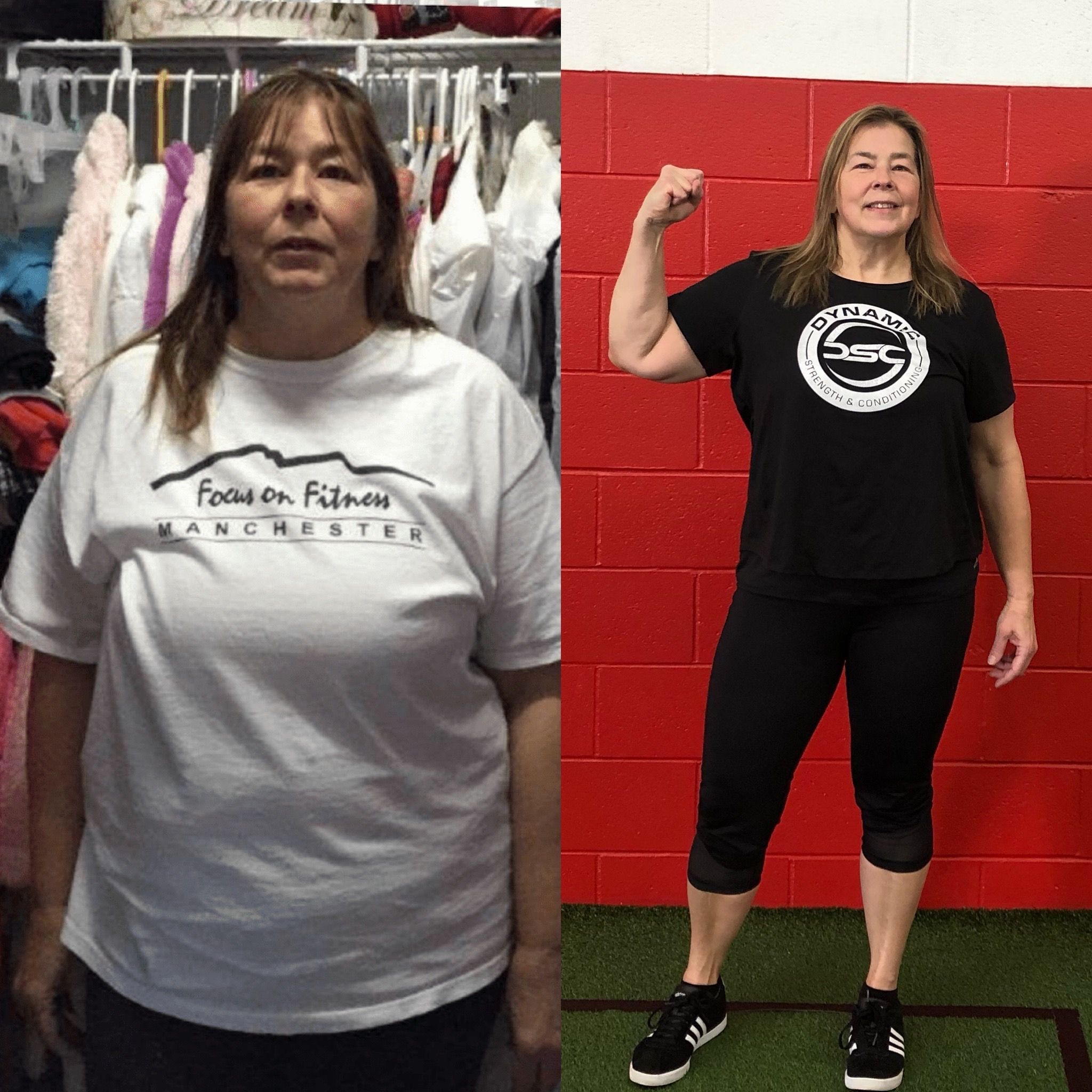 "I feel so strong and healthy!
My favorite part of DSC is walking in the door and seeing how happy the coaches are to see you.
My favorite part of the workouts are again the coaches. When they walk by and encourage you to keep going, maybe tweak your form or make a subtle suggestion to up your weights. ; )
The impact DSC has had on me is life changing!
Everything about DSC has me coming back. The workouts, the coaches, Sara who runs the front desk, the members in my group, the nutritional guidance programs.
DSC is really an amazing place!"
Meet Tracy - Down 40lbs!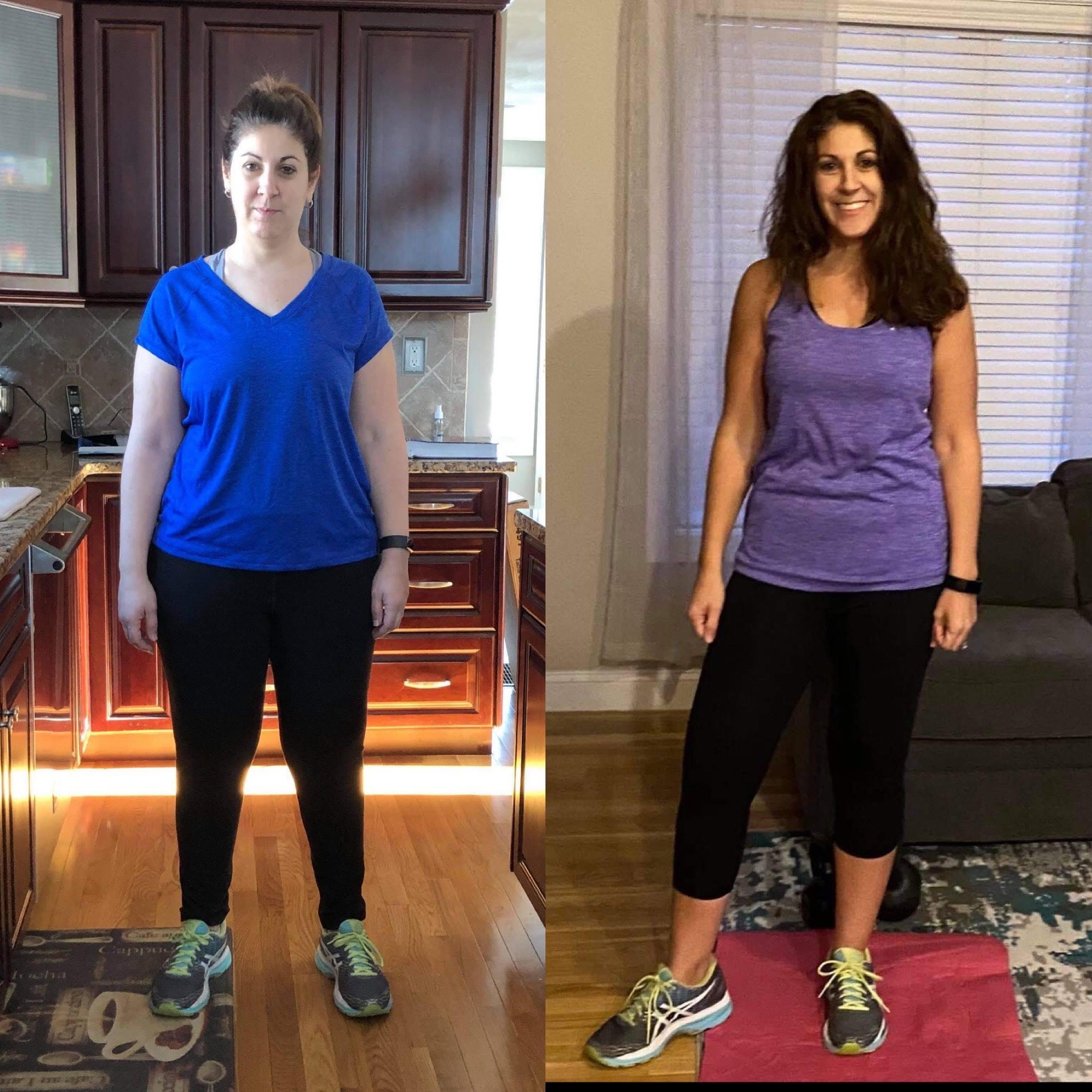 "I'm now at the top of my healthy weight range so I still have more to do, but I'm well on my way.
I went down at least 4 pants sizes and because of the healthy habits I've developed, my thyroid medication has been reduced.
I feel so much better overall and I have more confidence!
The workouts are tough, but for that one hour, I don't have to think about anything else, and it's just my time for me.
My favorite parts of the online program are that I can do them anytime that fits my schedule, and I don't have to leave the house to do it. I work full time, have a husband and 2 kids. My husband always leaves the house before 6am so going to the gym in the morning was never really an option. I would get home from work, make dinner, and then cart the kids to and from their sports, at least 4-5 days a week.
The convenience of this program is what works best for me and my schedule, and the fact that the workouts are different all the time so it keeps it from getting boring."