Our Top Men's Transformations at DSC!
What an incredible year 2019 has been with our Adult Group Training Program.
We are so proud of the men from all different fitness backgrounds who have push out of their comfort zones, and completed things in our gym they never thought possible.
One barrier to success for many of the men who joined our program is time.
Work.
Travel.
Families.
You name it, it adds up.
For a lot of us it adds up to not taking care of ourselves.
Months, even years go by between you and your last workout.
Things start to feel different as that youthful mobility and energy decreases.
Your joints start to ache and your knees, low-back, and shoulders stiffen.
You step on the scale and the words, "Oh, sh*t" pop into your head.
It is time to make a change.
It's time to get back to that fighting weight!
It's time to have that same level of strength and energy back that you had in your 20's.
And we're here to help!
Our biggest transformations joined DSC in the same situation -- busy, nervous to get started, but ready for change.
They started small with just a few workouts per week around their schedule and started to build some serious momentum.
Today, we're sharing those stories, including the obstacles our transformations faced before joining DSC, their experience with our program, and their incredible results.
Let's get into our top male transformations at DSC!
Meet Tim - Down 50lbs!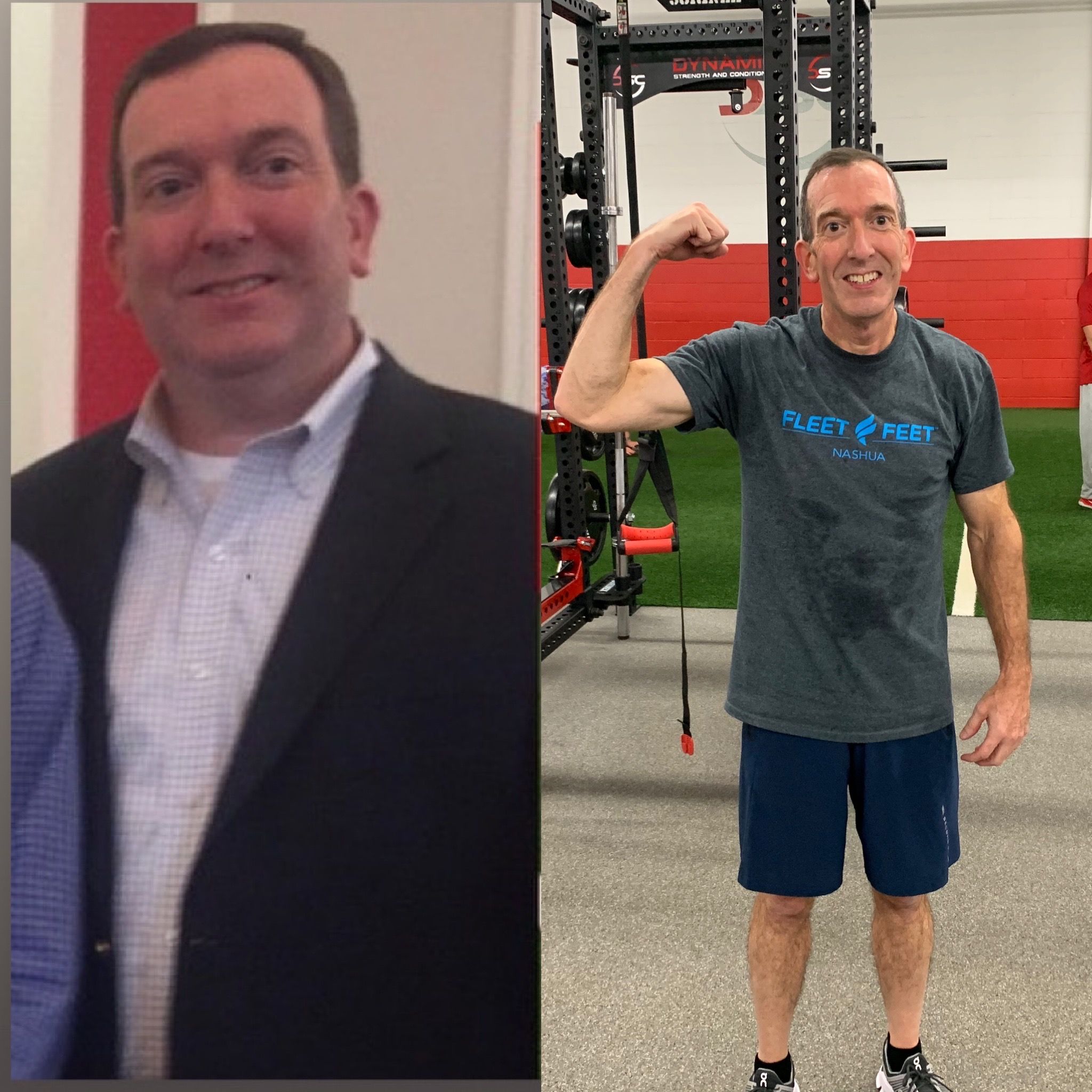 "I never really had a regular workout routine.
I would join a gym but my workouts were never very consistent.
I typically would only last a month or two and then lose interest and stop going.
My wife joined DSC in February 2018 and fell in love with the people and the workouts.
After her pushing me for 5 months, borderline harassing me (ha-ha!), I decided to give DSC a chance. I have to admit I was nervous, but sort of knew what to expect with my wife already being a member.
I feel that the training DSC offers is exceptional!
Each class is geared to work different muscle groups, whether it's strength or metabolic conditioning.
Since joining, I have lost 50lbs! My energy level is better than ever and overall I feel great!"
Meet Tony - Down 35lbs!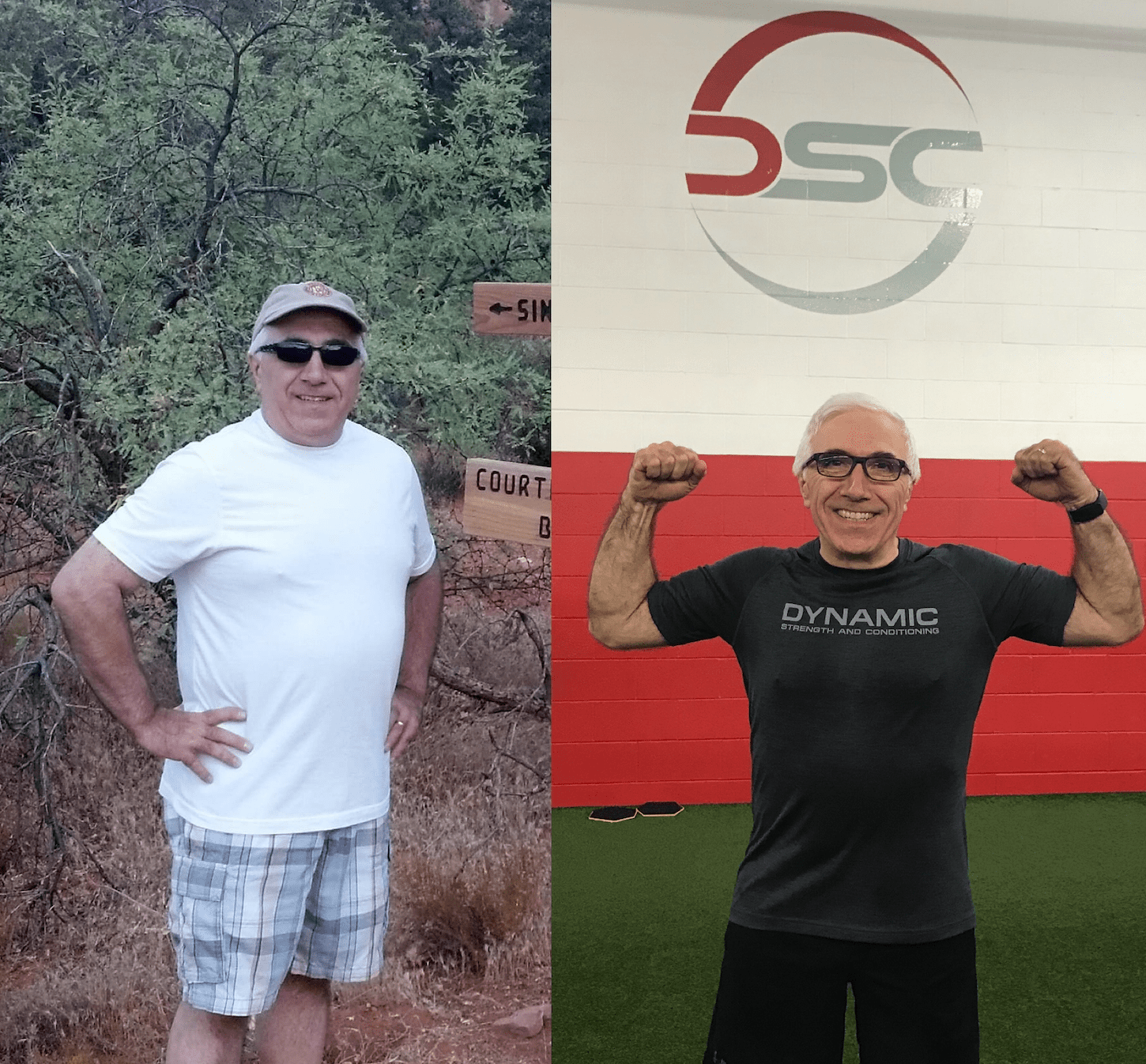 "Although the walk/run routine I was doing was the most exercise that I'd had in decades, it was monotonous.
I decided to give the one-month Men's Jumpstart Program a try.
I was getting older and I wanted to get stronger and build stamina so I needed something that wasn't just cardio focused. I also wanted an environment where I enjoyed working out so I could commit to making it an integral part of my daily health and wellness.
I can't say enough about my experience at DSC. I am now in the best shape of my life!
I've lost 35lbs of bad weight and put on a considerable amount of muscle.
I've never felt better both physically and mentally in my life."
Meet Kevin - Down 55lbs!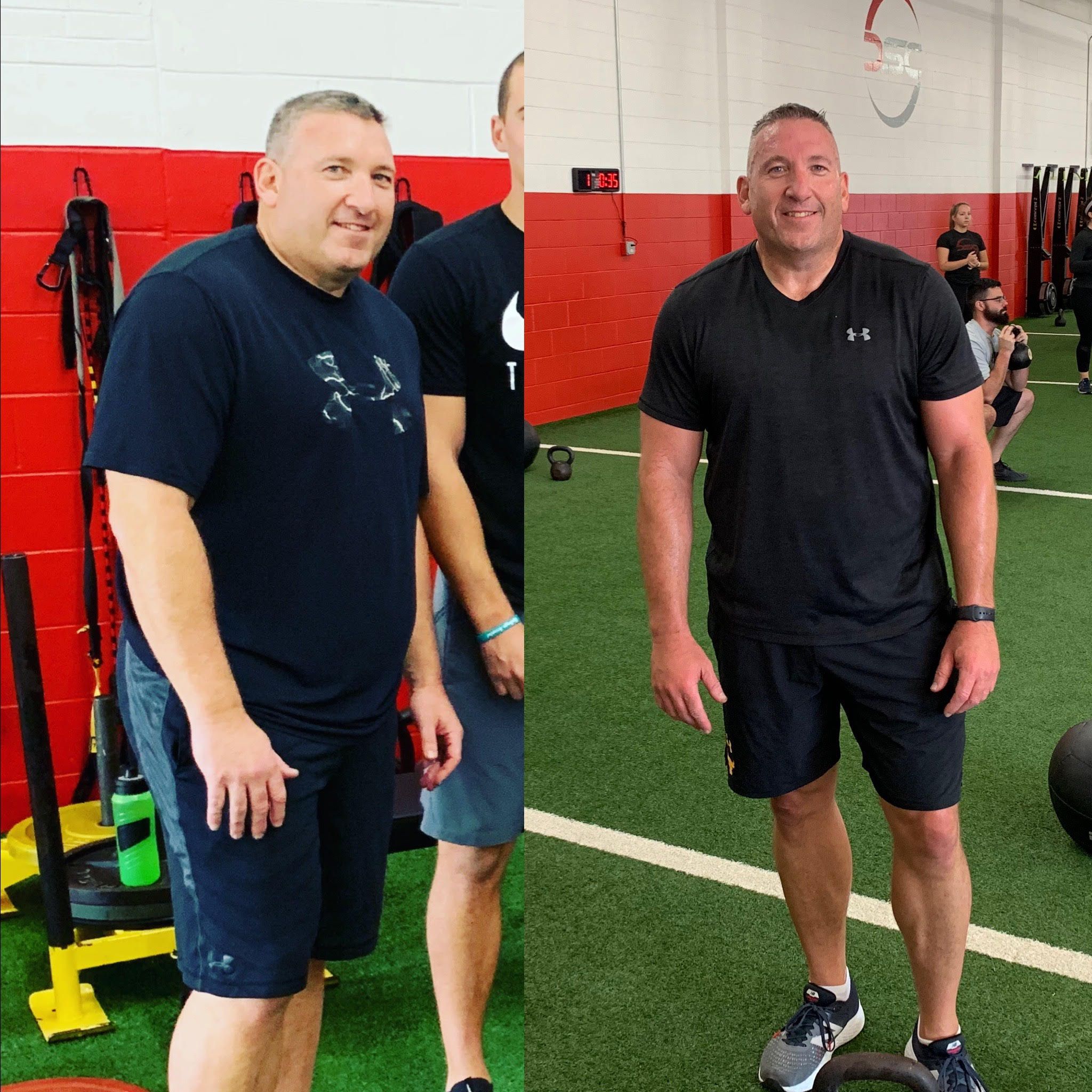 "I tried working out once or twice every couple weeks but on my own and with no structure.
I quickly realized that wasn't going to get me far. I was not motivated alone at the gym and I needed to lose weight.
I then found out about DSC and what they had to offer after hearing about it from friends and co-workers. I knew I needed structure to my workouts and a motivating atmosphere. I needed something that would help me lose weight and gain strength.
My experience at DSC has been life changing.
The staff at DSC is incredibly energetic, supportive, and knowledgeable. They bring it every single day and provide an atmosphere that is second to nobody.
During the past 11 months, I have lost 55 pounds! My strength has improved tremendously along with my cardio endurance.
I have never felt better and haven't had this much energy in a very long time."
Meet Jeremy - Down 100lbs!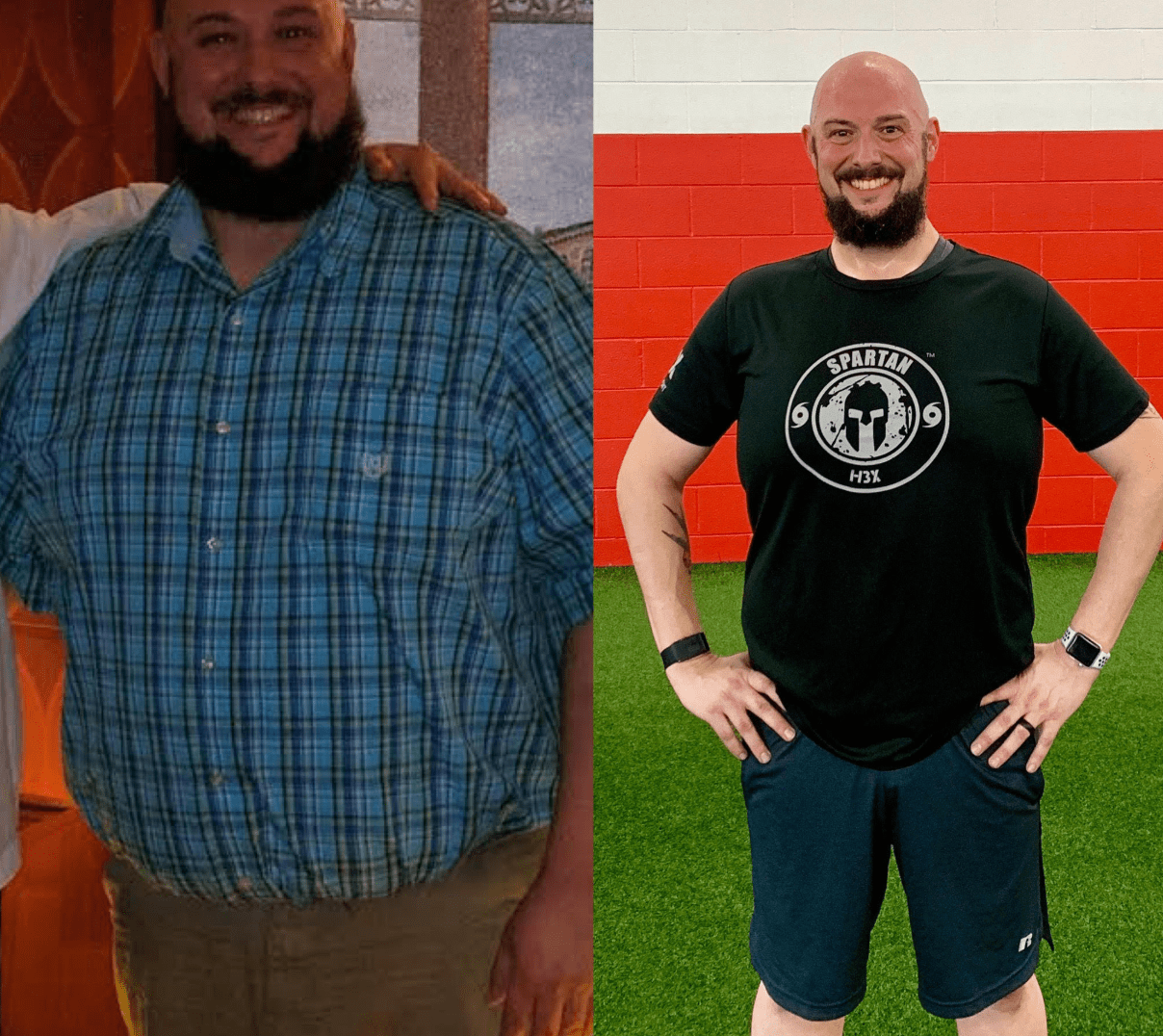 "I was about to turn 39.
I weighed 316 pounds.
I was on medication for high blood pressure and high cholesterol.
My knees hurt constantly, my back was always sore, and my ankles were a mess. Walking up a flight of stairs had me winded.
This led me to Dynamic Strength and Conditioning in Nashua where there is a very different approach to whole body health.
The immediate goal that I was aiming to achieve was simply to make exercise a normal part of my everyday life.
My first class was amazing. What I perceived as a physical limitation that would keep me from doing things, the trainers had a modification for that would allow me to keep moving, get stronger and do more.
Measurable Changes:
I've lost 100 pounds!

I am no longer on blood pressure medication!

I am no longer on cholesterol medication!

I no longer have to wear ankle and knee braces to support my joints!

I couldn't run for 1 mile straight at the beginning of 2017, since then I've run hundreds and hundreds of miles including 4 half marathons and countless other races & endurance events in 2018!

My pants size used to be a 44 & now I wear a 34!

I used to wear 3XL shirts and now I wear either an XL or sometimes even a Large!
My favorite part of DSC?
The People. The Coaches. The Members are my favorite part.
There's simply no comparison. You can have all the right equipment and the right plan but without the right trainers and the amazing members behind you it won't work."
Meet Tim - Down 25lbs!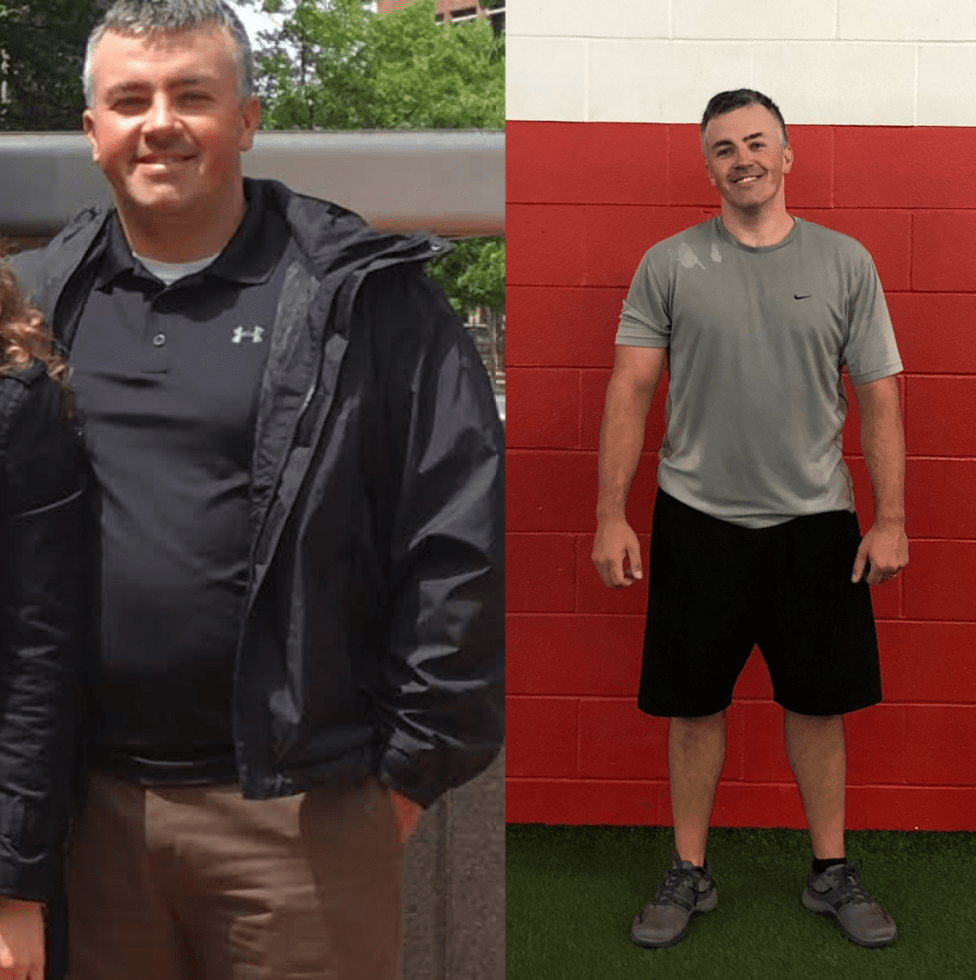 "My workouts had been non-existent for several years.
I felt like I had fallen into a rut of making excuses as to why I didn't have time to workout.
The biggest issue I had was that I often felt guilty about taking time out of my already busy schedule for myself to spend time at the gym. I realized at some point though, I was instilling a lack of priority on fitness with my kids. As a father, I was doing a disservice to them by not setting a foundation of fitness in their lives by my poor example.
Since joining DSC I have lost 25lbs!
I've noticed that my clothes feel baggy and my overall strength has significantly improved.
My sleep has drastically improved since joining as well, which has been of poor quality the majority of my adult life."
Meet Paul - Cholesterol dropped from 293 to 160!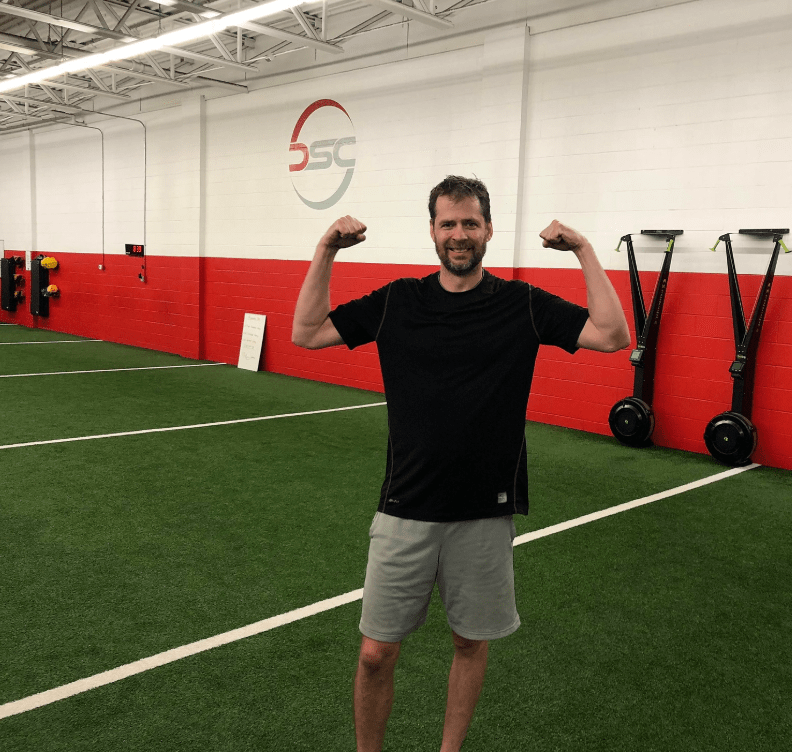 "I was having difficulty finding the correct healthy food choices before I began the program. I would try different diets/foods. I wasn't consistent. I couldn't measure the results. I would eventually get very frustrated.
The program organizes my goals, the foods I eat, and lets me know how I am doing. Having a personal coach to review my numbers and talk over any problems is key. Beth would point out areas I needed to work on and make specific suggestions.
About a month into the program, I realized that working out was only half of the story. Once I started eating better, I starting seeing the results that I didn't see from just working out. I felt my workouts were stronger, while my waistline was shrinking.
For the first time in almost 20 years, my triglycerides and cholesterol levels are both within the normal range without medication. My triglycerides dropped from 326 to 149 and cholesterol from 293 to 160!"
Meet Steve - Down 38lbs!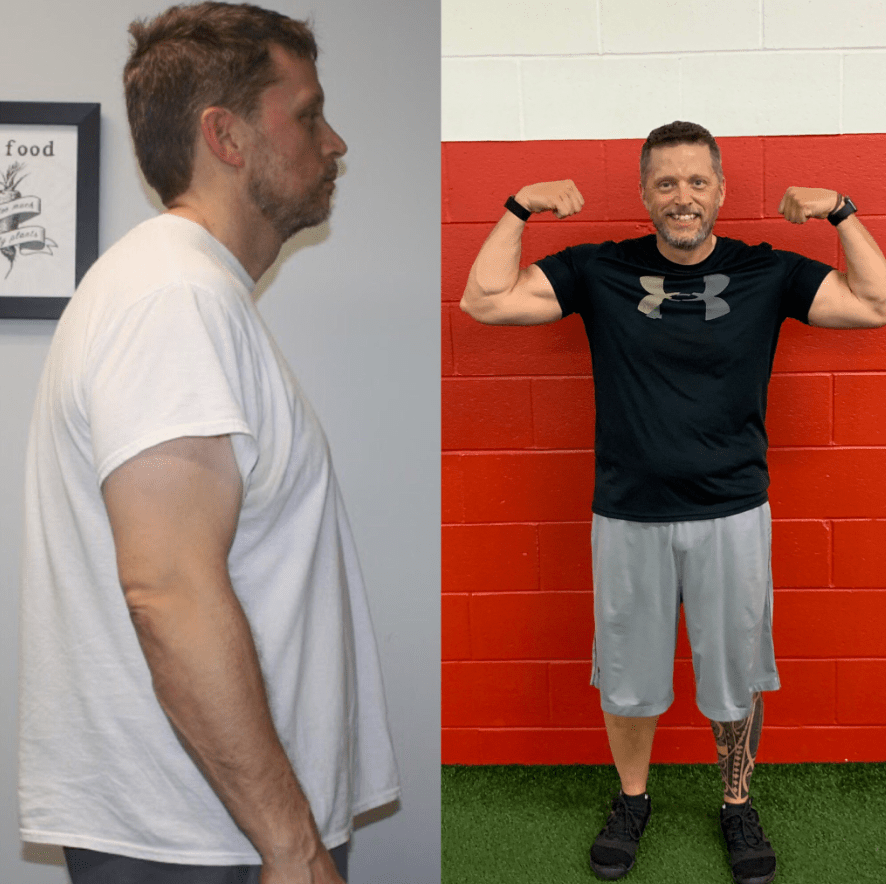 "I am now coming up on 6 years at DSC and the training is always challenging and fun. Training provides you with many accountability partners-from the kick-ass 5 a.m. crew to the coaches; we all support and push one another which makes for a great environment.
I've lost 38 pounds, 4 inches off my waist, 2 inches off my hips and reduced my body fat by over 10%! I feel great and my energy in the gym is much better!"
I feel great and my energy in the gym is much better!
I feel like I am stronger now than when I started and have increased training weights in many of the movements."
Meet Al - Down 20lbs!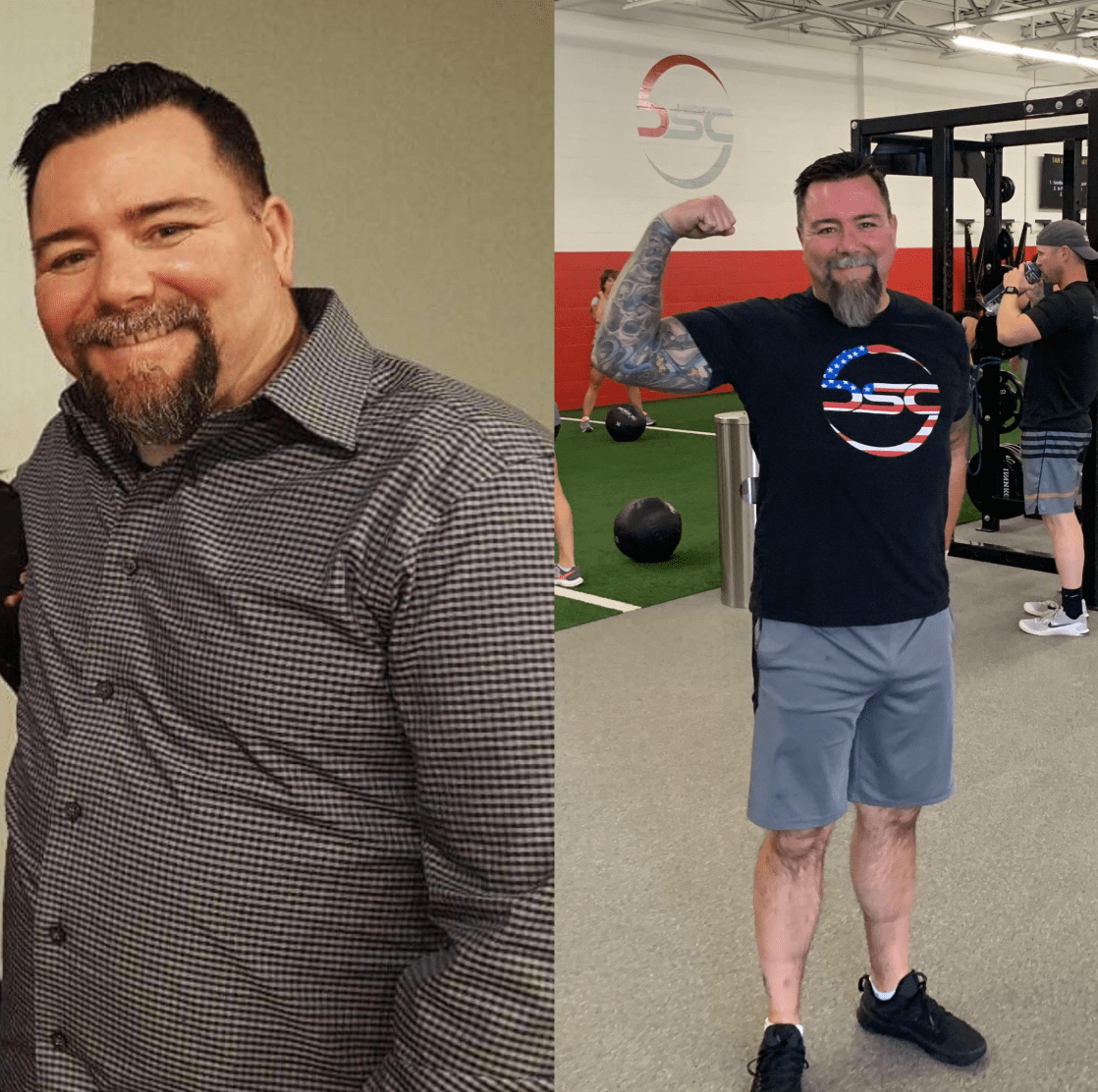 "Before coming to DSC I had been to the doctor for a routine physical.
My doctor told me my weight was up considerably and my blood pressure numbers were in the danger zone.
After receiving my blood work back, he found my cholesterol was also in dangerous territory.
I was told that he was going to have to put me on multiple medications to help regulate this.
I was given 6 months to get better on my own after telling him I didn't want meds.
At that point I became a bit nervous about how I was going to handle this.
My next visit to the Dr. 6 months after joining DSC I was given a clean bill of health.
My blood pressure was normal and my cholesterol had dropped considerably, and I had lost a bunch of weight!"
Meet Jeff - Down 35lbs!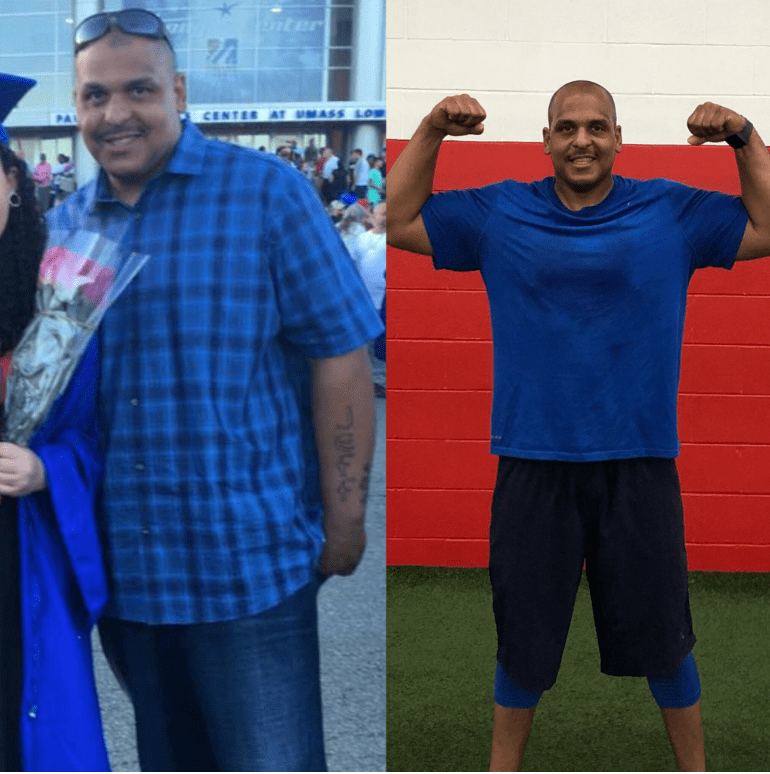 "Before the DSC Nutrition Program, I really did not ever have a set program and tried many different ways that I thought were the right "way of eating". I've always had a basic understanding of nutrition for fueling my body or so I thought. I wanted to figure how and why my nutrition could make an impact on my weight lost and muscle gain.
Once I started eating right and getting my 4/5 days in at the DSC workouts, I started to feel confident in my ability to keep pushing myself.
The Nutrition program then started to just go hand in hand with my workouts!
My energy started to increase, my confidence started to build when pushing my body more, and I started feeling stronger.
I'm now down 35lbs and 2 pants sizes!"
Meet Pat - Down 40lbs!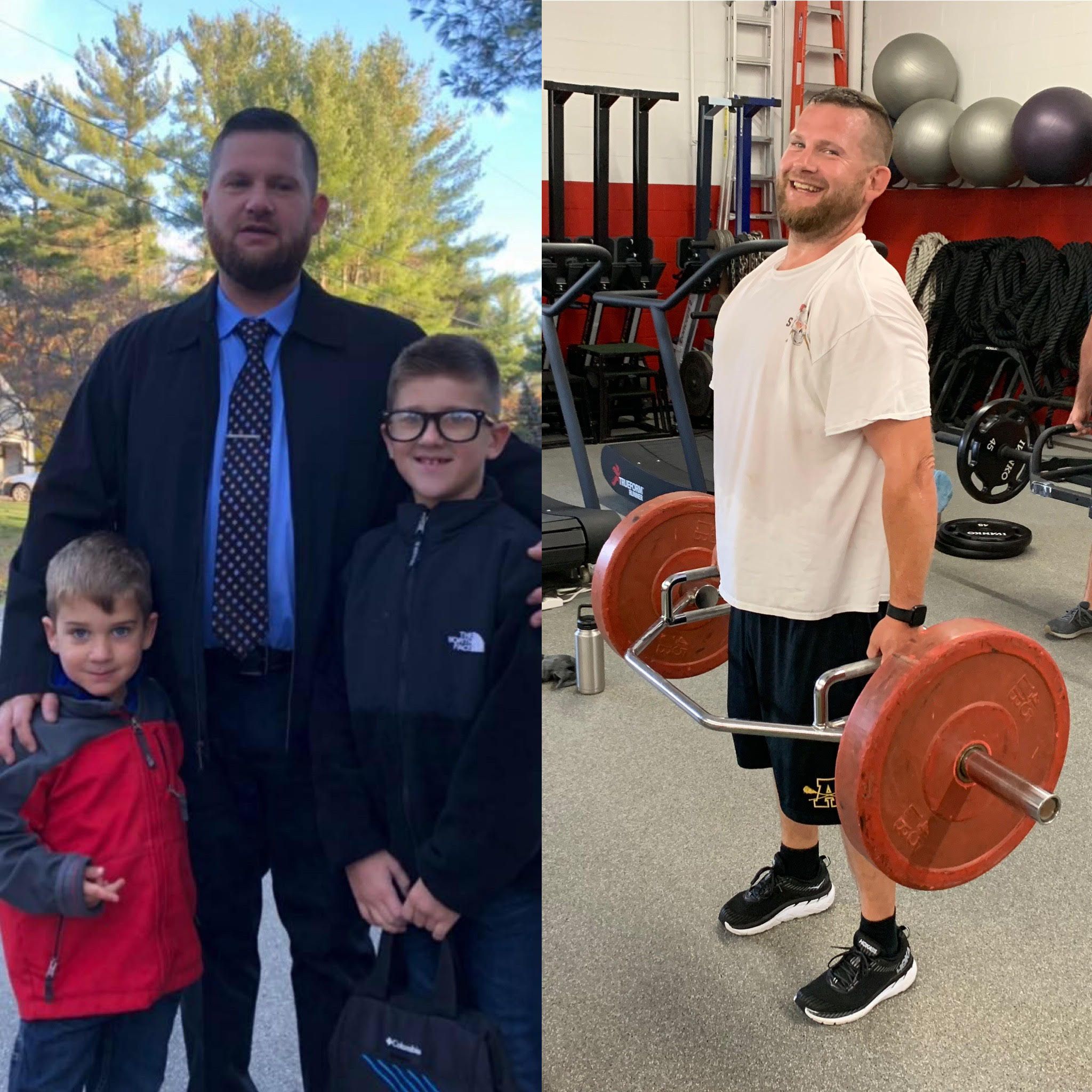 "Before DSC I just didn't workout.
After playing lacrosse in college and being very active, I kind of took a break from exercise.
I felt like my body needed a break and I no longer had a goal I was working towards so my motivation disappeared. ...I didn't expect to take a twenty year break though.
After some injuries and a lot of weight gain I was ready to change. My goal for joining DSC was honestly to lose weight. I wanted to get back into an active, more healthy lifestyle and was unhappy with how long I had been out of a routine.
If there was an exercise I couldn't do, the staff would give me an alternate exercise. They slowed things down and made my first class/week a great success.
I took breaks when I needed them and was encouraged to work at my own pace.
They are great at working with people through injuries, getting them motivated, and making you feel welcome every single day!
My overall experience has been great and I LOVE going to DSC!
Overall results for me have been in six months, I have lost 40 pounds!"
Meet Chris - Down 15lbs! (Added 9lbs of muscle)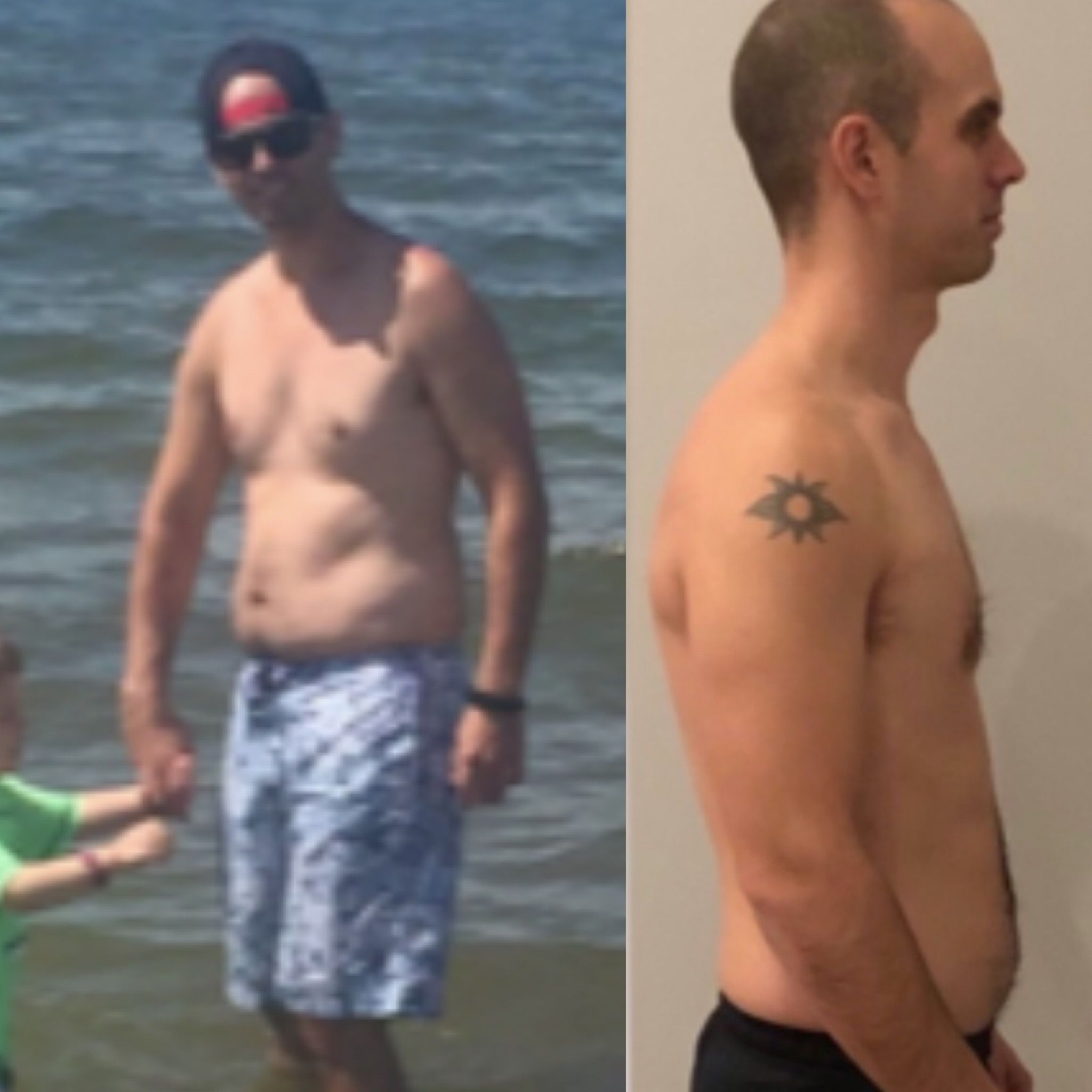 "It had been more than 6 years since I had done any serious exercising.
I wanted to establish a workout routine that I actually enjoyed enough to stick to.
I don't remember being nervous but I'm sure I was.
I think a major reason why I don't remember the nerves is because of the coaches. Each of them went out of their way to welcome me and seemed genuinely excited to help me succeed. It was amazing that after being introduced to each coach during that first week, they knew who I was and made an effort every day to say hi.
I knew DSC was the gym for me right after my first week.
Without question my biggest accomplishment has been my commitment to this new lifestyle.
I've lost 15lbs of body fat, gained 9lbs of muscle, lost nearly 3 inches around my waist, and dropped 2 pants sizes! I went from a high body-fat range of 21% down to the excellent range for my age at 13%! And I can honestly say that now, at 36 years old, my strength and endurance is better than it has ever been."
Meet Brian - Down 40lbs!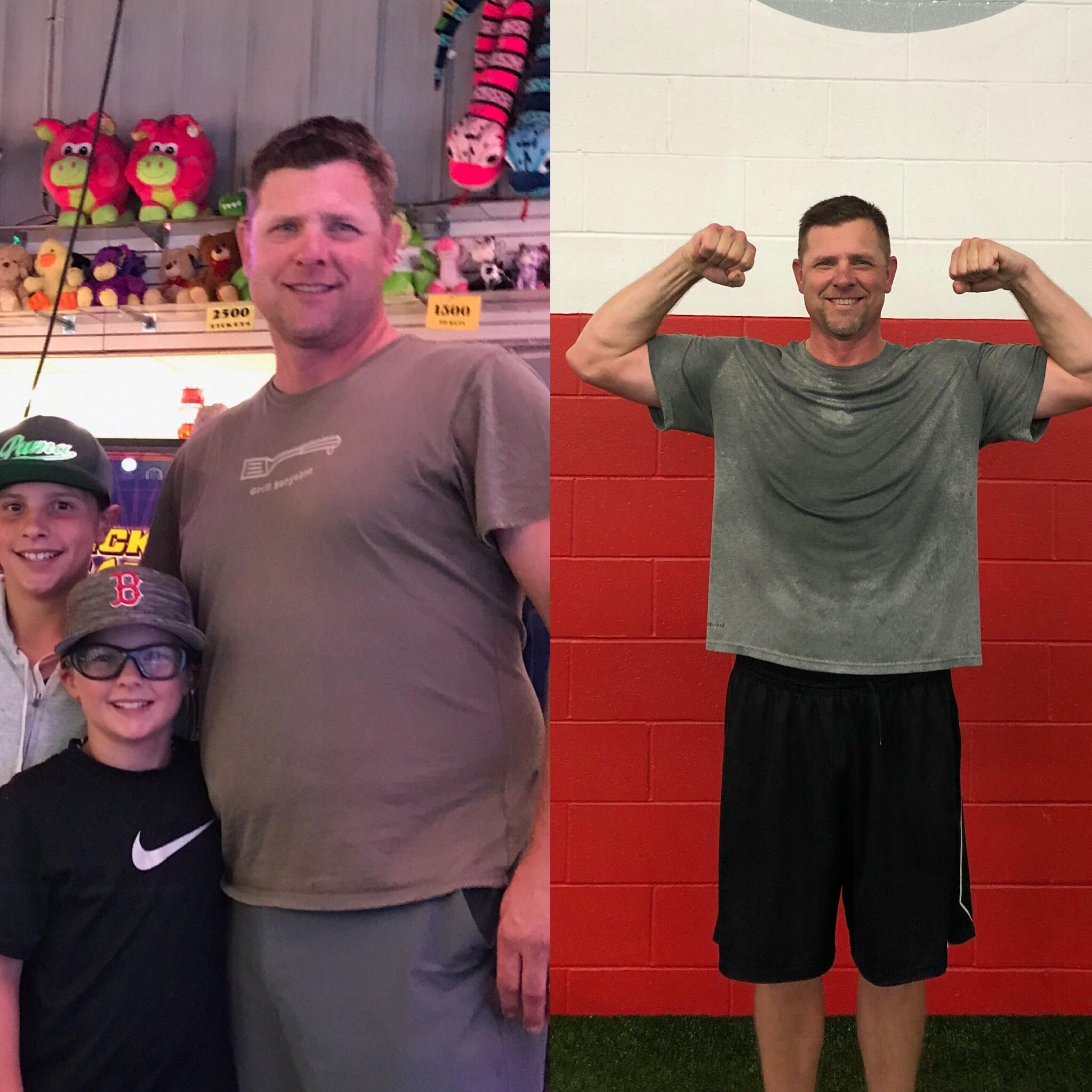 "I had foot surgery in March of 2017 and had not worked out for over 9 months.
I just got into a funk and could not get motivated to get myself back into the gym.
After talking with my friend Steve (a DSC member), I finally agreed to try DSC out.
My goals were to lose weight and get stronger in order to play better golf.
I also know how important physical activity is for my mental health so working out a few times a week enhances my mood tremendously.
I had never done any group based training before so I was a little nervous at first. However I quickly knew that this type of gym was exactly what I was looking for shortly after arriving. My first class was incredible!
I have lost 40 pounds and gone from wearing a size 42 down to a 38!

My advice to anyone looking to get in shape, lose weight, be challenged every single time you walk into the facility and meet some great people would be highly recommending you come join DSC.
It is the best money you will ever spend on yourself!"
Meet Mike - Down 24lbs!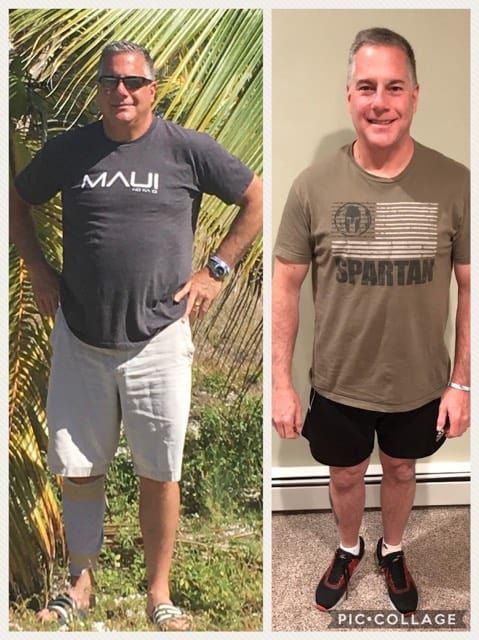 "Prior to joining DSC, my definition of exercise consisted of the "weekend warrior" approach and playing over-50 soccer in the over the hill soccer league.
Then waking up on Monday after a tough 30-40 minute segment of game feeling exhausted, sore with cramped muscles and injuries.
Continuing to gain weight, getting more out of shape and making up any excuse to not workout; "too tired, I play soccer so I am 'in shape', have no time", the list is too long to continue.
I was fascinated to see the coaches in action on my first day. The members were all engaged in multiple workout segments.
There was a ton of motivation, intensity, attention to detail and support.
I am now working out 5-6 days a week, utilizing the plethora of knowledge that the coaches provide and utilize in each strength and conditioning workout.
The workouts are never boring, always challenging, very intense and the coaches will provide individual exercises if needed. What a great team, what a great program!"
Meet Jeff - Down 40lbs!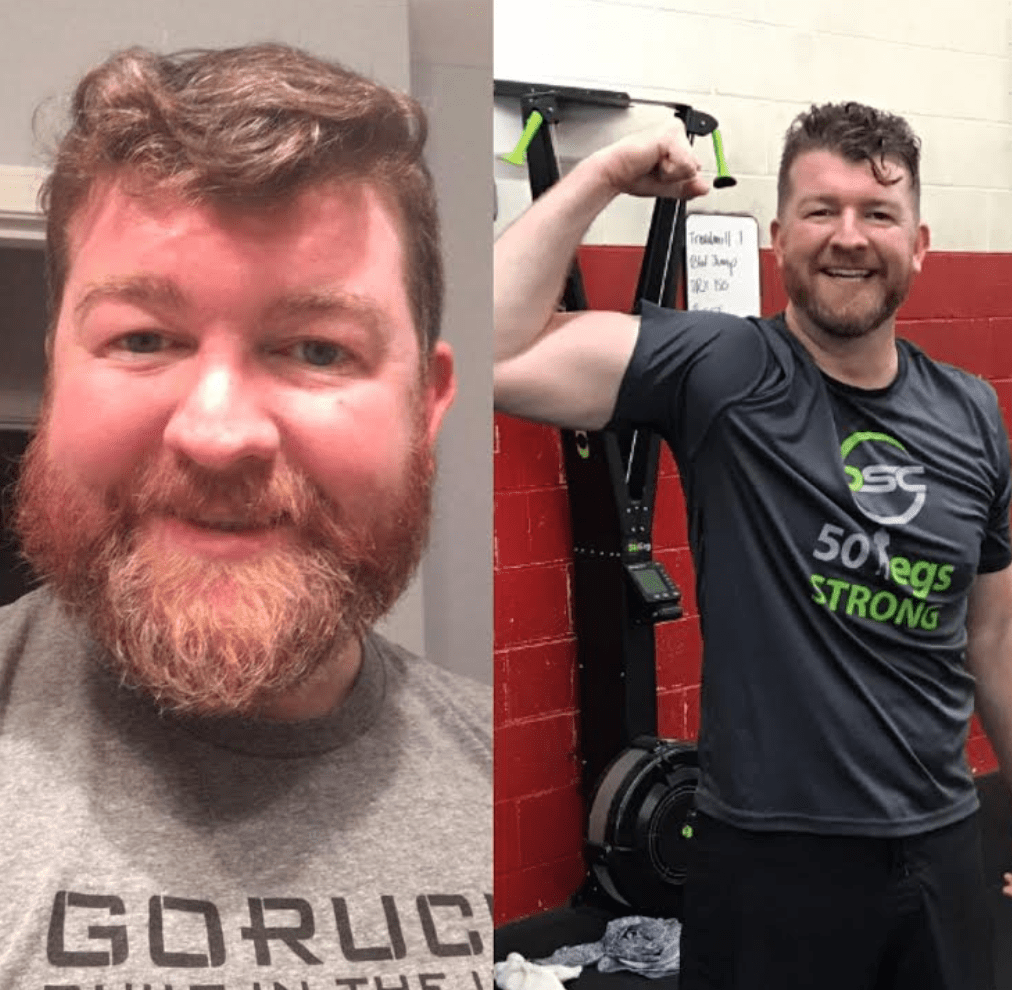 "My typical workout before DSC was around a 60 minute, boring workout.
I would do a cardio warm-up, stretch for about 10 minutes, and hit the weights for about 40 minutes.
I found it hard to motivate myself to be consistent at the gym.
When I initially started at DSC my goals were basic (and not well-defined); get in better shape and lose weight.
Back in December I weighed nearly 250lbs.
Before joining DSC I found myself putting off giving it a try for over a year.I'd tell myself things like, "I don't have the time" or "my shoulder is sore" or "my hamstring isn't 100%." I had plenty of excuses but when I was ready to hold myself 100% accountable I made trying out DSC a priority and joined the following day.
The combination of awesome workouts and DSC's Nutrition Coaching Program I have crushed my 20lb weight-loss goal and have lost over 40lbs!"
Meet Mike - Down 20lbs! (Added 10lbs of muscle)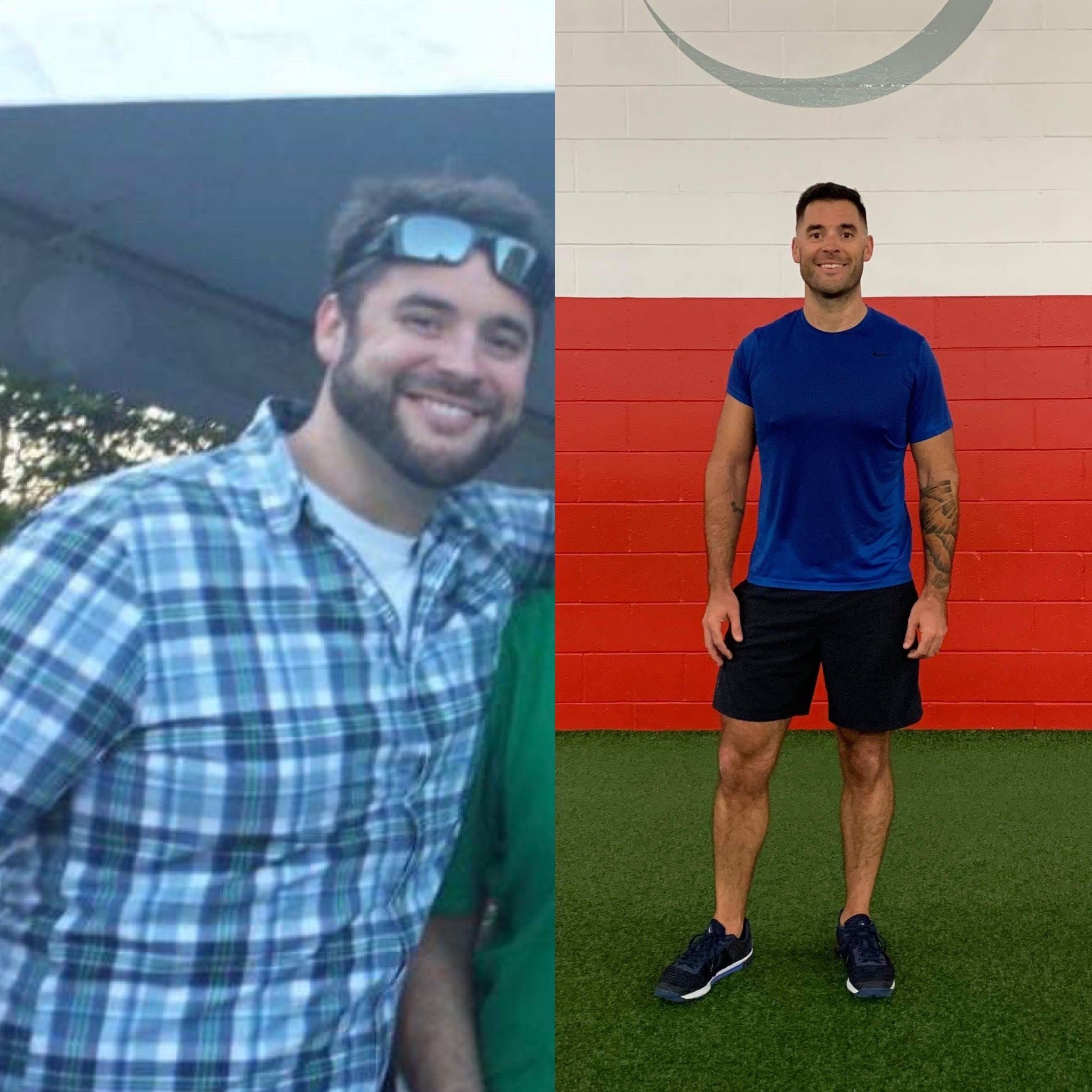 "Before joining DSC, my workouts were few and far between.
With the busyness of life, family, and work, I would end up just trying to squeeze a workout in here and there. I would sometimes utilize the gym where I work but it had limited equipment, machines, and space.
I felt inconsistent and unmotivated and often disappointed with the outcome. I never felt like I was getting anywhere.
Then I tried my first class at DSC. In that one class, I saw the physical, social, and mental support the coaches and members provided.
Two weeks later, I signed up for an Unlimited membership myself.
My goals when I joined were to lose fat, gain muscle, and learn how to properly and safely maintain a workout regiment suitable for me.
It was also important to me that I be able to have a consistent schedule that allowed flexibility for work and family time.
Since joining DSC I've lost 20lbs of unwanted weight and put on close to 10lbs of muscle!
My advice:
Please don't feel ashamed, don't feel embarrassed, don't be shy!
Just show up.
It's not about who's bigger, stronger, skinnier, etc. Everyone has a different story and a different starting point. It's about becoming the best you.
Let the Coaches and the DSC Family show you how, you won't be disappointed!"
This is the LAST WEEK to register for our Fall Fitness Challenge!
This program is specifically designed to help men make time for their health and fitness!
Click below for more information! ⬇️