"My mental and physical health has improved immensely!"
Before joining DSC, I hadn't worked out in years.
I previously worked out with a personal trainer for a few months several years back, but life got in the way and I stopped going.
I also tried several times to go to the gym myself. I knew what to do but couldn't motivate myself to do it. I'd go wander around the gym, use a few pieces of equipment, get bored or feel lost and overwhelmed and leave. At-home workouts didn't work either as I'd give up on myself and quit or not do certain exercises because nobody was watching me and I wasn't motivated enough to hold myself accountable.
I was at my breaking point. Stuck in the house day in and day out. Sitting in a chair at my computer working. I was short with family and friends and would get grumpy easily. My back and knees hurt if I did any kind of activity.
I would randomly step on the scale and kept seeing the numbers go up. It was depressing.
I wanted to feel better and have more energy. My initial goal was to lose 50lbs. Realistically with the muscle I'm gaining, I'm now aiming more for losing 35-40lbs and adding muscle.
I was certainly nervous to start at DSC! Would I be able to commit to going? Could I fit it in my schedule? Could I motivate myself to actually go?
I felt uncomfortable. New environments and new people can be intimidating. I knew I would be working out with people who had been working out for years and were in much better shape than me. While waiting for my first class to start, a long-time member came over and introduced herself, explained everything, and partnered up with me for the day. She made me feel at home. (Thanks Kelly!)
Coach Delaine was great throughout my first workout too. She made sure I was modifying exercises and easing myself in so I wouldn't kill myself. I walked out feeling great, like I was already part of a family.
I started at DSC in Dec 2019. When COVID-19 hit I stopped going. By September I hit my breaking point.
I was at an all-time low mentally and physically.
I emailed Matt to cancel my DSC membership because I didn't want to pay and not go. Thankfully Matt knew what I needed even when I didn't. The first thing he asked me was "Is everything ok?". Little did he know, it wasn't. He asked how he could help get me started again. When I gave excuses of not having time, he didn't let me off the hook. Not in a salesman way, but in a way that let me know he cared about me and my well-being. He sent me the schedule and asked what time/day works best for me to get started again. He wasn't buying my excuses. I'm SO thankful that he could see what I needed even when I couldn't.
I started going to DSC 2x per week in September. Halfway through October I knew I had to start eating better too. I used the knowledge gained from the DSC nutrition program and got my eating habits/food choices figured out.
A week before Thanksgiving I decided since I now love going to the gym and am seeing such good results that I would increase to 3x per week!
I also knew if I was going to the gym, I needed people to hold me accountable if I started to slip. I determined that I would make "Accountability posts" on my social media accounts. It's basically a selfie after my workout showing what number workout I was on for the week (1/2, 2/2, 2/3, etc.). That way my family and friends would ask about what I was doing or if I missed a post they would call me out on it. What I didn't expect was that my friends and family would be messaging me weeks later telling me how my posts are motivating them to get healthy.
I've stuck with eating right and working out. I've also started sleeping better and properly hydrating throughout the day. I feel amazing! I have more energy than I have in years. I'm not grouchy and grumpy nearly as often. I've already lost 17lbs and I am determined to exceed my goals!
I love everything about DSC!
All the coaches are AMAZING! They care about you as an individual and want to see you succeed. They challenge you to be your best and try your hardest. They believe in all of us. The coaches have shown me how to properly exercise in ways that strengthen supporting muscles and don't aggravate my existing injuries.
The workouts are surprisingly fun. Never have I described a workout that way before DSC. They are challenging but so worth it.
I am no longer going to a gym just to go through the motions. I'm finally seeing results!
Since I started exercising in September and eating better in October, I've lost 17lbs!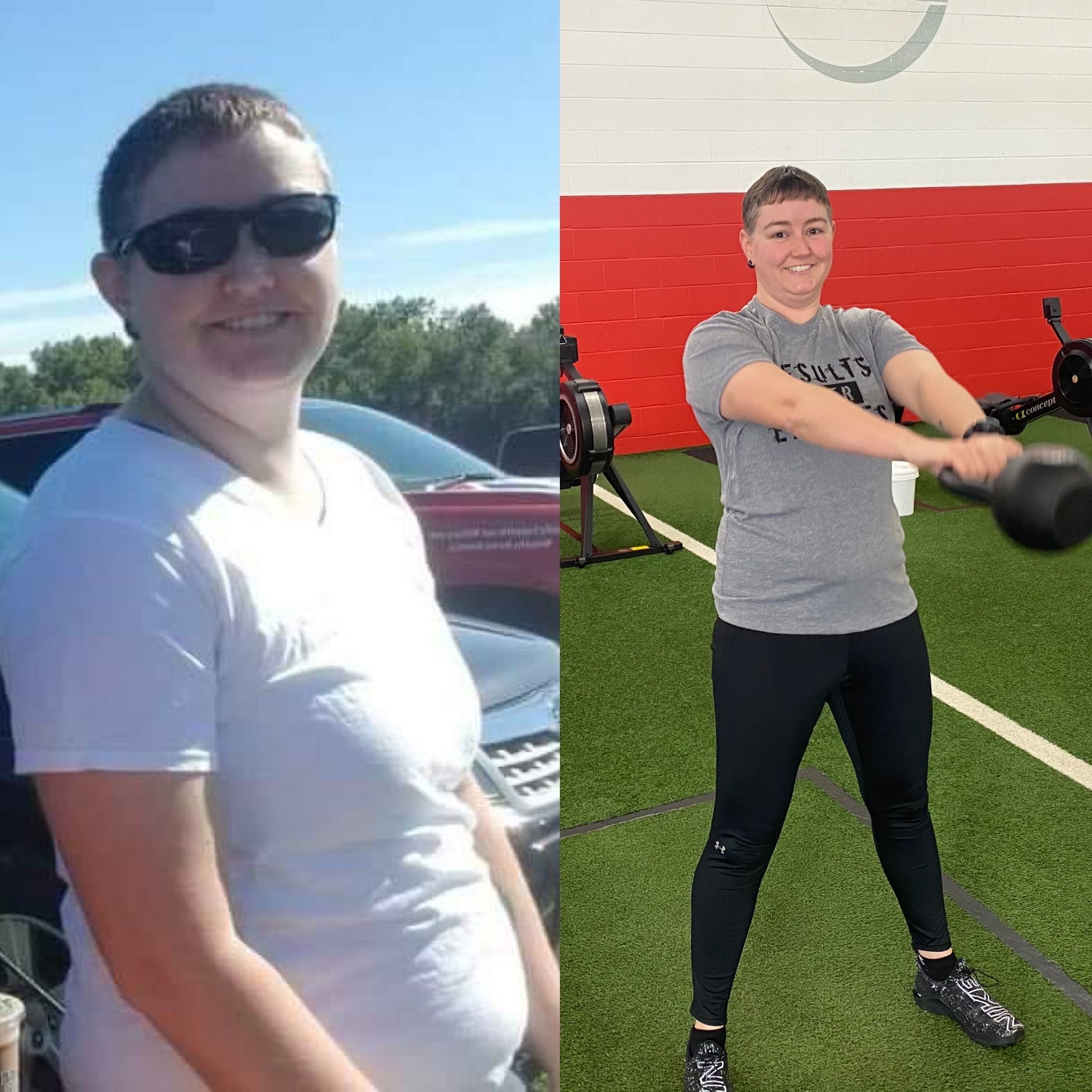 My BMI has gone from 28.4 to 25.9. My clothes fit better!
I started off using an 8kg kettlebell and barely being able to make it through a workout. Three months later I started completing the workouts using a 14kg kettlebell. I've had lower back, knee and wrist problems for years but those are virtually gone now! I am more confident and outgoing than I have been in a very long time.
I feel fantastic and determined!
I love that the staff and other members of DSC make you feel like family. There is no judgement, only encouragement. Whether it's in person, helpful video or email tips, or posts on the DSC Family Facebook group, everyone is always helpful and encouraging.
My favorite part of the workouts is having fun. The coaches are always encouraging us to get one more rep, not quit, telling us we're almost there. It keeps me going. If I were doing it on my own in a gym or at home, I would find it way too easy to just say I'm done and stop. The extra lift from the coaches really helps me press on.
DSC has been life changing!
My mental and physical health along with my relationships with my spouse, children, family, friends and co-workers have improved immensely!
What keeps me coming back? The positive atmosphere, encouragement from coaches and other members, and quality of equipment/facility keep me coming back. I can't imagine working out anywhere else now.
If you're thinking about it, do it! You will not regret it! Come take a class and see what it's all about. I promise it is not like any other gym you've worked out at. If you haven't worked out before, they tailor the workouts for you too.
Novice to expert, you will fit in at DSC!
- Kate
Ready to get started at DSC?
You can now try DSC FREE for the entire month of December!
Our FREE December-long trial includes:
Unlimited workouts (here at DSC or online)

Diet starter kit (grocery list, diet guide, and meal plans!)
Click below to get your trial started! ⬇️