"My Confidence Is Now Through The Roof!"
A typical workout for me was at your regular box gym. I'd hop on a treadmill for 20 minutes to get "warmed up" and then I'd go do some strength training, working out a specific part of the body for about 40 minutes. Sometimes I would go in with a plan but many times, I just went through the motions.
Before joining DSC, I was pretty down on myself. I let myself get rather heavy (230 lbs) and was always tired. I would have moments of success where I would "eat clean" and workout for a few weeks straight but after a while, I always started to let myself go again.
So in October 2018, I hit close to 235-240 pounds. I decided to start to really "workout." I went to my local gym, signed up, and began. I went six days a week religiously. I never missed. Rain or shine, I was there first thing in the morning. I bought the pre workouts, the protein powders, the creatine, the BCAA's, new workout clothes, I was fully invested.
I did this for a full year. I lost literally only a few pounds.
Nov-Dec of 2019 is when I basically gave up. I was super down on myself. I had gone and busted myself for a full year and had zero to show for it. Not at all what I was hoping for.
Then the pandemic changed a lot of things for many people. For me, the first few months of being home were just that - me being home. I'm a husband and a father so I was certainly busy but I didn't really find time to exercise for a while during quarantine. I'd go on bike rides here and there but didn't really see any progress in the mirror or on the scale.
In October 2020, I was scrolling Instagram and saw that DSC was doing their 8-week challenge. At this point, I am 230 pounds and feeling down and out. I decided to go for it and signed up.
I was hoping that above all, DSC would help me become a more healthy, functional man. I want to be able to walk, run, jump, push, pull, and get up off the floor at an optimal level. I was also hoping to learn more about nutrition and how to properly fuel my body.
I was definitely nervous to start. I was nervous about working out with a group of people; I had never done that before.
I'm the guy at the typical gym that's alone with a hoodie and headphones on. A group setting wasn't something I envisioned.
Truth be told, I've been wanting to join DSC for years. I had been a follower on social media for a while and always said "one day." When that "one day" finally arrived, I was nervous. I wasn't sure what to expect. My first class was at 6 AM on a Saturday and I was nervous that I'd be late, or that the coaches wouldn't have me on the list and turn me away. Once I got there on time, and coach Chris and Renee let me in, my nerves shifted to "oh crap, I'm actually here now. I hope I can keep up and not die (on their IG Stories).."
The first class went awesome! The coaches were super helpful and attentive. They welcomed me in and made me feel like I had been a member for years. Again, I had never done group exercise classes before so a lot of things were new to me but they came over and broke it down and hung around until I got it.
My overall experience with DSC has been fantastic! The facility is clean, vibrant, and fresh. The workouts are tough, don't get me wrong, but there hasn't been one session that I've regretted.
Every workout has been different which is huge because before, when I worked out alone, I'd repeat my workouts every week. Nothing really changed so my body rarely made progress, it knew what was coming. Working out at DSC changes that, my body never knows what's coming and that is a good thing.
The coaches are world class. Every one of them. When I went back for my second session, they already knew my name. They take the time to explain the exercises, they make sure you have proper form, they push you just enough, and they are always encouraging you.
Since joining DSC in October, I have already lost over 20 pounds!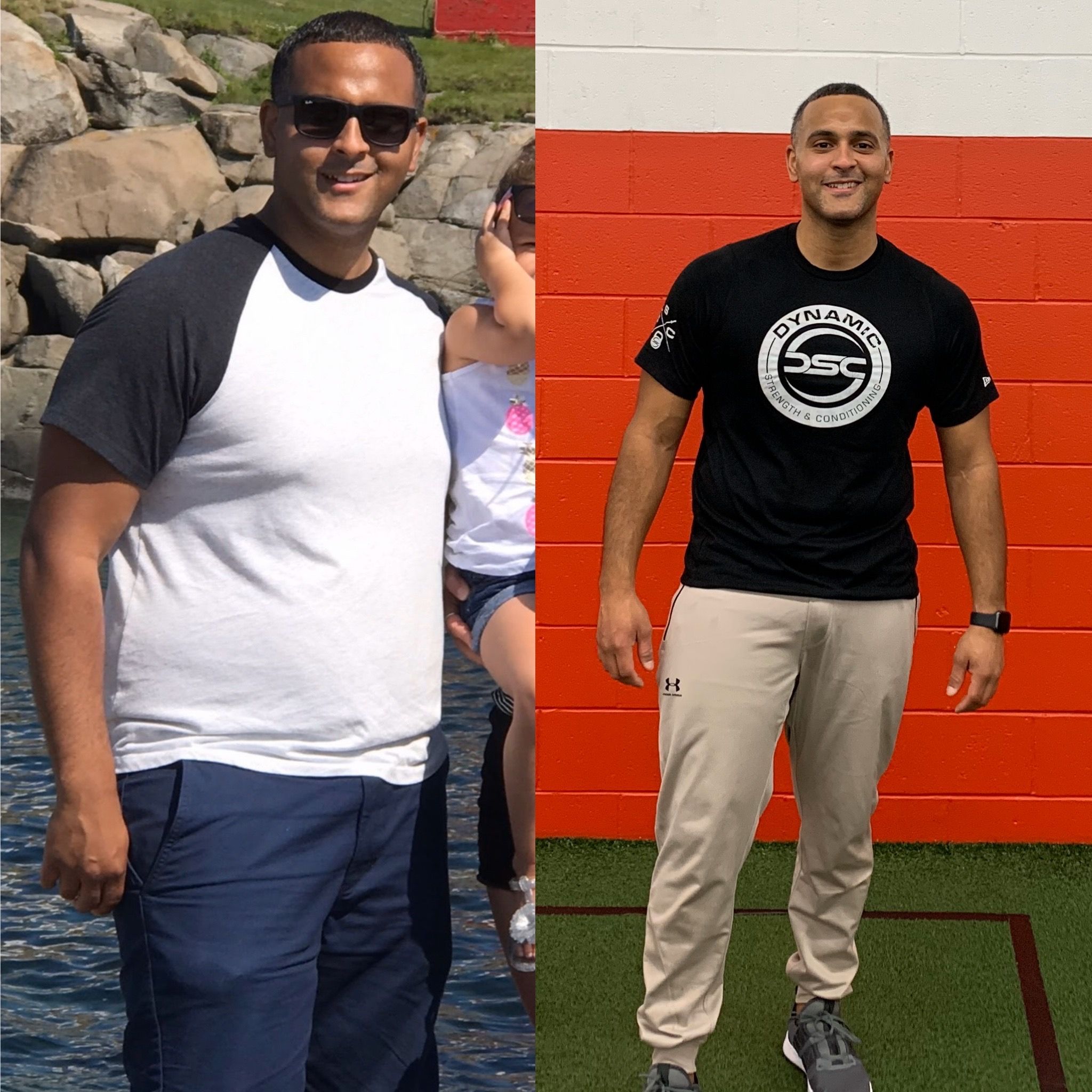 I certainly need new, better fitting clothes.
I went from a size 40 in jeans to right now I'm in a size 36. My t shirts went from XL to a very comfortable Large. I wasn't consistently measuring my waist but in January of 2020, my waist measured 44 inches and today it measures 39.
Strength feels like it has increased for sure. I wish I had measured that in the beginning. The only true measurement I have regarding strength is the number of pushups I am able to do now. I was barely doing 10-12 push ups without getting exhausted. Today I am able to easily do 25-30 in one set and can do 100 within 15-20 minutes.
My confidence is now through the roof!! I feel much better overall health wise so that translates into more confidence for me.
I have my moments of "did I really lose 20 pounds?" or if I ate more than I should have and feel extremely full, I quickly feel like I've just jeopardized my entire progress but I just get right back on track.
I am able to keep up with my kids a lot more. The other day I was wrestling full out with my daughters. Throwing them and letting them jump all over me and it didn't phase me whatsoever. I felt solid. Those are the moments that make it so worth it. I was just too tired before DSC.
As for how I feel, honestly I feel like I am in a zen state most of the time. Calm and collected and looking forward to my next workout. I have moments of anxiousness but not like before.
My favorite part of DSC is the facility and the coaches. As I mentioned, the coaches are just awesome. Helpful, personable, masters of their craft. The facility is state of the art. It's clean and comfortable. The top of the line equipment is huge. From the Concept2 rowers and ski-ergs, to the Rogue medicine balls. These are the leading brands in the industry and the fact the DSC invested in the best of the best is a testament to their commitment to their members.
I'm looking forward to meeting more of the members and developing new connections as well!
The impact DSC has had on me has been tremendous. I was feeling pretty awful about my overall health prior to diving into DSC and now I'm feeling leaps and bounds better than before.
The unknown workout of the day is what keeps me coming back. I know I am going to be challenged, I know I am going to sweat and I know I am going to have fun but I don't know how all of that will happen. The workouts constantly change and they leave you feeling pretty awesome afterwards. Also, there are pieces of equipment that I have yet to try and I don't want to miss the day that they are finally being used for the workout.
My advice to someone thinking about joining would be to just give it a shot. I feel that after their first session, they'll get hooked on the feeling they get when the session is over. The feeling of accomplishment and finding something that challenges you with a group of awesome people.
- Wilmer
Ready to get started at DSC?
You can now try DSC FREE for 14-days!
Your 14-day trial includes:
1. Unlimited classes (in-person or online)
2. Easy to follow diet plan
Click below to get started! ⬇️