Mike Lost 30LBS at DSC and Feels Amazing! (Here's how)
I had no fitness routine before joining Dynamic and haven't had one for 25 years...no joke.
I played golf, tennis, ice hockey but I hadn't done any actual workouts since college.
Physically, I was overweight and always sore especially my low back just from moving around in my day to day life.
I joined DSC because my daughter Meghan loves the staff and the workouts. I've been able to watch her progress and enthusiasm grow since joining. She thought I would love it, too.
My goal was to work daily to better myself physically. I figured the rest would take care of itself.
After lots of convincing, I was finally ready to give it a try. I was nervous to get started. The whole routine and moves seemed daunting. It was totally new to me and I wasn't sure I would be able to keep up.
Even though the simplest of exercises were exhausting and difficult for me, the staff recognized my weaknesses and tailored the workout to my current level.
They really allowed me to go at a pace that I could do and feel good about doing it. They were very encouraging and attentive to my needs as well as my aches and pains, changing any exercises out for ones that worked better for me.
I could tell what Meghan loved about DSC right away! The coaches were so personable, helpful and supportive.
Although I was feeling good being back into a workout routine, I joined the nutrition coaching program because I felt like I was struggling with my diet. My main issue area was portion control as well as my macros not being in line with an overall balanced diet.
For me, understanding macros (carbs, protein and fat) and how much I should be having is really helping. Realizing that fat and carbs can be part of a healthy diet and nothing is "off limits" but I can adjust the amounts of each macro that I eat to continue to work towards my goals and see results.
Improving my nutrition has 100% helped with my workouts and daily activities. My energy levels are much more consistent and not cycling high and low throughout the day.
Since joining DSC, I've lost 30LBS!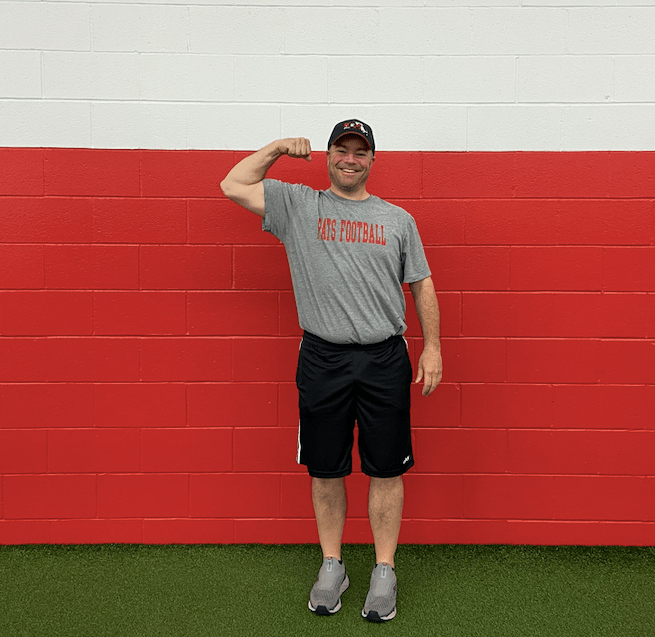 When I started at DSC I weighed 265lbs and I'm currently at 235lbs.
I've improved the reps, weights, stamina, and stability on nearly every exercise we do!
Don't get me wrong I still have a long way to go, but I can absolutely notice improvement.
Seeing this progress provides an incredible amount of motivation to continue working on and pushing myself.
My advice for those thinking of joining DSC and the nutrition program is remember that you are not alone.
Someone or many someone's are just like you.
It's like the entire class is working like a team. It's weird how the others inspire me naturally just to do my best. All of the members are very nice and supportive. It makes a world of difference.
The staff couldn't be more knowledgeable and encouraging. It must be a requirement to be happy if you work there. In the short time I've been a member, I've yet to witness someone having a bad day. It's hard to really quantify how much that helps me but it does.
The positive atmosphere at DSC is unmatched.
When I joined I was immediately looking for a reason to stop going but I've yet to find one.
- Mike
Our 8-Week Summer Shred Nutrition Challenge started June 20th! Don't worry, it's not too late!
This program includes:
Customized fat-loss diet plan

One on one nutrition coaching

Unlimited coach-led workouts (perfect for all levels)

Results
Most people lose between 10 and 30lbs during this program!
Click below to reserve your spot! ⬇️