Learn How Janice Overcame Her Fears and Dropped 38lbs at DSC!
Before joining DSC I belonged to a local gym.
At that gym, I did personal training, worked out on my own, and took some classes.
I found myself basically going through the motions without much success.
Sadly, I never enjoyed working out and struggled to get to the gym.
When my husband, Paul joined DSC he honestly could not stop talking about how incredible it was!
He would come home from a class and detail everything he did, explaining how different it was from our current gym experience.
He asked me several times to try it out but I honestly did not think that I was fit enough.
At my physical in January of 2018, I came to the realization that it was both medically and mentally necessary to make some changes in my life.
I started by changing my diet but also knew that something had to change in my workout regime. I wanted to find a place that I was motivated to go as I did not find that at my current gym.
I had incredible fears about joining DSC.
I was embarrassed at how out of shape I was and felt that I could not keep up with the class.
My first Women's Group class was AMAZING!!
I was a nervous wreck coming in and honestly thought that I was going to be sick to my stomach.
Before the class, everyone was so welcoming.
Renee, DSC's Women's Group Director was so encouraging and the women in the group were very supportive.
I honestly couldn't wipe the smile off of my face after the first class and couldn't wait to come back.
I cannot say enough about the training at DCS and the coaches.
The coaches are constantly guiding me and making sure that my form is good.
I remember being at my old gym and we would learn new moves and the instructor would give a brief demo and then we were on our own.
The coaches at DSC were very attentive to back problems that I was previously having and constantly making sure my form was perfect.
I honestly no longer make excuses for not going to the gym and always look forward to going to DSC.
The coaching, motivating and mentoring also extends to social media which I find so helpful and inspiring.
DSC is also always finding ways to give back to the community which is so up-lifting!
After a few months I made the switch from DSC's Women's Group to the Coed Adult Group Training Program.
I was very reluctant at first to switch to the Adult Group for several reasons.
I questioned if I was physically ready to make the change despite being told that I was ready. I made several connections with the women in the group and enjoyed working out with the women in that group.
I remember having that same nauseous feeling when I switched to the Adult Group as I did my first day at DSC.
The encouragement that I received from both coaches and other members quickly dispelled any reservations that I had.
I recently had my yearly physical and lost 38 pounds since my last physical!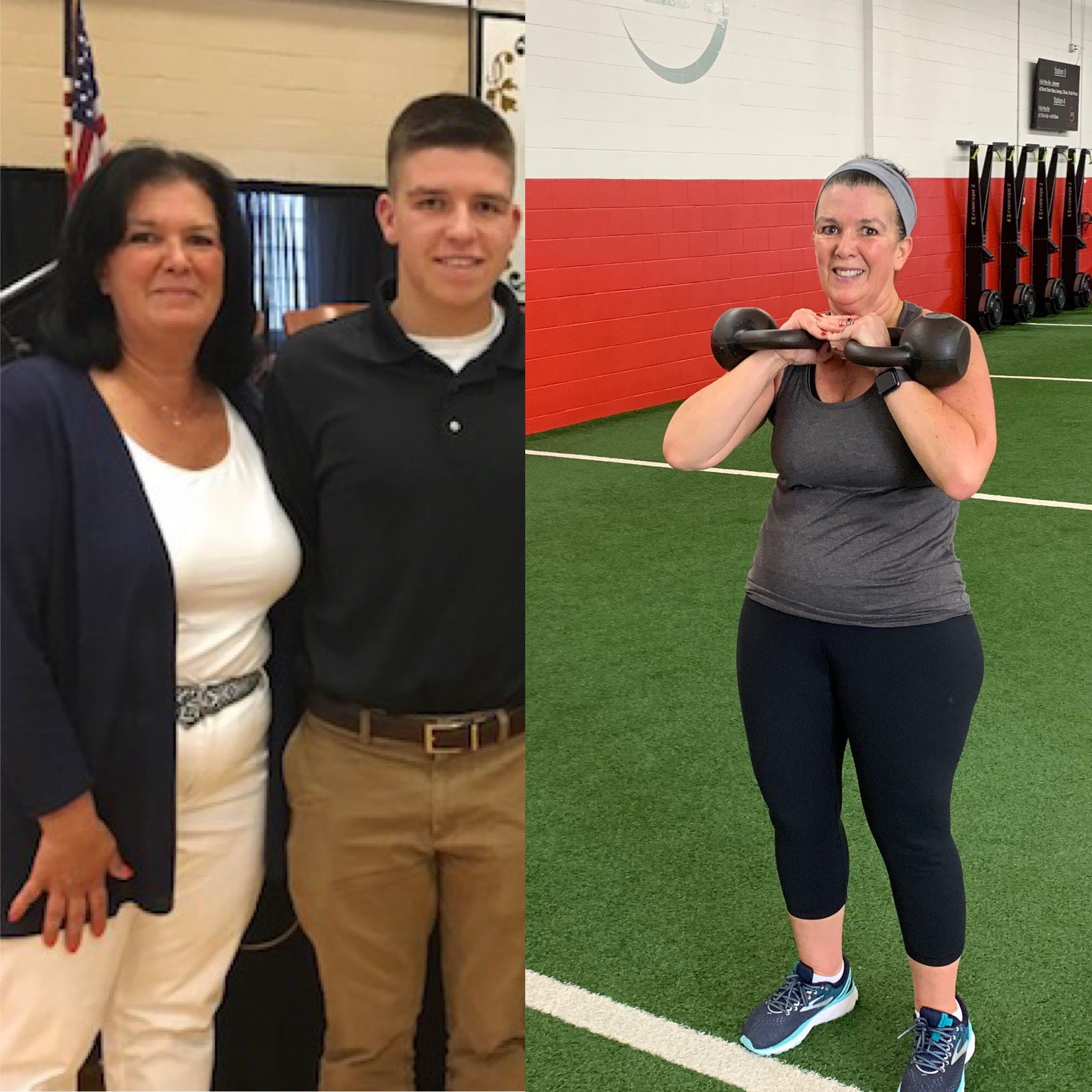 I have also dropped 4 pant sizes!
Before starting at DSC, I would get winded climbing a flight of stairs and now I avoid elevators and take stairs when I can.
Most importantly is how going to DSC has improved my mood.
I recently spoke with my sister, who moved to Florida as she is affected with SAD (Seasonal Affective Disorder), and told her that this is the first year in many that I have not been affected by the shorter days of the winter season.
I told her that I completely attribute my improved mood and increased energy levels to my workouts at DSC.
My favorite part of DSC is the people!
I cannot say enough about each and every one of the coaches.
The people in the classes are amazing as well.
People I don't even know come up and give me words of encouragement. As a typically shy person, I find that I now as well encourage others.
It is a family!
The workouts are always different and never boring.
My muscles always feel that are being challenged in new and innovative ways.
To anyone thinking of joining DSC -- I would tell them that they only have to come once and they will be hooked!
- Janice