Katie Took Her First Class At DSC (Here's what happened)
Prior to at DSC I was attending hot yoga classes and trying to make a commitment. While I enjoyed yoga, I was not seeing much change and kept losing momentum. Historically I have belonged to box gyms, ran the couch-to-5k program and met with personal trainers.
Before trying DSC, I felt extremely unfit. I was always tired and my self-esteem was at an all time low.
Something needed to change and I knew it.
I was encouraged by my fiancé to try DSC. He loved attending classes and always came home saying "I'm telling you, you'll enjoy it!" but I was skeptical.
Before starting, I feared that people would judge me for not being able to keep up or that I would not be able to do what the workout was. I also dislike being seen, I enjoy blending into the crowd; I was worried that people would notice my "newness" and that I'd end up making a fool of myself.
I was so nervous for my first class! I met coach Chris and warned him that I am the least coordinated person he has probably ever encountered. He encouraged me to try my best and focus on proper technique and not how quickly I could do an exercise.
That first class went GREAT! Coach Chris continued to assist and some exercises were modified for me, which helped a lot.
My overall experience has been nothing but wonderful! I am always being encouraged and assisted as needed. DSC's coaches are kind, down-to-earth people who understand how difficult it can be to start something new. They do not expect anything but for you to show up and try. Every workout is different...I'm never bored, that's for sure!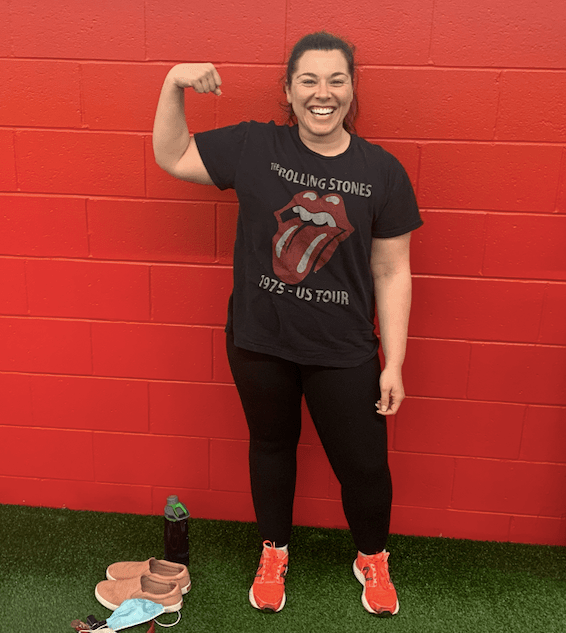 I have not stepped on a scale since starting DSC, but my clothing size has gone from an XL to an L which is a great feeling!
I am becoming more comfortable with the plethora of exercises, however, I still need assistance with techniques.
My overall mood has improved, since we all know exercise helps with our endorphins, mine definitely got a boost.
I have never been excited to go to the gym before, but for the first time in my life, I look forward to going and seeing what I can do!
My favorite part of DSC is that all the Coaches are genuine and truly care about the clients' well-being; also, they explain all of the exercises thoroughly and demonstrate each one!
My favorite part of the workouts would be how each day has a new workout and great music... it's just loud enough where you can only focus on what you need to do and not what everybody else is doing.
DSC has encouraged me to become a better version of myself. Their continued support, guidance and kindness has helped me become much happier.
My advice to you is to call DSC now!
You're going to thank yourself for making the choice to start with a gym that truly cares about your well-being and your goals.
I was in your position, but I am so glad that I took a chance with DSC and met some wonderful people along the way.
- Katie
Are you ready to get started at DSC?
You can now try DSC FREE for 14-days!
Our 14-day trial includes:
1. Unlimited coach-led classes (perfect for all levels)
2. Diet started kit (meal plans, healthy eating grocery list, recipes, and more)
Click below to schedule your first class! ⬇️