"I've lost 15LBS and feel incredible!"
Over the past few years, I lost the drive to workout. My activity level dropped substantially to only going for trail walks with my dogs.
Before joining, I was not in a good place physically. I had really let myself go and you could not only see it but I felt it every day.
This also then had a mental impact as I was so disappointed in myself for getting to an unhealthy place and putting on a good amount of weight. It was very hard because previously I had worked hard to get into shape and I just let all the hard work go right out the window.
I was hoping that in joining DSC I would get back into a groove of working out and start to see results physically. I was not focused on the number on the scale, but more of how I felt and if I could feel a difference in my clothes.
I had a lot of fears at first about joining. I knew that I was not in good shape, AT ALL. I was worried I would be that person in class that couldn't keep up or that I just wouldn't be able to do it.
I was so nervous for my first session, not knowing what to expect or if I would even be able to do a full class. Those nerves immediately went out the window when I walked in to the welcoming coaches and members though. The coaches knew where I would need some modifications and they helped me get through the workout safely and at a pace that was perfect for my first day.
While I'm sure my first session was not pretty (ha!), I got through it and it showed me this is something I could do for the long haul.
I cannot even say enough how amazing DSC is!
The coaches and staff are pure magic…they are motivating, supportive, positive and great DJ's! The workouts push me in new ways every single day. I am constantly learning new techniques, upping my weights, and working towards being more fit. There is such a great variety of workouts, that I never feel bored.
The other thing that I enjoy is the 3 week block of strength exercises. This allows me to see my progression week after week and see just how much I change throughout the blocks.
This workout is different in so many ways. I have done group training before, but nothing comes close to DSC.
It really gets back to the core of DSC and the coaches/staff/members that constantly motivate, push and encourage me. I truly feel the care from others and the excitement they have for me when I achieve something I didn't think I could.
In addition to the workouts, the nutrition challenge so far has been incredible! I initially joined because I needed a kick start to healthy eating habits. Going to the workouts was just not enough, when I was not eating proper foods the rest of the time.
It has really helped me understand what I should be eating and how often and has helped me learn ways of eating foods I love, but in a way that is healthy.
Ashley is an incredible nutrition coach and continues to encourage me, helping me find ways to alter my habits to see success. I love being able to engage with her, ask questions, look for insight and openly talk about my struggles without judgement.
I feel that I am so supported in this program and that I am building foundational health knowledge that I will continue with long after the challenge is over. So far, I have seen really awesome results and it has helped me prove to myself that I CAN DO THIS!
I have learned how to properly track food, including veggies/fruits throughout the day and how to balance out the healthy habits with allowing myself to have a treat when I want it. Balance is key!
Since joining DSC, I've lost 15LBS, dropped one pant size, and just feel INCREDIBLE! 😀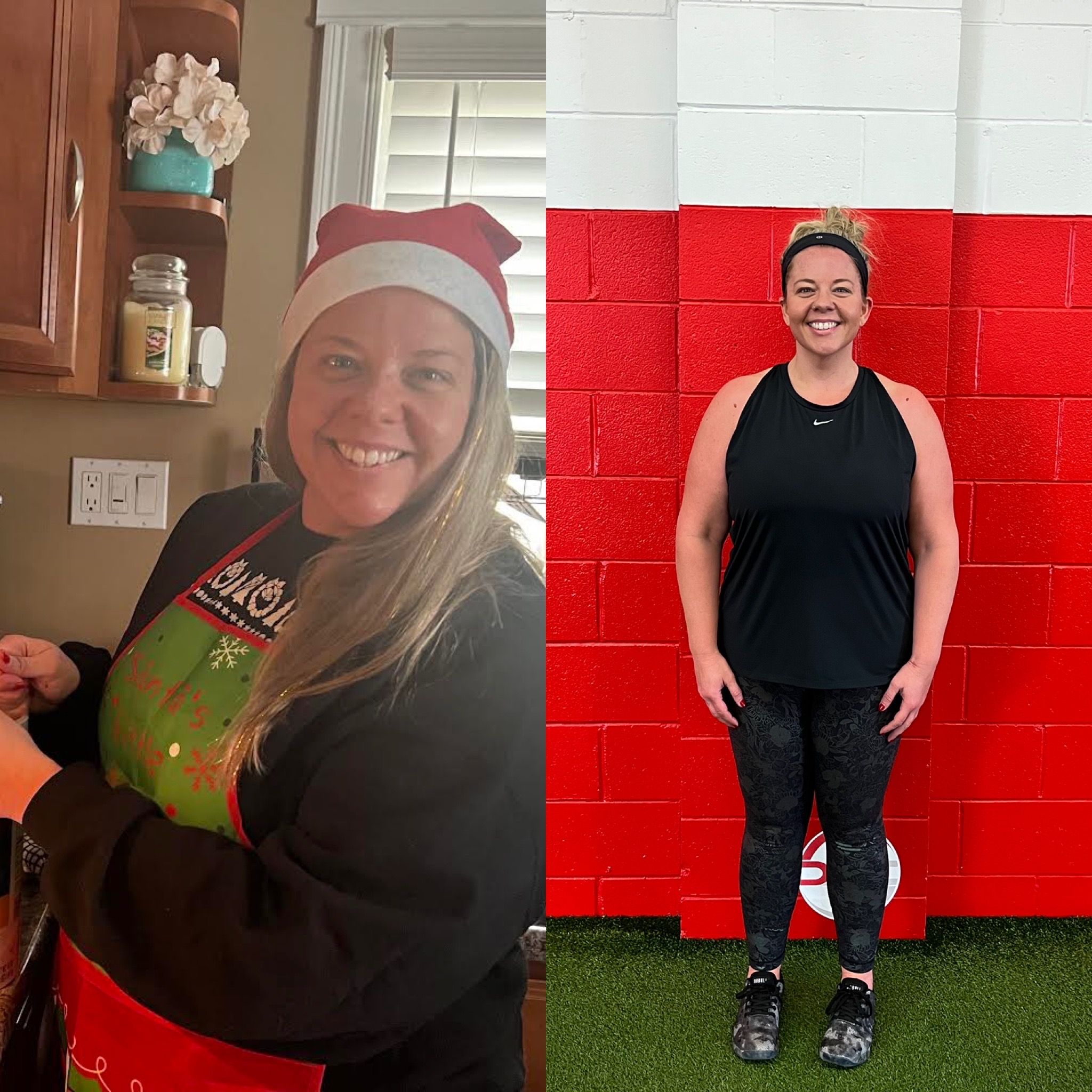 I am feeling my strength build and am really starting to see the results. Just last week I was able to wear a jacket that I haven't worn in a few years and putting that on was such an incredible feeling!
I am feeling more confident in myself and proud to be able to do things I wasn't able to just a few short months ago.
I know I have a ways to go in my journey, but I know that I am on the right track and cannot wait to continue it with the support of the DSC family.
My favorite part of DSC is the motivation and support from everyone who steps foot in the gym. I just love that I feel like I have cheerleaders in every corner and that they want this success for me, just as much as I do. My favorite part of the workouts is the variety of exercises and the fast pace of the sessions.
Joining any gym can be scary and intimidating, but I assure you, the first time you walk into DSC you will not feel like you are just another member of a gym. You will feel like you are part of this network of people who want you to succeed and will help you in any way they can.
I can tell you, joining DSC will change your life in so positive many ways!
- Shannon