I'm 22lbs Down with DSC's Nutrition Coaching Program!
Before joining DSC's Nutrition Coaching Program, I felt as though I wasn't eating much at all but was still unhappy with my weight, and more importantly, my health.
I was also struggling with fairly constant stomach pain, which led to sleeping issues which effected my ability to focus well at work and resulted in an overall low energy level.
If I'm honest with myself, my biggest goal in joining was weight loss though.
I had no idea of the positive effect that changing my diet would have on my stomach issues, strength, and overall health however!
Aside from not wanting to be a "failure" at it, I was worried about joining the nutrition program because I truly don't have time for anything else in my life right now.
What I discovered though, was that the nutrition coaches ease you into it, and end up making you excited to try.
In the end, I am being more mindful of the day's food in a way that makes me more organized, which I love.
One thing that was extremely helpful for me was keeping a food log during the program.
It kept me honest and mindful about what I was eating.
It also helped me track my stomach symptoms and figure out what foods were a trigger.
I learned about macros like protein, carbs, and fat (honestly had no idea about them before).
The coaches then set my macros by coaching me on exactly how much of each food to eat for me and my goals.
This resulted in not only weight loss but some significant strength improvements in the gym.
I learned that it's fun to do a nutrition program with a bunch of nice people!
I also learned patience with myself, that good nutrition has to fit into your life, the way you live every day, and that it's not as hard as I thought it would be to eat the way I knew I should.
I also didn't know that I would be eating so much food and still losing weight.
Our nutrition coaches are incredibly supportive, and I am staying with the program because I know there is more to learn from them.
Overall I am down 22 pounds, my clothes are fitting so much better, and I'm buying smaller sizes. I feel so great!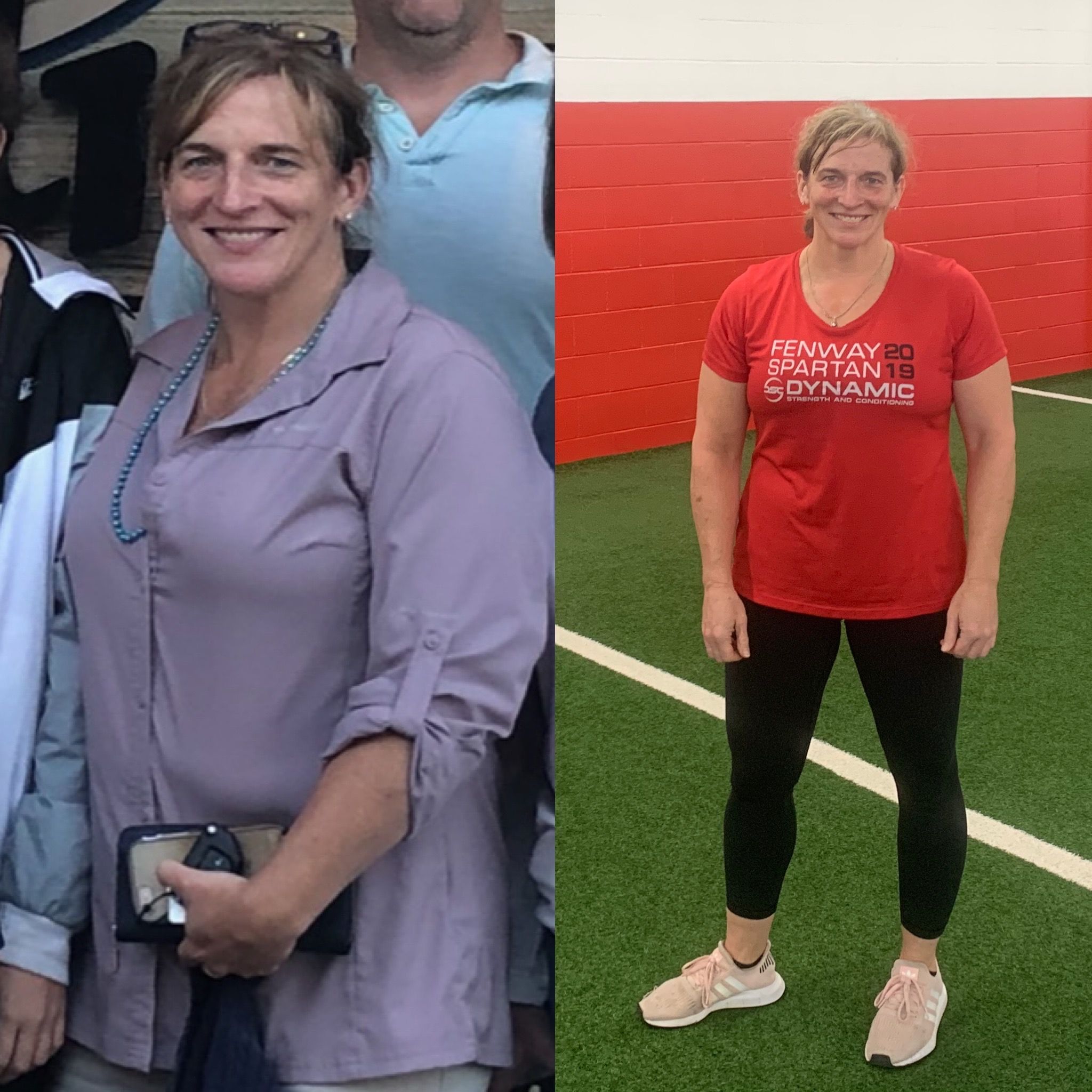 I am hitting personal records regularly now in the gym and feel stronger than I have in years.
But perhaps most importantly, my blood pressure went from a scary 150/94 before the program to 120/74 recently.
I enjoyed the videos from the coaches, the Facebook chatter within the group, and the weekly menus and recipes.
The challenges are fun too, especially when you win!
I would say that good nutrition is one of the biggest keys to good health!
DSC's Nutrition Program seems to be suited for busy people with varying goals who really want to try and improve themselves.
Put your whole self in, ask for help when you need it, and be patient with yourself.
- Alison
Our 2020 Nutrition Coaching Program starts January 27th!
Register before 12/31 and SAVE 10%!
Click below to register! ⬇️