I Tracked My Progress at DSC For 1 Year! (Here's what happened)
I started at DSC just over a year ago, in December 2017.
At that point it had been more than 6 years since I had done any serious exercising.
Prior to that I felt I was a bit of a gym rat; my wife Julia and I would go 3-4 times per week and during that time I felt I was in good health. But that all changed when life happened.
During those six years we had three kids and were both working full time while I went back to school to obtain my MBA.
Late nights and plain exhaustion left zero time to commit to my own health.
Over those years I had secretly transformed into my not so sexy dad bod.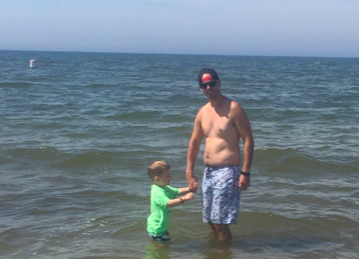 For a few years I watched while Julia committed to her health by getting up before 5am to work out.
I think because of my new found dad bod and her desire to have me around for many years, she started encouraging me to begin exercising again.
At first, about six months before joining DSC, I joined a gym closer to my office. Let's just say that routine lasted only 3 months and the environment there clearly was not going to help me get where I wanted to be.
She then suggested that I join her new gym, Dynamic Strength and Conditioning and explained why it was such a great gym and why I would love it as much as she did.
So with a bit of a push from her I decided to join with really just one goal: I wanted to establish a workout routine that I actually enjoyed enough to stick to. I didn't want it to be a one and done attempt, or let's say a failed new year resolution for 2018.
Coming into DSC, I didn't know what to expect.
I don't remember being nervous but I'm sure I was.
I think a major reason why I don't remember the nerves is because of the coaches. Each of them went out of their way to welcome me and seemed genuinely excited to help me succeed.
It was amazing that after being introduced to each coach during that first week, they knew who I was and made an effort every day to say hi.
I will never forget the first class.
Mainly because my mind was telling me I was still in good health, but my body told me a very different story. There was two humbling and eye opening moments for me that stood out from my first day.
First, I could barely get through a set of 12 inch box jumps. Sure, I could jump 12 inches, but do it more then a few times... forget it!
Even though I'm sure I looked like I was struggling, the coaches continued to encourage me through each exercise and give me reassurance.
I can honestly say that it was the support of the coaches that kept me going, helping me through that first day... that first week... that first month... that first year.
I knew DSC was the gym for me right after my first week.
Sure my body was sore as hell, but I already felt better about myself and realized I was actually having a lot of fun during the workouts. We were doing a lot of exercises I had never done before with a lot of variety throughout the week. It was different from any other workout I had ever done and I loved it.
DSC has had such a positive impact on our family.
Both Julia and I have committed to a new healthier lifestyle. We have adjusted our schedules to make sure we dedicate the time each day for a workout at DSC, and she has been awesome with meal planning and meal prep so we can both eat right. Overall, I know I have a lot more energy then I did before which has been awesome to have, especially now with three kids. To be honest I think being healthier has even helped me focus better at work.
Without question my biggest accomplishment has been my commitment to this new lifestyle.
I decided that first week that I would try to go 5 days a week, every week, for as long as I can.
Except for the weeks I traveled for work or was sick, I can say that I have been able to do that for more than a year and that makes me feel very proud!
I've carved out time from my daily routine to make sure I get a class in each day and my results over time have just strengthened my drive to keep going.
The next step for me was DSC's Nutrition Coaching Program. After all, you can't out workout a bad diet.
I joined the nutrition program at DSC mainly because I knew my personal eating habits were not right but I also knew there was a lot I didn't know about proper nutrition in general and the benefits.
At that time I was actually barely eating. I would do nothing but drink coffee and sometimes snack on junk food from the morning until the evening, then when I got home I would finally eat a real meal. Finding the appetite to eat throughout the day was hard for me, especially in the morning, but this had become my norm.
The first thing the program did was set a level of accountability for my eating habits. Having to report on what I was eating and how much I was eating helped make sure I was held accountable to my own goals.
It didn't take long to establish new eating habits that have stuck since that first month.
The Nutrition Program has been key to providing me the energy needed for the daily DSC workouts!
I found that my energy level is higher when I'm eating right. In fact, weeks when I travel I tend to be less strict on my eating which always makes that first workout when I get back really difficult.
By participating in the Nutrition Coaching Program I developed new eating habits which have stayed with me since the beginning. Sticking with this lifestyle and continuing my workouts, I am stronger now then I have ever been.
The biggest takeaway from the program was learning just how bad my eating habits were and how I was sabotaging myself.
I was not eating nearly enough food.
I had always thought that just exercising more and eating less was how to get in shape.
But realistically, eating the way I was had the opposite effect. Instead, I found that I needed to eat a lot more food, in fact so much food that I found it hard to do so at times.
It's clear to me when I look back at this year that the Nutrition Program was an important aspect of my results.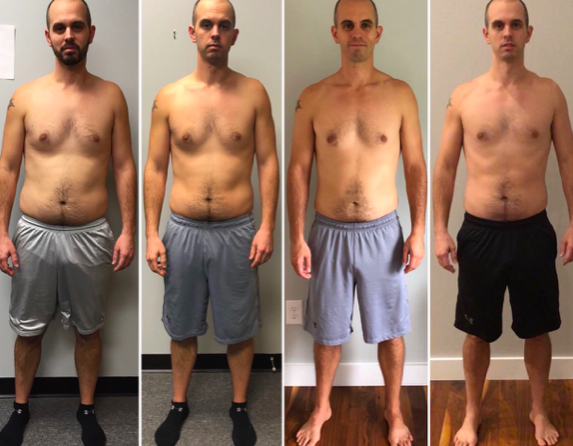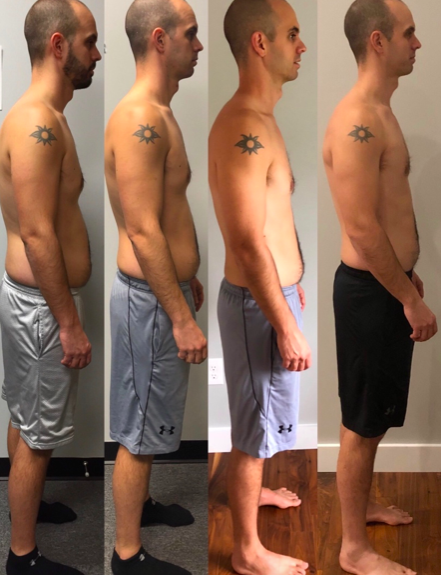 Since joining DSC and participating in their Nutrition Coaching Program, I've lost 15lbs of body fat, gained 9lbs of muscle, lost nearly 3 inches around my waist, and dropped 2 pants sizes!
I went from a high body-fat range of 21% down to the excellent range for my age at 13%.
I am very excited at my progress and hope to continue to build strength and add more muscle in 2019.
And I can honestly say that now, at 36 years old, my strength and endurance is better than it has ever been.
My favorite part of DSC is the culture that has been built by the DSC family.
DSC is very different from any other gym I have been a part of.
From charity workouts, to Spartan races, I've accomplished things I would have never considered possible in the past.
As my performance increases, I keep wanting to see how much farther I can push myself... with the help of DSC!!
Honestly, if you are thinking of joining, just give it a try for a week... you will want to keep going back.
Also, I would strongly recommend going through the Nutrition Program as well. I feel that having my workout lifestyle and nutrition lifestyle match has been a key part of my success so far!
- Chris