"I Proved You Can Do It At Any Age!"
I've been working out and going to gyms for quite some time, so when I first signed up for a DSC class that was recommended by a friend, I was expecting the usual.
What I got was a whole lot more!
It was amazingly different than any other gym I've belonged to and the energy was so inviting. The staff and members welcomed you with smiles, the coaches were very helpful, and the facility was accommodating to everyone.
I was hooked from the first day I joined!
I wasn't sure that group classes would work for me, but I was also intrigued. I just went with the flow and it went very well. What looks like a lot of people in the beginning, turns out to be a very well organized, full body workout like I've never experienced.
The coaches were all very helpful, knowledgeable and very kind. They take the time to listen to you and always have an alternative if you are struggling with anything. My favorite part of the coaches is that they ALL are knowledgeable and have a great sense of humor! There's not one that doesn't know the answer to any question you may have and they are always friendly.
My favorite part of the workouts are the finishers/challenges. You never know what the coaches will come up with next and it's always a surprise as well as a personal challenge for your endurance and strength.
I decided to join DSC's Nutrition Program because my way wasn't working. I always thought I had to stop eating the good things and I knew that that couldn't be the right way.
I wanted to lose 15lbs and gain some muscle.
I knew this was a huge undertaking with my age, but I wanted to give myself a "last ditch effort" to stick to something that I knew would benefit me. One of the discussions from the coaching staff was "mindset". I listened and knew that I had to be committed in order for this to work. So at the last minute, I just signed up and said "this is it".
I had my goals. I had my mindset. I had the DSC staff on my side and went for it.
My struggles with nutrition came with not eating enough throughout the day, and I never knew what I was supposed to eat. I would eat fruit—and it was too much in carbs. I would eat meat and veggies—it wasn't enough calories. I felt so frustrated and didn't know where else to turn.
The nutrition program helped me to realize that I need to look at my macros (the carbs, protein, and fat I ate), which I never looked at before.
I used to count my calories and not allow myself to go over 1000/day. When Beth gave me my personalized macro numbers and calories of 1475/day, I was shocked! I thought there was no way I could lose weight and eat that many calories. I didn't know how I would be able to eat 120g of protein in a day. I trusted in the coaches and the program though and decided to go all in.
The weight began to come off slowly, but I knew that was a good thing…so I was very strict with meeting my numbers week after week.
When I was halfway through the program, I was getting concerned that I was being so strict and not seeing as big of a change as I would have liked. That's when Beth asked me to come in and we could check it out on the DSC scale. That was the biggest eye opener of all. I had lost almost 10lbs and lost 4% body fat in only 6 weeks!
Not only was I excited, but so was Beth. That was the most encouraging part of my journey. It helped me to realize that I was losing weight and fat, as well as gaining some muscle mass. That was very exciting for me to see!
The coaches in the Nutrition Coaching Program are awesome! All of the coaches were very instrumental in giving me ideas, recipes, and encouragement to keep up the good work every week. The program was very well laid out and if I needed any extra explanation on things, I could always count on them. I really enjoyed using the DSC Nutrition Page on FB. There were so many of us giving each other great recipes and suggestions. It really felt like I was part of a small family working to reach the same goals.
When the nutrition program ended, I was excited to get back into DSC and get my final results. I had to wait because of COVID, but once I got in there, I was thrilled with the numbers.
I have lost 16lbs and almost 10% body fat!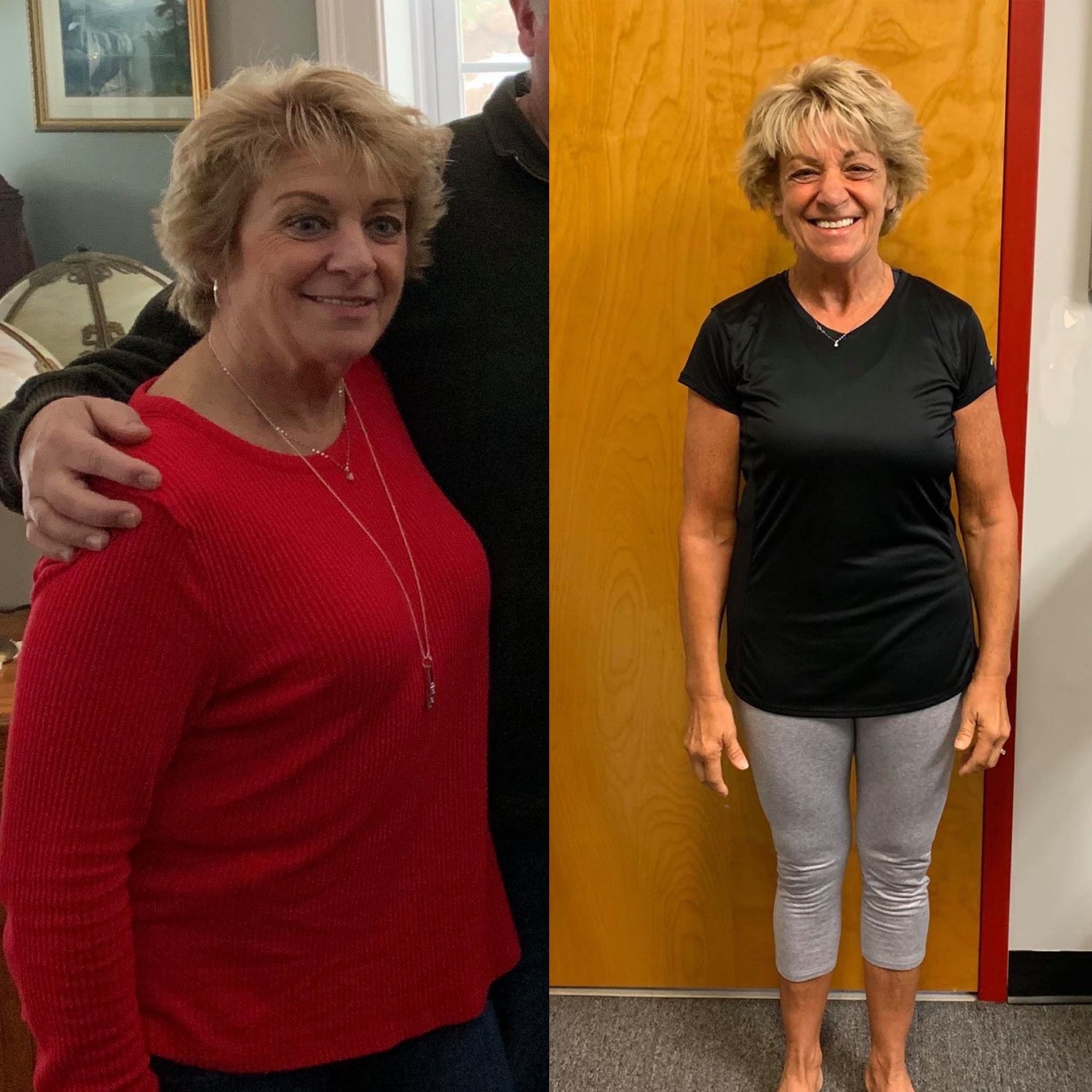 And I've gained muscle mass!
I feel the best I've felt in a long time!
Not only did I lose the weight, but the muscle gain and energy I have is incredible. I have surpassed all of my expectations. When they say the older you get, the harder it is...well I proved you can do it at any age!
How could I not be excited about that? I was completely surprised and so proud that I had finally done it! I made it to where I wanted to be and I could feel and see the results.
Not only had I reached my goals, but I also feel so much better in my workout performance and energy. The Nutrition Program helped in making sure I get enough water during the day, which has always been a challenge for me, as well as help in eating the necessary nutrients to get through a tough workout at DSC.
My favorite part of the Nutrition Program was hearing from the coaches on a regular basis and having them understand just what I needed. I knew I could trust them all and felt that I was on a journey to a much happier self.
If you are thinking about joining DSC, whether it be for the Nutrition Program, the Women's Group, or any of the programs being offered, you should just do it.
You can trust that these coaches know what they are doing.
Even if you feel it may not be quite what you are looking for in a gym; it is so much more then just a gym! You make so many new friendships at DSC. These are people that are trying to attain the same goals as you are…becoming a stronger, healthier person overall.
It will feel so good!!
- Karen
Our 30-Day Jumpstart Program starts Monday, July 6th!
✔️Unlimited workouts (at DSC or online from your home) (perfect for all levels)
✔️Easy to follow nutritional guidance
✔️Fat-loss meal plans
✔️Support and guidance
Get into the best shape of your life in 30-days!
Click below to register!