"I needed to do something for myself!"
Before DSC I didn't work out at all.
At most I would go for a walk sometimes.
I really needed to refocus my life and do something for myself.
I had gained a lot of weight, I had no energy and I just wanted to feel good again.
I work right down the road from DSC and one day I was on a walk during lunch when a friend pointed it out to me.
At first I said "No way...that place looks intimidating. I can't go there."
Then the next day on our lunch break we walked right into DSC and signed up.
I was very nervous.
Previously I had taken Zumba or yoga classes but had never been to a large gym.
I had never used weights before in my life and started with no strength. My first class was challenging and encouraging at the same time, but most importantly I felt accepted at DSC.
Everyone starts at a different level and that's ok.
That's how it's supposed to be.
Not everybody is the same size or shape or age for that matter.
I thought to myself, "You're 44 years old and there are people here older than you doing amazing." I knew I had to just suck it up and do this.
I was excited for the challenge ahead of me.
All of the coaches are amazing and so friendly there!
I love how there are several coaches on the floor at all times to make sure everyone is lifting correctly or there to push your limits or to just make you laugh with their silly dance moves or jokes!
They make it such a fun place to be.
Plus, with DSC you are guaranteed results!
The circuit training in the Women's Group is such an amazing way to add variety and get a total body workout in.
So far I have lost 16 pounds since March!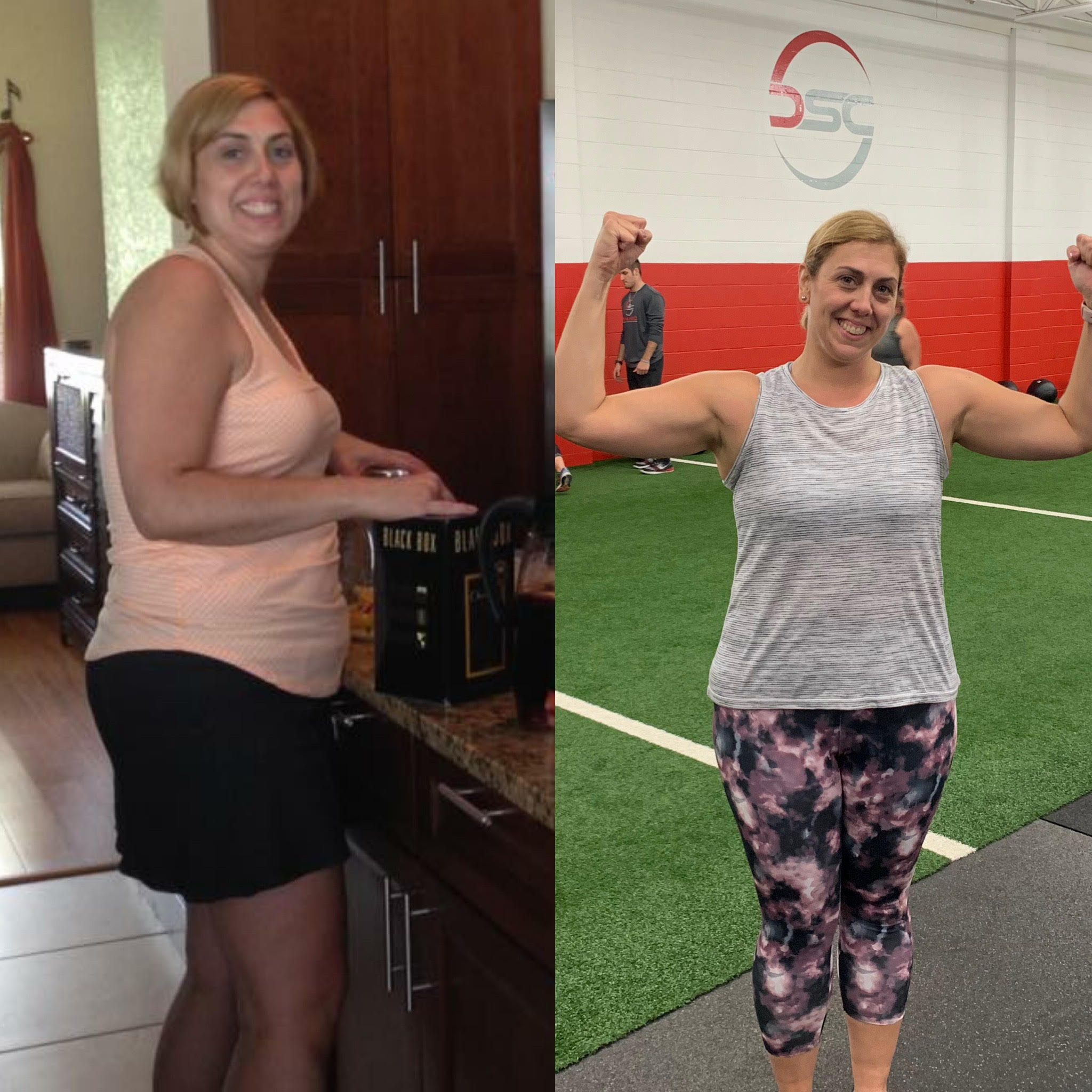 I've gone done a size in my clothing and I feel amazing!
I have a bit to go to reach my personal goal still but I am certainly on my way in doing so.
Personally, I'm amazed at myself!
Like I said, I had never used weights before so toning, shaping and forming muscles I didn't know existed is so shocking to me. I show off my muscles to my husband all the time!
I honestly can't believe they are mine. They just showed up one day!
My favorite thing to do at DSC would have to be the sleds and the ladders at warm ups.
My favorite part of DSC as a gym would have to be the coaches and their approach.
Renee and Matt are always there for me to guide me in the right direction and challenge me to be better.
My biggest accomplishment since I joined DSC is that I knocked off 1 of my bucket list items:
At 44, I always wanted to learn how to run and didn't think I ever could.
I am very proud to say that I ran my very 1st 5K in September!
My two kids were there to cheer my on and it was very emotional for me.
I don't think I could have pulled this off without the proper training from DSC.
If you're thinking of joining DSC, don't think about, just do it!
Everyone will welcome you on board and you will feel so much better after getting started!
- Wendy