I have lost 50lbs and I am the happiest I've been!
In some ways I feel like a completely different person than I was 8 months ago when I first stepped into DSC.
Before DSC, I was at a loss for what to do and how or where to even start when it came to creating a healthier lifestyle, but I also knew something had to change.
I previously worked the overnight shift for 3 years. The combination of that and eating late (not always the healthiest foods), not sleeping enough or consistently and not having the energy or direction when it came to working out took its toll.
I changed jobs and began working "normal" hours which helped my sleeping and eating, but I was still missing an essential working out piece of the puzzle.
I was sedentary and felt stuck.
I was always interested in strength training but didn't know what exactly I should be doing, had no one to provide instruction or go train with, and was intimidated by the typically male dominated weight section of the traditional gym.
I had heard about DSC because I was friends with Matt from school but whenever I saw the posts he shared, I always thought there was no way I could do what "those people" were doing.
I had a slew of reasons (excuses) as to why I felt I shouldn't go, mostly out of fear of failure but one being that it was in Nashua and I work/live in Manchester and there were probably 50 gyms in between the two. I reminded myself that I wasn't actually going to any of those other 50 gyms though (and apparently going inside helps) so who cares if this was the one thing I'd have to commute to.
I remember how terrified I was my first time driving there and my goal for my first class was basically to not pass out or throw up.
What I first noticed when I walked in the door was the camaraderie between the members.
Even though I had the natural "new kid" feeling, I was immediately greeted by friendly faces and introduced to the other coaches so there was no backing out and our class began.
The workout surprisingly went by pretty quickly between my gasps for air because the circuits break the time up and fortunately the coaches helped me a lot to ensure I was modifying to not hurt myself since I had no clue what we were doing. It wasn't pretty...but I survived and that feeling of accomplishment is still something that I leave every single class with.
Although every aspect of moving was difficult the next day, I was pretty much hooked immediately and started attending the Women's Group with Renee twice a week.
Before long I added in the Saturday MetCon with Renee's encouragement that I could handle it. The "new kid" feeling didn't last more than a week and every person I met was genuinely supportive. After a couple rounds of the Women's Group I had a chat with Renee and again with her encouragement decided I was ready to try the Adult Co-Ed class.
I began setting small, realistic goals for myself both in and outside of the gym and sure enough started reaching every one of them.
Drink more water, hold that plank, watch portion sizes, try adding a weight this time, etc.
These mini milestones start accumulating and DSC celebrates them right alongside with you, from the first time I used the treadmill without holding on that my friend yelled "YAY YOU LET GO!!" in excitement, to the first time I did the big box jump when my class clapped and cheered. It's truly what makes us so much more than a gym.
Fast forwarding to now, I go to DSC four times a week, have lost 50lbs, gone down pant sizes, gained muscle and I am the happiest I've been in a long time.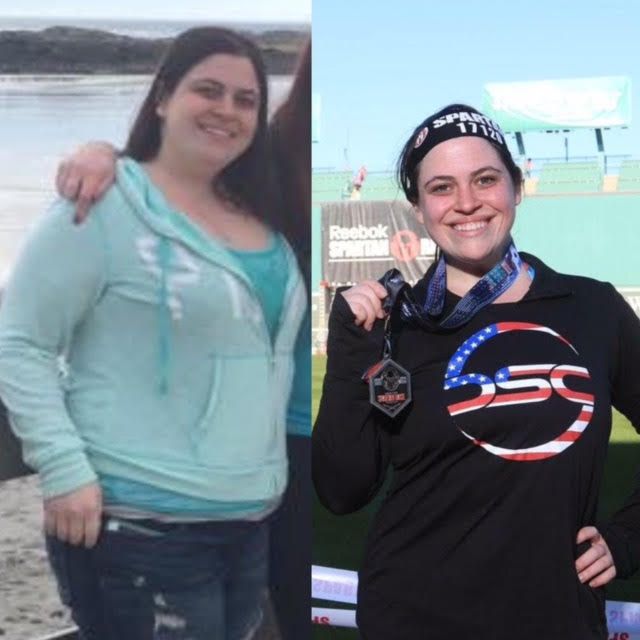 No diet plans, quick fixes or killing myself to track calories but when I started seeing results at the gym I simply wanted to eat better and fuel my body to reflect the hard work I'm putting into it.
I now make my workouts and taking care of myself/my health a priority.
I never thought joining a gym could have this big of an impact on my life but DSC has changed me for the better.
I look forward to going there, seeing my friends, challenging myself, and getting a killer full body workout in while actually having FUN. The coaches push you and believe in your capabilities and you will be reminded that working out is not a punishment but rather a reward for your body. After every single class I am proud of myself, even if I wasn't able to do everything perfectly, I still showed up and did it and that's what matters.
I love feeling strong more than anything and watching my body continue to change and grow stronger. I recently had the pleasure of joining the "vest club" thanks to my buddy and completed a workout with a 25-lb weighted vest on and while it was difficult it was a serious reminder of how far I've come since starting.
If you're on the fence about joining, all I can say is do it!
You will be absolutely no worse off for trying and will amaze yourself at what you find out you're capable of doing with the right direction and encouragement.
Everyone here is pulling for you to succeed.
If you're anything like me and countless other members, you will find DSC to be the piece of the puzzle you've been missing!
- Sara