"I Feel Unbelievably Prepared for College Field Hockey!"
Before joining DSC, a typical workout for me varied...I tried to workout on my own at a regular big-box gym but space and equipment was very limited.
Playing various sports exposed me to a lot of working out including weight training and speed work so I tried putting workouts together on my own but they didn't have a lot of structure. I did a lot of strength exercises and would do a lot of exercising in my garage whether is was cardio or ab workouts with the weights we had. Some days I would also go on runs and work on my sprints either on a field/track or just in my driveway.
I joined DSC after I tore my calf my sophomore year playing high school lacrosse. I knew I needed to change my training routine. To compete in college I needed to get faster, stronger, and better conditioned.
I knew I was already behind due to this injury and my goal when I joined was to strengthen and heal my injury. As my drive to play college field hockey grew, I wanted to take my game to the next level.
I wanted to be stronger and faster and DSC was the perfect place to make this happen for me!
I have always been extremely happy with my experience here at DSC.
Even on some of the hardest days where it seems nearly impossible to get myself to the gym I know I'm going to walk through those doors and be greeted by the most amazing people with the biggest smiling faces. It might not seem like much, but when you are surrounded by these people who are endlessly positive and supportive of you and your goals, there isn't a day you wouldn't want to get in the gym and get your workout done.
Since I do workout sessions on my own at DSC rather than in a group setting, my workouts are specified to my personal goals. My workouts include a lot of strength, power, speed, agility, and conditioning exercises. My workouts are definitely a challenge but in the best way possible.
It has been the best reward seeing how much I have improved in my training. Never did I think I could come this far, but the coaches here have helped push me to reach limits I didn't even know were possible when I started out here.
When I first started at DSC, I was actually doing a lot of the same exercises that are in my workout now. The difference is, I came in barely able to do these exercises with added weight or even just the bar itself and I am confident in my technique. My weight range has gone up significantly and I can do so much more with the strength that I have taken away from my training. My conditioning and weight training have also greatly improved my game.
Working out at DSC has made me stronger, faster and just an overall better field hockey player. With my new strength and speed I feel so confident in my game. I can play full games without getting tired because I am in the best shape possible. My shot has gotten significantly better which is a direct effect of my training at DSC. My running stride has improved so much since I've gotten to DSC and I feel much better and faster when I am running on the field.
My favorite part of DSC would be the motivation and drive it provides for me.
Joining here has made me so much more confident in not just my game but also in myself.
The people here care about you so much and they are always there to lift you up and let you know that you are doing a great job. When other people recognize your improvement and growth, it is really one of the best feelings.
My favorite part of my workouts here are my strength and power exercises. Whether it is my back squat, front squat, hang cleans, bench press, RDLs, or even a mixture of some of them, they are just amazing exercises that make me feel so much stronger all around.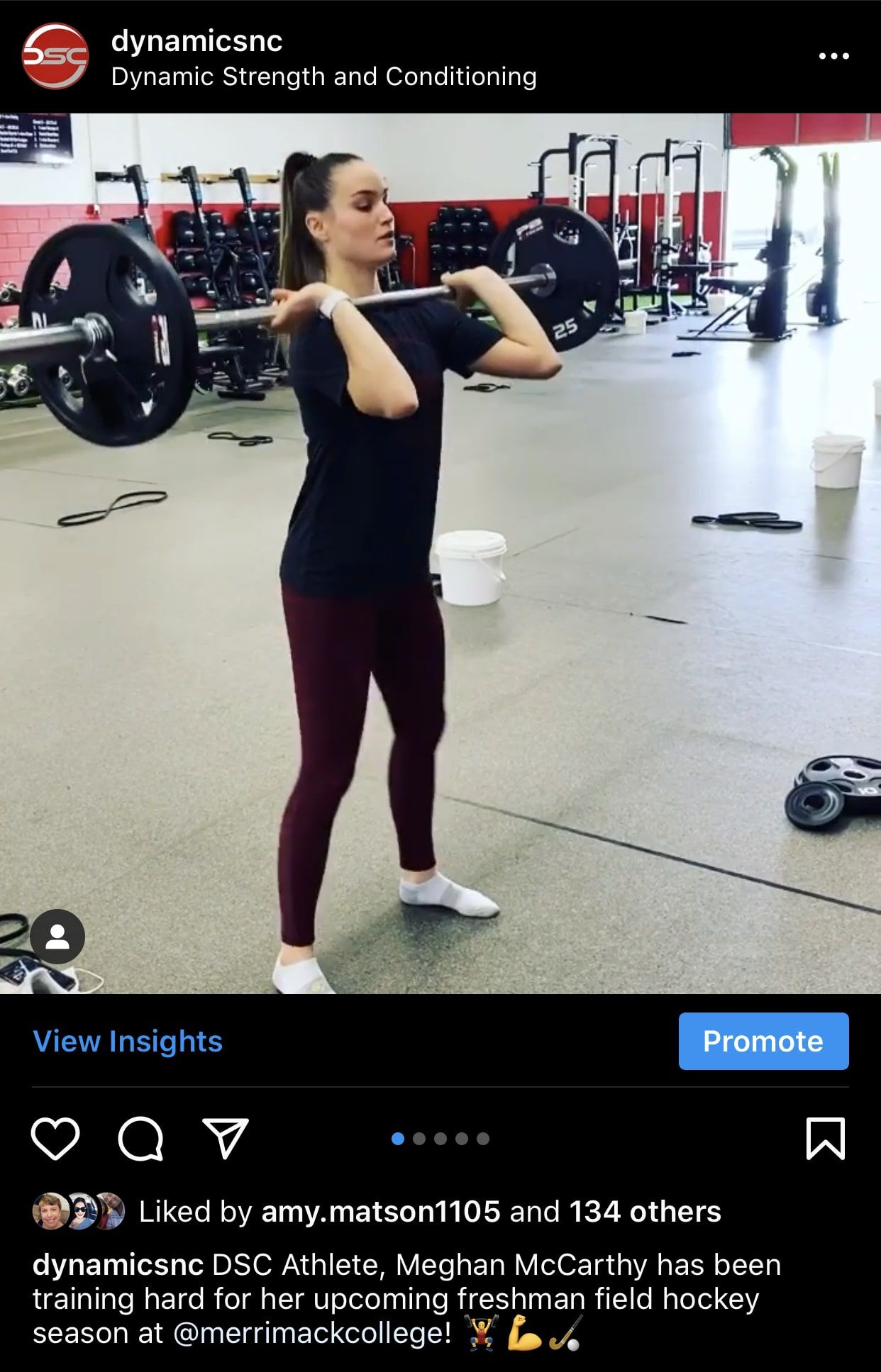 DSC has not just gotten me in a good place for college field hockey physically speaking, but also mentally. The motivation and support I get from the coaches and the exercises here is unmatched.
Working out here at DSC makes me feel like I can do anything. I feel so unbelievably prepared for college field hockey and it is all due to DSC.
If you're a serious athlete, this is the place to be. You won't find a better place to grow and excel than here.

Speaking from experience, I started just about as weak and unmotivated as you could get coming off a huge injury. I felt so far behind from my sport and from my goals. The coaches and workouts here changed my life. I was able to get so much stronger and keep working my way up to now where I am on track to play a Division 1 sport.
I don't know where I'd be if I hadn't gone to DSC and pushed myself to be the absolute best I can be with the help of so many amazing coaches and people.
- Meghan
Our 10-Week Summer Youth Performance Camps Start


June 21st! (ages 10-13 and 14+)
[Register before May 31st and SAVE 10%!]
Use promo code: SUMMER21 at checkout
Click HERE to register!