"I feel so strong and healthy!" (How I lost 40lbs at DSC)
Before joining DSC, I did not have a typical workout plan or routine. I was mostly walking and taking some pilates classes.
At the time, I felt defeated physically and mentally. I couldn't find what I needed to make the life changes I wanted.
My goal for joining DSC was to find an exercise program that would help me build strength, endurance and my overall fitness.
I needed to find the place that I would love to go to. And a place that would also help with my nutrition.
I did have some fears before joining DSC. Since I've never been in a consistent workout routine I was afraid it would be too much for me.
I was afraid I wouldn't be able to keep up or even do the exercises.
I remember driving to DSC for my fist class. I felt overweight and out of shape.
My first class I'm pretty sure I had the deer in the headlights look on my face the entire time but I knew right away when class started that I was in the right place.
Everyone at DSC was so nice and the coaches helped me along throughout each step of my first class...and they still do today!
My overall experience at DSC has been so amazing!
The workouts are always well planned, fun, and at times tough. The coaches are one of the best parts of a workout at DSC. They are fun, extremely helpful and always available when you need advice!
A little while after joining, I was ready to take the next step and joined DSC's Nutrition Coaching Program.
I really struggled with my diet at the time. I wanted to eat right to feel better and lose weight but I was at a loss.
My biggest struggle was that I wasn't eating during the day and then overeating at night. Patterns like this are so hard to reverse once developed so I knew I would need some help.
I had a few goals when I joined the program. First, I wanted to learn about different foods and macros (carbs, protein, and fat).
I also wanted to learn exactly what to eat, when to eat, and how much to eat to lose weight.
I was certainly hesitant to join at first; honestly, my biggest fear was that it just would not work for me.
I quickly realized though that this was the perfect program for me!
I was instantly much more consistent with my eating during the day and not overeating and snacking at night. I was more consistent with my balanced meals and snacks.
I also became so much more consistent with my physical activity by attending DSC's awesome fitness classes. Within just the first couple of weeks my energy was off the charts! I was able to get through a workout feeling energized for the rest of the day. I was able to push myself harder and use heavier weights during my workouts.
It wasn't long before my clothes started feeling more comfortable and I dropped a size.
For me, the thing that set me up for success was learning how to plan ahead. I stopped rushing and choosing the quickest or last food option simply because I didn't have an alternative choice. The meal plans the coaches provide also helped with this a ton.
A few other things that greatly helped were learning how to log your food early in the day so you can make sure you've eaten the right foods before it's too late.
Additionally, I started eating and preparing meals at home vs. eating out a lot and learned about proper portion control.
Finally and most importantly though, I learned that you'll have a bad day or you'll want to eat out on occasion and it will NOT ruin your goals if you make good choices most of the time.
Since joining DSC I have lost 40lbs and have gone down 2 sizes!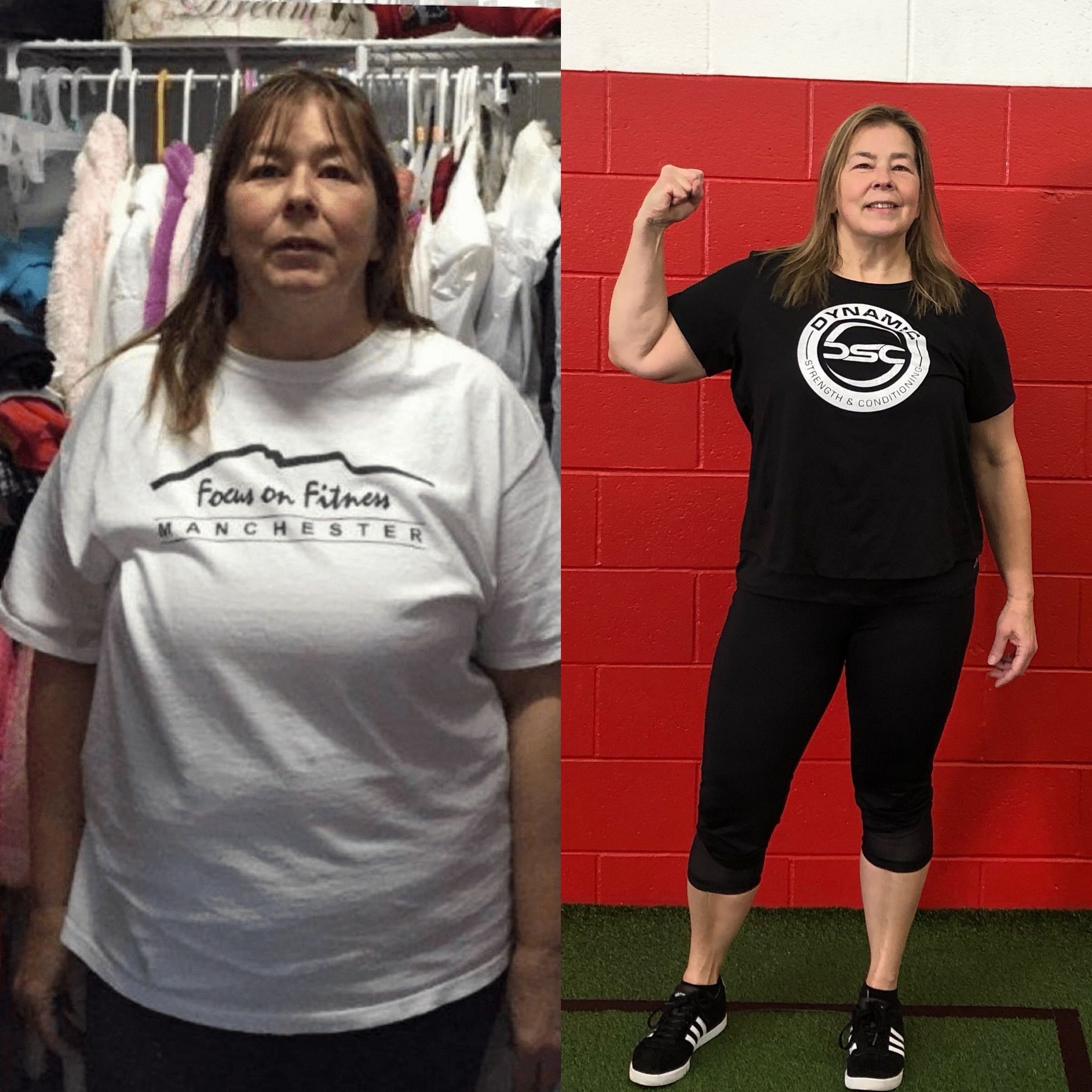 I feel so strong and healthy!
My favorite part of DSC is walking in the door and seeing how happy the coaches are to see you.
My favorite part of the workouts are again the coaches. When they walk by and encourage you to keep going, maybe tweak your form or make a subtle suggestion to up your weights. ; )
The impact DSC has had on me is life changing!
Everything about DSC has me coming back. The workouts, the coaches, Sara who runs the front desk, the members in my group, the nutritional guidance programs.
DSC is really an amazing place!
Thinking of joining DSC? Trust the process! Take it one step at a time. It will get easier as time goes on and you'll have great success!
You'll be so happy you did!
- Sissy
Ready to get started at DSC?
Get a head-start on your 2021 New Years Resolution and save some cash for the holidays!
Join DSC (in-person or online) and your first month is FREE!
Click below to get started!