I am down 20lbs with DSC's Nutrition Coaching Program!
I have struggled with my weight my entire adult life.
I was a thin athlete in high school but when I got to college and stopped playing sports (not to mention the very sedentary college lifestyle), I began to put on weight.
I then gained more weight when I was pregnant with both my children and never lost it all.
I've never really worked out with weights before DSC.
I mostly just ran on the treadmill at the YMCA and felt disappointed that I wasn't losing weight.
I hoped that I could get into a consistent work-out routine and maybe actually enjoy going to the gym (which I do now!). I was also hoping to lose weight in a way that I could sustain.
I've done plenty of diets.
I had lost 30 pounds on Atkins before my wedding, but I put it all back on and then some.
Knowing what to eat was always a struggle for me.
I tried to eat healthy, but I've realized since joining the DSC Nutrition Program that I really didn't know what "healthy" eating even meant.
I ate too many carbs, not enough protein, and definitely too many desserts.
Protein, protein, protein was a game changer for me!
The pie charts that the coaches helped us navigate showed me how much protein, fat, and carbs I should be eating every day.
I've also started to eat breakfast every day, which I never used to do.
I'm not usually hungry in the morning, but the protein shakes I've learned to make through the nutrition class are the perfect thing for me in the morning, and they keep me full till lunch.
Beside the pie charts with the "macros," I've also loved the weekly menus and recipes that the coaches provide.
The coach's weekly check-in questions and follow up emails really helped to hold me accountable.
I'm a social person, but up until DSC, my diets and work-outs had been totally solitary.
I never realized how much better I would do in a class with support from coaches and peers—this is true in both the nutrition class and the group training.
I have to say, I have avoided exercise classes like the plague my whole life. I've always preferred to run by myself on the treadmill.
I was intimidated by the hard core fitness people I would see through the glass in the classes at the Y.
But it's not like that at all at DSC.
There are people of all shapes, sizes, and ages.
One day my partner is an 18 year college freshmen home on Christmas break and the next it's a 70 year old woman staying in shape.
And both are equally friendly and encouraging!
I am happy to report that as of Jan. 16, I have lost 20 pounds!
I joined DSC Women's Group Training on Sep. 10 and the Nutrition Coaching Program on Nov. 5!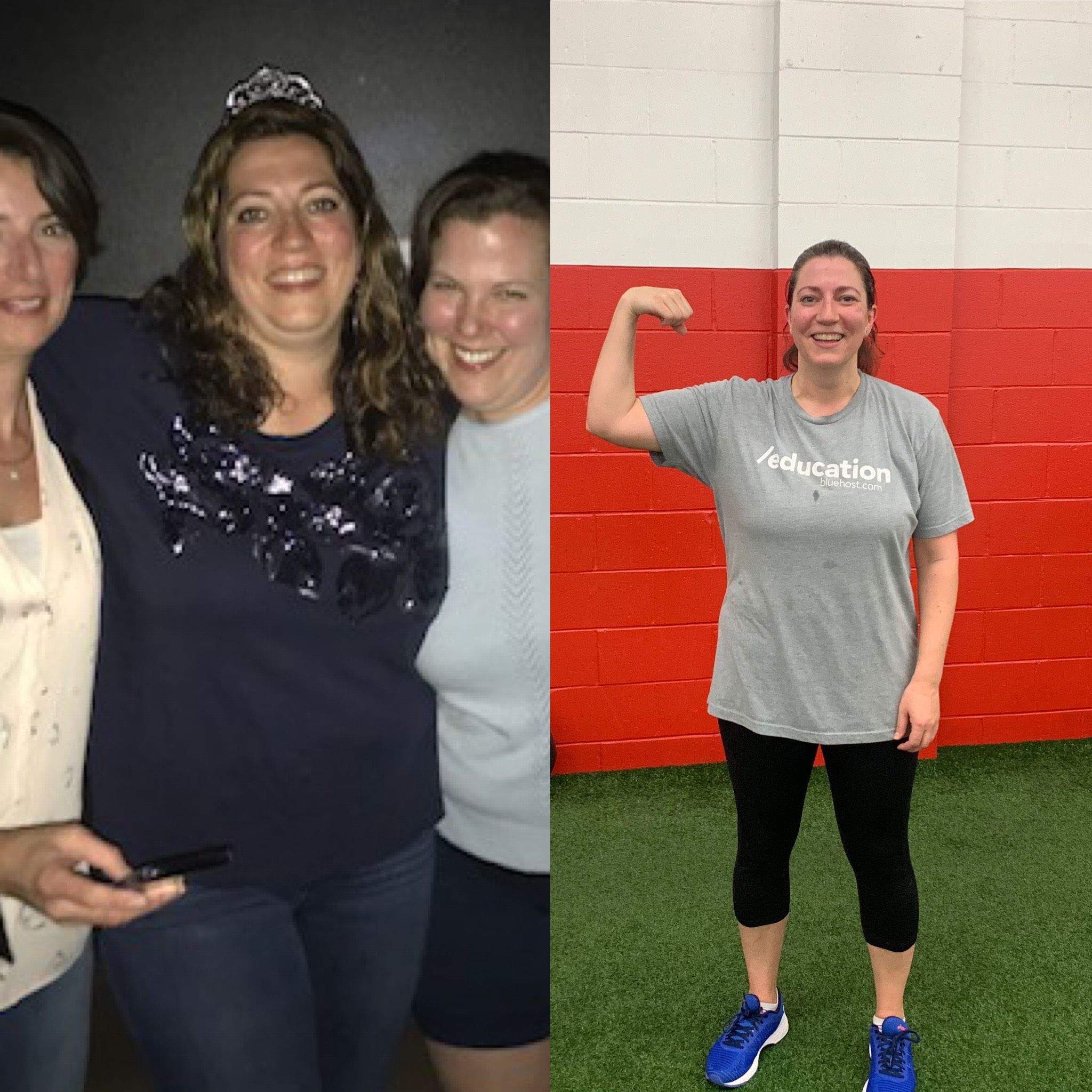 I am so much stronger now!
During my first few weeks at DSC I could barely do one push-up but now I can do at least 10 and I get excited when I see them on on the workout board.
I am wearing clothes that haven't fit me in five years!
And the true test is that my kids even think I look better!
They're brutally honest, so it means a lot to me when they say I look good in a dress that I haven't felt or looked good in for many years.
My two boys (11 and 8 years old) have been my biggest motivation in this. I want to be healthier and set a better example for them.
So the fact that they are so proud of me when I get on the scale and see that I lost another pound or that they remind me not to eat the cookies they're eating because they know I'll regret it is a huge motivator for me.
Eating more protein and learning why I should eat it and how to get it in has probably had the biggest impact on my weight loss.
I love the Nutrition group's Facebook page because it shows we're all in this together.
I love when people post pictures of their meals with recipes or talk about their weekly triumphs and struggles.
In almost every other part of my life, I'm an extrovert.
But when it came to fitness, I had always been the quiet one in the back because I was nervous and intimidated.
The Nutrition Program and the Women's Training group have helped me come out of my fitness shell.
Working with others toward our fitness goals has made all the difference. Renee and Matt made me feel so comfortable in the Women's Group. Then, they let me know when I was a little too comfortable there and suggested that it was time to move up to the Adult Group, which I just did this week!
Thinking about joining DSC's Nutrition Coaching Program?
Do it!
While working out at DSC is the bomb, you'll never lose the weight and reach your goals without changing your diet too. Both aspects of your healthier lifestyle need to align in order for that to happen and DSC helps you do exactly that!
I remember driving by DSC a year ago and reading the sign that said "Six months from now you'll wish you started today." That is so true.
Don't wait another day!
- Jen