How We're Keeping DSC Members Safe This Winter
The DSC Mission: To create the safest, cleanest, and most comfortable workout environment imaginable.
As soon as DSC temporarily closed back in March due to COVID-19, the planning for the safest imaginable reopening and workout experience began. We called it Operation DSC Safe and Strong and our mission was and is simple: to create the cleanest and safest environment imaginable for our members and employees.

The planning for our reopening included areas like consulting with infectious disease specialists, public health officials, doctors, nurses, police, the CEO of our cleaning company, and the top fitness business consultant in the country. We made the decision very early on that we were going to leave no stone left unturned.
We began organizing DSC in a way that allowed our members to socially distance throughout their entire time at DSC. We invested heavily in the best cleaning supplies and technology. We created an entire system of daily cleaning and disinfecting procedures. We rehearsed our classes and systems over and over, including how we'd have members safely enter DSC, workout, and exit.
You can read what DSC members were saying about our reopening and their safety, HERE and HERE.
As we move into winter here at DSC, we want to make one thing very clear -- we are not letting up.
In fact, while other gyms loosen their restrictions, we have drastically increased our planning, consulting, and investment in our members safety, health, and experience this winter. Over the past several months and weeks we've made major updates to DSC to continue to invest in our members safety, health, comfort, and experience that we cannot wait to share with you.
Now more than ever, our health is of the utmost importance.
Our mission is very clear this winter. We are here to provide the safest and most comfortable workout environment for our DSC members.
Today we want to share the exact steps we are taking to keep our DSC members safe this winter.
1| Class preparation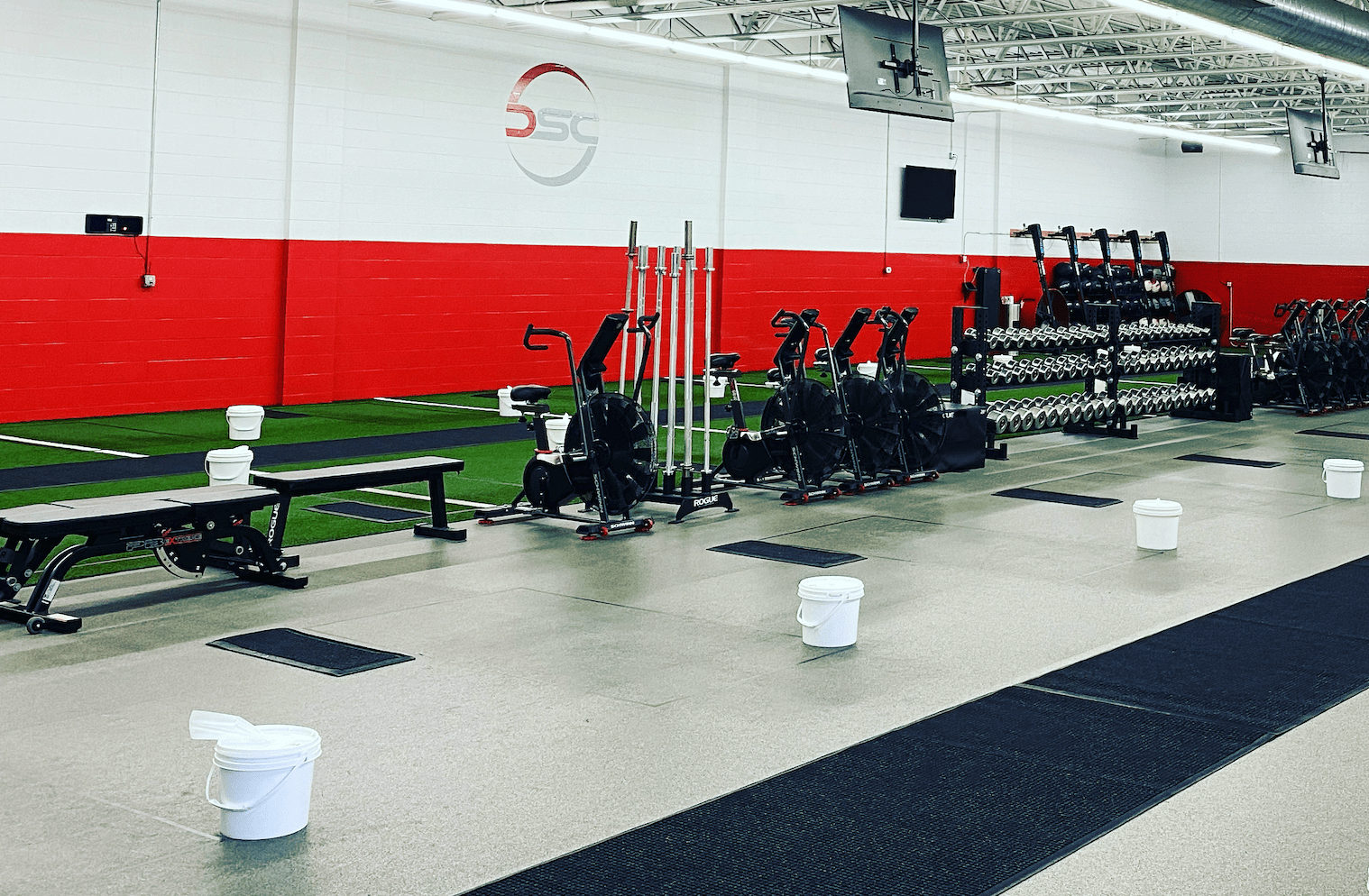 The safety of our DSC classes start well before they begin.
Prior to each class you can find our DSC team working hard to prepare the safest, cleanest, and most organized environment for you to come to. We will have everything cleaned, prepped, and ready for your arrival.
This class preparation includes:
Full deep cleans of equipment using CDC approved disinfectant wipes

Deep cleans of workout pods using CDC approved disinfectant spray

Ensuring each pod is prepped with its own disinfectant wipes

Ensuring the gym is stocked with cleaning and disinfectant supplies (hand sanitizer, wipes, towels, etc.)

Ensuring the gym is stocked with PPE (masks for coaches and members, gloves for coaches)
2| DSC Socially Distanced Workout Format
Now it's time for the fun to begin! Welcome to your socially distanced DSC class.
Let's get into exactly how our classes work.
1) Preparing for your class:
Your safety again starts well before you enter the gym at DSC. Because we are taking extra precautions for your safety, we are limiting the occupancy inside DSC well below the state guideline of 50%. We are very fortunate to have such a large 9,000 square foot facility to keep members spread out and safe within DSC.
This is done to promote the ultimate level of safety, comfort, and social distancing. To ensure we have a safe number of DSC members in each class, we are going to have you schedule your classes ahead of time through the new DSC class scheduling app. Here you can lock in the class times and days that work best for you each week.
Once you've scheduled your class, we ask you to arrive at DSC at least 10 minutes before your scheduled class time. During this time, your DSC staff will be hard at work cleaning your workout area and equipment in preparation for your arrival.
What should you be wearing?
To keep you and our staff safe, all DSC members must wear a mask into the gym. Once in your socially distanced pod, you can take off your mask or you can wear it for the entirety of your class.
For added safety, we ask that you put your mask back on if you leave your workout pod to use the restroom or fill your water bottle and when exiting.
Winter clothing like jackets and boots can be brought with you right to your personal workout pod as well as any other personal belongings such as your water, car keys and cell phone.
2) Entering DSC:
Now it's time for class! About 5 minutes before class starts, the large glass garage door will open to start checking you into class.
From there, a DSC team member will be waiting for you at the garage door to check you in with the iPad and ask you your COVID-19 safety questions including:
Acknowledging that you will practice social distancing with your fellow DSC members and staff inside DSC.

Have you tested positive for COVID-19 in the past 2 weeks?

Have you had a fever or any symptoms of COVID-19 such as sore throat, cough, or shortness of breath in the last 2 weeks?

Have you traveled outside of New England in the past 14-days?
If you answer yes to these questions or test positive for COVID-19, you will be asked to refrain from coming to DSC for 14 days or until you test negative. If you have symptoms or a fever, you will be asked to head home and rest until you're fever free for 3-days and otherwise symptom free.
We keep all DSC members socially distanced throughout this check-in process. Once you answer our COVID-19 screening questions, get checked in, and hand sanitize, our coaches then direct you to your personal workout pod.
3) Your personal, socially distanced workout pod: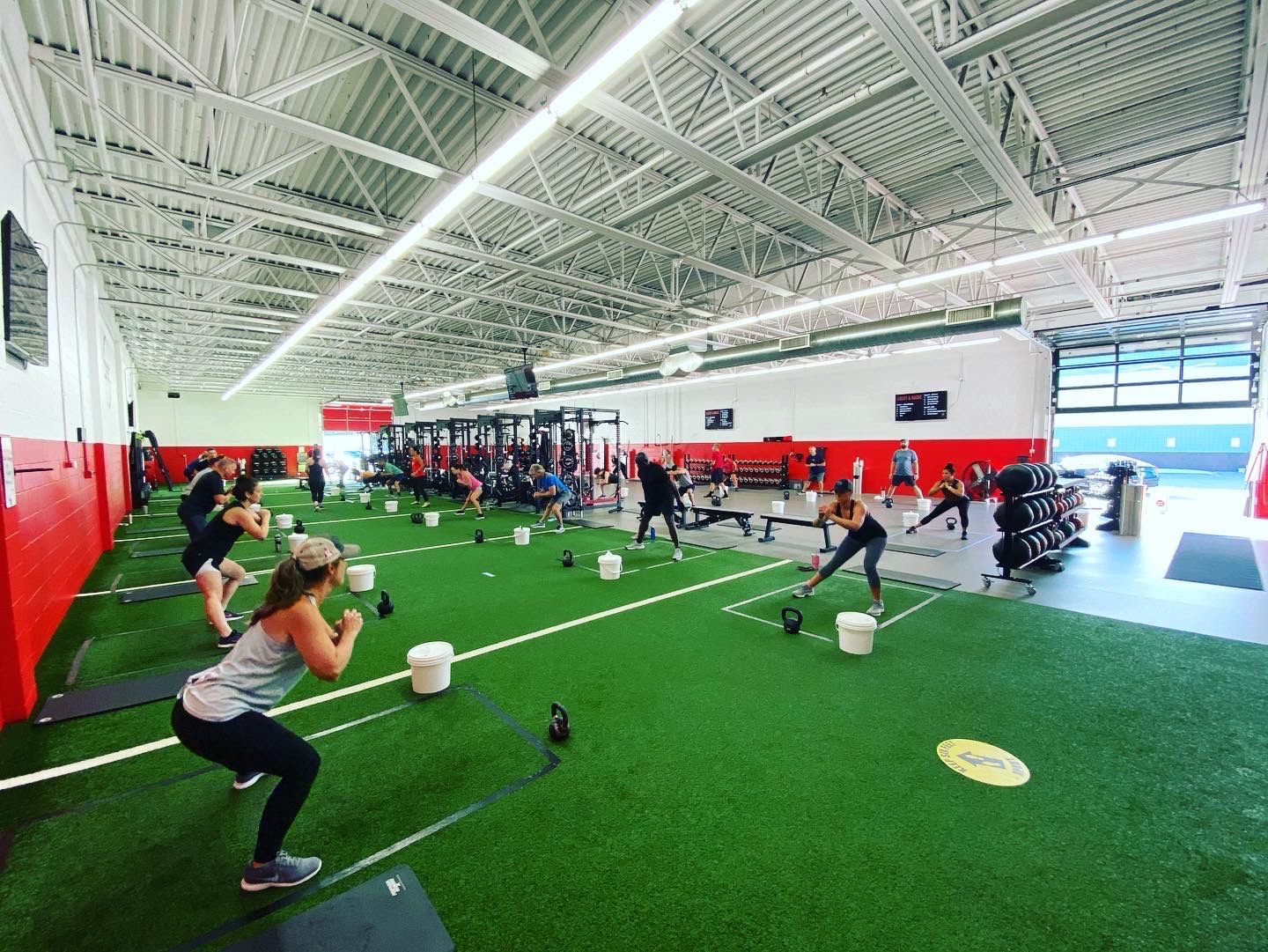 Now the fun begins! Welcome to your personal workout pod.
This is where you crush your workouts from the safety of your own personal, socially distanced workout space.
Our pods are large enough to complete all of your workout movements but spaced out enough to keep you comfortable and safe. Each workout pod is between 6 - 10 feet apart from the next closest pod.
Once you are in your pod, your coaches (wearing full personal protective equipment, PPE) will be by to give you your own fully cleaned equipment for class. We use a variety of fun equipment like kettlebells, medicine balls, barbells, dumbbells, bands, rowers, skiergs, and bikes in each class.
Don't worry about sharing equipment with any members. Any equipment will be fully cleaned and disinfected before it gets to your pod.
4) Your DSC coaches: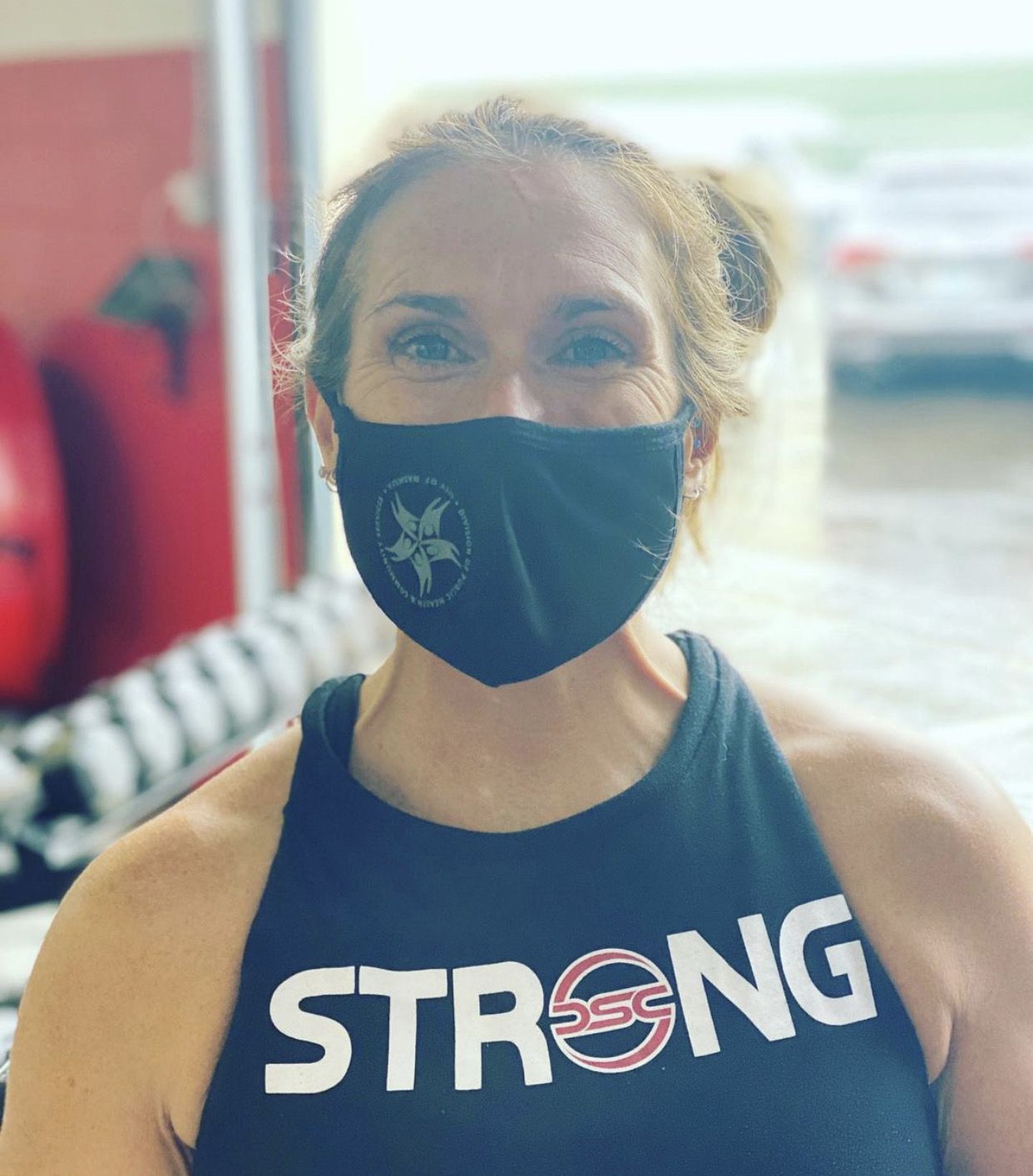 Think of your DSC coaches as your safety and fitness tour guides. Their number one priority is your health and safety at DSC.
Our job is to ensure you have a world-class fitness experience in the most safe and comfortable environment imaginable.
Once you're in your personal workout pod and have your fully cleaned equipment, it's time to have some fun!
Each DSC coach is designated to an area of the gym to work directly with you and your fellow DSC members.
Their mission is provide you with the coaching, guidance, support, motivation, and fun you need to get the most out of each class.
Never done anything like this before? Perfect! Our coaches are here to help. They will be walking you through each part of your workout including what weights to use, how to safely complete each exercise, and how to work at your own speed.
At DSC there is no competition or need to keep up with anyone. It's all about you and your individual experience at DSC!
5) Exiting DSC:
Your class is done! Congratulations!
Once class is over your coaches will give you instructions on how to safely prepare to exit DSC.
Next to your personal workout pod, you'll notice your own bucket of disinfectant wipes. We ask that you grab wipes and wipe down any of the equipment you used in your workout pod once class is finished.
From there you'll put your mask on, grab your belongings, dispose of any wipes and exit DSC through the back garage door. This opening of the garage door allows for another round of fresh air before the next class, too!
We have you leave all equipment in your pod as your DSC coaches will then re-sanitize all equipment and place it back in it's proper area in preparation for the next. Yes, all equipment gets a double clean before it gets to your workout pod for you to use!
3| Advanced Cleaning and Disinfectant Procedures
At DSC, we are investing in the best cleaning and disinfectant supplies, services, and technology.
Here's a list of our cleaning procedures and services:
Double equipment clean before each class

Doubled the hours of professional restroom cleaning (added morning and afternoon shifts to professionally deep clean between classes)

Multiple daily deep cleanings of our break room and lobby

Deep cleanings of our restrooms 4x per day

Two full deep cleanings of our gym (late morning and evening)

Full cleaning of high-touch areas like door handles and countertops throughout the day

Hand sanitizer stations at entrance & exit of DSC, throughout the gym, and in both the restrooms and lobby

Personal CDC approved wipes at each workout pod
Here are additional cleaning and consulting services we've added:
Regular turf steam cleans

Regular rubber floor machine washes

Regular hospital grade disinfectant fogging (we've doubled the amount of this service this winter)

Our own hand-held disinfectant fogging sprayer to disinfect high-touch areas and equipment each day.
Click below to watch the video of our commercial hospital grade disinfectant fogging ⬇️
4| Air Purification System
We are so excited to announce the latest addition to our DSC Safe and Strong Program with our NEW Air Purification System.
Our new $5,000 air purification system was just installed in our HVAC unit and it's job is to kill 99.9% of airborne bacteria and viruses, including COVID-19!
It's takes air in, kills the virus, and then circulates the clean air throughout the facility. This state of the art system will be running before, during, and after each class at DSC.
We are very fortunate to have such a large, open facility with 2 very large garage doors. These doors work perfectly with our new air purification system. Before and after each class we open the garage doors to allow for additional fresh, clean air to enter and circulate within DSC.
We are all in this winter in creating the cleanest and safest environment for you to reach your health and fitness goals.
DSC is here for you now more than ever!
Ready to get started at N.H's #1 gym?
Looking to get a head start on your 2021 health and fitness goals?
Click below to get started now!