How Tony Dropped 9 Pant Sizes with DSC's Jumpstart Program!
Before joining DSC my "fitness" was mainly comprised of walking and occasional road running.
That's if my legs cooperated and I didn't injure myself.
I was really just trying to get myself moving after years of ignoring my fitness and nutrition but I wasn't always successful.
I owned my own food business for many years so I was surrounded by endless temptations of good but not necessarily healthy foods.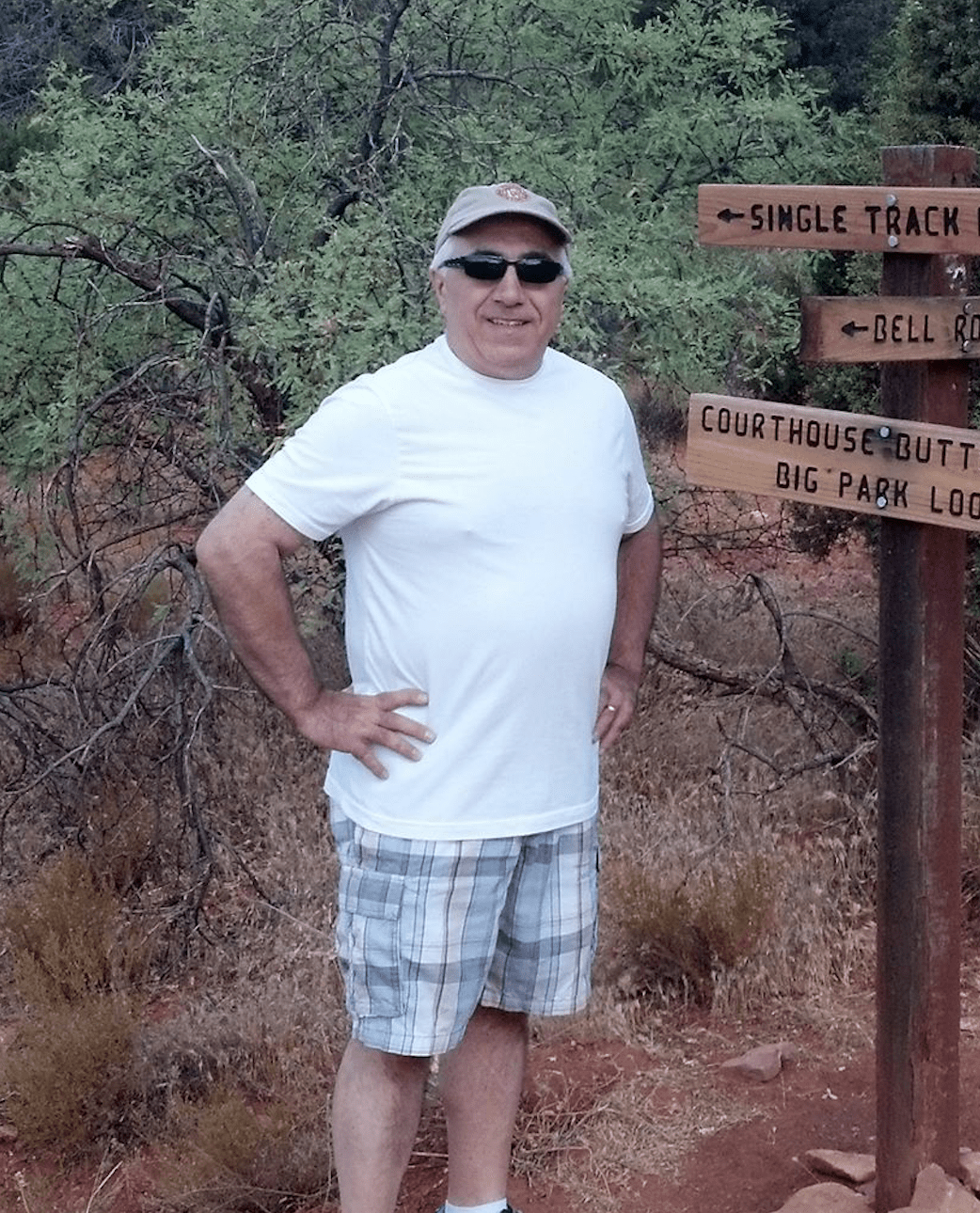 Additionally it's the type of business that made it difficult to find time to exercise with a demanding schedule.
I was at least 60 pounds heavier than I am today. After I sold the business, I started eating better and dropped some weight.
Although the walk/run routine I was doing was the most exercise that I'd had in decades, it was monotonous.
I needed something more, although I wasn't exactly sure what that was.
My youngest daughter was a DSC member back in 2012. She was living at home after graduating college so I heard all about her workouts on a daily basis.
I was pretty impressed with what she was doing but years later never made the connection that maybe that's what I needed, too.
I decided to give the one-month Men's Jumpstart Program a try.
That would allow me to see what DSC was all about. I figured I could do anything for a month and I'd know one way or another if it was for me by the end.
I was nervous to start at DSC!
It wasn't like I was looking to switch to a new gym because I never belonged to a gym other than maybe the YMCA 30 years ago. So this would be a totally new experience.
I had all of the same reservations that you hear about from others that were fearful about joining DSC. I didn't know if I could keep up and physically do the type of workouts that we do. I didn't know how I would fit in with a group training environment.
The men's group definitely seemed like it was a good way to ease into things. I was nervous but confident.
The first workout was great! Matt had us start with stretching and straightforward body weight exercises. There was lots of attention to proper form which laid the foundation for moving into some more challenging exercises.
I walked away feeling this was definitely something I could do and I always looked forward to the next class.
After the one-month Jumpstart, I decided to sign up for the regular Adult Co-Ed Group Membership.
My primary goal was not to embarrass myself. Seriously though, I wanted to drop some weight but that wasn't my main focus.
I was getting older and I wanted to get stronger and build stamina so I needed something that wasn't just cardio focused. I also wanted an environment where I enjoyed working out so I could commit to making it an integral part of my daily health and wellness.
I can't say enough about my experience at DSC.
I am now in the best shape of my life!
What is extremely rewarding though is to be part of a community of really good people. I see many of them 5 or 6 days a week.
We support and encourage one another.
We analyze what's sore from the previous workout.
I never expected this when I joined DSC. It's an intangible value and something that you simply won't get working out on your own or at one of the big box gyms.
I was someone that had difficulty making exercise a priority.
There was always an excuse. No time. Simply unmotivated. Unsure of what exactly I needed.
I was masterful at talking myself out of it. The decision I made to give DSC's Jumpstart Program a try was life changing!
Fitness is now an integral part of my daily routine and my overall wellness.
I'm pretty dedicated and usually hit a class 5 to 6 days a week and Recharge on Sundays. I'll listen to my body and take a day off if something is bothering me or if I just feel like I need a recovery day.
Seeing the results I have achieved because of my consistency is so rewarding.
Let's just say, I used to have up to a size 38 waist jeans in my closet.
I am now a size 29!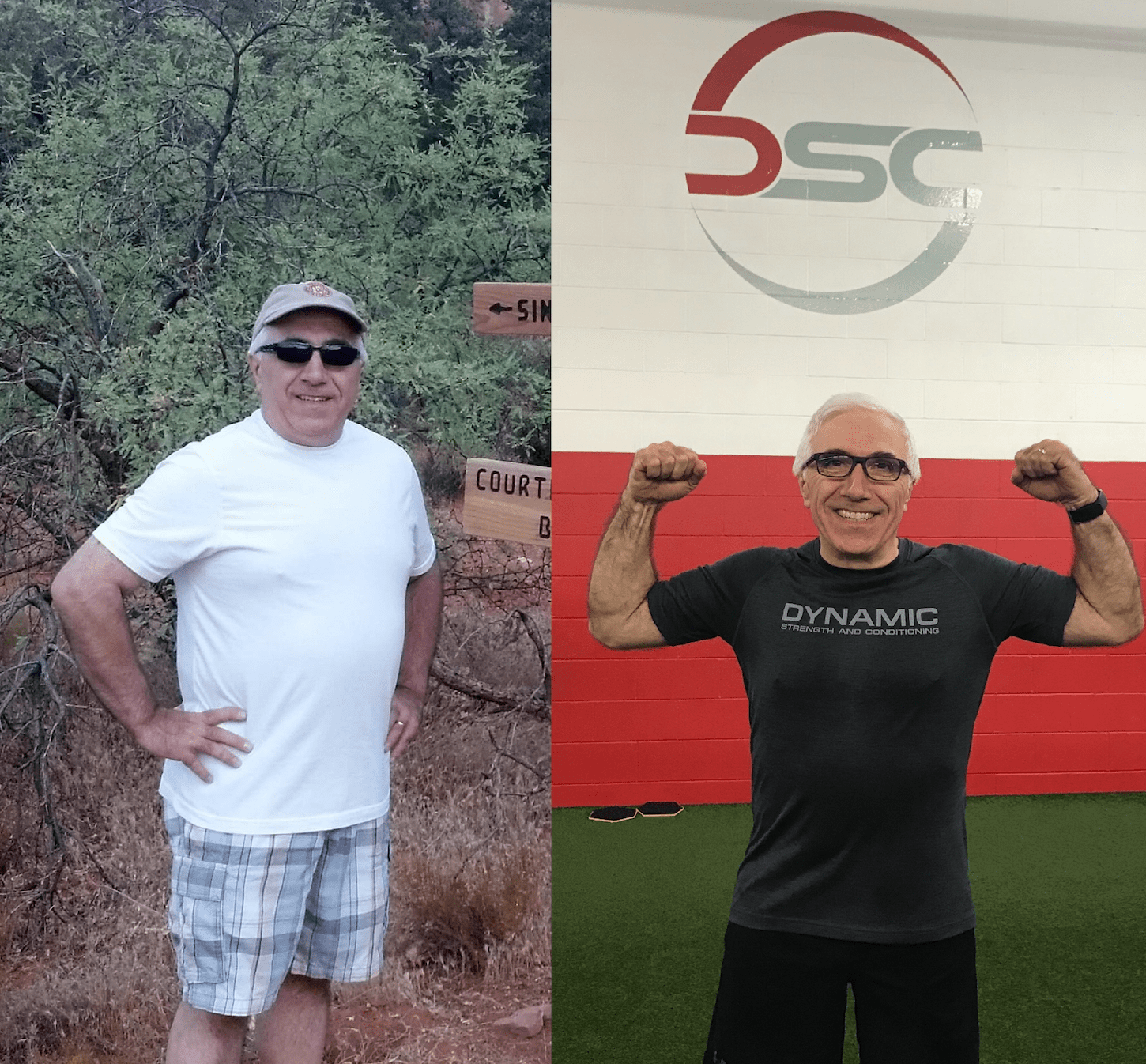 I've lost 35lbs of bad weight and put on a considerable amount of muscle.
I've had to replace all of my clothes.
I've never felt better both physically and mentally in my life.
I am stronger, have more stamina and just feel better about my overall health.
There's a history of high cholesterol and hypertension in my family so I've made a concerted effort to avoid those issues through exercise and a healthy diet. I've reached the point where I'm happy with my weight and continue to focus on building lean muscle and my overall strength, which is important as I get older.
The nutrition program at DSC actually helped me adjust my eating to support this goal. I eat pretty healthy but what was important was learning how to balance what I ate and not just count calorie intake.
The combination of performance and cardio workouts improved my conditioning to the point where I had the confidence to take on some new challenges.
I started with Spartan Fenway and the following year I completed a Spartan Trifecta, which is one each of their 3 different race distances. But as much as I liked the challenge of an obstacle course race what I really enjoyed was the trail running and hiking I was doing to prepare and during the actual race.
This year I focused on trail and mountain races. I find them every bit as challenging as Spartan. And being smaller and locally run, they're not as commercialized and have a great atmosphere -- Kind of like DSC!
I never thought I'd enjoy working out in a group as much as I do. There's something to be said for shared whining and complaining. Seriously though, it is more enjoyable working out with people that you see all the time and have developed friendships with. The camaraderie is so motivating.
You also never need to worry about the makeup of your workout when you show up for a class.
Everything is mapped out for you. Workouts are creative, challenging and fun!
I also like that Matt is always looking for ways to improve the facility and new equipment is added and upgraded regularly.
When I first joined DSC, I was doing strength training 3 days a week. I was feeling great, gaining strength, stamina and confidence.
It wasn't until I started going to Met-Con classes on alternating days that I really started to see the results I was looking for. The combination of performance and cardio-focused workouts drastically improved my overall conditioning. I was also able to get back into trail running without the fear of injuring myself.
I also take advantage of Coach Kurtis' Sunday morning Recharge class. It's a great stretch/yoga/movement class and allows me to work on any aches and pains or stiffness from the week.
Here's my advice to men thinking of joining DSC's Jumpstart Program:
I totally get being apprehensive about starting an exercise program, but you won't find a better place to begin the process than at DSC.
So, my advice is to give it a shot!
The potential benefits far outweigh continuing to do what you're doing.
The coaches are outstanding. They will guide you, encourage you and push you.
If you have an old injury that's holding you back, just let them know and they'll work around it.
You'll have a support system that you simply won't have exercising on your own or going to one of the big box gyms.
You'll wind up surprising yourself when you reach the point where you welcome being challenged to do just a little bit more, only to find out that you're more than able to.
- Tony