How Stephanie Lost 21lbs During Quarantine!
I first joined DSC back in the fall of 2018 when my gym of many years had to close its doors. I am such a creature of habit so looking for a new gym to join was incredibly stressful. Thankfully, I had been hearing so many great things about Dynamic Strength and Conditioning from my dear friend and so I knew without a doubt that it was going to be the gym for me.
I was very nervous on my first day, but all of the coaches went above and beyond to make me feel welcome as did many of the other members.
I remember being blown away by how quickly the coaches knew my name especially since almost everyday it seemed like someone new joined my class.
Now I am not gonna lie... I allowed a lot of obstacles to get in my way my first year as a DSC member and so my attendance was not as consistent as it should have been. I always felt better when I did go but just couldn't seem to get myself into a routine.
In the fall of 2019 I made a commitment to myself to make a change. I made sure that I consistently went to the gym 5 and sometimes 6 days per week and I quickly realized how much I looked forward to my gym time.
The coaches make things fun while still challenging us. You can tell the coaches take the time to really get to know each member and they know how to push us just the right amount while keeping us safe. For a couple of months, I was dealing with a back injury and every single coach was so helpful in giving me alternatives to keep me moving without further aggravating my injury.
I seriously can not believe how lucky I am to have found such an incredible gym family to be a part of.
Back in March, when DSC had to temporarily close its doors due to COVID-19, I was heartbroken.
I felt like I had finally hit my stride and was starting to see some progress and now that was all going to go down the tubes. I have always hated working out at home and didn't think I would even give it a try.
I quickly changed my mind though because I thought about how hard I had been working and how I was starting to see positive changes. I wanted to keep that momentum going.
I ended up doing every single 9am online live workout during the shutdown! I am so impressed with all that the coaches did for us during the shutdown: 2 live online workouts per day, book clubs, happy hours, nutritional support, and the themed Funky Friday workouts to name some. They seriously went above and beyond to make an otherwise dismal situation fun and entertaining.
The April and May online challenges were huge in helping me maintain my focus. I learned a lot about nutrition and what I should be doing differently like increasing my water intake and eating more protein.
Also, I was blown away by all of the love and support on the DSC Family Facebook page from coaches and members alike. That page quickly became a lifeline of sorts for me and I have formed so many new friendships as a result.
Thankfully, DSC is now open again and providing us with safe but still super challenging workouts. It is impressive all of the measures that have been put into place to keep us healthy and safe. It feels so unbelievably good to be back in the same room with all of my friends, new and old.
I am incredibly proud to say that I have lost a total of 21 pounds since the shutdown started and I am down 2 pant sizes and 3 shirt sizes.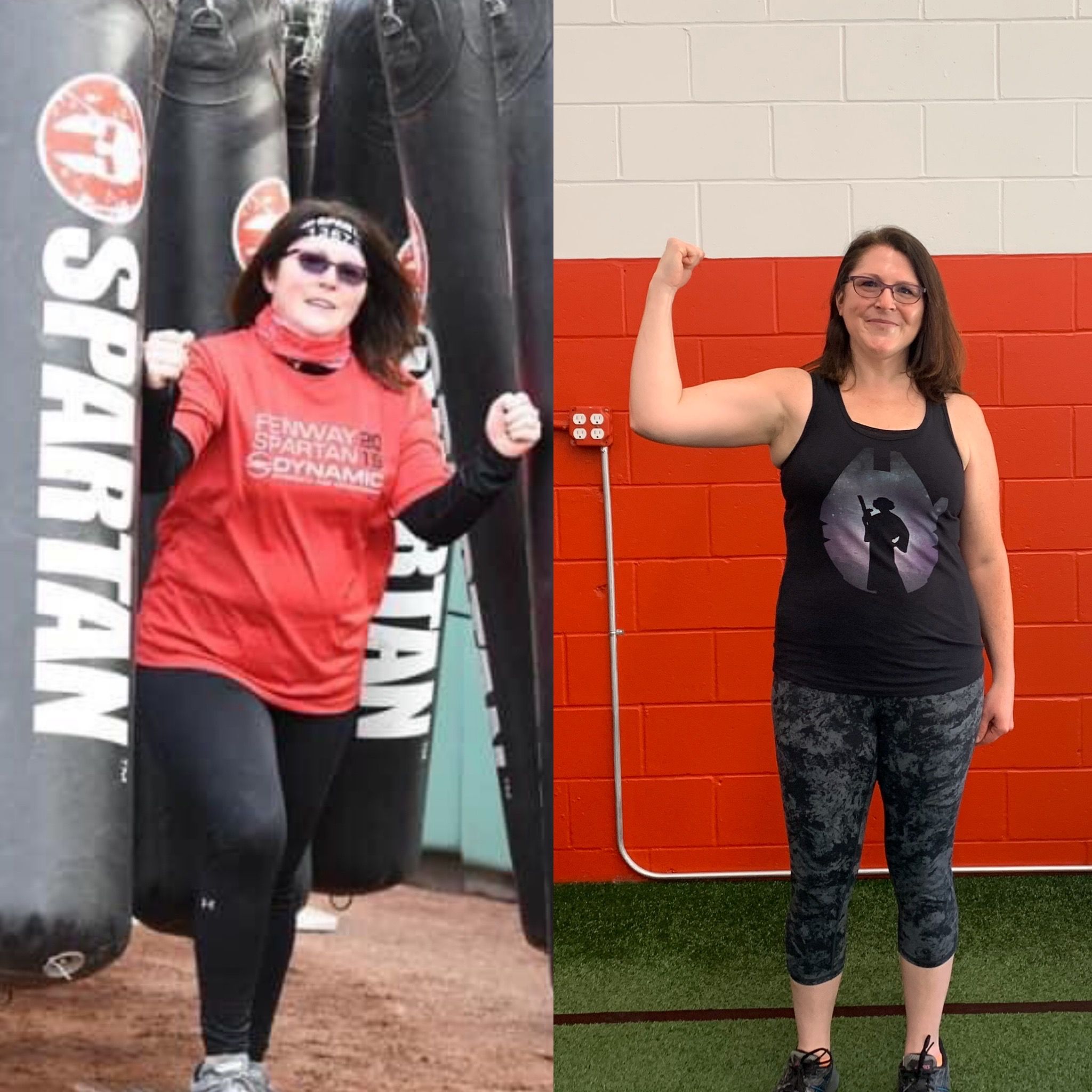 After 7 years of trying to lose my "baby weight" that is a pretty big deal.
It feels really good to say that at 46 years old I'm the healthiest and strongest I've ever been! I am so thankful to the coaches at DSC for helping me get there.
Anyone out there who is on the fence about joining, don't be! I promise you that you will not regret your decision to join DSC.
Whatever your goals may be, the DSC coaches will help you get there and the other members will be cheering you on the whole way!
- Stephanie
Our 30-Day Jumpstart Program starts Monday, July 6th!
This program is specifically designed to help you get started!

✔️Unlimited workouts (at DSC or online from your home) (perfect for all levels)
✔️Easy to follow nutritional guidance
✔️Fat-loss meal plans
✔️Support and guidance
Get into the best shape of your life in 30-days!
Click below to register! ⬇️
Join our 30-Day Summer Jumpstart Program!
Get into the best shape of your life in 30-days!
Sign Me Up!