How Stefanie Transformed Her Health and Confidence at DSC
Before joining DSC a typical workout was inconsistent for me. When I did exercise, it was going for a walk or an occasional run.
At that time, physically I felt weak and mentally very unhappy with how I looked and I had very low self esteem.
The goals I was hoping to reach were fitting comfortably in my clothes again, having more energy, and being much more confident.
That's why I joined DSC.
I didn't really have too many fears about joining DSC because I was recommended to join by my best friend, Angel who was already a member and she offered to take classes with me!
I was still pretty nervous though heading in for my first class, unsure if I would be able to keep up or be able ask for help.
The first class went GREAT however! The coaches were so helpful and accommodating. I left so excited for my next DSC class!
Fast forward to today and I love everything about DSC!
The workouts are great and so fulfilling. I feel proud and super sweaty every time I leave the sessions. The coaches are helpful, caring, funny, genuine and motivating.
During my past workouts before DSC, I always felt confused or unsure of what to do. I would have no direction so ended up doing nothing. That's not the case at DSC as they're always attentive to me and other members every step of the way.
Since joining DSC, I have lost 15LBS!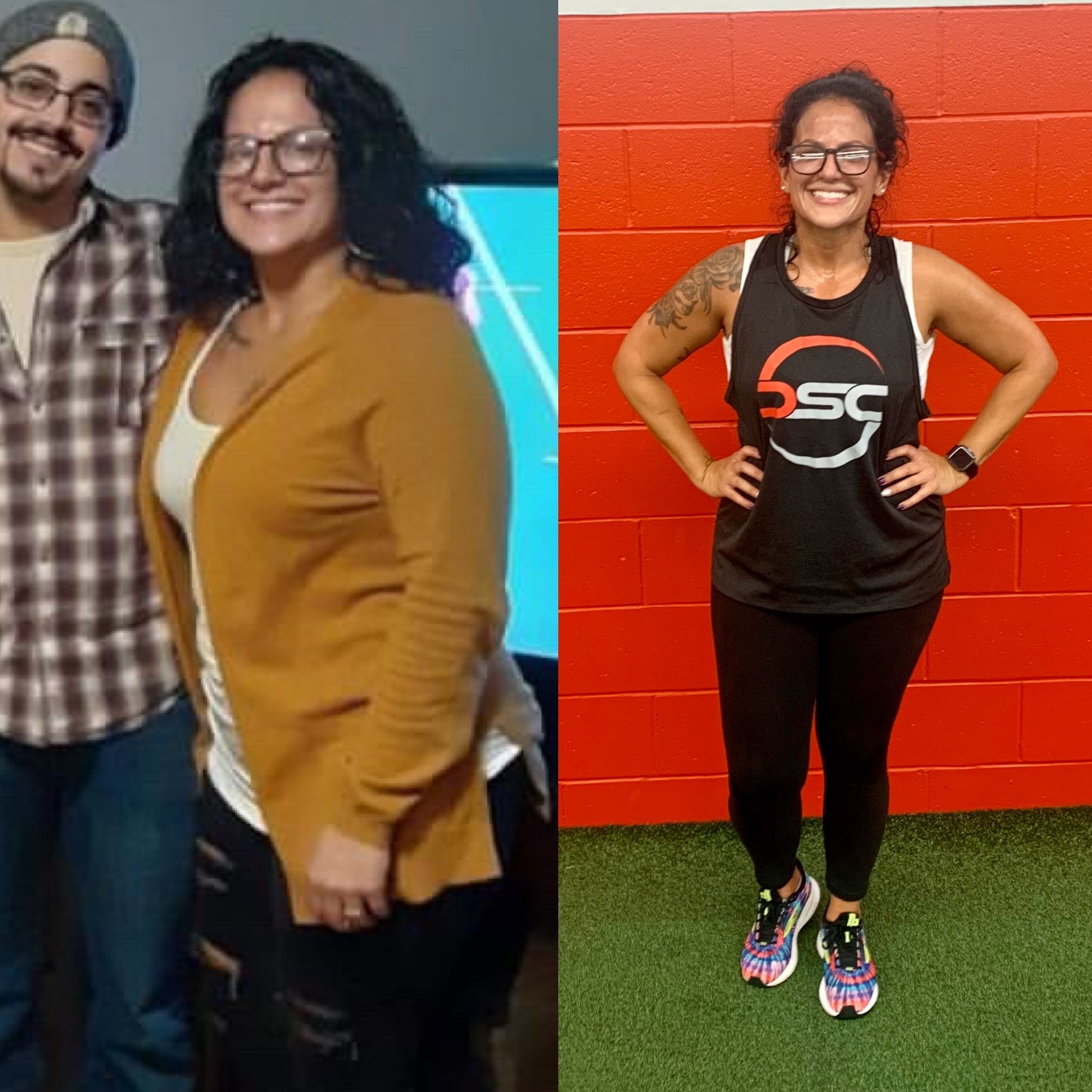 I am just 5lbs away from my goal weight that I know I'll get to.
I now fit comfortably in my clothes and have gone down one pant size and now fit in a size medium shirt.
I am so much stronger and confident because of DSC!
DSC is also a great stress reliever. Being a single mom of two teenage children can wear me down but stepping foot in the gym with the coaches and equipment gives me a chance to release everything on my mind and just focus on the circuits, my time and feeling good.
My favorite part of DSC is strength exercises! I love strength alley, trap bar deadlifts, and the bench press.
DSC has made me feel so confident and has made me realize what I am capable of. It has really pushed me out of my comfort zone during the workouts and I feel proud of myself for what I accomplish.
Are you thinking of joining? My advice would be to join DSC right away!!! All the coaches are wonderful and uplifting and they make you feel important and like family. No routine or day is like the other, which makes you want to keep coming for your next workout!
Thank you DSC for pushing me to share my story even though I was nervous, shy, and anxious to. Also thanks to all the coaching staff who have noticed my progress and wanted me to share it.
- Stefanie
Ready to get started at DSC?
Our 6-Week Fall Fitness Challenge starts October 3rd!
Our Fall Challenge includes:
1. Unlimited Coach-Led Workouts
2. Healthy Eating Nutrition Guide
3. Fat-Loss Meal Plans
4. Results
Click below to register ⬇️