How Shelby Lost 35lbs After Years Of Frustration!
Before DSC I did a mix of things.
I tried going to Planet Fitness, but I just walked around and got on whatever machine was open, then got bored after 20 minutes and went home.
I tried a barre class which was fun to do but I didn't feel like it did much for me.
I also tried a personal trainer at a gym near my house but I still really just hated going; I felt as though it was something I could find on YouTube and do myself.
I had found out about DSC because a few of my cousins had been going for some time and I had heard them talk about it a lot and how much they loved it.
Plus the results I saw from them were amazing so I figured, hey why not give it a try!
By joining DSC I was really hoping that I could get into a good, consistent workout routine.
I was hoping that I could workout and eventually feel better, less exhausted, and better mentally.
I was also hoping that I would lose weight in the process and be more confident about my body.
Like others, I had plenty of fears before joining DSC.
I wondered if I would be able to keep up with everyone else in class.
I wondered if people were going to judge me because I probably wouldn't be able to do it right.
I also wondered if this would just be another gym that I would try for a few months and then quit again.
At my first class, walking to the doors I was so nervous that I almost got back into my car and went home. But as soon as I got inside all of my nerves subsided, starting with meeting all of the coaches.
They were all so helpful and made me feel so comfortable there. I'm not going to lie, the first class was tough for me and I was definitely out of breath, questioning my ability to do it. I just gave it my best though and made it through!
Since then my overall experience with DSC has been an amazing one! I started out with 3 classes a week and decided after a few months of going that I wanted to upgrade to the Unlimited option and attend 5 classes a week.
I LOVE going!
Even when I'm in a terrible mood before I get there, the coaches are always making me smile from ear to ear and going there is always my favorite part of the day!
The classes are challenging and the workouts are always new but a great thing about DSC is that if something in the workout needs to be modified for someone due to an injury or even just soreness or anything, they will absolutely modify it for you.
I weighed myself the end of September before starting and I was the heaviest I had ever been.
Since going to DSC, as of last month I am now down 35 pounds!
I wear tank tops now and actual jeans and I feel great about my progress.
My pants don't fit anymore and I am constantly pulling them up all day, so it might be time for a shopping trip!!
I feel like I have so much more energy and I am in such a happier mood and mindset!
I also feel so much stronger now from when I started. I am amazed at the weights I can use now and have constant reminders of how far I've come during classes!
My favorite part about DSC is that everyone treats you like family and boosts you up.
This is the first gym I have ever gone to where I feel comfortable and confident enough to do any workout that is going on that day.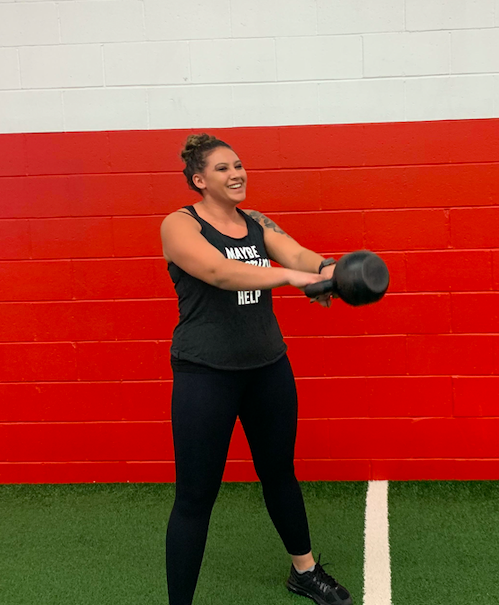 The coaches are your biggest cheerleaders and they care so much about you.
My favorite part of the workouts is when we do the group finishers because they're always fun and always a challenge for me.
The advice I would give to someone who is thinking of joining is to just do it, because you will not regret it.
Also that even though it looks so intimidating (trust me, I was scared too), but once you're in there it really is not scary and do-able!
It is so much fun and it WORKS! You just have to get yourself there to find out!
- Shelby