How RJ Dropped 24lbs with DSC Online
I started in the Fall of 2019 at DSC. I had broken my foot a year prior and really fell into some bad habits after, which led to me being the most out of shape I've been in over a decade.
As a result, I had developed sleep apnea and didn't have the energy I used to have.
One day I just got sick of it and decided it was time to change.
I wanted to lose weight and get stronger.
I contacted DSC and was in the gym the next day for my first workout!
I'm competitive by nature and pushed myself really hard out the gate. The coaches were great about reeling me in at first and helping me realize it's better to ease into the workouts so I could get more out of it.
With the in-person workouts prior to COVID, I became as strong as I have ever been. I hadn't lost much weight though, and that was because I wasn't doing the things I needed to do on the nutrition side of things.
I was concerned that I wouldn't be motivated to workout when COVID closed everything down. I've tried the home workout thing before and hadn't found success.
I was determined more than ever to lose weight and maintain the strength I had built though, so I was really motivated to figure out how to turn this challenge into a win for me.
The transition, along with pretty much all other aspects of life when quarantine started, was strange. The energy of the in-person workouts is very different than working out at home. I think having had time live with the coaches prior to COVID helped to create a more personal feel to the online workouts. Also, I didn't' have any heavy weights at my house to continue to maintain and build my strength so I was concerned I'd lose the strength I'd built up since I started.
My wife, Angela, and I have been doing the workouts together for the most part. She was in the Women's Groups prior to COVID and started with the easier versions of the workouts while I did the more advanced. She's progressed to the more advanced options for most exercises now! We've kept each other motivated throughout COVID – and it's resulted in some great success.
DSC has done an amazing job adapting to a challenging situation for everyone.
We had a few small weights around the house that Angela and I were able to use and then we scored a large kettlebell online and some extra weights from a friend at the beginning of lockdown. That weight resistance has been pretty key for me to maintain my strength.
Also, the quirky personalities and theme days the DCS coaches brought to the workouts provided the right level of entertainment with the workout. Angela swears at Coach Renee a lot through the TV, Haha! It's all love though!
One really cool part has been my 6 year-old son likes to come in and join us in our living room sometimes. He hates the wall sit challenges, but likes to challenge himself. It's encouraging to see him enjoying the thought of working out and I think having him and his sister see their parents prioritizing working out and living a healthy lifestyle will set them up for healthy futures.
I love that DSC has a lot of workout options that can fit into many schedules and personal desires/needs.
The Facebook group is there for those who like that kind of interaction. I've also had to email about a couple workout questions and the coaches always get back to me. It's really an amazing ecosystem DSC has put together and there are so many ways to interact with the team and other members that I'm sure everyone can find the right fit for them. The great part is that members at DSC respect the unique path other members take. Everyone in the "DSC Family" is positive and encouraging to one another.
When the nutrition program was announced for May, I jumped right on board. Angela needed some convincing, but once she agreed she dove all in as well. I had already started losing some weight, but the program provided macro goals that were new to me, combined with the best app I've used yet – MyFitnessPal. I've used other apps like Noom and Lose It! mostly for research for my work, but MFP has a different feel and pairs really well with the full experience DSC has put together.
Overall, I'm disgusted at the amount of carbs and calories I used to eat. It's been enlightening to go through this nutrition journey in that it's a very different way of approaching food; I don't feel deprived of food in any way. There's plenty of great stuff I can eat regularly and I'm just more sensible about how or if I eat the other stuff that will not support my weight loss goals. That's what makes this sustainable as opposed to a diet.
I can see myself eating this way forever. It's really not a strict diet, rather it's been a lifestyle change.
Before COVID, I had been going to DSC for about 6 months. In those 6 months, I built a ton of strength, but I never focused on my nutrition like I should have. Once COVID hit, I decided to start focusing more.
I'm currently down 24 pounds since quarantine!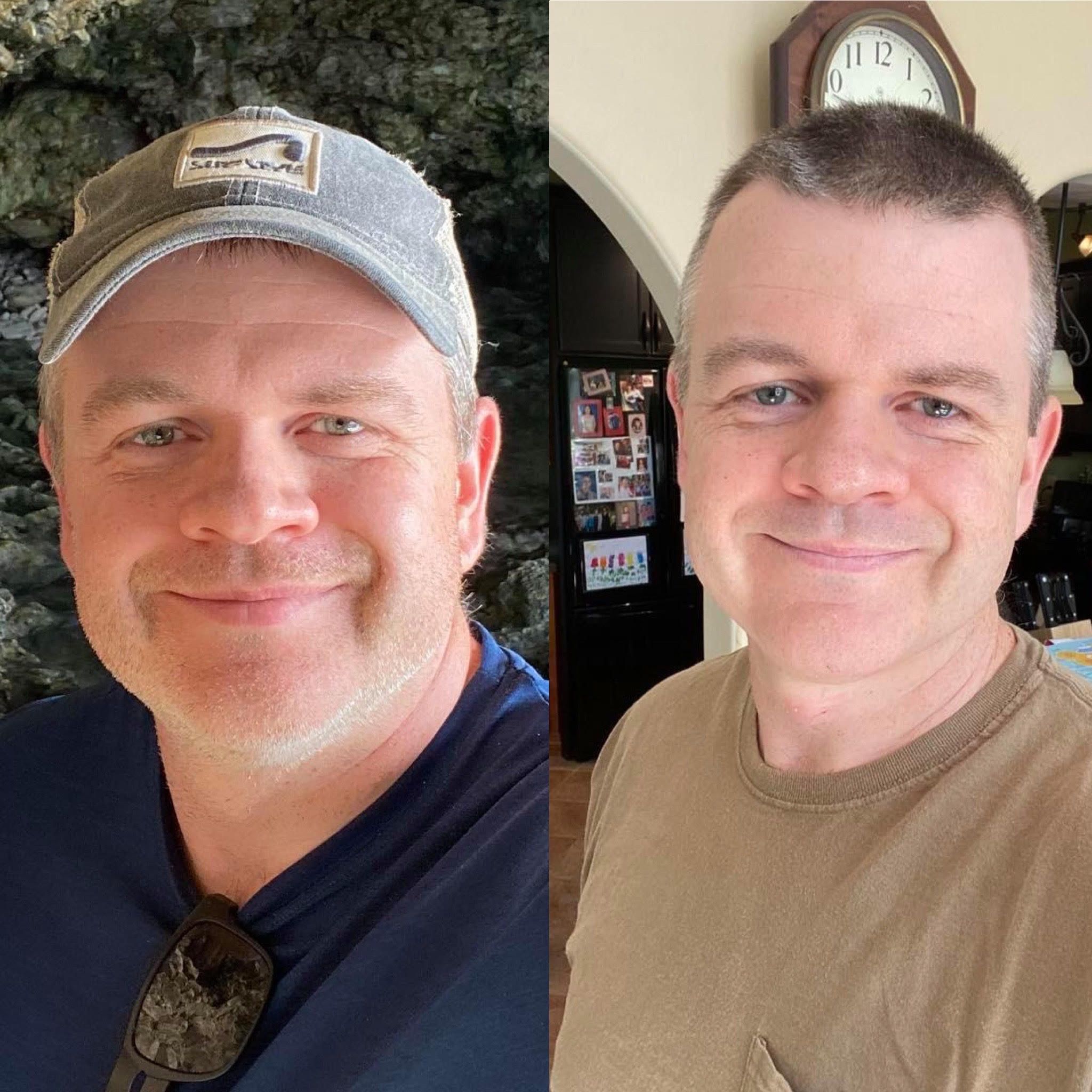 I've lost ~14 since the start of the May nutrition program and had lost about 10 before that. I have another 16 to go to hit my goal but my clothes are fitting way better. My flexibility is increasing quite a bit too. Probably all the exploring Kurtis has us do in the Sunday Recharge workout!
The big non-scale victory that happened over the past week is that I'm currently phasing out the use of the CPAP machine I used for sleep. I think 10 more pounds and I'll be able to throw the thing in the garbage. That will be a great day!
Reforming my eating habits has been the game changer for my weight loss. Using challenging weight resistance has been key for my strength. Overall for both, consistency has been the key driver.
I have no plans to go backward, so I'm making sure my approach is sustainable for the long term.
It's very easy to make excuses. That's what I did for a long time. If your health is important to you though, DSC is your best partner to make that happen. If you are ready to change, prioritize it and dive right in.
Talk to one of the coaches about what you are trying to accomplish, then get into the program and schedule that's right for you to accomplish those goals and commit.
For me, it's always been a matter of prioritizing. My first 6 months I committed to the workout part and felt far stronger. I expected to lose more weight, but my nutrition was not where it needed to be. Understanding that exercise was about strength and mood for me and nutrition was the key factor for weight has steered me down a better path to achieve my goals.
- RJ
Ready to get your health and fitness routine started?
Our 30-Day Summer Jumpstart Program begins July 6th!
✔️ Unlimited DSC Workouts (Online from home or at DSC)
✔️ Nutritional Guidance and Coaching
✔️ Fat-Loss Meal Plans
✔️ Support and Guidance
✔️ Results
This program is 100% dedicated to helping you jumpstart your health and fitness this summer!
Click below to register! ⬇️ Only 30 spots available!