How One Couple Lost 39lbs with Our Nutrition Coaching Program!
Before DSC, I was pretty typical with my nutrition issues -- too many carbs and my portions were too large.
Throughout the years, I have tried different fad diets and programs.
I had some success with those various programs, but of course once I reached my goals, I would put it all back on and then some.
My husband Mark, on the other hand, has never really had to worry about his weight.
He could eat whatever he wanted and not worry about gaining weight until the last 5 or 6 years or so.
Yes, he could stand to lose some weight, but that was not his main goal.
We were looking for something that was going to be sustainable forever and would actually be a lifestyle change not a diet for both of us.
Two years ago Mark was diagnosed with pre-diabetes.
His A1C had been steadily climbing and was hovering just below the diabetic level.
He did not want to be on medication for it and committed to trying to control it with diet and exercise.
While he has not seen it go down, it has not gotten worse either. Type 2 Diabetes runs in his family so it may be inevitable one day, but for now it is remaining stable.
I on the other hand, just wanted to feel and look better. I knew that in my current state, it was just a matter of time before I suffered from these same kinds of health concerns.
In the past, some of my struggle has been because Mark could eat whatever he wanted and I would be the only one trying to lose weight.
Doing this program together has been huge for us! For example, one struggle for Mark was with ice cream. No, really! Since he had never really had to watch what he ate before, keeping an eye on things that he really liked was a new challenge.
There is nothing in the house that tempts us now though and we are not eating different things at meal time. Eating together has been an unexpected added bonus!
We have each learned a ton as well. We both thought we knew a lot about nutrition, but clearly we did not. A lot of what we thought we knew were actually myths.
This is the first time we have done any kind of program that encourages weight loss where we do not feel deprived while doing it.
We feel full and satisfied.
We feel like we are eating so much in fact!
We are eating foods we enjoy.
Some days I even have to add an extra snack to reach my macros and calories for the day.
Syd (my DSC Nutrition Coach) has been so great about answering our questions and has definitely been our biggest cheerleader. I look forward to getting her emails on Mondays.
At the half way point, Mark had lost 3.625 inches from his waist and 4 lbs.
More importantly, his sugar has been lower every time he has checked it. It is not spiking at all.
He has taken in his belt a notch.
Fast forward to now and we just completed the 12-week program!
I am so excited to announce that Mark has lost 10.5lbs and 11.25 total inches!
Most importantly his blood sugar levels have been in the 100-105 range vs. his typical 130-135!
As for me, I have lost 29lbs and 14.75 total inches!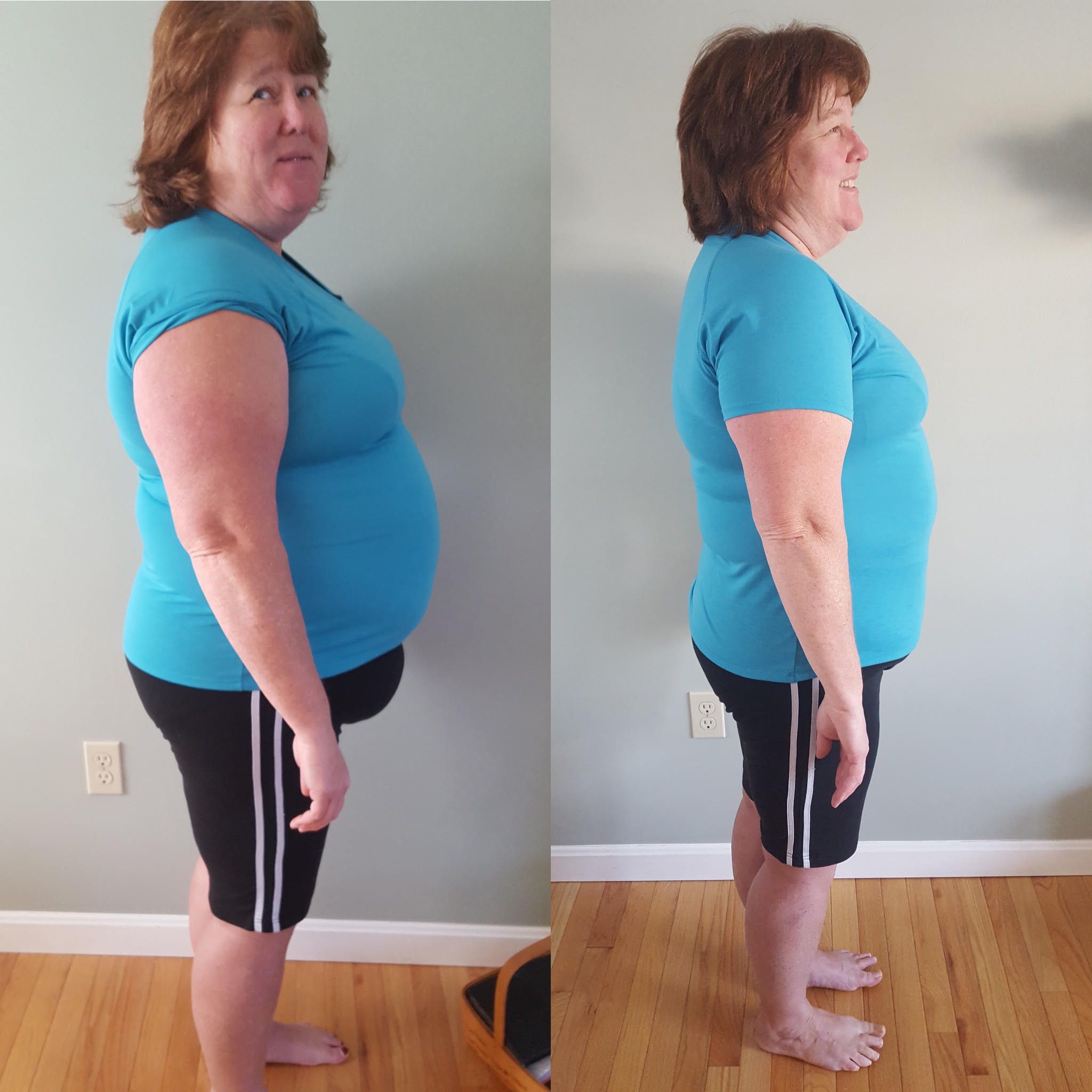 WE BOTH FEEL GREAT!
In one of the first videos, Beth said we have to think of the program as a 12 week class.
We would learn a new concept each week and then build on that.
By the end of the program, we would have the knowledge to make good choices for ourselves that would last our whole lives.
Syd said most of us probably wouldn't even realize how much we will have changed our eating habits because it will be gradual. That message resonated with me from day one. It made the whole concept approachable.
Our favorite part is we are not mandated to eat anything in particular or to eliminate any entire food group. For example, I do not like seafood. Every other program I have participated in, seafood was a big part of it. So right from the start, I felt like I was either failing or I was eating stuff I did not like.
Neither one of those options are sustainable.
We have learned so much, but I would say the biggest lesson is that you should be eating more food than you would think even when you are trying to lose weight. The difference comes in the quality of foods you are eating!
So if you're ready to feel and eat better, just do it! I can't recommend the DSC Nutrition Program enough.
Listen.
Embrace the changes.
Participate in the group.
If there is something that is holding you back from being successful, share it with your coach.
The coaches are so supportive and will help you find a way to meet your specific needs.
They are full of suggestions on ways to overcome your hurdles and they do not judge you.
I have never felt once that my success while doing this has anything to do with sheer will power, which is a totally new feeling for me and I love it.
Having a supportive partner in addition to the coaches made a big difference! If Mark and I can achieve this much success, so can you!
- Janice