How Nancy Lost 50LBS at DSC!
In the past I had belonged to a few gyms like Planet Fitness and Curves but it did nothing for me and I never went so really didn't have any experience prior to joining DSC.
After seeing DSC online and mentioning it to my sister, she really nudged me to call and get more information. I was nervous to get started because I had a meniscus tear and wasn't sure if I could do it.
When Sara told me the coaches would modify around it and help me through the class I was very skeptical but I decided to commit to just try one class.
I'm not a social person at all – when I pulled in the parking lot I was incredibly nervous. It was so outside my comfort zone.
I had just retired and I remembered how when my mom retired, she basically sat around and watched TV... I knew I didn't want to do that and I wanted to use this time to focus on myself, making sure I felt good and was setting myself up to stay limber, healthy and able to enjoy retirement.
Well, Sara was right! They did work around my injuries and settled my fears before my class. Even though my first class was like there 3 years ago now and I don't remember much else about it, I do remember calling my sister right after from the parking lot to tell her that I did it!
It was awesome and I felt right away that there weren't any cliques or judgement at DSC from the coaches or other members.
I was also blown away that they remembered my name after that first class and truly knew all the members!
One thing I like best about DSC is how real the members are; there's no intimidation here. Everyone is going at their own speed and just trying to do their best.
I started out coming 2x/week and then bumped up to 3x/week because I loved it so much and hated having so many days off in between.
When I joined I was hoping to lose weight and just keep myself limber and live a healthier lifestyle as I aged. I have definitely accomplished that and more.
All of the coaches don't just know the exercises, they are professionals who have the experience and the customer service to back it up! Knowing everyone individually and customizing the workout according to your needs creates an environment for everyone to be successful.
And these coaches seriously know what they're doing. That's the big difference. At my previous gym experiences there was either no one there to help me, or some kid that didn't have experience who provided the same run of the mill, one size fits all "help".
I just love it here at DSC! I never imagined myself actually attending, let alone genuinely enjoying a gym like this. If you come once you're going to want to come again!
The nutrition program was also a great addition because it taught you how to eat better but also paralleled the importance of overall wellness with how to eat for your workouts and things like hydration, sleep, etc.
Since joining DSC I have lost 50LBS!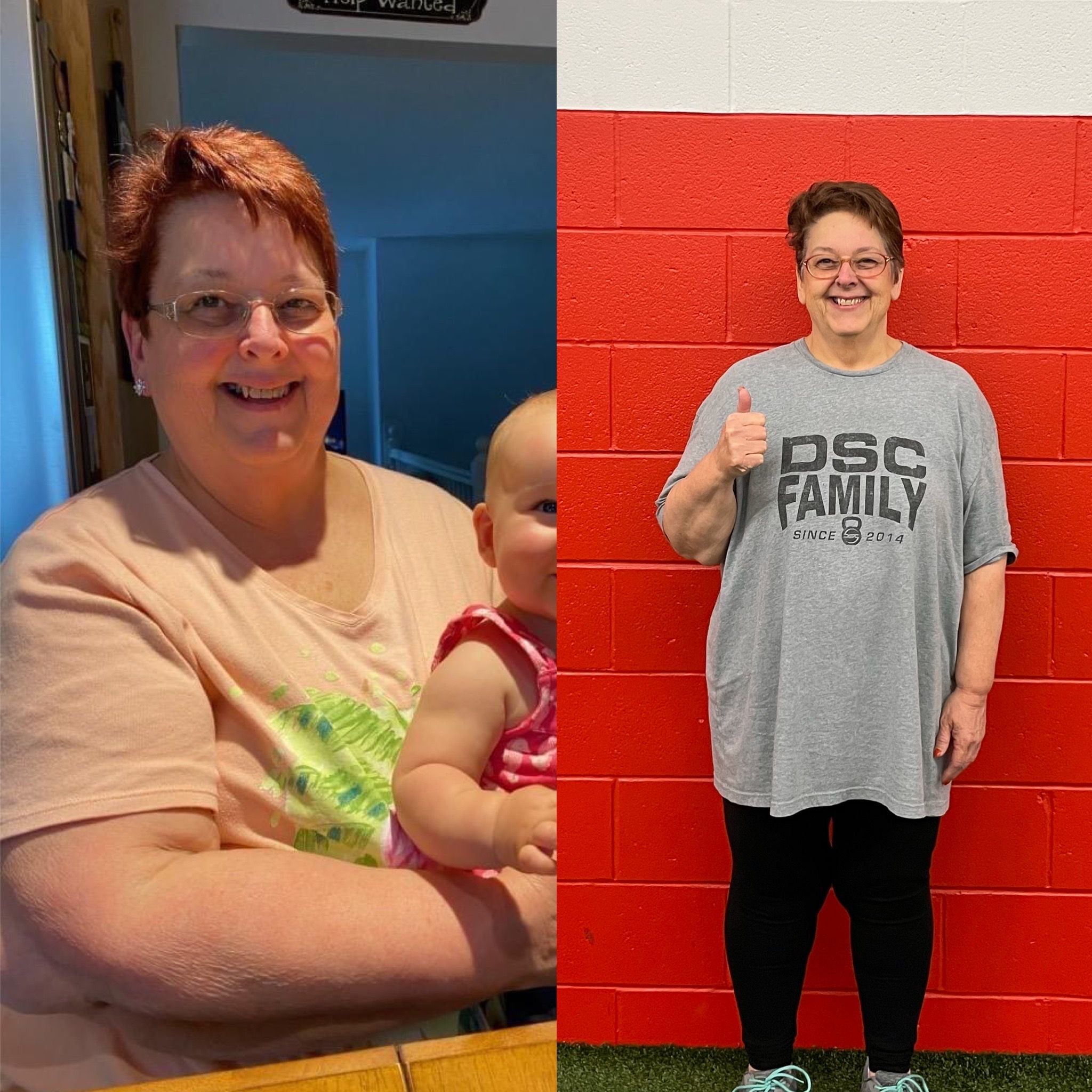 The workouts have become easier because of my weight loss and I've noticed progress in so many other ways like using a lower bench (I'm not able to get on the floor due to shattered knees), increase in strength, increase in energy, and the weights that I use during the workouts have increased considerably from when I started!
I've also found community and unexpected friendships at DSC. Our gym group helps hold each other accountable and we meet up outside of DSC as well! Especially since not being in a workplace anymore this aspect has meant more to me than I thought.
My favorite part is actually leaving every class sweating… I leave here every single time feeling refreshed and invigorated. The workout is different every day you come and every three weeks the strength blocks change.
Because of this I always look forward to seeing what's coming next and what will be programmed. Plus they have great music going, keeping everybody moving and the energy high!
DSC has made me happier and healthier! It gives you a routine, something to look forward to, friendships outside of the gym, and accountability.
Are you thinking of joining? Just join! I know everyone says that but it's because it's true. Don't overthink it. Just come once and if you don't like it, don't come back…. But you will definitely want to come back. I don't see how it's possible not to love it. And trust me, if there was anyone who would not want to come back it would've been me. And here I am three years later!
- Nancy
Ready to transform your health and happiness in 2023?
Our 8-Week New Year Nutrition Challenge starts Jan. 16th!
Register before 12/31 and save 10%!
Click below to reserve your spot! ⬇️