How Mike Went From a Plateau to 20lbs Down!
When I first joined, I just wanted to find somewhere I could get a good, challenging workout. I felt like I had hit a plateau in my prior workouts and needed more of a push. I haven't been disappointed.
When I first got started at DSC I was extremely nervous and intimidated. I was certainly fearful of the unknown and I was concerned that I wouldn't be able to 'keep up' with the pace and intensity.
The difference was, DSC's coaches are great! Very personable. Made me feel comfortable from the start. They'd check in regularly and offer alternative exercises. They also realized it was my first workout/week, so they'd make sure I was taking breaks, didn't have any pain/issues and would correct my form as needed.
After the workout, I felt GREAT to have finished and wanted to come back for more. Funny though, because I still had that anxiety for a good month and a half after I joined. DSC continued to show me support though and slowly but surely my fears went away!
I love the variety of workouts and feel like all of coaches do everything they can to encourage you to keep pushing/improving. The camaraderie is fantastic and I really enjoy seeing familiar faces each night; everyone is so encouraging and supportive to one another. The team and partner workouts are some of my favorites as you really get to work together to accomplish a goal.
So my workouts were going great, but when it came to DSC's Nutrition Coaching, I was again hesitant at first. I had participated in a few nutrition programs with mixed results previously. I would lose weight and body-fat during the program, but then gain it all back again. I always felt like I generally knew how to eat but, I just wanted to be better.
I am going to be 48 this year and wanted to get in the best shape of my life. Initially, I wanted to look and feel good, with a goal of losing 10 pounds and maybe 2% body-fat. I accomplished that and more halfway through the program!
Before joining DSC and the Nutrition Coaching Program I was not eating the right mix or amount of food and certainly was 'cheating' more often than not.
Also, I work out at 5:30 almost everyday and thought I was eating enough during the day, but would always be hungry within 45 minutes after eating dinner. Typically, that would result in making an unhealthy choice for a snack.
Learning how to track what I was eating was the best tool for me. Prior programs that I was involved in always focused on the percentage of macros. I found that by having certain grams of each macro (protein, carbs, and fat) to track to each day was very helpful. Within a few weeks, the coaches were able to get me to a point where I was full after dinner and wasn't looking for another meal within an hour after eating.
The most important things I learned were: the importance of food tracking, food prep and the 80/20 rule. I have never been a huge fan of tracking my food, but it makes a HUGE difference. I found that when I put my meals in at the start of the day, it made my snack choices so much easier. I don't always food prep, but I notice a difference in my eating habits when I do (less picking, healthier choices vs. just grabbing what's quick and available).
Also, I know that if I have a bad meal or a bad day, I can get back on track with my next meal. Trying to be perfect 100% of the time with your nutrition isn't reasonable and the program taught me how to eat for life, not just for a few weeks in order to lose weight.
I wanted results and I wanted to make changes to my eating habits, but I didn't expect the results I achieved!
After about 3 weeks, I noticed my energy level had increased considerably! I have been able to increase weights during my DSC workouts, I feel stronger during my workouts and my recovery is much quicker.
I have lost just under 20 pounds and dropped 5% body-fat since joining DSC's Nutrition Coaching Program!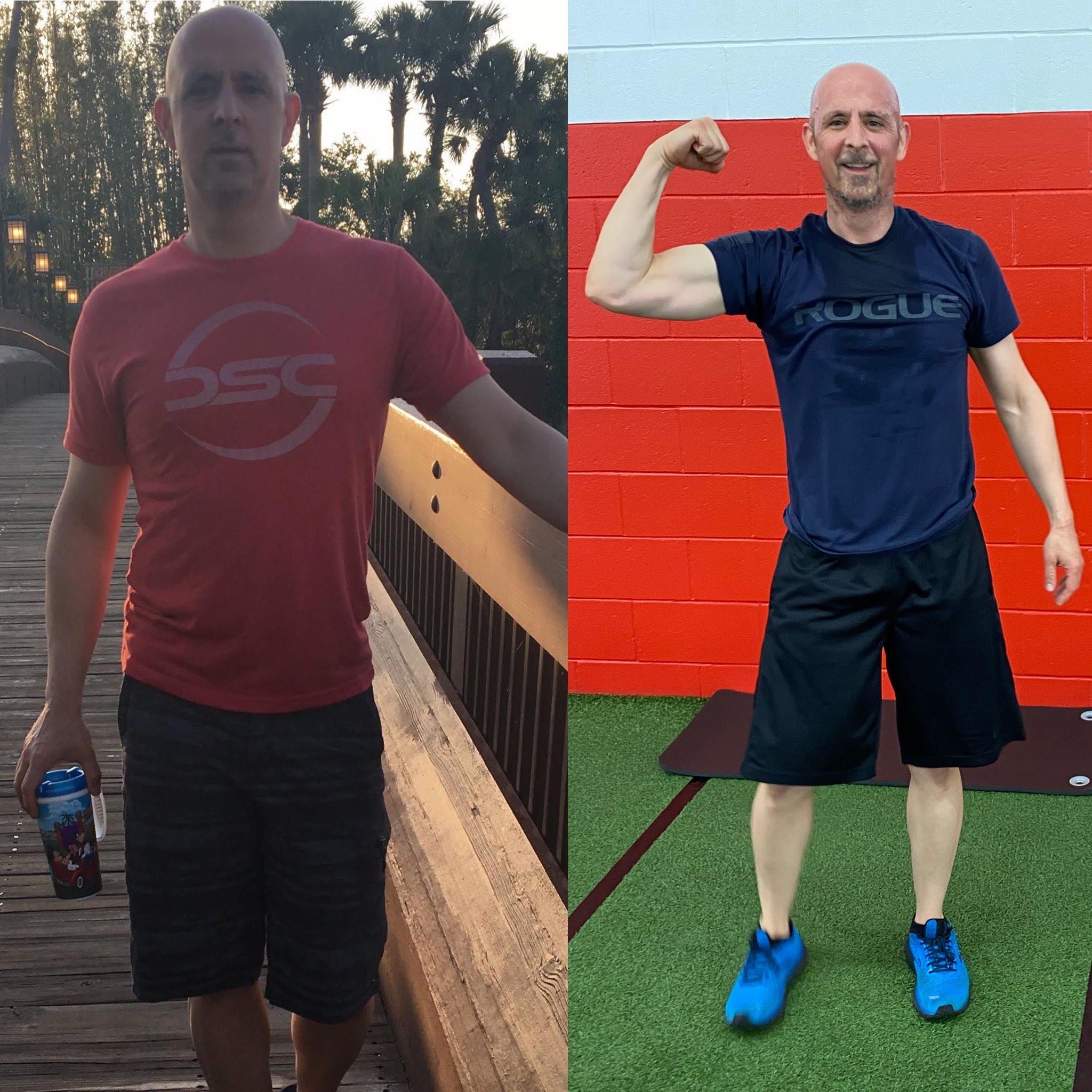 At the age of 48, I am in the best shape of my life! It feels so great to say that!
My favorite part of the program was my results. And honestly, the simplicity of it. There wasn't a huge time commitment with check-ins, etc. The weekly emails and videos helped keep me focused and the recipes were GREAT!! I have repeated many of them and plan on going back and trying others.
Thinking of joining DSC? Don't be intimidated. Don't overthink it. The program works, so if you are looking for real change, do it!!! You won't be disappointed.
- Mike
Our 30-Day Jumpstart Program starts July 6th!
This program is specifically designed to help you get started and into the best shape of your life!
✔️Unlimited Workouts (at DSC and online)(Perfect for all levels)
✔️Easy to Follow Diet Guide
✔️Fat-Loss Meal Plans
✔️Unlimited Support and Guidance
Only 30 spots available!

Click below to reserve your spot! ⬇️