How Mike Lost 25LBS And Gained So Much Confidence
Before joining DSC, I would occasionally walk the treadmill, ride the bike, walk the track, or sometimes lift weights on my own, but I could never stay in a consistent routine.
As a result, I was always tired and lethargic.
The good news was I was very optimistic about changing things and getting started at DSC.
My goals in joining DSC were to lose weight, get into a consistent workout routine, and fit into 1X or 2X shirts vs my 3X shirts. I also wanted to have much more energy throughout the day.
I didn't have many fears about joining DSC as I heard it was great place to get your fitness routine started and was recommended by my sister in law who really loved it!
So I joined, took my first class and it went great! I just took my time and tried to mimic the coaches and their great instruction. The DSC coaches helped me with all the new workout techniques and gave me constant encouragement. It was awesome and I couldn't wait to come back!
Everything has been so positive at DSC from day one and I really enjoy the strength workouts as well as the cardio focused days.
The coaches are truly what sets DSC apart from other gyms. They all help you progress through your workouts and are all super friendly and approachable.
When you leave DSC after a workout, you feel amazing and can't wait to do it again the next day! The workouts have great variety and they always keep it interesting and challenging.
At DSC, you show up and trust the workout plan put in front of you by the coaches. No preplanning necessary. Just bring a water and you're good to go!
After some time I was ready to take the next step and joined DSC's Nutrition Program. I was ready commit to lose weight and discover what may be wrong with my diet.
DSC's Nutrition program is what really kickstarted my weight loss. I previously would come to DSC once or twice a week and wasn't fully following a diet. The program had unlimited workouts for the duration plus the nutrition goals and guidance. I started coming to DSC 3x 4x or 5x a week and my strength increased as well as my confidence.
Post Nutrition Program, I now want to keep coming at least 3x week or more if my schedule allows it.
The part of the nutrition program that helped me the most was the meal tracking with the MyFitness app. Based on my calorie goal set with Coach Ashley, I learned my guidelines to follow. When you commit to tracking all your meals for a month, you quickly learn where you're overeating and how to be better. I tried to introduce vegetables into every meal and keep up with my water intake. I learned which foods are high in sodium and sugar for example and Ashley recommended great simple substitutions to lower calories and hit my macros.
My favorite part of DSC is the classes!! I have learned that strength training was really important for weight loss and breaking through plateaus.
Since joining DSC, I've lost 25LBS!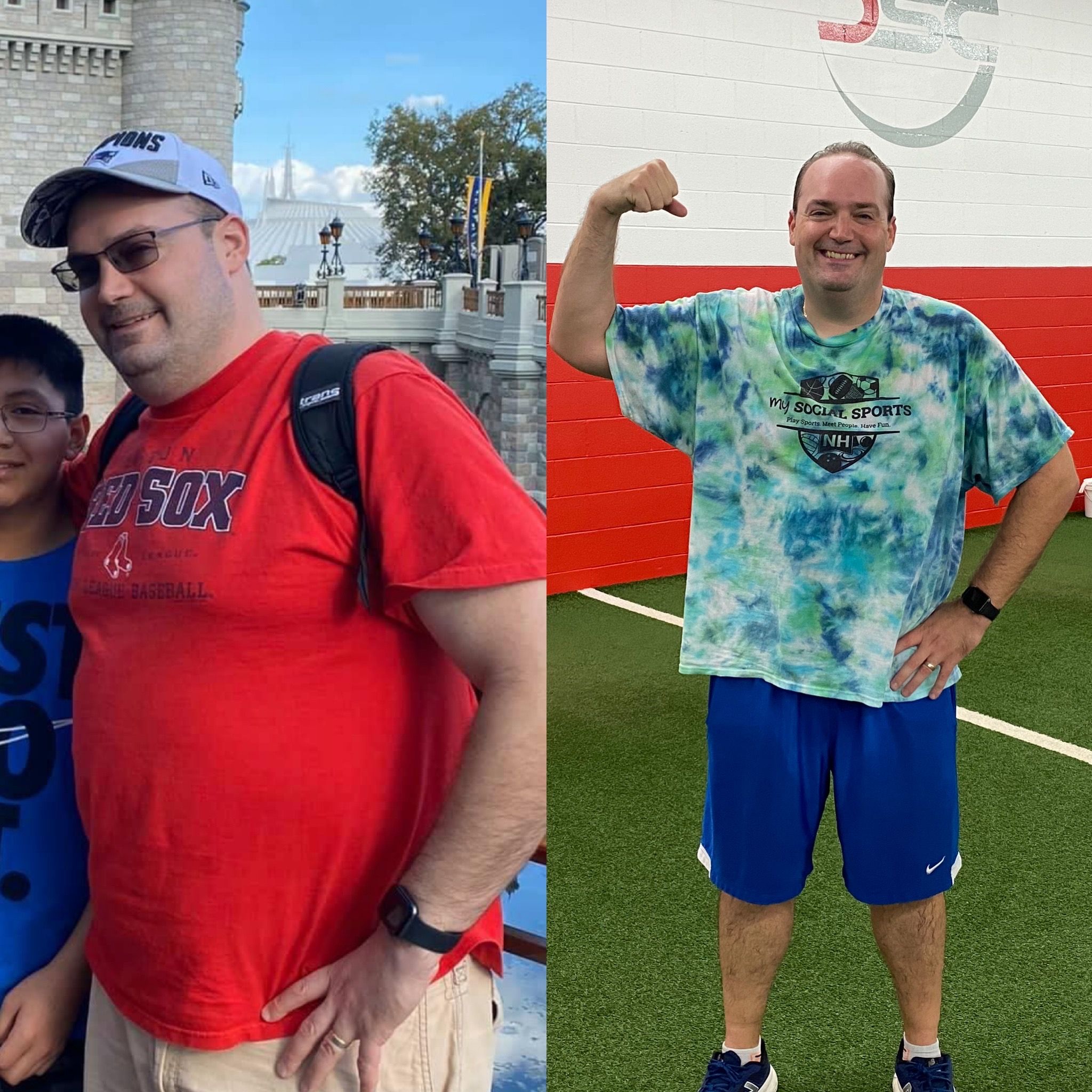 My 2x t-shirts are no longer tight and I can wear some shorter belts now! I've definitely gotten stronger upper body wise and can complete workouts quicker than before.
I'm definitely so much more confident and feel much better about myself!
My other favorite parts of DSC are the staff and my fellow classmates. Everyone is so positive and encouraging.
My favorite part of the workouts are the strength days and the rotations around the gym. DSC workouts provide such great variety that you never get bored. On days we have a challenge at the end, those are always great to push through and really give it your all!
If you're thinking of joining DSC, don't hesitate and do it now! I recommend adding the nutrition guidance to really compliment your workouts.
Don't be intimidated at first! We all started in the same spot and everybody wants to help see you succeed. Pick times that work well with your schedule and try to come 2x or 3x a week to start.
- Mike