How Melissa Lost 25LBS With Her DSC Health Routine!
Before DSC I had no real set work out routine.
Summer time would mean occasionally going for a hike with my husband and our dog but it wasn't regular or consistent.
I was very active growing up and played numerous sports. I was so used to having that active lifestyle but as I got older life and work just took over my life and my health took a back seat.
I didn't feel good in my own skin. I didn't like my reflection in the mirror.
Then I suffered a traumatic leg injury last summer which required surgery with screws and a titanium plate in my leg/ankle. I was non-weight bearing for months and attending physical therapy which was mentally and physically exhausting, leading to further weight gain. I had no idea how I was going to come back from this injury.
My goals with joining DSC were to get my strength back in my leg that I had injured, get into a work out routine that I would stick to, and feel good in my own skin again.
My first class was amazing! I was hooked and I couldn't wait to go back.
After a few weeks at DSC I also joined their Nutrition Coaching Program. Before joining, my nutrition wasn't the best; I have a crazy work schedule and I would always be getting home late which doesn't help.
The majority of the time I would grab take out on the way home for the convenience factor. If I did cook, the meals were high in carbs/fats that were quick to make.
My goal was to really learn how to eat healthier, calculate macros correctly, and find healthy meals I could make in a pinch for those late nights.
Before joining my willpower was almost non existent. I gave into my sweet tooth way more then I should have. I was buying whatever intrigued me at the grocery store, didn't meal plan head. Things needed to change and I knew I needed help to do so.
The accountability of DSC's Nutrition Coaching Program helps SO MUCH! The fitness pal app is a huge player as well. I have made it a part of my daily routine to log everything I eat and drink. It's helped me plan my meals each week and keep my water intake up. It has helped me fully understand tracking macros and keeps me in check and within my daily calorie range.
DSC Nutrition Coach, Ashley is amazing! She is full of knowledge and so supportive. I am so glad I joined!
In my workouts at DSC, I look forward to Friday's at 3 to sign up for my classes the upcoming week.
The coaches are all amazing! I am so thankful for each and every one. They really helped me modify with my leg when needed but also help me build up the confidence to push to that next level, next kettlebell or med ball weight. They kept a very close eye on me for the first month or so to make sure I was feeling good and having no pain.
Since joining DSC I have already lost 25lbs!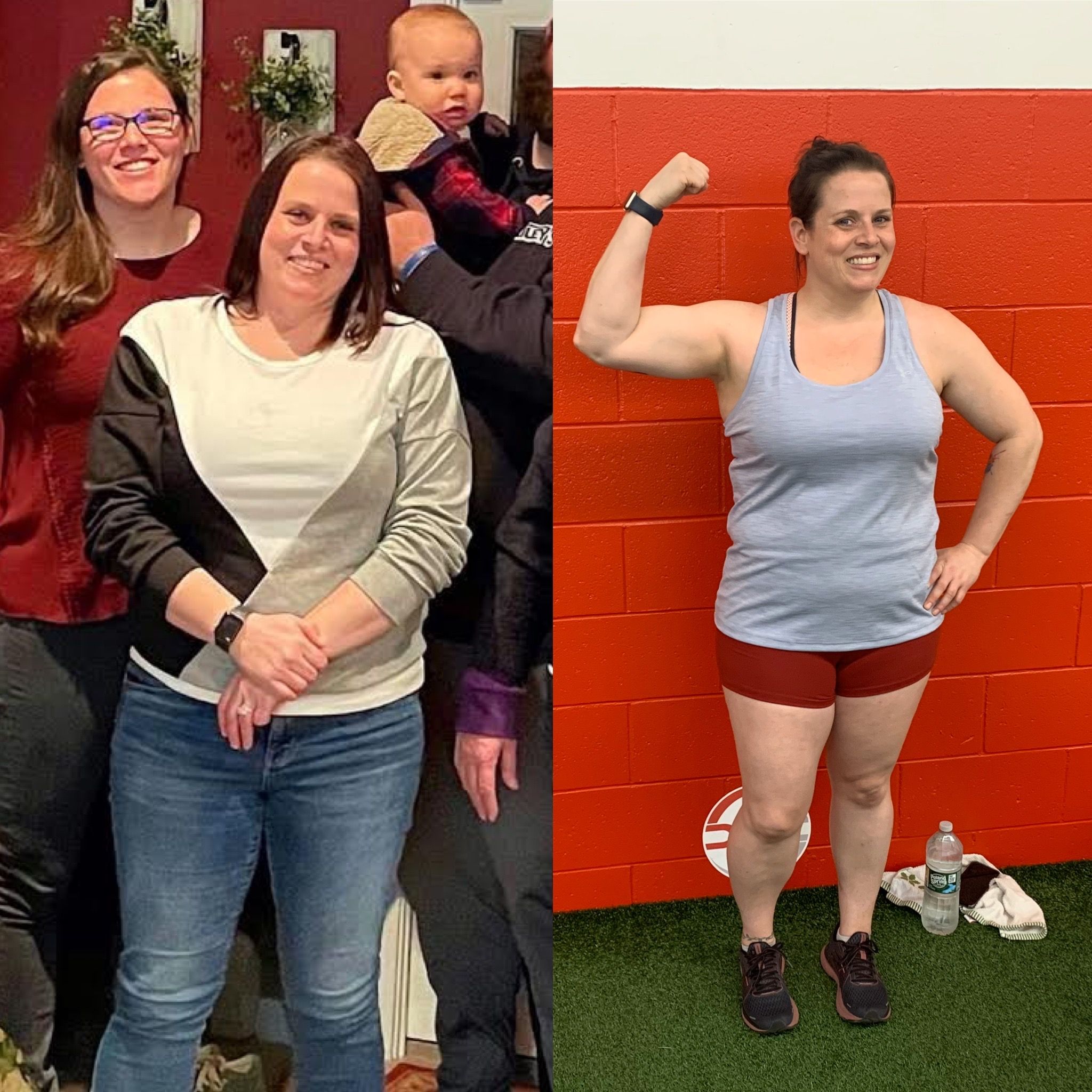 I've dropped 2 pants sizes, 2 dress sizes and 2 shirt sizes.
My sister just recently got married and I had bought a size 16 dress that had to get it taken in twice to be a size 12 to fit on her wedding day!
From where I started to where I am now just blows me away! I am stronger and my leg that I had surgery on last year is definitely stronger.
I feel so much more energetic and am happier!
What has made all the difference -- The DSC coaches and members. It's a family and I am so thankful to be a part of this family. I finally feel good in my own skin and I have DSC to thank for that!
Thank you to all the coaches and DSC members for making me feel welcome from day one. You all rock!
If you're thinking of joining, do it! It's worth it 110%. I am so thankful I did. I see the changes in my body and how my clothes fit, my energy level, mood, etc.
You'll be so happy you joined, trust me! :)
- Melissa
Our 8-Week Summer Shred Nutrition Challenge starts June 20th!
This program includes:
Customized fat-loss diet plan

One on one nutrition coaching

Unlimited coach-led workouts (perfect for all levels)

Results
Most people lose between 10 and 30lbs during this program!
Click below to reserve your spot! ⬇️