How Melissa Lost 50LBS at 50 Years Old!
Before joining DSC my workout routine was pretty much nonexistent.
I worked long hours, and was basically an Uber driver for my daughter to her cheer practices and competitions, so this left little time for my self-care. I was not sleeping well and my health was a complete wreck. My clothes did not fit the way I wanted them to fit.
My initial goal in joining DSC was to literally make it through the class without passing out. All kidding aside, I had to make a decision to take control of my health, not only for me, but for my family. If I was not healthy then my family was not healthy.
I asked a friend of mine to join with me, because safety in numbers. I figured if she could do it, so could I.
Of course I was nervous before my first class still. What if I could not keep up with the rest of the class? What if my muscles hurt so much that I could not move the next day? All kinds of anxiety ridden scenarios were running through my head.
The minute I walked through the door, Sara who runs DSC's front desk instantly greeted me with her big smile, and at that point I knew I had made the best decision of my life.
All of the members were very also welcoming as she showed me around and we waited in the lobby for the previous class to finish.
My overall experience at DSC has been life altering! Not only am I finally getting into the best shape of my life, I have made some amazing new friends along the way.
During COVID, I saw the community really develop into the DSC FAMILY. Although we could not physically be in the gym together, we developed a larger sense of community. I eventually ended up communicating with a group of very support women via text (you know who you are). Although we had never met in person, we became a little support group. Not only for our workouts, but to navigate the pandemic by checking in daily to lift each other up.
The coaches at Dynamic are nothing short of amazing! They are so very patient and take the time to explain everything as we go along to be sure we are getting the most out of our workout, and always in a safe manner. Not only are they all so knowledgeable about the fitness aspect, they are knowledgeable with the human aspect of fitness too and make each class personable and personalized.
I always hear Coach Renee say, "You're here at 6:00AM, you might as well make it count!" That resonates with me for sure, MAKE IT COUNT! Then the coaches have their goofy side as well. The interaction most days will make you laugh. Who laughs at the gym?! Who dances at the gym?! Well at DSC the workouts are not only intense but you have the light heartedness that just makes your day, too. We have FUN! I've never experienced that before DSC.
On the more serious side, I went through a serious health crisis last year. When I was at my lowest point, I remembered what the coaches would say. HYDRATE, BREATHE, AND KEEP GOING UNTIL YOU HEAR THE BEEP. My motto for a while has been, GOING FORWARD ALWAYS, gradually turning into RUNNING FORWARD ALWAYS.
My overall results have been transformational. I have always struggled with my weight, and self-esteem. Before joining DSC, I could barely walk up my 500 foot driveway without huffing and puffing. Now I'm running 5k races, and training for the Falmouth Road Race. From what I am hearing it is a 7 miles of uphill race in the sun.
I officially lost my 50lbs just after my 50th Birthday!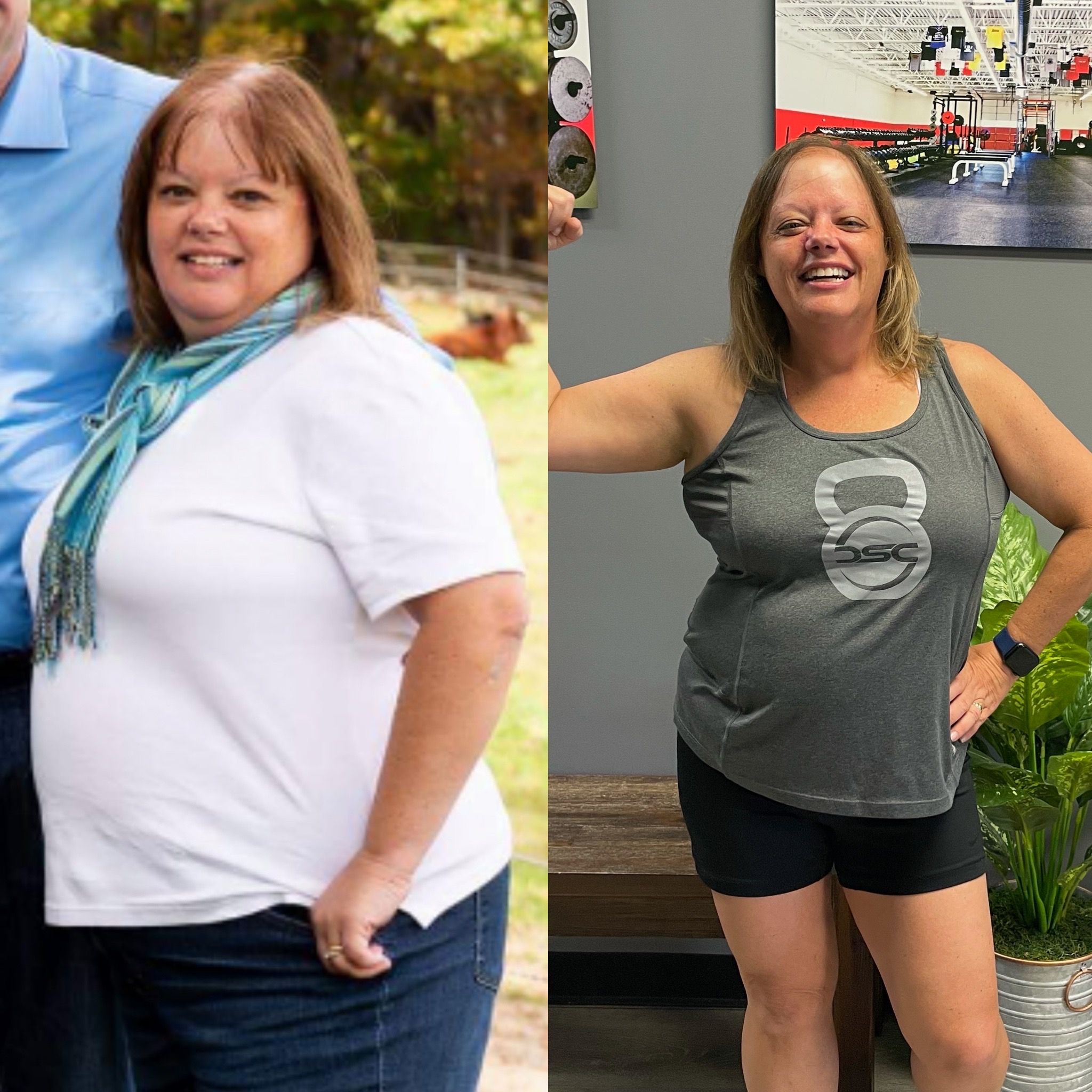 I'm down almost 3 pant sizes, and my confidence is through the roof! I am seeing muscles that I never thought I had. I am definitely seeing more muscle definition in my arms, and legs!
I was not working for a greater part of last year and when I went back to work, I realized most of my work clothes are too big now. I sleep better most nights. My nutrition habits have changed and I am more aware of what I am eating.
If I know I am going to a restaurant, I preview the menu before I go, mostly to decide what I am going to eat the rest of the day to plan around that. If I want to indulge a little at dinner, I will keep track of what I am consuming, so I do not go over my macros for the day. Finding this balance between enjoying dinners and nights out but still staying on track and progressing towards my goals has been huge.
What makes me come back day after day? Well there are so many aspects that make me come back.
First of all it is the accountability here. Your gym mates may even text you to see if you're ok because they have not seen you at the gym in a while.
Secondly, routine. It's important to be in a good routine for self-care and DSC has the flexibility to work with my schedule so I can stick to my routine.
Next, I think it would be the variety of the equipment that we use. We all have our favorites; it's no secret that I love the sleds, rowers and the treadmill. I also have a love/hate relationship with the Airdyne bike HAHA.
Lastly I would say the people! It's amazing to see all the success stories. Sometimes the success story is taking their first class, then coming back for their second, third and forth work out. For some it's simply showing up when it would have been easier to stay in bed that day. I never thought 2 years ago I would be one of these success stories!
What would I say to someone who is thinking about joining DSC? I would say, "This is going to be the best health/self-care decision you will ever make!"
To summarize the impact that DSC has had on me: This is the best decision I have made!
All of my health numbers i.e.: blood sugar down, good cholesterol up, weight down, muscle strength has improved and my overall self-confidence has changed tremendously. Without the DSC family behind me, I honestly have to say that I would have not survived the last 365 days. I cannot thank Matt, Sara, the coaches, and of course the entire DSC family enough for making such a huge impact in my life!
- Melissa
Our 30-Day Jumpstart Program for Women starts August 1st!
This program is specifically designed to get your health and fitness routine started!
Our program includes:
1. Unlimited workouts (perfect for all levels)
2. Nutritional guidance, recipes, meal plans, and more!
3. Amazing community of women just like you!
30-Days of support, guidance, and RESULTS!
Click below to get started! ⬇️