How Mary Lost 50LBS in 2021!
Before joining DSC, I was a member at Pure Barre for about 2 years. Then I quit, but more like gave up. I ended up with a back injury and kept thinking it would get better but it didn't. Before that, I was an inconsistent member at Planet Fitness as I never knew what to do or how to do it.
Physically at the time before joining DSC, I had lower back pain, was going to a chiropractor 3x a week, and had gained all the weight back that I had lost previously. I did not do well when the pandemic shut everything down and was sent home to work.
Mentally at the time, I was defeated. My self-esteem was very low.
I knew I had to do something so I made my New Years Resolution to take back my health.
I wanted to lose the weight and finally get in shape ( get stronger) once and for all. I saw an ad for DSC's New Year Challenge and knew about the incredible success of their members so I joined.
I am not going to lie, I was nervous to get started. It was very intimidating and way out of my comfort zone!
I joined the challenge with my friend Kim and the first class was great! The coaches are AWESOME!! If any modification is needed or if you are new to an exercise, they are right there to help every step of the way. They make it fun and are always always there to support you! This is huge for me, especially with my previous back injury and because it had been so long since I had worked out before joining.
The other thing I love about DSC is the community of members. DSC is like one big family!
DSC is the one fitness routine I've both stuck to and have seen real results with. Pure Barre I joined by myself but when I injured my back, I quit. At Planet Fitness, I didn't know what I should be doing or how to do it. My motivation dropped so I stopped going. That's not the case at DSC!
Since joining DSC, I've lost over 50LBS! (and I'm not done yet!)
I'm down 2 sizes in clothes and consistently getting stronger! For the first time ever, I look forward to working out and going to my DSC classes 3x a week plus Recharge Class every week.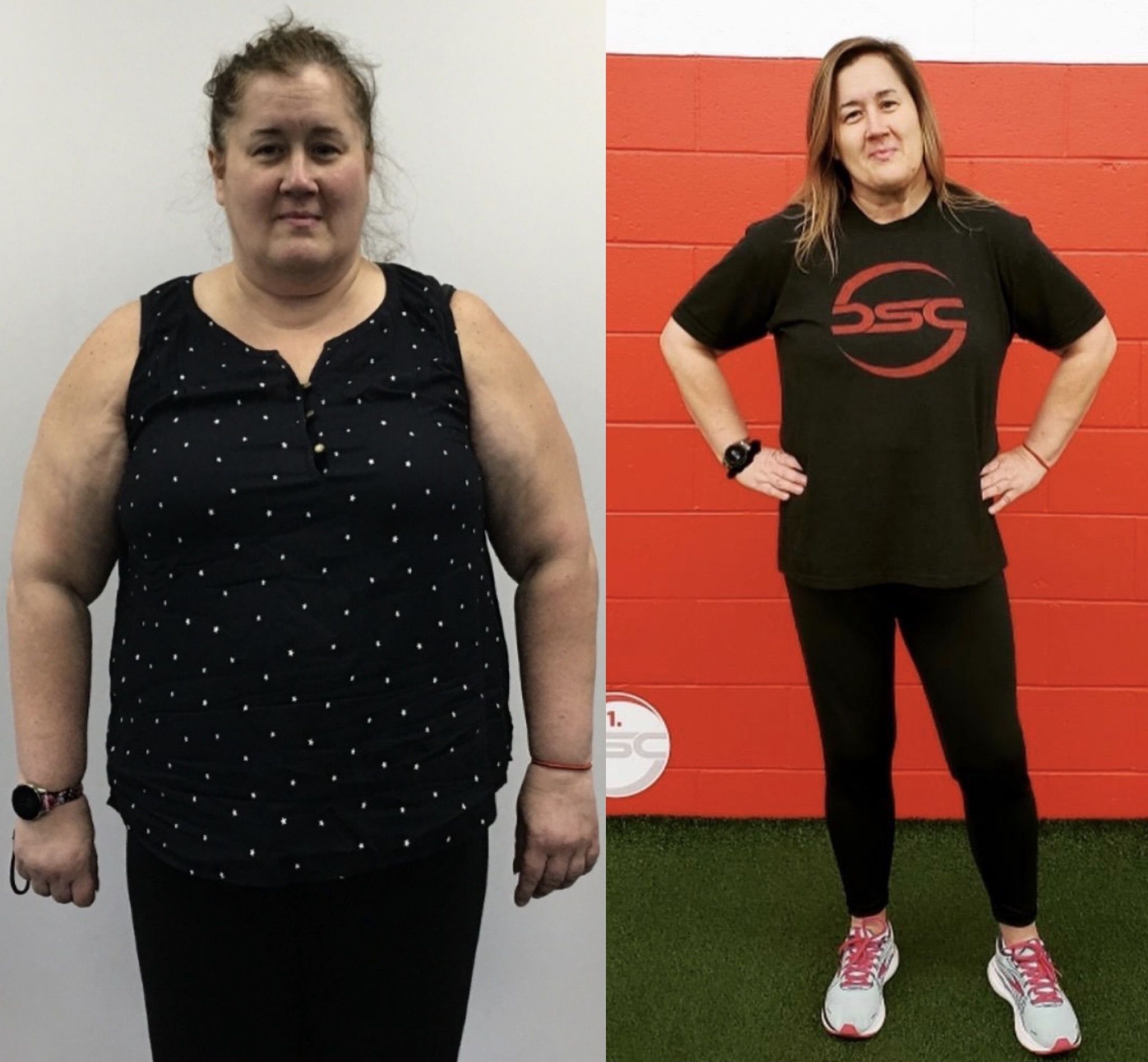 My favorite parts of DSC are the coaches and the community of members!
My favorite part of the workouts is doing things I never thought I could do! They are challenging but fun every single time and there is a huge variety of exercises.
Joining DSC is the best thing I've ever done for myself! I'm getting healthier and stronger!
If you're thinking of joining DSC, do it! The coaches will get rid of any fear you have and help you every step of the way. Everyone there has been at their first class at one time!
- Mary
Ready to transform your health and happiness in 2022?
Our 8-Week New Year Nutrition Challenge starts Jan. 17th!
Register before 12/31 and save 10%!
Click below to reserve your spot! ⬇️