How Ken Took Back His Health at the Age of 66!
This story starts about 3 years ago. A typical workout was always with my son, and we would rock it! We had a plan every day.
Then I hurt my shoulder lifting heavy weights. On top of that I punctured a lung riding my mountain bike. Throw in being hospitalized with Covid so safe to say I was out of my routine.
My son had moved on from our workouts together, and in-turn, I had nobody pushing me. On top of that with a bad rotator cuff and knee now, I was not sure anymore what to do. I found myself trying to do it on my own but I would just walk around the gym with no focus and drive.
Needless to say I did nothing for the past 3 years to positively impact my health or fitness.
I really wasn't in a good place both physically and mentally.
My wife joined DSC and LOVED it. She'd talk about it all time, including how great their coaches are and how they can work with me to get me started and work around my injuries. Also, I've always followed DSC and read and loved their emails on nutrition and workouts so I decided to take back my health and join myself.
My goals were simple when I decided to join DSC. It was to just get there a few times per week and then leave the rest to DSC and the coaches.
I was nervous to get started. I mean who doesn't have fears about starting something new like a gym? I wondered if there would be other people my age or were they going to be all young? Would I be able to keep up?
So I was apprehensive, of course, but my first class went extremely well. The coaches walked me though every step of the workout and had a plan to help me working around all my injuries.
DSC and their coaches know what they're doing. I think the quote they say is "just get here and we'll take care of the rest" and it's so true. During each workout, you don't have to think about anything, you just show up and do your best.
As a business owner for 47 years I know a little bit about people. Everyone at DSC is sincere and knowledgeable.
Since joining DSC just 6-weeks ago, I've already lost 18LBS!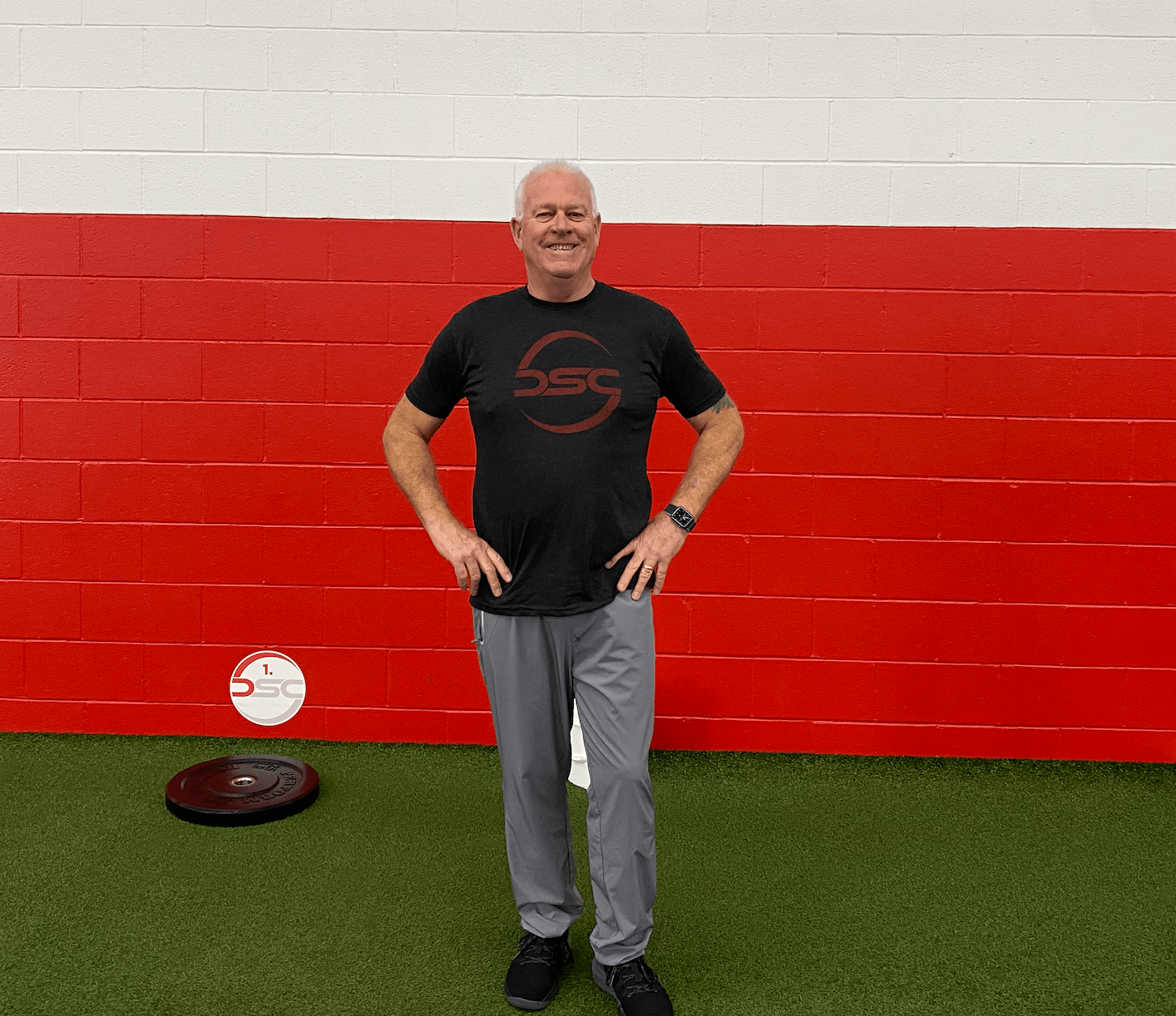 I weighed in at 244lbs when I started and 5 weeks in I just weighed in at 226lbs. I don't like to brag about things like that, BUT IT'S REAL!
My confidence lies in the fact that I know the coaches know I'm coming in and have a plan for me every single class. I'm also learning alternative things that I can do if I can't do certain exercises with my bad knee and shoulder!
My favorite part of DSC is simple...... IT'S THE COACHES! They absolutely make each workout fun and interesting. I love to be pushed and I love that they have a plan for me every workout to help me reach my goals and work around my injuries.
What keeps me consistent at DSC? It's the progress I am seeing. I want to continue to improve more than anything else right now in my life!
One thing I also love about DSC is learning! I love reading the articles on health and fitness they put out and applying them to my routine. Because at 66 what worked 5 years ago doesn't do it now. The rules and questions are constantly changing, so are the answers.
If I could, I would like to brag a little about the last week in my life. As I was planning a trip out west to be in a camp/lodge with "the guys" for a week, I really thought about this in the week preceding -- how was I going to eat on the plane? How was I going to avoid eating junk? What was I going to eat on the 5 hour ride from the airport to camp ? I had to identify what was good for me and not leave it up to whatever there might be to eat at the lodge.
For the first time, I planned ahead. With a little thinking, I decided to eat a healthy meal before the long plane ride. I ate fruit, nuts, and yogurt so that I wouldn't want the plane food. Next I packed 3 days worth of elk meat, salmon, vegetables, fruit etc to get me through. I vacuum packed it all, and away I went. It worked so well that I actually lost weight on this trip! This never happens to me period! So, yes I am proud of myself!
I did this with the help of DSC's coaching and articles, some real thought, and planning. And the fact that this was the last week of my challenge and I wasn't going to be in the gym!! I'm telling you this because I believe this is how it can be done. Do the right thing when no one is looking.
DSC does all that for you.
Are you thinking of joining? If so, it's a no-brainer. I had to tell myself to knock off all the crap and excuses! Anything in life doesn't come without planning and effort.
You put in your planning and effort and DSC will put in theirs. Forget all the get-thin quick fixes, diets, and fads.
Read DSC's articles. It's all there for you, for us, and it's free! They want you to succeed!
Once you join and come in for your first class, don't worry about who's next to you in the gym. You don't need fancy clothes. You are there for you. Let the DSC coaches know your commitment, and you will be stunned by what they do for you.
Nobody is going to do this for you, other than you. After all who's more important than you?
Book your week and then you're committed. It's only going to work if you want it to!
- Ken
Are you ready to look and feel your best?
Join DSC before 11/30 and you won't pay until January!
That's November and December FREE!
Click below to register! ⬇️