How Kari Went From DSC Trial to Transformation
Before joining DSC I would join a gym and go for a few weeks. Then I would quickly stop going regularly as I never had any trainers helping me stay on track or anything motivating me to continue.
I was having a lot of joint pain and swelling for about 10 years. I was diagnosed with an autoimmune disease and was never free of the aches and pains that came with it. It was a vicious cycle because working out often made my joints feel worse but not doing something also left me feeling tired and the extra weight didn't help my joints either.
A year and a half ago I visited my high school friends in California and it was eye opening to see how they felt and looked compared to me! I worked with my doctor to change my medicine which helped with the joint swelling so now I was mentally ready to tackle the challenge of losing weight and feeling more in control of my health.
It was now January of 2020 and one of my good friends recommended her gym, DSC, to me.
I had been looking at all the gyms in the area and decided to try DSC for a free class.
I was so nervous about starting a new regular workout routine as I hadn't been working out consistently for such a long time. I was worried and self conscious.
DSC's coaches were so welcoming! They checked in with me frequently and made sure I didn't overdo it! I knew then that I'd receive the support I needed here to start taking care of myself. I didn't feel like anyone was judging me and was able to quickly enjoy the class.
I joined DSC right after this first class! Thank goodness I had started DSC before COVID hit because taking part in the online workouts and following everyone's posts on Facebook is what motivated me to continue at home and not slack off!
I've lost 25lbs since joining DSC!
My friends don't even recognize me when they see me!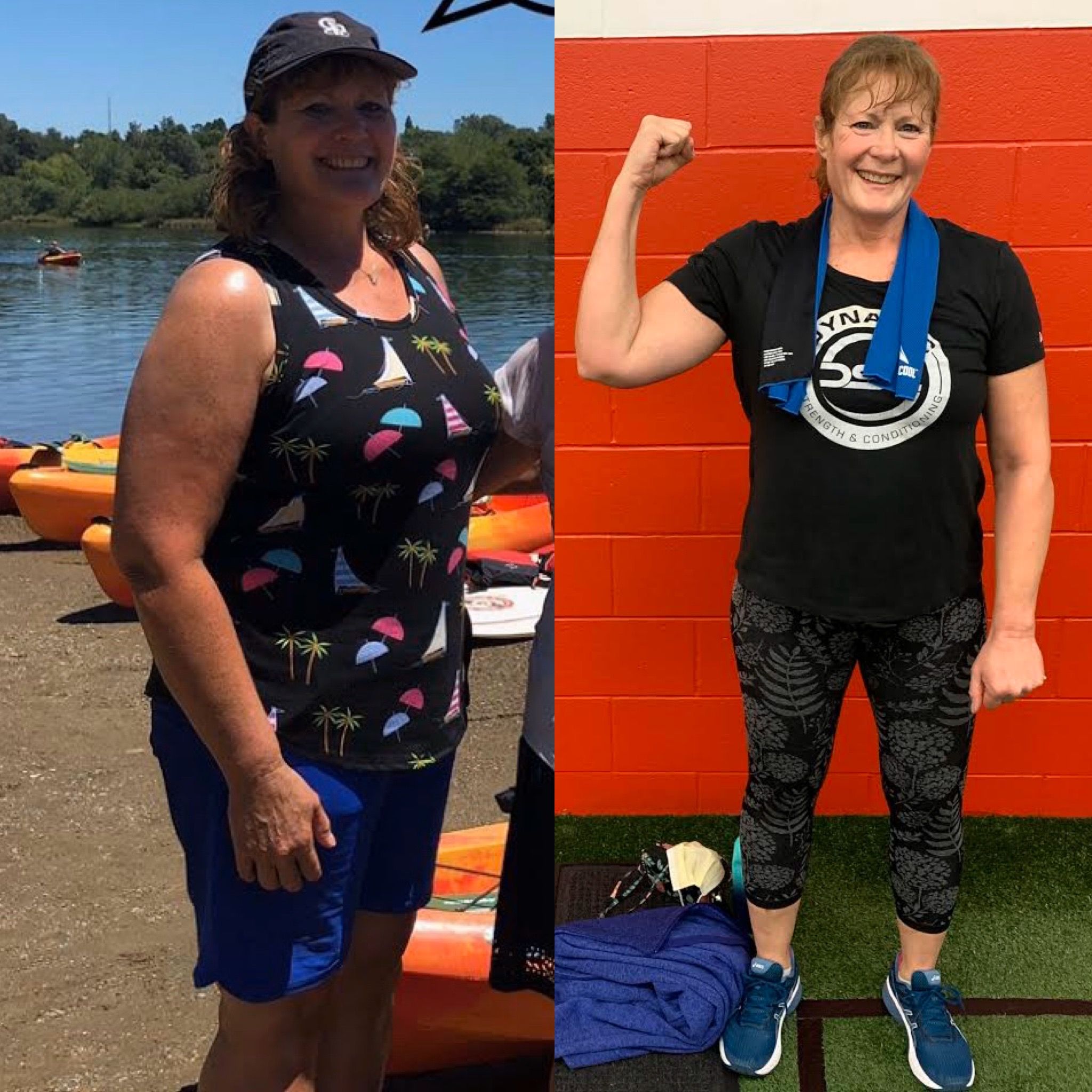 I have dropped from a size 16 pants to a 10!
My shirt size has dropped from an XL to a Medium!
My strength and endurance has greatly improved and my confidence in myself is back!
What has made my transformation possible lies greatly in the individual coach support, motivating workouts and a supportive family of people who also attend DSC!
DSC's approach to their workouts and program of support during every workout is phenomenal! They keep each individual on track, push you when needed and are always there to help you modify an exercise when needed.
I am so glad I found DSC!
- Kari
Ready to get started at DSC?
You can now try DSC FREE for 14-days!
Your 14-day trial includes:
1. Unlimited classes (in-person or online)
2. Easy to follow diet plan
Click below to get started! ⬇️