How Karen Went From Intimidated to Inspiring at DSC!
Before joining DSC I hadn't been in a consistent workout routine since before having my first child... 9 years prior!
I would do a yoga class here and a spin class there but I really couldn't bring myself to commit to anything.
I was out of shape and felt as though I was too low on time and energy to exercise every day.
Through Facebook I found out about DSC.
I had a couple of friends that I noticed were checking into DSC now and then but the advertisement for the Women's Group really caught my eye.
The timing of the classes worked for my schedule, and the notion of a women's only group made me feel more secure, that I would be among others like myself.
I liked the idea of being with other Moms just trying to feel better about themselves, too!
I reached out to a friend who highly recommended DSC so I finally decided to give it a try.
When I joined the Women's Group I really wanted to improve my fitness and lose body fat.
I felt as though I was in a never-ending spiral of not making time for myself to make good decisions about exercise and diet.
My body was looking and feeling the results of that.
I was hoping joining the Women's Group would give me a chance to move and feel as though I was contributing to my health. I also hoped to begin losing the weight I was having so much trouble shaking.
I did have fears about joining DSC, because I felt I was so far out of shape.
I thought I wouldn't be able to keep up and that I would be humiliated in class.
I was afraid it would be so difficult that I would throw up or pass out.
I also feared I would join and yet again find I couldn't stick with a workout regimen or shape up my body.
I have never considered myself to be athletic and really have struggled to enjoy exercising, so I wasn't sure if this would work.
Joining the Women's Group Program provided comfort in knowing many of us would be in the same boat and I was less fearful of judgement.
When I walked in for my first class I was immediately welcomed by the other Women's Group members, who proceeded to tell me how much I would love it…and how sore I would be the next day.
The coaches also put me right at ease.
They let me know they would be watching me closely, and would not let me overdo things.
My first class was difficult, but I was proud to have finished it without a medical emergency!
I couldn't believe how the coaches were there right by my side to ensure I had proper form and how they were working within my physical capabilities.
I honestly thought this personal attention might be intentional, a plot to get me to agree to sign up for a membership.
It didn't take me long to figure out this was the DSC way and truly one of the many things that sets DSC apart from anywhere else.
The coaches at DSC are really the most amazing part.
Since joining DSC, I have progressed from 2 days of Women's Group, to 3 days, then to the Co-Ed Adult Group Training which I now go 3-4 days per week. From day one, I have been in amazement of how these classes can feel like personal training even when there are 50 people there.
Every coach knows every member, including their abilities, their limitations, and the names of their pets.
I have been in awe of this since the start!
The coaches take the time to demonstrate every exercise and are there to ensure you are not only doing it correctly but also that you are pushing yourself along the way!
When I began DSC, my ultimate goal was to lose some weight.
I had absolutely no idea how much more was in store for me.
I quickly lost sight of the numbers on the scale for the much greater results that began to come my way.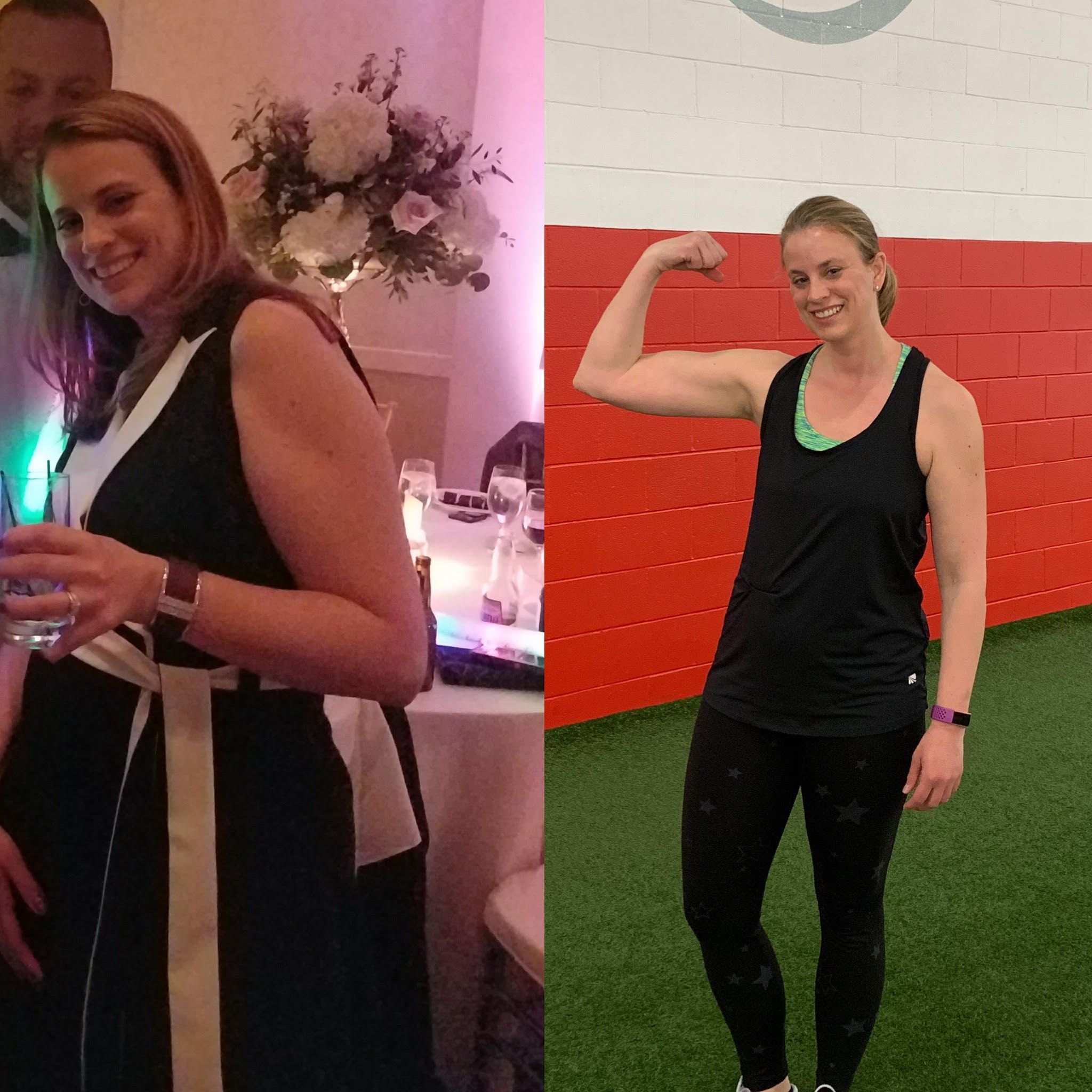 For the first time that I can remember, I love to exercise and make it an absolute priority every week.
Also for the first time ever I would rather focus on being fit, healthy and strong than simply thin.
But it goes on... I have significantly improved my energy and strength, decreased my chronic migraines, gained confidence in ways I never had confidence before, and allow myself the self-care of exercising I haven't had since having kids 10 years ago!
I have made great friends, value physical fitness more than I ever have in my life, gone down 1-2 sizes, and feel better in my skin.
There is so much to love about DSC, but here is the short version.
At DSC you can feel successful regardless of your starting fitness level.
The level of coaching is beyond what you will experience anywhere else, which is what leads to your success.
Every day is different, every minute is different.
I love the camaraderie I have with my 6 a.m. buddies.
I also love that I could go to the 8 a.m., noon, or the 6:30 p.m. class and receive the same workout, energy, attention and welcome there.
The coaches are everything…they are funny, energetic, enthusiastic, caring, and most importantly, they believe you can do much more than you think you can, and will show you how!
DSC is also invested in providing the best atmosphere for its members by making improvements constantly to equipment and technology.
If you are thinking of joining DSC, I promise you will not regret it.
It took me almost 10 years to realize this, but making the time to take care of yourself and your body will make you a better mother and person in so many ways.
DSC makes this easy because it is fun, it is challenging, you will see results, and you will make friends.
It is worth every penny!
- Karen