How Kaitlin Got Wedding-Ready at DSC
Before joining DSC, keeping a regular workout routine was very inconsistent for me. Things always got in the way that would keep me from making any progress as I typically juggled two jobs, neither of which kept me active.
I tried signing up for 5Ks and using an app on my phone to help me train. I joined Planet Fitness and attempted to use their 30 Minute Circuit training, but with no guidance I quickly lost interest. Next thing I knew it had been months since I had gone.
I ended up getting laid off from my second job during COVID and actually found the opportunity to have some time for myself. I knew I had to get my health back on track not only to help my high cholesterol, an issue I have been having since my early 20s, but to get my body back in shape. I constantly had a stiff lower back from lack of movement that one wrong move would leave me sitting with a heating pad searching for lower back stretches in hopes of finding some relief.
I needed to make a change and heard great things about DSC, so I joined!
My short term goal was to lose some weight before my wedding. I joined DSC at the end of January and my wedding was in May.
My long term goal was to keep at it. I wanted to get back to a point where I felt healthier and comfortable with the way I looked.
My biggest concern was feeling like I wasn't going to be able to keep up. I knew I was starting from square one and joining in with people in better shape than me.
I was definitely nervous to get started but felt reassured that there would be a coach right with us to help with any modifications we might need. I remember being so impressed by those around me just diving right into the circuit and hoped I would get to that point too.
It just took that one class to realize this is exactly what I needed. The structure and guidance was what I had been lacking in any of my previous attempts to get in shape.
I remember being very intimidated at the thought of venturing up to the weight rack at any other gym. I would use some of the workout machines but really had no way of telling if I was doing it correctly.
At DSC the circuits they create for you take the guesswork out of everything. Having the coaches right there to make sure you have the right form is reassuring, not to mention their positive attitude and energy help you keep pushing yourself!
It's been amazing to see my progress since starting at DSC!
When I was planning for my wedding I ordered my wedding dress in July of 2020. The dress was made to my measurements and when I picked it up in February of 2021 it fit perfectly, which was also right around the same time I joined DSC. By the time my alteration appointment came around in March for some minor adjustments to the straps she actually had to take the dress in at the waist. Just one month later and I had lost an 1" at my waist line.
I'm currently down 15lbs and see a big difference in how my clothes fit.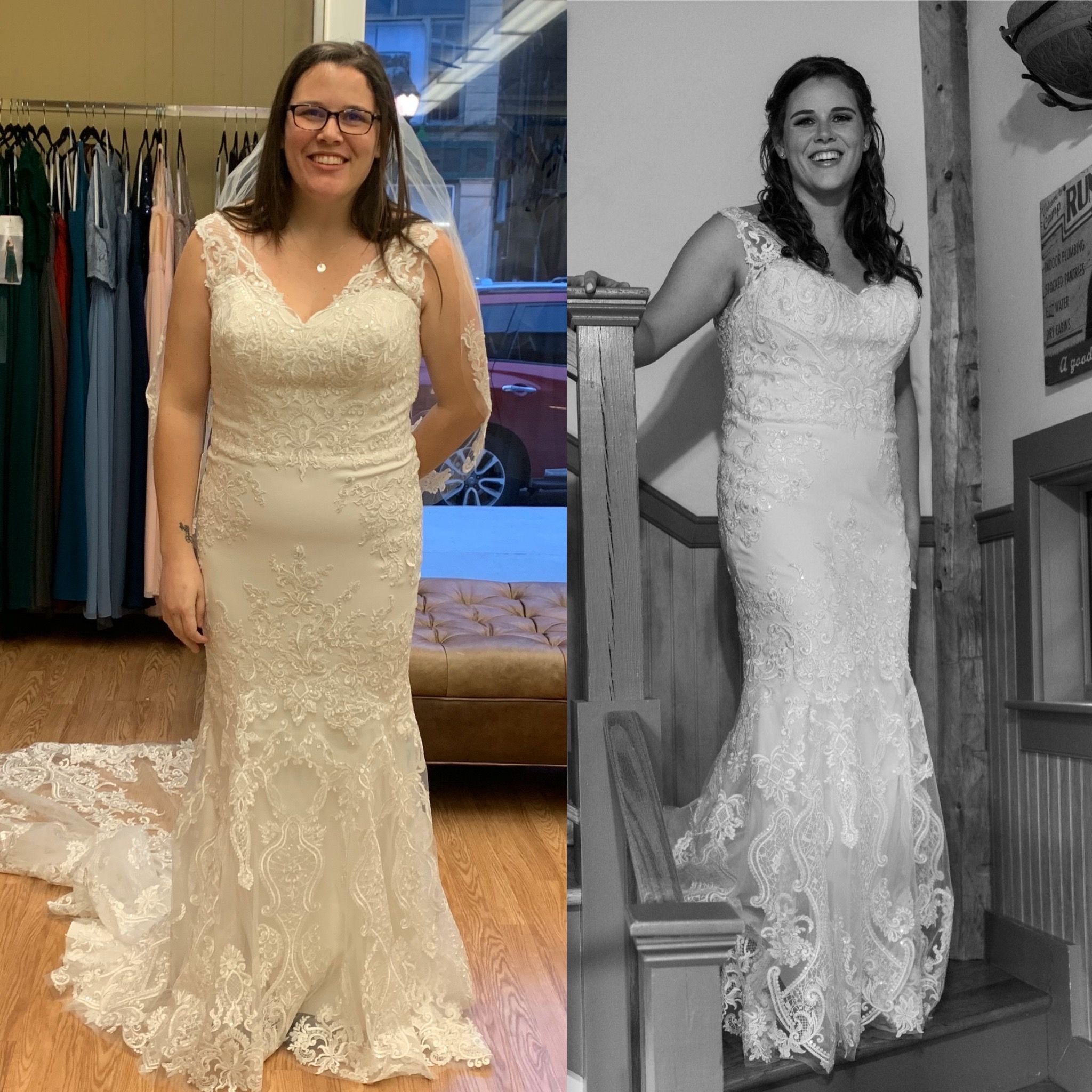 Not to mention all the little changes I see day to day. Like it being easier to lift my 60lb dog in the car who is older and can't jump up or being able to carry in all the grocery bags in the house in one trip. (It's the small victories in life!)
The scheduled classes help me remain committed. It's no longer that I am going to halfway through the day decide to skip the gym on my way home because I don't have the motivation to muddle through a workout. Also if something isn't working for you there's always a modification available, it helps you pace yourself so you can still keep your body moving. Not to mention it feels a little extra rewarding when you come back to that same exercise later on and not have to use the modification anymore!
DSC has gotten me back on track! It's a worthy investment to better my health and my confidence.
Don't let feeling like you aren't at the right fitness level keep you from joining! Every person there at one point in time had their first day that they might have felt unsure and worried that they couldn't keep up! It's not about keeping up, it's all about pushing yourself and the reward of seeing progress. And guarantee the DSC family and all the coaches will be there to encourage you every step of the way!
- Kaitlin
Are you ready to get started?
Our 30-Day Jumpstart Program for Women starts August 9th!
This program is specifically designed to get your health and fitness routine started!
Our program includes:
1. Unlimited workouts (perfect for all levels)
2. Nutritional guidance, recipes, meal plans, and more!
3. Amazing community of women just like you!
30-Days of support, guidance, and RESULTS!
Click below to get started! ⬇️