How Julie's Stayed Motivated From Home (and lost 40lbs!)
DSC is far more than a gym but rather a community with a common thread of wellness! DSC is continuously evolving and growing as a family where everyone thrives! Having always been someone who loves to work out and be active, I knew what type of environment would provide success for my lifestyle.
I joined DSC exactly two years ago. I remember the morning I went in to officially join!
Prior to this visit I had toured the gym four times. I laugh now because sweet Sara dropped everything each time to show me around and reassure me of any of my concerns of joining a new gym. I wanted to be sure this was a gym that had a strong and positive community that built one another up and pushed each other to reach their goals.
When touring, I was seeing coaches rotating around continuously helping, focusing on all members and making sure everyone's technique was safe as well as pushing them to strive to be their very best. I looked around at friends working together, laughing and being silly, supporting each other and having a fun time all the while completing their best work out!
Having come from a variety of gyms, I knew community would be my biggest want in the new gym I was viewing.
After one week, I was hooked! I looked forward to every workout knowing each day would push me towards my goals and help me feeling strong all the while being surrounded by such positivity and mindfulness!
Each week at DSC tops the week before! DSC coaches go above and beyond and truly create a positive community for all to feel welcome and succeed in their personal goals
I am an Elementary School Teacher in Nashua, NH. When we received the call that school would be closing due to Covid 19, I knew I would need to get into a new fitness groove. Being home now allowed all of us to reevaluate our lives and how we would balance our new situations.
DSC didn't skip a beat. We have continuously been in communication. Right from the beginning of this timeframe DSC provided workouts online.
Through the morning and afternoon YouTube workouts we were staying connected with our favorite coaches and other members. With silly themes or challenge workouts and modifications, we were able to continue to work out in our very own homes while still having fun!
Being a people person, I truly appreciated the personal videos, emails, texts, and even late night trivia and nutrition Facebook live events- again keeping us connected as a family does.
I am proud to be a part of a fitness community that is constantly giving back to our community, too. The DSC family raised $30,000 in an online fundraiser to provide our community hospitals and nursing homes with iPads so patients can communicate with their families during this incredibly challenging time.
When I first joined the gym, I was in awe of how many charity workouts would be planned and the high energy each member brought to the workout.
This was an environment I definitely wanted to be a part of, one that truly makes a difference each and every day.
Since joining DSC, I have lost over 40lbs and gained a ton of strength and confidence!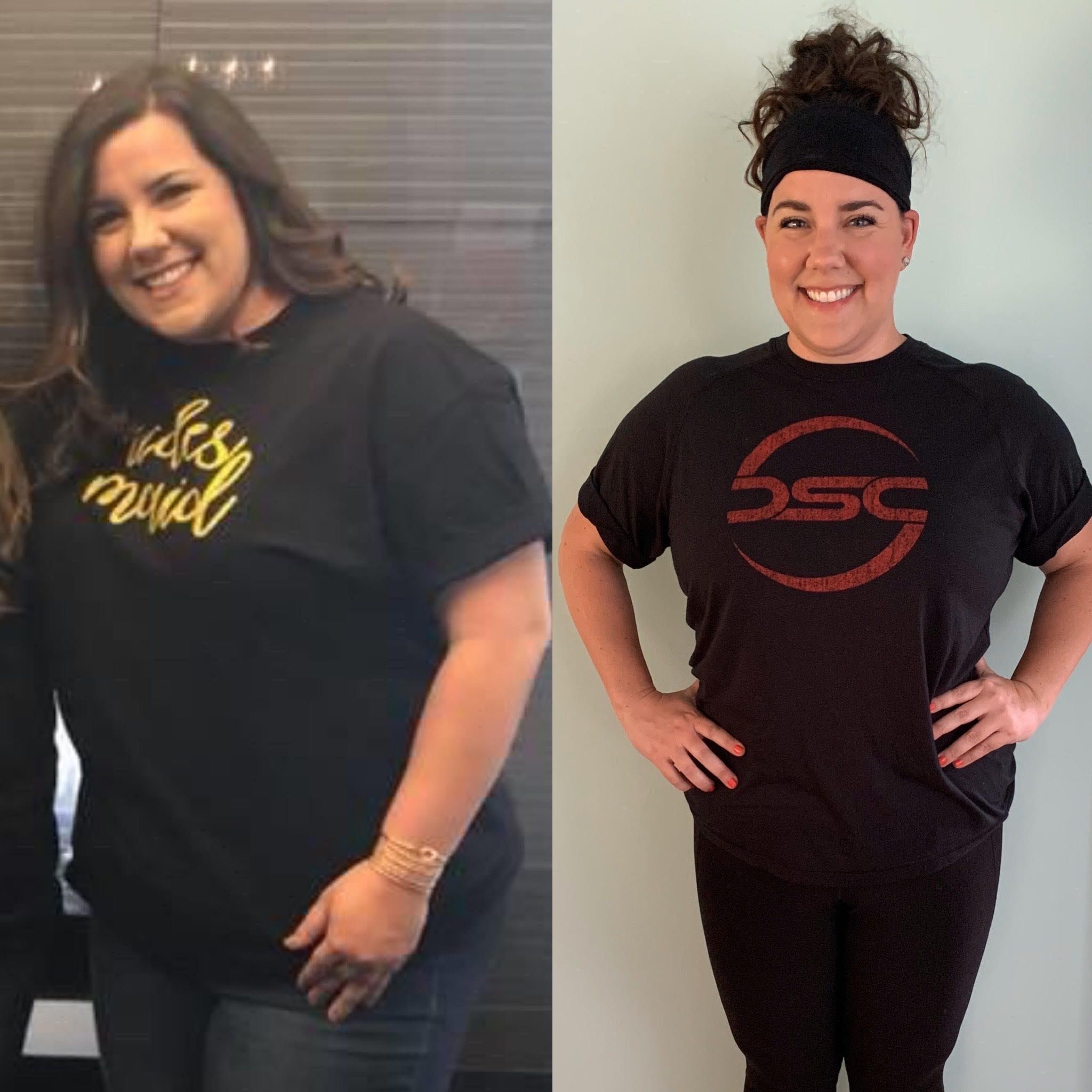 From participating in the Boston Spartan Race to running the Nashville half marathon and every 5k along the way I always have felt DSC has prepared me for all these challenges. Whether pushing a heavy sled or bench pressing weights I always could look around and find a coach and member cheering me on, knowing I could do it!
My goal is to continue to strive to be my best and push myself a little more each day. Even in this standstill timeframe, we are being pushed to grow and celebrated along the way.
In April, DSC began a month challenge for members to track our fitness, nutrition and sleep habits. Having a visual calendar which had the goals on fitness, nutrition and sleep posted provided me the motivation to keep pushing through these times and keep checking off each accomplishment on the calendar.
Each day I would do the online video, walk, hike, run or do anything active to keep myself motivated and continuing on my fitness journey. With constant communication through our DSC Family Facebook page, members shared story after story of success.
A wealth of information is continuously shared to members on wellness, with healthy meal plans, emphasis on habits such as water intake, and the importance of sleep. Those feeling they needed support or having a question on this page would be instantly answered by members and coaches guiding them to success while we are apart. Through Facebook, Instagram emails and all communication, one never felt alone and although apart, the DSC Family remains even stronger!
If I were to speak to the girl who toured the gym multiple times, I would tell her the decision to be a part of the DSC Family and movement would change her life!
I personally feel an even deeper appreciation of DSC now and all that it provides.
When we are reunited in the future I can only imagine the epic reunion!
To have found such a special community that has such a magical way of uniting all walks of life is a true blessing.
The love and incredible support is what makes DSC not just a gym but a family. Families thrive through different times and with all the tools we are provided, each member can succeed and will be celebrated when we are all together again!
- Julie
Are you ready for some at-home motivation?
Are you ready to look and feel your best this summer?
Our 6-Week Online Summer Ready Challenge starts May 25th!
Only 30 spots available. Click below to reserve your spot! ⬇️