How Joe Found Workout Consistency At DSC!
Prior to DSC, my workouts were all over the map.
I had no plan and just winged it. When I went I would typically just run on the treadmill and lift weights at your generic gym.
My busy schedule and three kids made it easy to make my health a non-priority.
I needed something different.
Physically, I felt like I was in okay shape but quickly realized I was not after my first week at DSC.
After years of inconsistency, I knew right away that DSC was the place I needed!
My goals when joining DSC were that I wanted to get back into shape and to feel better about myself, physically and mentally; I lost sight of this after my first two children were born and wanted to get back on track for both myself and my family.
The fears were just the unknowns regarding everything, but quickly realized I knew this place was for me.
My first class at DSC was tough! When you think you're in shape and then realize you're not, it was a real wake up call. Looking back it was a wakeup call that I really needed to actually make this change. On the flip side, the atmosphere and coaches during my first classes helped me push myself.
One of my favorite parts of DSC is knowing that I'm going to walk into the gym and get a great workout in without even thinking about what to do, every single time. Prior to DSC, I attempted to have a plan but would just fall off that track after a few weeks.
When you walk in: your workout, the equipment, and coaching is all ready for you. They make it easy for you to just show up and succeed! I don't have to think about anything.
That and the DSC coaches is what I love most about Dynamic.
Overall, after joining 3-4 years ago, I haven't physically felt this good since college back when I was training everyday for baseball.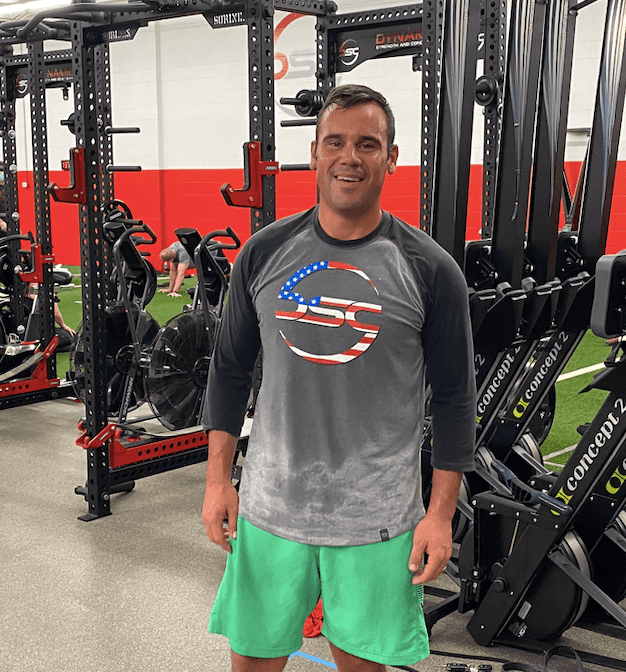 My strength and fitness is night and day better than when I used to try to do it on my own.
My clothes fit better and I feel more confident!
DSC has great coaches, great music, and their variety of workouts, exercises, and equipment is awesome.
Lastly, my other favorite part of DSC is the atmosphere there. The group workout environment is a blast and it pushes you to do so much more than when you workout alone.
DSC has made me feel more confident in myself and has also given me the energy I need to keep up with my three kids.
- Joe
Ready to get your transformation started?
You can now try DSC FREE for 14-day!
Our 14-day trial is dedicated to helping you get started and includes:
Unlimited workouts (here at DSC or online)

Diet starter kit (grocery list, diet plan, and accountability calendar)
You are going to LOVE the way you feel after these 14-day!
Click below to get your FREE 14-Day trial started! ⬇️