How Joanne Transformed Her Results at DSC!
Before joining DSC, I took fitness classes that were not motivational at all. I wasn't seeing results and I wanted to get more out of the workouts. I also wanted to feel as if I was apart of a group and something bigger.
When covid hit I was tired and was at a low point with exercise. I wanted to do more with working out but it was difficult to find something during the pandemic to keep me motivated and consistent.
One of the most important things to me is to feel confident, gain more strength, lose weight, and be toned. Before joining DSC, I didn't think that was possible but with the encouragement of the coaches I knew it would be an obtainable goal.
At my old gym I had a gym buddy so going into a new gym alone was overwhelming and scary. But once I got into the classes the environment was indescribable. It was like joining a second family.
I remember my first day at DSC! I was nervous but excited! My first workout with the coaches tested my limits. The first class I went to happened to be an 80's night theme and I hadn't had so much fun working out in a while. The music was awesome and I knew this was going to be the place for me because of how much I sweat throughout the class and how I felt the next day.
As soon as you step through the door you become apart of the DSC family. They make you comfortable working out and they make sure you are working out to the best of your ability. If there is something wrong they will modify the workout as opposed to other gyms that I have been to. I've gone everyday and only missed classes due to snow storms.
This place is what motivates me. There is someone to encourage everyone.
Since joining DSC, I have lost 15 pounds and countless inches! My clothes fit so much better too.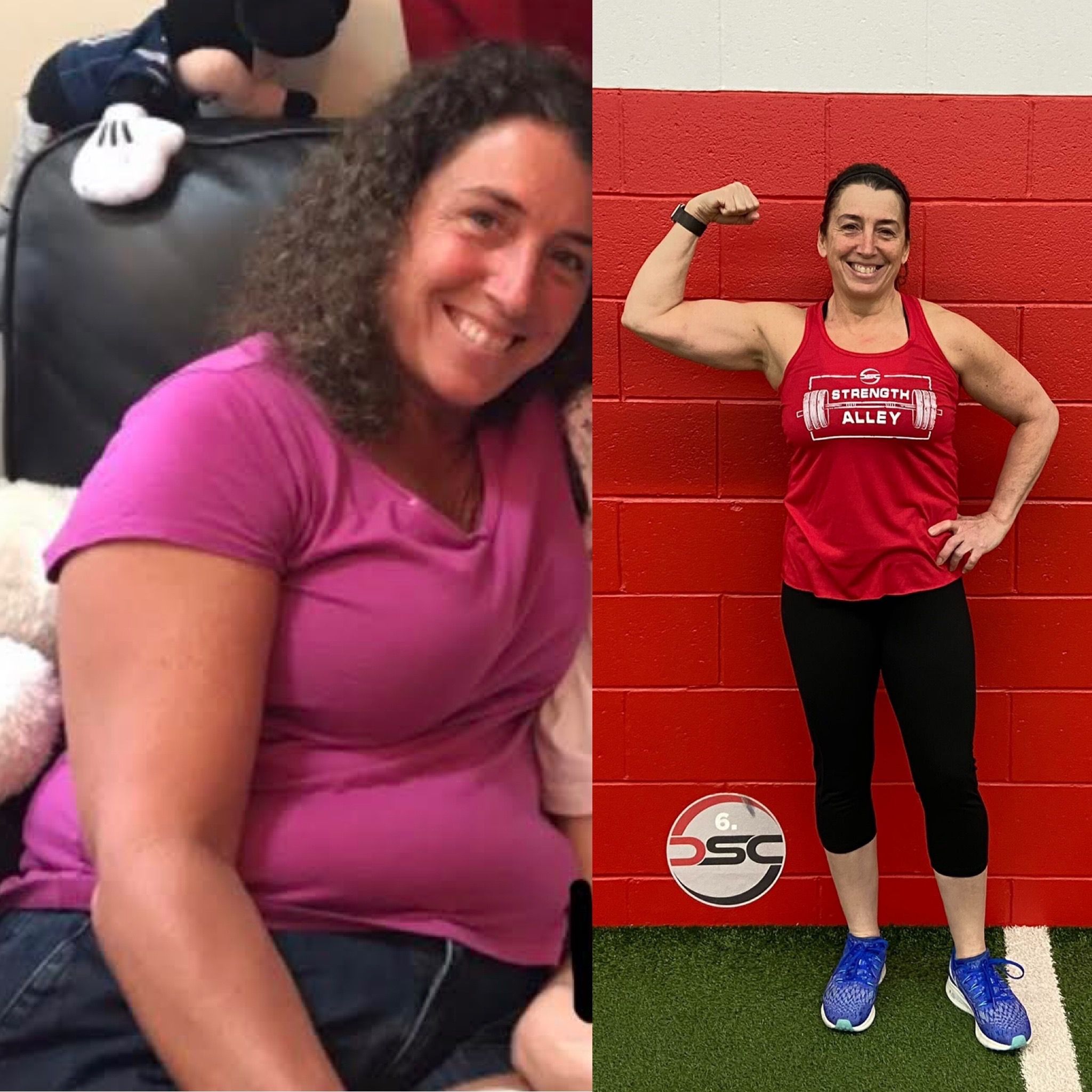 I have more muscle tone and feel so confident about the way I look and feel now!
My favorite part of DSC is the coaches. They are amazing, upbeat, knowledgeable and super friendly. I love that they check in on how you feel during your workout. They make sure they know who you are and how you are. They don't make you feel that you will be left behind. The workouts are strenuous and when you are finished for the day your body feels great!
DSC has made my love for working out come back! I am so proud to be part of the DSC family.
If you're thinking of joining, just do it! It is one of the best things that could have ever happened to me. I'm hooked!
- Joanne
Ready to get started?
Our 30-Day Jumpstart Program starts April 4th!
It includes:
1. Unlimited coach-led workouts (perfect for all levels)
2. Nutritional guidance (weekly coaching, grocery lists, meal plans, and more!)
3. Results!
Click below to register today! ⬇️