How Jim Lost 20lbs Since DSC'S Reopening!
In 2012, I had both my hips replaced. Up to that point, I was a runner.
I'd run 35 miles a week. Sometimes between 10-15 on the weekend alone.
When my doctor told me to throw away my running shoes due to longstanding congenital hip dysplasia, I was feeling low for a while but jumped into a lot of different things after about a month or two. I bought a road bike. Did that a lot for several years before I felt like it was getting too dangerous.
Then I tried different gyms after that like Planet Fitness and Hampshire Hills. I dabbled in Orange Theory for a while. Bought the P90X videos. Even tried hot yoga, which I still do occasionally.
I travel quite a bit for work, but my schedule is flexible so my workouts need to fit that reality.
So all in all there was no typical workout for me after 2012.
I wanted to find something I was as passionate about as I was about running but nothing did it for me.
My high school graduation weight was 195lbs. I was a fairly decent athlete, but the hip dysplasia really limited my ability to move on to the next level after graduation.
In January 2020 I turned 50… and weighed in close to 250lbs. I really don't have any health issues. I'm not on any medications for a metabolic disorder. I've got great BP, cholesterol and blood glucose levels, even at 250… but I knew that was unsustainable.
I wanted to get to my high school weight again, around 200lbs. I knew I could do it because I weighed around 210lbs when I was running; I just needed something that worked with my schedule that I felt passionate about and committed to.
I knew several people who belonged to DSC, including my amazing wife Diane who had to stop a few years ago. They would just rave about it and tell me how they could just see me loving the entire concept. I'm difficult to impress, so I was skeptical.
After the first class, I knew they might be right... I was hooked.
How has it been back at DSC since their reopening?
I've spent 30 years working for pharma/biotech. My expertise is vaccines, virology and immunization strategies. Although there are a lot of unknowns regarding SARS-CoV-2, there are very solid public health guidelines we know have a massive impact on helping to suppress and mitigate the effects of this pandemic.
Since we've been back, I can tell you the DSC staff has far exceeded my expectations with regard to social distancing, hand hygiene and mask compliance.
The workouts have been incredible! They are never the same. Kicks my butt every-single-time! I may actually like them better than before.
Overall DSC is such a safe and supportive experience.
Since DSC has reopened, I've dropped 20lbs!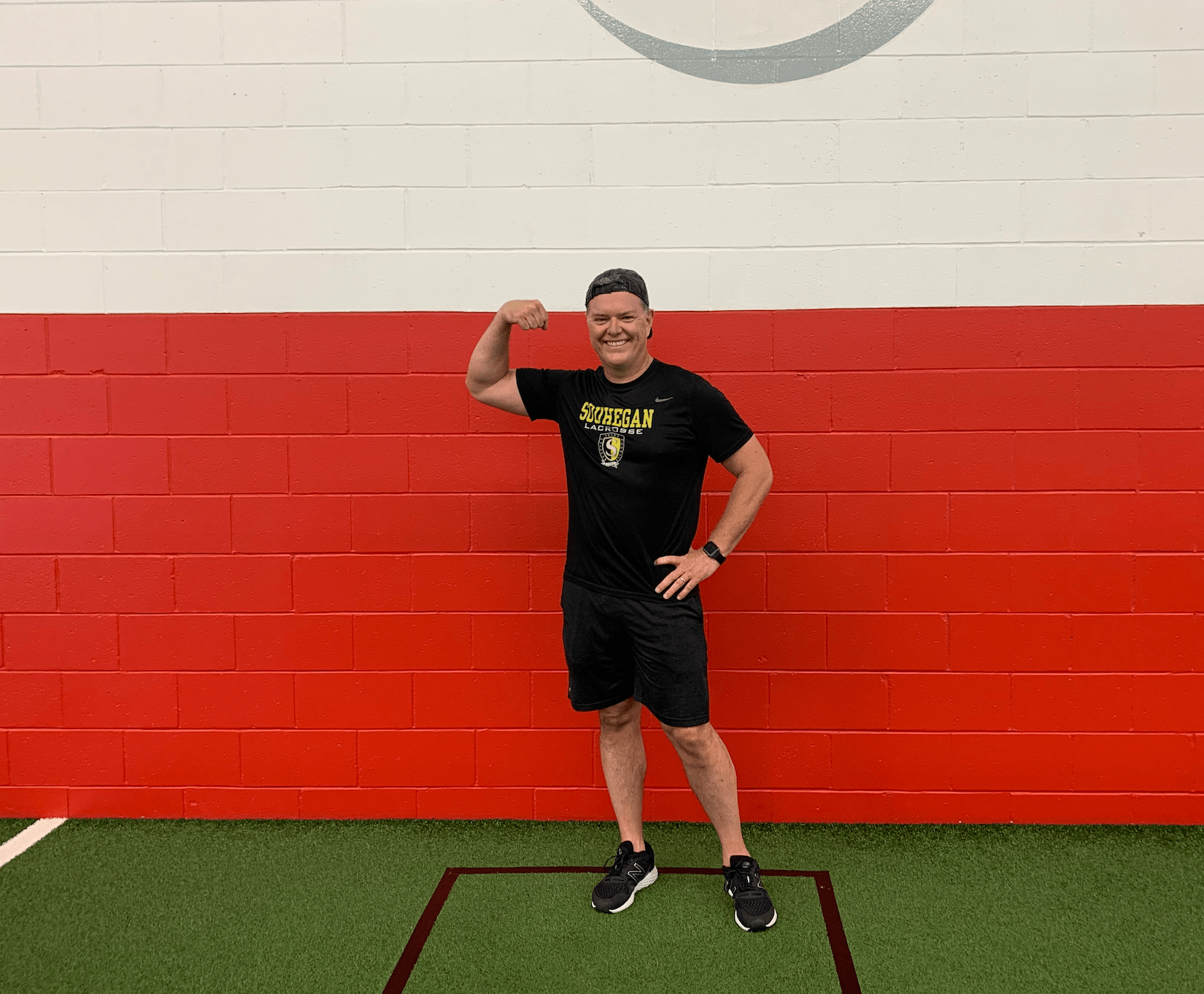 I'm down to 230lbs and still dropping. Not only that, I've done it while adding muscle and tone!
I'm stronger, have better balance (a key for aging now that I'm 50), and better endurance. I also sleep like a rock.
I have three boys. My oldest plays college lacrosse and is incredible shape. My middle is going to be a senior and is an all-state quarterback/wide receiver. My youngest is also a lacrosse standout with the NH Tomahawks. I can actually workout with them in the backyard, and keep up where I couldn't before. They are really supportive of what I'm doing.
The DSC staff makes all the difference. They've created a culture of positivity, support and fun you just don't find anywhere else, and I feel like I've tried enough to know so I can say that. Since reopening, I really enjoy how the workouts are 30-40 minutes of intense training. I just feel like I'm getting more out of it.
DSC has reignited my passion for fitness. And the people there keep me coming back!
Thomas Edison once said ""If we all did the things we are capable of doing, we would literally astound ourselves."
Join DSC… and astound yourself.
- Jim
Ready to get your transformation started?
Join DSC before 7/31 and your first month is FREE!
Not ready to return to the gym? We have an online program to fit your needs!
Click below to get started! ⬇️