How Jeremy Lost 100lbs at DSC!
I want to preface this writing by saying that I have been told about and read about a lot of amazing people doing amazing things.
I am not one of those people.
I am not special, and I am not unique in the struggles and successes that I have had.
I was asked to write about the journey that I am on with the hope that it might inspire others; and while it was never my intent to set out to inspire anyone other than possibly my children, I am humbly grateful that I was asked to write this and I will do my very best to be honest and open.
My personal goal in writing is that hopefully it might help others relate to the challenges that I face daily and will face for the rest of my life.
This is also not meant to be a story where you will feel bad for my situation and be amazed at my strength or resilience because again, my situation is neither special nor unique. I'm just a guy with a lot on his plate mentally, physically, personally and professionally… just like everyone else.
I had a very honest talk with a new Doctor in late 2016.
Actually, he had a very honest talk with me and I did a lot of reluctant listening!
I had never had a doctor be so brutally honest with me about my physical health and the challenges I was facing but more importantly, the challenges I would face if I didn't make some changes.
I was about to turn 39.
I weighed 316 pounds.
I was on medication for high blood pressure and high cholesterol.
My knees hurt constantly, my back was always sore, and my ankles were a mess.
Walking up a flight of stairs had me winded and I always parked as close to the front of a parking lot as possible, so I didn't have to walk as far to get into the store because it was exhausting.
Some of my pains were due to previous ankle and knee surgeries but the bulk of the problem was that I weighed far too much and wasn't nearly active enough.
On a daily basis, among SO many other things, it was a challenge to tie my shoes, get in and out of a car and even put on a seatbelt.
When you're in even relatively good shape these are things that you never give a second thought to, but when you're in terrible shape these are challenges that you face every single day and it's embarrassing and often feels insurmountable. I do not take these things for granted anymore!
My Doctor told me that with help, I had the power to change all these things. I laughed out loud and he didn't even crack a smile.
He was very serious, and I very much thought he was joking. I figured he must have been joking because he was staring at my medical records but somehow, he kept a straight face. I asked if he had seen the notes from my therapist and he said he had. He agreed that it wouldn't be easy, but it was possible if I consistently put in the work had a positive attitude.
I was positively doubtful.
While I didn't understand it until much later in life, I've struggled with a compulsive overeating disorder since the 5th grade.
When I started in a new school in a new town, I felt very isolated and lonely and I found comfort and support in the form of food.
This was a relationship that went unchecked for almost 28 years and that I will always struggle with.
Along with other factors, the overeating led to depression and then anxiety.
I work on all of this on a regular basis and I'm willing to bet that a large majority of the folks reading this may have a similar story.
Mental health is a topic that doesn't get talked about in this country nearly enough, but it has so many connections to our relationships as well as our physical health. It really is too bad that people are made to feel ashamed when they talk about it and that it's frowned upon to discuss openly when it affects so many.
I'm not ashamed of who I am, so I will talk about it openly with anyone that wants to discuss it because it's a large part of who I am and I'm very proud of myself.
Once I found a therapist that understood my challenges and worked with me to find ways to cope, both within myself and with medication, I finally felt capable of addressing my physical condition.
I knew that I needed to find a place that would work with me and my what I considered to be limitations; basically, a long list of things that kept me from doing what I wanted to do.
This led me to Dynamic Strength and Conditioning in Nashua where there is a very different approach to whole body health.
The immediate goal that I was aiming to achieve was simply to make exercise a normal part of my everyday life.
I had always wanted to be "fit" but mentally I wasn't there yet.
In January of 2017, with a lot of support, I finally felt like I was in a place where I could make those changes in my life and exercise could become a daily habit for me.
My longer-term goals were to get stronger and lose weight, be able to run a 5k start to finish with my son Logan at Disney World and to finally get off of my blood pressure and cholesterol medications.
My 1st class at DSC was amazing!
I met and saw some amazingly fit people, some folks just like me trying to get started and all sorts of folks somewhere in the middle.
We did a lot of exercises that I had never seen before that night, but the coaches did an awesome job explaining everything to the group and then one on one with newbies like me so we were up to speed.
I was very nervous the first time I walked into the Adult Group Training.
I wondered if I'd be working out all alone and I was worried that if I was in a smaller group, I'd be holding them all back.
In hindsight, it was probably the safest place to walk into as a beginner because the support system is SO strong and everyone just wants you to succeed!
That first class was challenging, exciting and exhausting! I had no idea what a "finisher" at the end of a workout was before that night, but I have learned to love them now!
In all honesty though, the hardest part of the entire first class was just walking through the front door.
The coaches were all over me! They were always there making sure I understood the exercises and that I was doing it with the best form that I could given my ability level.
They also took the time to ask what my limitations/injuries were and they always had a modification so that I didn't feel left behind.
I got some high 5's from people I had never met before and was made to feel like I was part of something bigger than myself and it felt really great!
What I perceived as a physical limitation that would keep me from doing things, the trainers had a modification for that would allow me to keep moving, get stronger and do more.
When I thought I was pushing as hard as I could, the trainers showed me that I had more left in me. When I felt like I was struggling and alone, other members (the DSC Family) were there for me.
Most of the time I'm sure they have no idea the role they play in my successes and also picking me up from my many failures, but it was the DSC Family and the trainers that got me through SO many workouts when I thought I wouldn't be able to finish.
I have met so many incredible people that have helped me over the last 24 months that have contributed to my health and well being both physically and mentally. I can only hope that I can do the same for them somehow.
I think it really dawned on me that DSC had already started to help me change my life in early March of 2017, just over 2 months after starting at DSC.
I had a work trip to Arizona and I was bummed out that I'd miss some workouts at the gym.
I looked online and found a 5K that was happening near where I was staying and without really thinking about it much I just signed up! Prior to DSC, there is no way that I would have searched out a 5K when I was traveling!
I had an awesome time at the 5K and earned my very 1st finishers medal! More importantly, I realized that I was able to do something I had never been able to do before, and that was after just 2 months at DSC! That 5K also woke up a desire to run that I didn't even know was there.
So, after 24 months of being a member at DSC what have I accomplished?
Measurable Changes
I've lost 100 pounds!

I am no longer on blood pressure medication!
I am no longer on cholesterol medication!
I no longer have to wear ankle and knee braces to support my joints!
I couldn't run for 1 mile straight at the beginning of 2017, since then I've run hundreds and hundreds of miles including 4 half marathons and countless other races & endurance events in 2018!
My pants size used to be a 44 & now I wear a 34!
I used to wear 3XL shirts and now I wear either an XL or sometimes even a Large!
"Non-Scale" Victories (and these are the important ones!)
I have a much fuller understanding of food and its effect on me both mentally and physically (Thank you DSC Nutrition Coaching!)
I have an excellent understanding of my own physical and mental limitations and I'm willing to go WAY outside of my comfort zone to break those limitations down.
My relationships with my family and friends is healthier and stronger than ever.
I truly feel like a role model for my children. Besides my Wife being proud of me, this is probably the most important thing to me on this entire list!
My daily energy level is so much higher.
My self-esteem is so much greater.
My ability to handle stressful situations has improved.
My patience and tolerance has grown.
Most days I feel like I can take on the world and put a pretty big dent in it!
On days where I'm feeling anxious and depressed, I have a huge support system in place (family, doctors, therapist, trainers and friends/other members) that understand where I'm at and what kind of help I need. I can't state strongly enough just how critical this is because I simply cannot do the things I need to do everyday without support.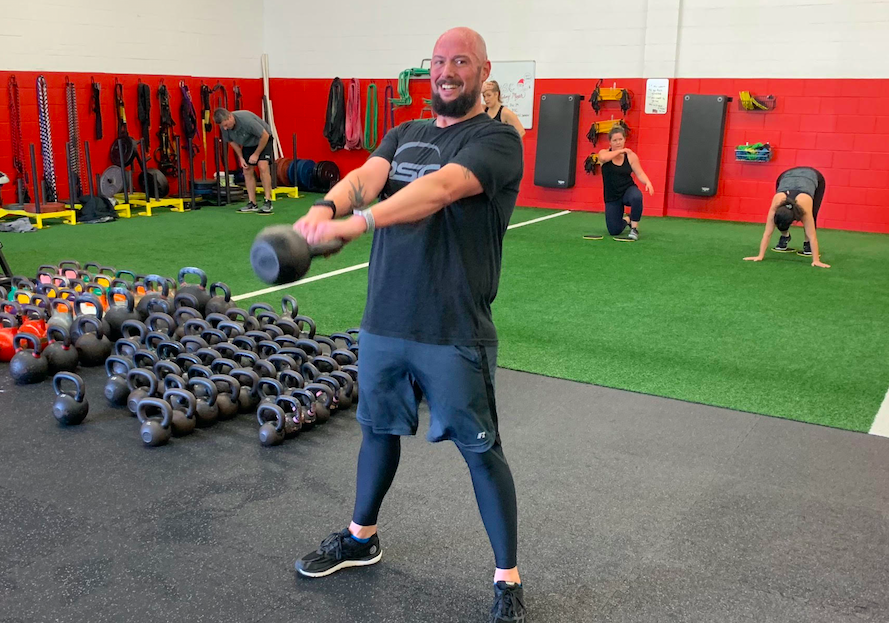 My favorite part of DSC?
The People. The Coaches. The Members are my favorite part.
There's simply no comparison. You can have all the right equipment and the right plan but without the right trainers and the amazing members behind you it won't work.
The best advice I can give to someone thinking about starting at DSC is to just walk in the front door.
Getting up early to work out before work or making time for it after work will always be the hardest part.
Having a realistic set of short term and long term goals is also important and the trainers LOVE to help members set those goals!
- Jeremy