How I've Lost 35lbs Since DSC's Reopening!
Before joining DSC, I was a member at Planet Fitness. Working out there and being alone never worked for me.
I would go in and just wing it, not really knowing what I was doing.
In-turn I was never consistent. I found that it was boring, and my lack of results left me feeling frustrated and unmotivated to continue.
I needed help.
I wanted to lose weight, be healthier and overall more fit. I wanted to look and feel my best and shed that unwanted weight I was carrying.
Then my sister Lisa joined DSC and made an incredible transformation so I decided to join too.
I made some great strides at DSC and then the March shutdown happened, we all went into quarantine and I went into a major slump.
I didn't do anything over quarantine when it came to my fitness. I wasn't committed. I just couldn't get motivated. I was depressed.
As a teacher, it was hard not being around people all of a sudden.
As soon as DSC reopened, I was right back in! I can't tell you how excited I was to get back into a workout routine and see all the coaches and members. I know how much better I feel when I am consistent and I needed to get moving after a long quarantine.
Not having worked out in a while naturally I felt anxious about getting back into the swing of things and what the time off had done to my progress. That feeling quickly went away after attending my first class. The trainers put me at ease right away with their friendly, positive demeanor!
The first thing I noticed was how clean and spaced out the gym was. DSC has done a FANTASTIC job of getting the gym ready and safe.
DSC has done an extraordinary job keeping the gym clean as well as following safety guidelines! It has made me feel very comfortable in being back.
And it has been amazing to be back.
Since DSC's reopening, I've lost 35lbs! (and I keep losing weekly!)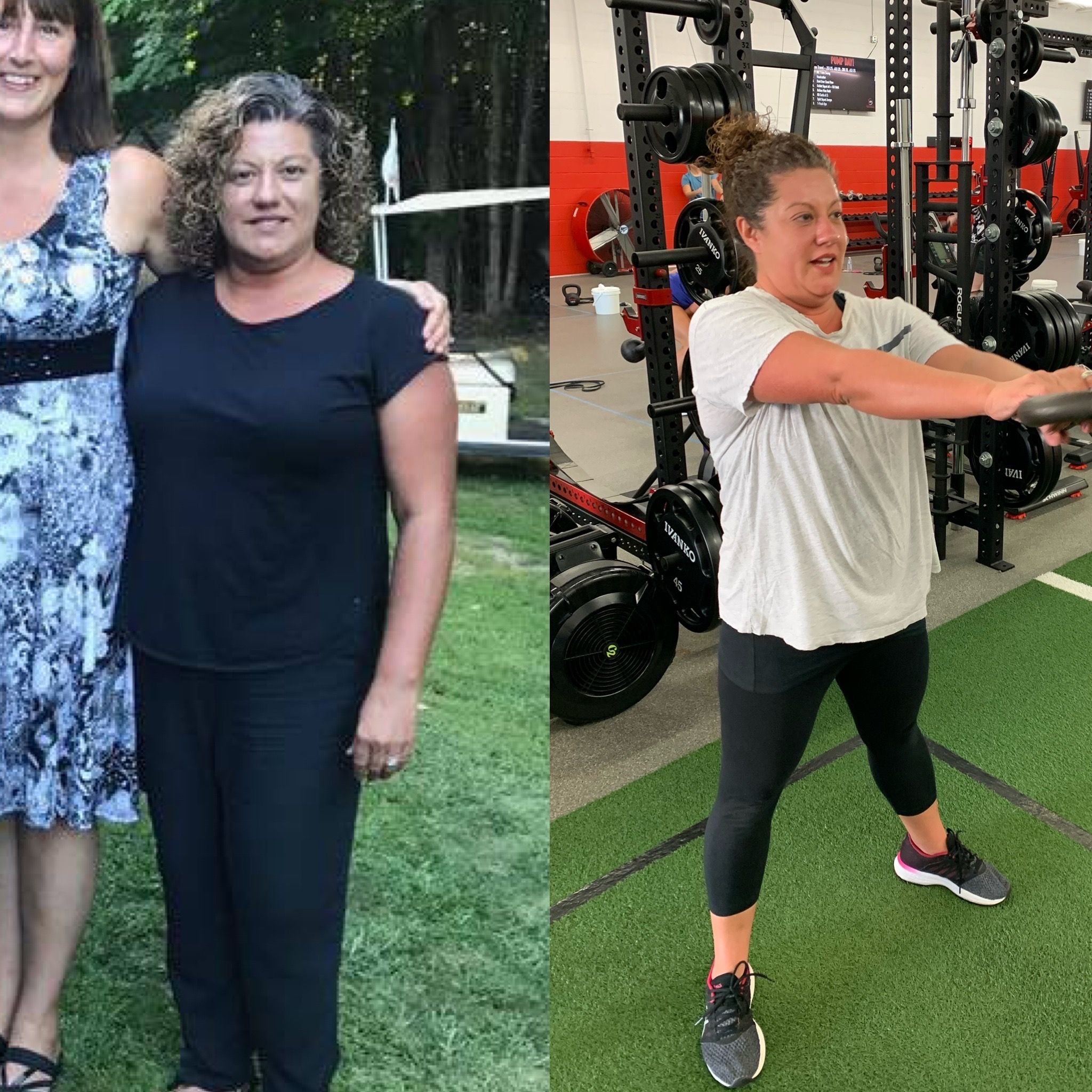 I'm wearing new clothes sizes and I feel so much more energetic and confident!
I'm finally happy again!
It's a great feeling for people to stop you and notice that my hard work is paying off and notice how different I look.
What has made the biggest difference for me and really has led to my success is the DSC coaches.
They are an amazing support system and take you step-by-step through each one of your workouts. I LOVE how I don't have to think about anything.
The energy they bring to DSC's classes is like nothing I've ever seen before. Each coach meets you where you're at and provides such a helpful, personable, encouraging, and upbeat class.
They make it fun, which is something that my old workout routine lacked. They keep you seeing progress and that makes you want to keep coming back for more. It lights a fire to want to improve.
The next thing that has made a difference in my success would be the group atmosphere. When you do it on your own it's hard to find the motivation to continue. It's lonely and you feel like you're left on your own.
At DSC, each group class has people there for a common goal. The energy of the group is amazing and the workouts are INCREDIBLE! I could never go anywhere else!
To anyone thinking of joining DSC I would say that I know it can be intimidating at first.
My biggest advice would be to just try one class to start and experience the incredible environment and the most supportive fitness coaching you'll ever find!
- Angel
Ready to get started at DSC?
You can now try DSC FREE for 14-days!
Our FREE 14-day trial includes:
Unlimited workouts (here at DSC or online)

Diet starter kit (grocery list, diet guide, and meal plans!)
This offer ends 10/31!
Click below to get your 14-day trial started!