How Ian Lost 17lbs From Home
Prior to DSC closing down I had been very nonchalant with my workout and fitness routine. I would be solid one week, bad the next, eat healthy one week, unhealthy the next. I was pretty much the definition every bad dieter out there.
I was referred to DSC by one of my good friends, who was a member for the past few years. I started in July of last year. To be honest, I was pretty nervous, because I hadn't committed to working out consistently in about 7-8 years. I stayed in shape for about a year or so after college, and then pretty much let things go after that. I put on a bunch of weight and all but gave up working out all-together. I'd join a gym and commit for a month, then stop again, rinse and repeat.
I heard great things about DSC and knew that it would provide me with the best workout. I also knew that I wouldn't work out as hard on my own so the class format was going to be best for me. Of course, it came as advertised: the coaches were all awesome, the workouts were challenging, beautiful facility, etc.
The best part about DSC in my opinion though is the workout environment. I've never seen a gym be able to take so many differing athletic abilities and make them all feel comfortable and motivated to continuously improve at their own individual capability. At no point did I ever get intimidated, even at the beginning, and I honestly don't know if I've ever been to a gym that can provide an environment like it.
Even while DSC was open, I was still up and down with my commitment, and I felt like I was just starting to get into a good rhythm when DSC had to close down due to COVID-19. I live in a one bedroom apt with my fiancé, and was really worried about being able to keep my fitness up (and nutrition for that matter).
However, I decided that if I'm going to be stuck at home all day for the foreseeable future, now I really don't have an excuse to get my butt in shape. There was no commute to blame, or dinner dates out at restaurants, so I might as well make the best of this time and use it as an opportunity to focus instead.
DSC Online has been awesome. I'm sure if you ask anyone who is a member at DSC, one of the best parts is the interaction with coaches and other members. It really is a "family" approach to the whole gym experience, and none of that changed when they quickly moved to the live online workouts. The live chat during workouts allows us to still poke fun at coaches, and each other which at least in my eyes feels like we're all back in the gym together. What it also has done is show us that the coaches are human too, and these workouts we put ourselves through are just as tough for them, as they are for us!
The April Challenge I think is what really got me headed in the right direction. It's funny how just a little accountability in the form of a checkmark can help get me going in the right direction. It wasn't just the workout part though, the information on building a balanced meal is what helped me to start losing weight, which was my goal from the beginning. Receiving everyone's updates on the Facebook page, and constant motivation from coaches, both during workouts and their online interaction, builds a different type of "hey we're all in this together" mentality. It was fun to receive meal ideas from everyone else, and I found myself disappointed in myself if I didn't get one of those checkmarks.
I started to see and FEEL the results. I started losing weight, I was improving each week with my stamina during the workouts, and the challenges at the end of each workout. I went from barely finding time for 2-3 workouts during the week before the shutdown, to doing at least 5 per week! That is what has kept me motivated, and feel like I'm on the right track. I see the changes happening, and have a long way to go, but feel like I'm headed in the right direction!
Since we started these online workouts towards the end of March, I have lost 17 pounds!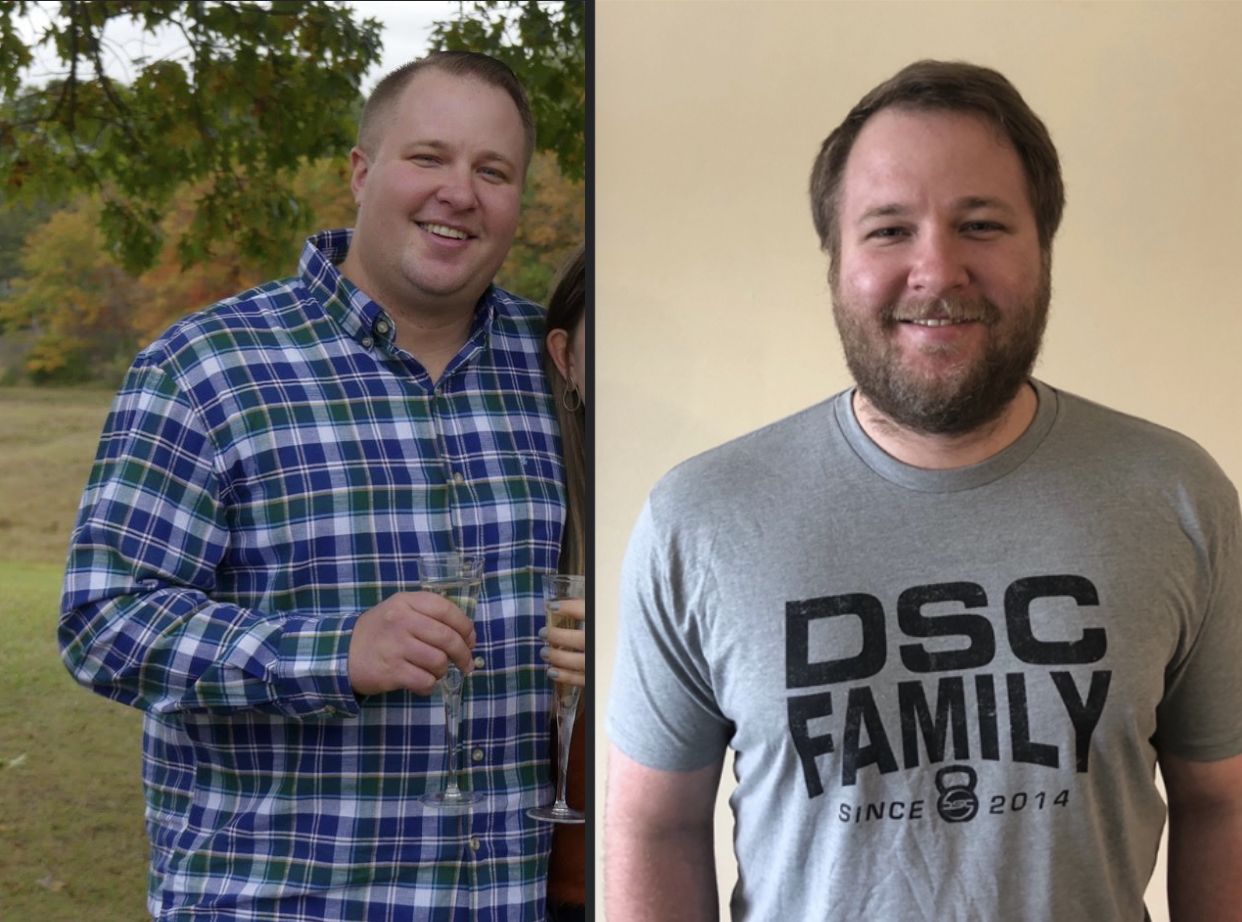 It is a long way from where I want to be, but this has been by far the healthiest month/6 weeks I've ever had! I am looking forward to see what my May Challenge results are!
Advice for those thinking of joining?
Thinking of joining DSC's Online Program?
Do it!
I can speak from experience that it does not matter what level of athlete you are or what level of fitness you are at. It is an environment that goes outside of the workouts, and even coaches themselves. DSC is truly a family of people all looking to better themselves, and their fitness. You can absolutely achieve the results you're looking for even at home with their guidance and support!
Are you ready to get into the best shape of your life?
Are you ready to look and feel your best this summer?
Join our 6-Week Online Summer Ready Challenge starting May 25th!
✔️Unlimited coach-led workouts (perfect for all levels) (no equipment required)
✔️Fat-loss nutrition coaching and meal plans
✔️Private community group page for support and accountability
Click below to reserve your spot!