How I Went From Inconsistent to the Best Shape of My Life!
Prior to joining DSC, I had been "active," but my diet was absolute garbage and was beginning to catch up to me.
I was a cardio bunny and a big yo-yo dieter. I'd run outside occasionally and use it to punish myself for my terrible diet choices or take indoor cycling classes. I've had memberships at "basic" gyms and would attempt to motivate myself to get excited about going but always felt lost.
The few routines I knew were what I could remember from playing softball in college but because I wasn't seeing results, I'd give up after a week of trying to get back into it.
The combination of starting a new job, moving to Nashua, and quarantining during a pandemic took a toll on me both physically and mentally. Like most people, I was working from home for the first time ever in a completely new role that wasn't meant to be done from home which added to my stress. It is easy for me to blame the pandemic for my unhealthy choices and binge eating, but the truth is I had been struggling with these habits since college.
The pandemic brought a lot of these issues to light, forcing me to acknowledge them. I'd compare myself to old photos (which I do not recommend) and wonder what happened. I knew I had gained weight but I had completely lost the confidence I had once had which was more important to me.
By August, I'd had enough of feeling sorry for myself and decided it was time to take control back over my health.
I discovered DSC after a quick Google research session. I received a call from Coach Delaine after requesting to be contacted by one of the coaches to learn more about the classes and ended up scheduling a free class to give it a try.
We talked about my past experiences and she seemed genuinely interested in what I had to say which is something that is hard to find at most gyms. I felt like my struggles were validated and that I wasn't just another sales transaction. Walking into a new gym on the day of your first class is tough…especially when it is clear that so much effort is put into cultivating a community-based culture. Are people going to like me? Am I going to fit in here? Is it too late to get back in my car? These are all thoughts that crossed my mind while waiting in line for my first class.
I was excited and so nervous but was hooked after the first time. The coaches were/are super attentive and made me feel comfortable with all the workouts. I very eagerly joined after two classes. The classes were extremely challenging for me at first, but I had found a spark in motivation to keep going no matter how hard each circuit was. I decided to give the 8-Week Nutrition Challenge a try after a month of attending classes regularly. Those 8 weeks completely changed the game for me.
Not to be dramatic, but I cannot believe how different of a mentality I have today versus in August when it comes to food. I am not only seeing amazing results, but SLOW and MAINTAINABLE results.
I am in better shape now than I was when I played softball in college!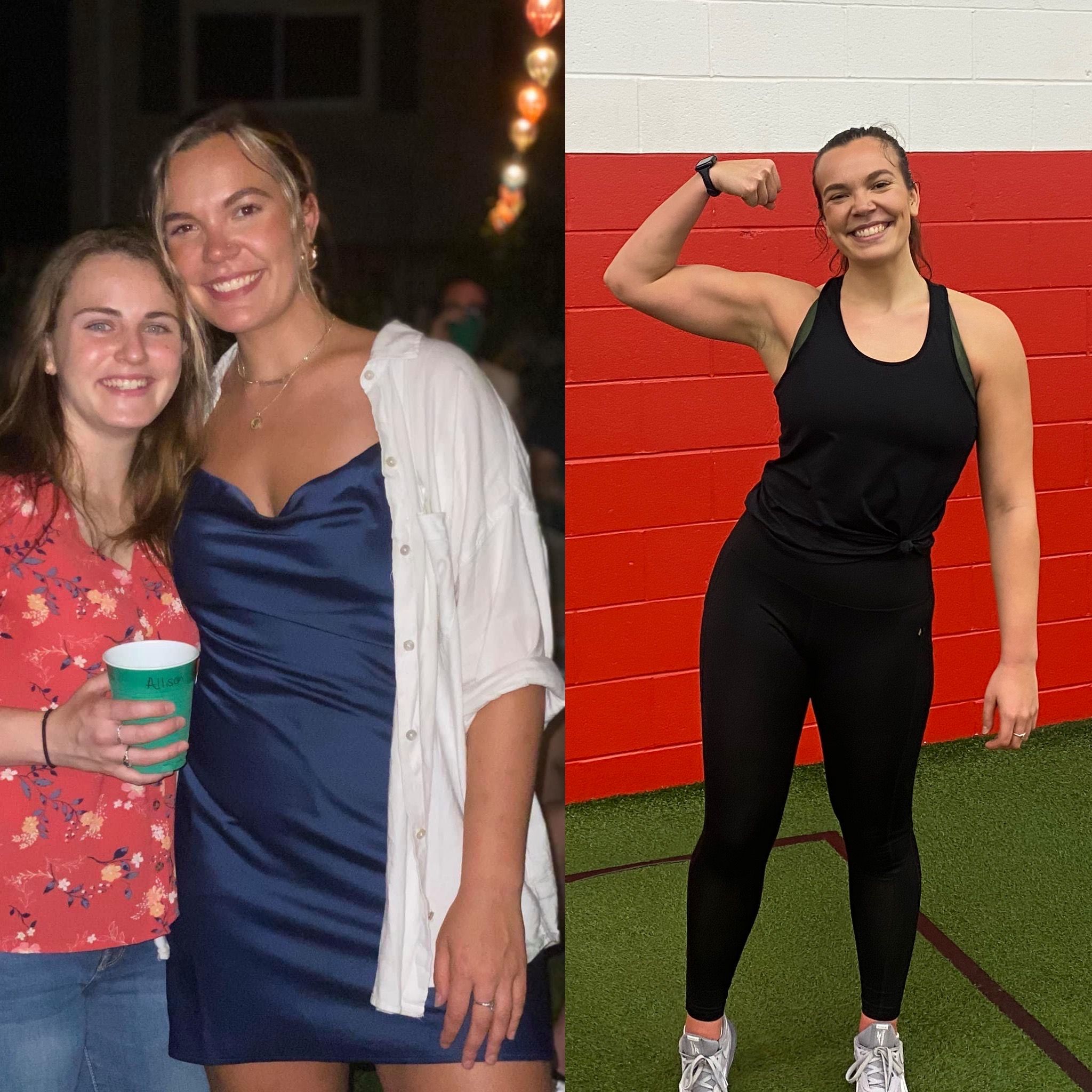 Since joining DSC:
I have lost 13lbs!

I have dropped from a size 10 pant to a size 6!

I went from running a 11:30mile to a sub 9min mile!
Unlike most fitness communities I had been a part of, I don't feel like "just a number" at DSC. The coaches do such an amazing job making adjustments for injuries, correcting for proper form, and motivating everyone to just keep going…it's great! Making a conscious effort to not just remember everyone's name but how to pronounce everyone's name doesn't seem like a huge deal, but was actually one of the first things I noticed about DSC that really differentiated them from the rest.
Unlike a lot of the more tenured members, I do not know what DSC was like prior to the pandemic in terms of how it operated but it is clear they haven't let restrictions get in the way of creating incredibly challenging workouts for us every day.
The coaches, the members, the atmosphere, and the tight knit community are all of my favorite things about DSC. It is everything I have ever wanted in a gym. I am so glad I found it because I finally feel like I have control over my health. I look forward to going and no longer dread working out anymore because of how fun and different the coaches make each day from the previous. These are some of the things that keep me coming back.
My advice to anyone thinking of joining DSC is to just take the leap and do it! Nobody is there to judge you or make you feel bad about not being able to do something.
There's a very obvious support system and you'll never feel alone in that sense.
- Yasmine
Ready to get started at DSC?
You can now try DSC FREE for 14-days!
Your 14-day trial includes:
1. Unlimited classes (in-person or online)
2. Easy to follow diet plan
Click below to get started! ⬇️