How I Lost 53lbs with My New Year's Resolution!
Before joining DSC, I didn't have a consistent workout routine.
I was feeling fatigued and I knew something needed to change.
In December 2018, I saw an ad for Dynamic's Women's Group Program on Facebook and decided to call and ask for more information.
Sara answered all my questions and invited me in for my first workout.
Before my first class, I was anxious because I didn't know what to expect. My anxiety quickly dissolved with the amount of support I received from the members and coaches though!
It wasn't easy going to the gym for the first time and I was sore immediately after.
When I expressed my concerns to DSC's Women's Group Coach, Delaine about this she reassured me "it would certainly get better."
I trusted those words when I decided to join. I thought to myself, "'it gets better' is a fantastic way of approaching a new workout routine."
It takes time, commitment, and persistence, but if you stay with it, you will be successful.
Overall, my goal when joining DSC was to feel healthier.
Joining a gym was actually my New Year resolution.
I wanted to lose weight for my health and to feel more energized.
I was afraid I wouldn't be consistent, just like with my other gym memberships. In addition, the amount of people in most gyms was always intimidating and overwhelming for a newcomer like myself.
I quickly learned the members at DSC were supportive and the way the workouts were set-up makes it feel less crowded. The coaches have pre-planned out every detail of the class so it runs smoothly.
My experience with the Women's Group has been great!
I love working out with the regulars and getting to meet new people.
Everyone has such a supportive and caring attitude.
The coaches are always motivating, or tattle on me (Jake), when I am slacking.
They each love what they do and it is definitely reflected when they are working with us.
I started the Nutrition Coaching Program a few months after joining DSC.
I believe joining the Nutrition Program was my best decision. I learned how to make healthier choices and my weight loss began to be consistent.
Since joining DSC, I have lost 53 pounds!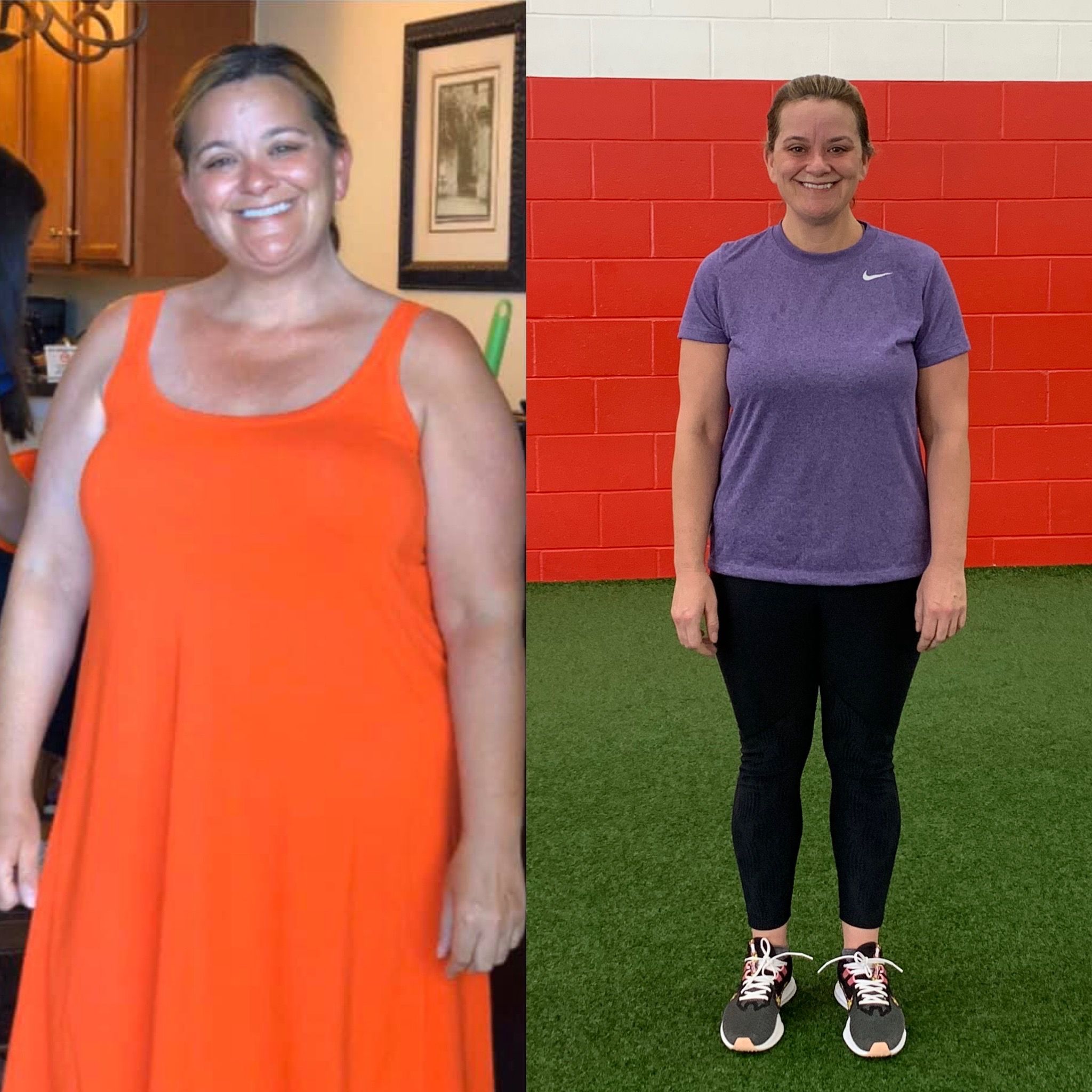 I can't wear my old clothes because they would fall off me.
I feel stronger every day and it feels amazing! I have more energy, more confidence, and I feel healthier.
I love the variety of the workouts and how each workout is a little different.
My favorite part of DSC though is that it's always upbeat, fun, and supportive.
My advice for those of you thinking of joining DSC is to be persistent when working towards your goals.
Make a commitment to yourself to get healthy and then take the necessary steps to reach that goal.
- Virginia
Are you ready for 2020 health and happiness?
Our coaches are here to support you 100% of the way!
Register before 1/1 and your first month is FREE!