How I Lost 30lbs in Quarantine!
I started at DSC in September of 2019. I had heard of DSC before and had inquired a few times but never pulled the trigger. So when I walked into the gym in September 2019, I knew I was going to go all in. I actually have a note on my calendar on the day I started: "today is the first day of a healthier rest of my life".
When I started, my goal was to get stronger and healthier. Of course I wanted to lose weight too but I didn't want to focus on only numbers. In the previous 8 years, tragedy hit my family several times. As a result, my mental and physical health had taken a huge hit. I gained about 80lbs but I also became physically weaker as stress and anxiety took their toll.
I am the youngest in my family and both my older sisters have Lupus and have both battled cancer. I didn't want to just sit around and wait to be next. If either was part of my future, I wanted to be the healthiest and strongest I could be. It's important I say all that because I could have continued to make excuses for myself. But I knew it was time to put myself first and do this for ME and only ME.
I will add it took me four years to finally muster up the courage to join DSC! I found the original message I sent DSC to inquire about joining!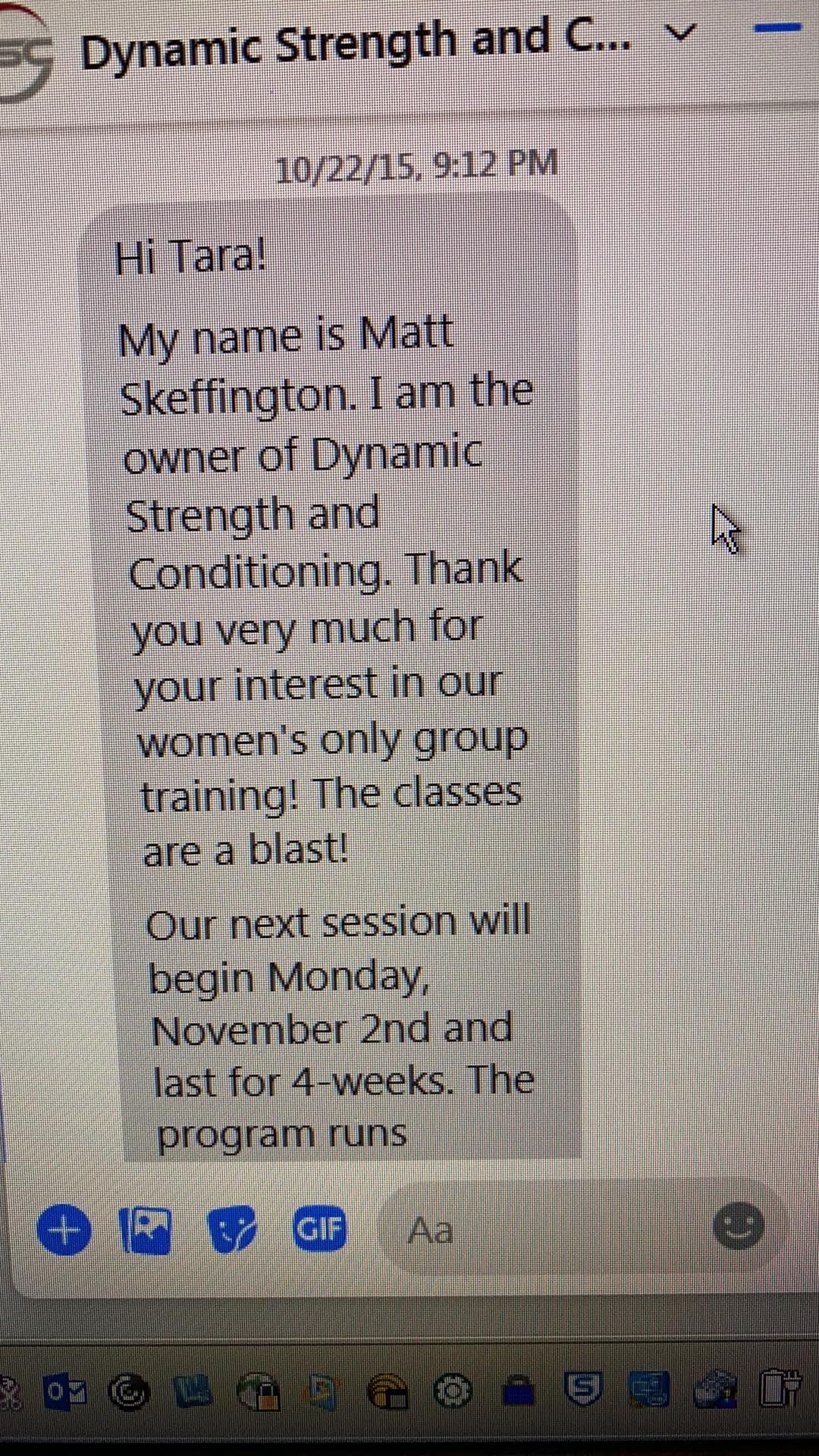 I joined DSC without knowing anyone in my classes. I didn't want someone else's schedule or motivation to go to the gym to determine my success. From the moment I began, I knew DSC was going to be a perfect fit for me.
The trainers are incredibly friendly, helpful and encouraging. I was scared to start working out being so heavy and weak but on the first night, Renee showed me modifications for many of the exercises. I was so grateful as I could do those! I started to watch the other women in my classes and they became my inspiration each class. If they could do it; I would get there too!
The warehouse style of the gym with people working in different parts of it made it fun for me. I loved when the garage doors were open and night air would come in. The music would be blasting and I would lose myself in the workout – focusing on my form, my counts, my breath.
You should know that anyone who knows me NEVER associates the word "fitness" with my name. I was a high school and college athlete and then I quickly got married, had kids and never thought about a fitness routine again. Occasionally I dieted to lose baby weight but even at my heaviest, I was never self-conscious enough to make a change. My weight didn't move the first several months after starting at DSC but that didn't matter to me. I saw my progress each class I went to. I hated wall sits in the beginning, now I love them. I saw the amount of weight I could lift increase over time, my face still gets red (I'm Irish) but so much less so than when I was struggling to just catch my breath. I had done a lot of damage to my body for years so I knew it would take time and I had to just keep doing the work. I knew I was getting stronger and healthier – on the inside first!
Once I knew I was going to stick to the fitness program, I decided to join DSC's nutrition program in January 2020. It was time to eat better and I knew that would start to move the scale too. I wish I had taken measurements prior to starting! Within the first couple weeks of tracking macros (protein, fat and carbs), I began to lose more weight. I worked hard to adopt these better nutrition habits and the pounds consistently came off week to week.
My overall online experience has been exceptional. When stay at home orders were issued, my work went from full-time in the office to full-time at home. I realized quickly that this would allow me a lot more flexibility and time to focus on me. I also knew that we had to find the silver linings in this COVID-19 situation and for me, it was the ability to have the flexibility of time to go all in on working out and nutrition - when would I have such a gift again? Luckily DSC was already my partner in this.
Specific to workouts, I only attended woman's group workouts when the gym was open. I loved them and still do. Frankly I was intimidated to try the co-ed workouts at all. But when we went fully online and I decided to workout daily, it was time to try the co-ed workouts. I was pleasantly surprised to find I could not only manage them but I could do the advanced version of some exercises too! This was another silver lining for me as I honestly don't think I would've tried these harder workouts if we hadn't gone online.
I love all the trainers doing the online workouts - you can tell they give it their all for us each workout! They all have a great way of talking you through each exercise so although I'm not with them in person, I'm still checking my form and making corrections when needed. My favorite part has been the comedy. From funky Fridays to Kurtis's crazy jumps to Matt's jorts to Jake's complaints and Renee's dance moves. When trainers "lose control" of the workout and all have each other laughing, we are all laughing at home too. You all have a unique way of making me smile each and every workout.
The nutrition program was already largely online so the adjustment wasn't as dramatic. However, the wealth of information that is shared through emails, videos, articles, Facebook page, etc was invaluable!
Believe it or not, my favorite part was accountability days. When I knew I had to take 2 min and take a picture of my tracking page or water or healthy meal - it kept me accountable that day and days after!
DSC is ALWAYS in touch with us and that level of commitment from DSC automatically makes me put in a similar level of commitment to the program.
Which leads me to their online support. It's impossible to describe the level of support and the feeling of belonging I feel from DSC staff and members (the family). I have emailed trainers with questions, asked for advice on the Facebook page and texted with members I never knew before. I'm not afraid to post on Facebook and IG and when I do, the response from the family is instantaneous with love, support and kudos. I have days where I feel like I have two families - my own and the DSC family because I've spent a lot of time with both on those days. It may be 100% online but I still feel like I have all the tools, support and information I need to be successful.
I have lost 30lbs since going online and 40lbs total since joining DSC!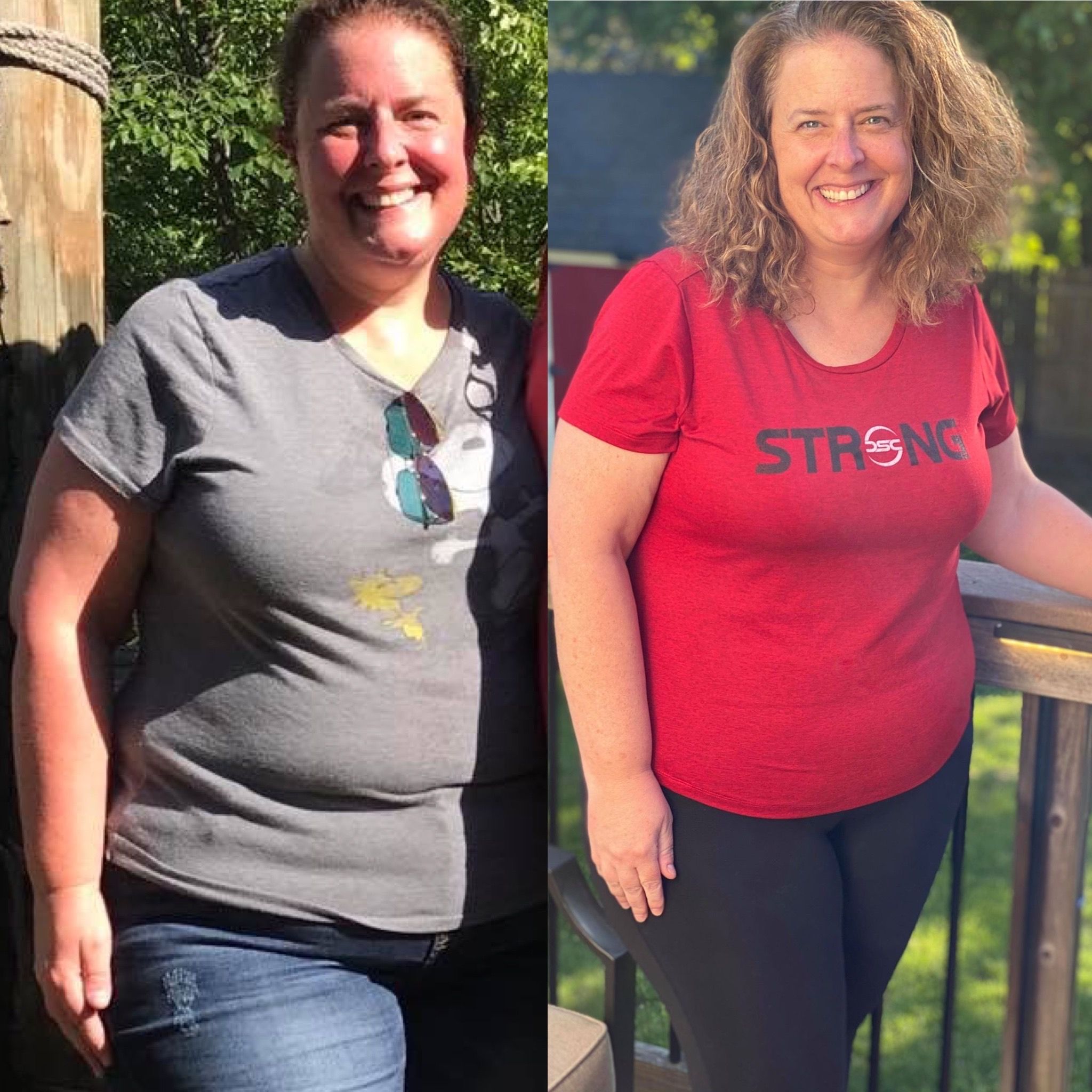 I know I lost much more in inches but unfortunately I never did measurements when I started! However, my body is noticeably smaller. Honestly, the biggest change has been mentally for me but physically, I'm seeing the biggest change right around my middle. My stomach, butt and thighs are shrinking and I see muscles in my arms and legs now.
It's funny but the first time I noted a change was my husband came into the room and said "look at you sitting all cross cross applesauce. You never do that!" I looked down and realized I was and I hadn't been able to sit that way in probably 8 years due to my large size. Later, I noticed I could now cross one leg over the other knee comfortably. Now I feel good changes all the time. My clothes from last summer are loose, I've gone down 2 pants sizes and my double chin took a hike. I have a ways to go but I don't plan on stopping anytime soon!
Everyday I wake up and think about when I can do my workout that day. Every night I think about how my day went fitness and nutrition- wise and I give myself a pat on my smaller stomach to congratulate myself on another day towards getting healthier. I don't recognize my new mindset but I love it!!
My advice to those thinking of joining DSC is to drop the excuses and try it. Trust me, I have a lot of reasons why I should have stuck my head in a gallon of ice cream and never came up for air. But I told myself to try it for 30 days and I set a small goal for myself – feel good and motivated enough to stay committed. I not only exceeded the goal but I fell in love with the program and with the DSC family. Also, as I said above, don't decide to do this for anyone but you.
I fortunately became part of this crazy, fun, supportive DSC family but first I became my own cheerleader. It was important for me to do this not to look good in a bathing suit, not to get compliments from others but only to feel good about my health - mentally and physically. The other stuff is just the blueberries on top of a bowl of Greek yogurt!
- Tara
Our 6-Week Online Summer Ready Challenge starts Monday, May 25th!
✔️Unlimited At-Home Workouts (perfect for all levels)
✔️Easy to Follow Diet Guide
✔️Fat-Loss Meal Plans
✔️Support and Guidance
✔️RESULTS!
Only 30 spots available. Click below to reserve your spot! ⬇️