How I lost 29lbs with DSC's Women's Group Training!
I really didn't make working out a priority before joining DSC.
Typically my routine would just involve walking on the weekends.
It wasn't overly strenuous and while I did enjoy it, I knew I wasn't going to make any serious changes based on that routine.
My sister-in-law (Donna Parrott) had been going to DSC for about 9 months and I was super inspired by her accomplishments in both the workouts and the Nutrition Program she participated in.
She had lost 30lbs since joining!
I could tell she was so happy, confident and proud...as she should be!!
I too wanted to lost 30 pounds and really get in shape for my 60's!
I decided to give it a go and step out of my comfort zone to see if I could achieve the same success
Coming in I was terrified to join.
I was afraid I would not be able to last an hour working out.
In the first class I attended, I saw a former coworker and her friend.
They welcomed me warmly and encouraged me throughout the hour.
I was nervous and the first class was tough.
Both Renee and my friends encouraged me to come back no matter how I ached after the first session. Once I started eating better after a month, the classes got easier.
DSC coaches, Renee and Delaine have been super in getting me in the right positions to lift more, do more reps and not hurt myself!
My muscle tone is so different and I look forward to losing at least 10 pounds more from what I learned from Beth.
I then joined the nutrition program starting in November of last year.
I wanted to lose weight and respond to a less than stellar physical results.
At the time I was not getting enough protein, eating too many carbs, and had no knowledge of the value of supplements.
The program was GREAT!
It taught me how to add more protein, less useless carbs, the value of FitAid recovery drinks and protein shakes.
Spaghetti squash as a pasta replacement and turkey meatloaf - who knew I would EVER eat those things.
Beth encouraged me when I was stuck at a certain weight, she always had helpful suggestions to move through the plateaus.
Since joining DSC I have lost 29 pounds!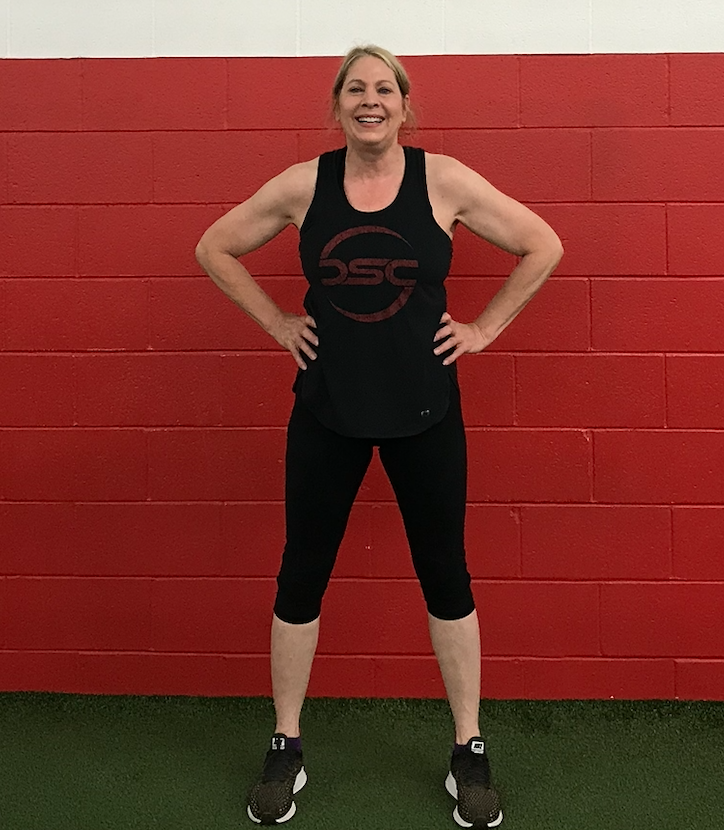 I need all new clothes, nothing fits and I can now STOP buying XL Mens clothing - lots to donate to Goodwill!
I feel so much stronger!
And for the first time my BMI is in a great zone.
Best of all, my blood work from last week was back to normal and my Doctor is very pleased with the physical results and the weight loss.
At 61, my goal is to stay fit in my 60's and 70's and beyond with God willing.
My favorite part of DSC is the workouts!
I love my women's group!
Everyone helps and encourages each other, we are like a family.
My favorite workouts always include both the strength building and the cardio.
Thinking of joining DSC?
Going to a gym and doing the treadmill by yourself not working for you?
Come and join a DSC women's group, meet some great workout partners and break up the bordem of doing the same workout every time!
You have a much better chance at meeting your goals and learning a lot about health and fitness from the terrific coaches at DSC.
- Colleen
On Monday we will be kicking off our 30-Day Jumpstart Program for Women!
For the first time ever, we've combined our Women's Group Classes and our Nutrition Coaching into one program just for you!
Ready to join our 30-Day Jumpstart Program for Women? Click below! ⬇️