How I Lost 115lbs at DSC!
Before joining DSC, 5 years ago almost to the day, I had tried many different things to lose weight and get fit.
My whole adult life to that point could be characterized as a roller coaster of different diets and exercise attempts with some short-term successes, but always ending up back where I started or worse.
I would get some results but in the end I'd quit. When life got busy the boredom and monotony of that kind of workout just couldn't keep me motivated. I have always been afraid to push myself, afraid of getting injured or of burning out and quitting. I had a friend who has been a DSC member for years so it was on my radar, but it seemed to be out of my league.
When I saw a Facebook ad for the Women's Group, I had already lost some weight and was trying to be consistent with working out, but I had it on my goal list to try a strength and conditioning gym like DSC.
I don't know what gave me the confidence to sign up – but I did it. When I walked into DSC that day I immediately fell in love with the vibe. I consider myself a major introvert, but the friendly coaches made me feel totally at ease. The workout was a challenge, but I left feeling so hopeful and excited for the next class.
My plan had been to just join for a few weeks to give me a jump start – after several weeks instead of moving on, I moved to the co-ed group and five years later I can't imagine life without DSC.
I love how we are directly coached and motivated throughout every class – over the years I've struggled with various chronic injuries and the coaches are aware of my limits, but don't let me go too easy on myself as a cop-out.
It's just the right combination of personal attention within a group atmosphere where the energy is contagious.
I am sometimes shocked at how strong I am and the things I'm able to do.
I now LOVE working out!
I look forward to it every day. Instead of finding excuses not to exercise, we even try to schedule our vacations around my workouts. My hard work at DSC also keeps me focused on eating right.
The temporary closure this year highlighted how much I rely on that! When we closed down last spring I had already been dealing with an injury and had put on some weight. My workouts and nutrition were both suffering. I found that I really had trouble being consistent with workouts at home, even though I had both the space and the equipment.
There was just something about the daily, consistent habit of getting to the gym that I just couldn't replicate on my own. Some people have really thrived with the at home workouts but all I could do was muddle through. I decided to focus on nutrition and just use what I had learned over the years in my training at DSC to get stronger and better at some of the basics. I was able to lose some weight over the summer and after many false-starts I made it back into the gym in September. I have a high risk relative in my home, so I was not sure I'd feel comfortable, but I decided that to be fair I should try it before I made a final judgement.
DSC has done an amazing job creating a safe environment! The transparent communication at every stage, clear protocols, new equipment, and positive attitude of the whole coaching staff has been outstanding.
Coming back has made all the difference in how I feel every day both physically and mentally.
I've lost an additional 25lbs already since coming back in September.
I've lost a total of 115lbs since joining DSC!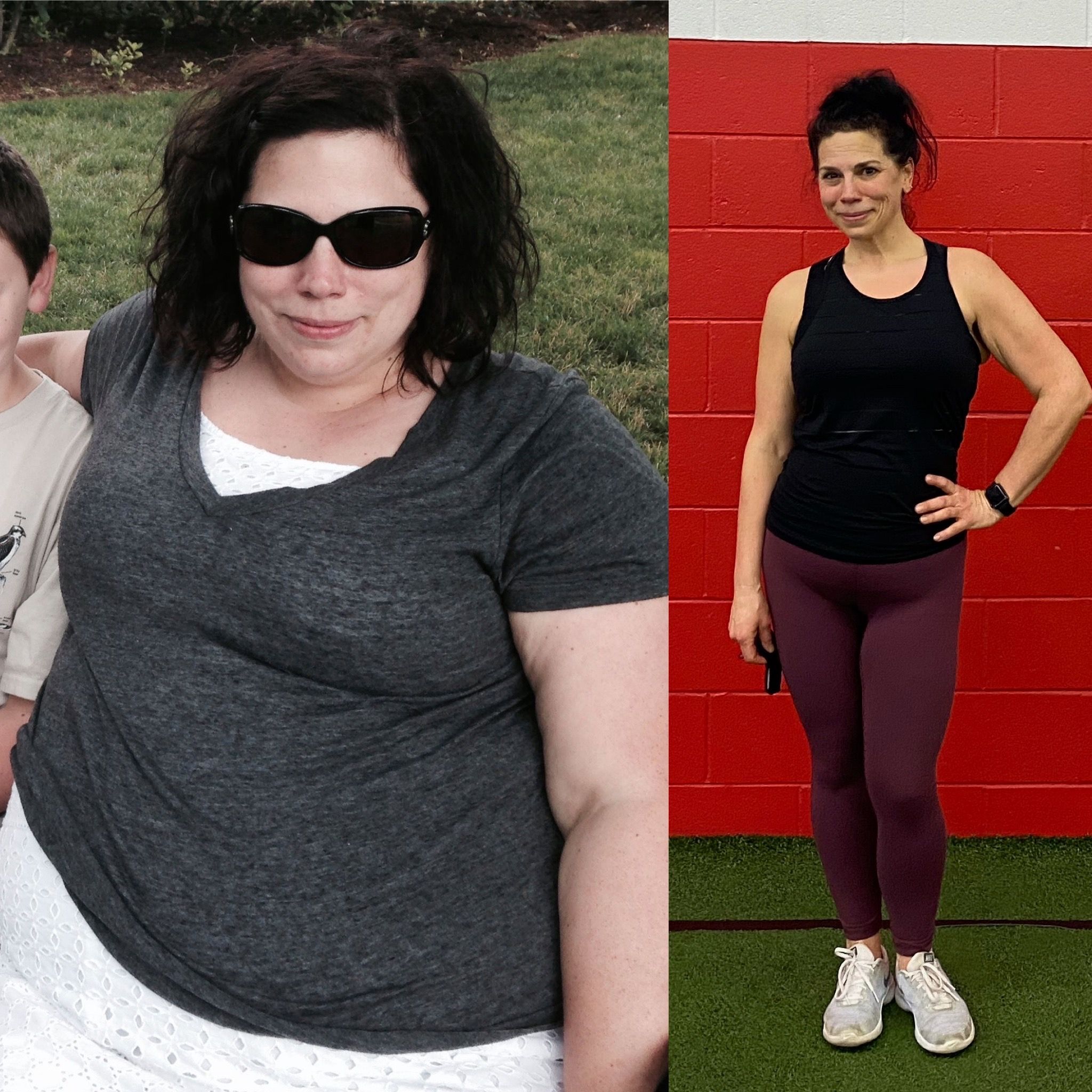 Everything has improved since coming back – my energy level, motivation to eat a healthy diet, and just overall confidence in everyday functional movement - It would be fair to say that DSC is the anchor of my overall health and fitness and the biggest reason for that is the solid foundation of consistency I've built there.
If you have even considered trying it – you owe it to yourself to take that step!
- Jen
Ready to get your 2021 transformation started?
Our 8-Week New Year Challenge starts January 18th!
This program is specifically designed to jumpstart your health and fitness in 2021.
It includes:
Unlimited workouts that are perfect for all levels (in-person or online)

Customized diet plan

Weekly fitness and nutrition coaching and tips

Fat-loss meal plans

Support and motivation

Results!
Click below to reserve your spot!